Taste-testing Dodger Stadium's new food, including a brazen $21 sandwich
Los Angeles Times columnist Chris Erskine tries the new offerings at Dodger Stadium for the 2019 season.
The Dodgers are upping their food game this season, adding eight new items to the snack bar roster, including an audacious 16½-inch sausage sandwich.
Six items are new, but two had a limited run in the 2018 playoffs, and proved so popular they made the regular-season lineup.
For years, SoCal ballparks failed to reflect the range and creativity of the region's food scene. They still don't. But they're creeping closer, one base hit at a time.
Here's a look at what's new this season, rank-ordered from faves to failures:
Faves
Going Yard: This monster, dubbed Going Yard, is a locally produced jalapeño cheddar sausage topped with a relish of roasted corn and avocado, and a drizzle of sour cream as thick as a foul line. It could feed four, although your attempt to split it four ways might create some sort of eco-hazard.
Cost, where to find it: $21; near sections Field 10, Loge 133, and Reserve 4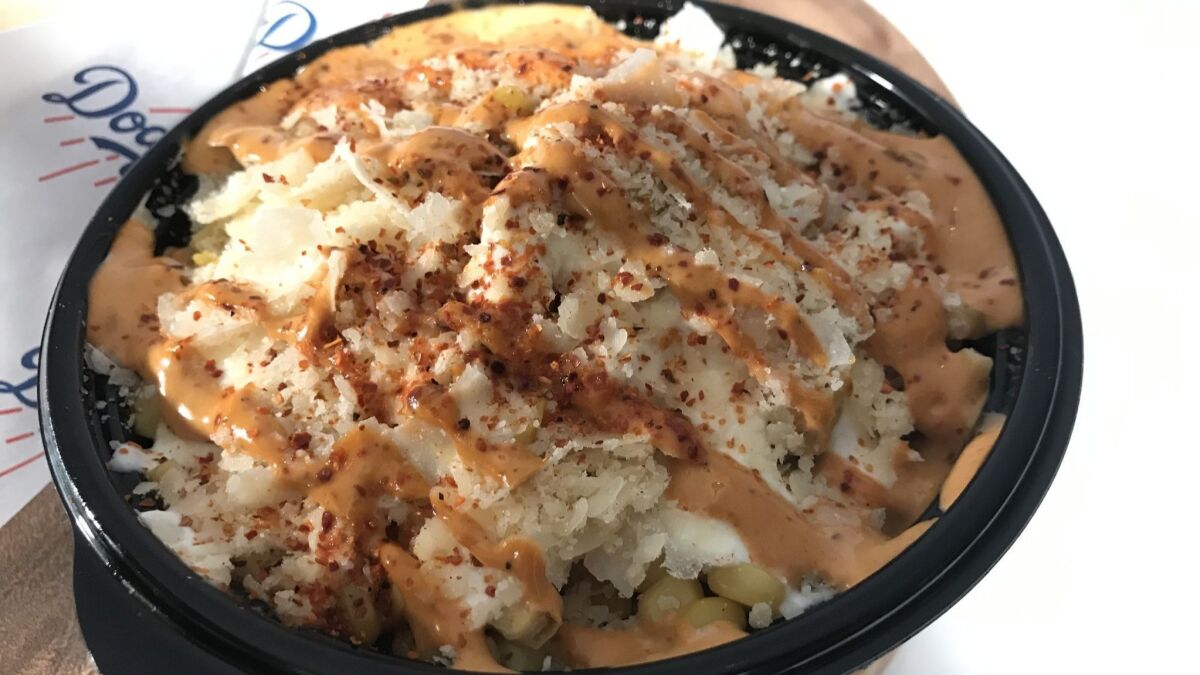 Esquites: This may be the surprise hit of the season. Traditional Mexican street corn is scraped into a cup and topped with spicy aioli, mayo and cheese. It has the texture of a good, gooey mac 'n' cheese, but with more bounce and flavor. Home run.
Cost, where to find it: $9; near sections Field 22 and 23, and Top Deck 6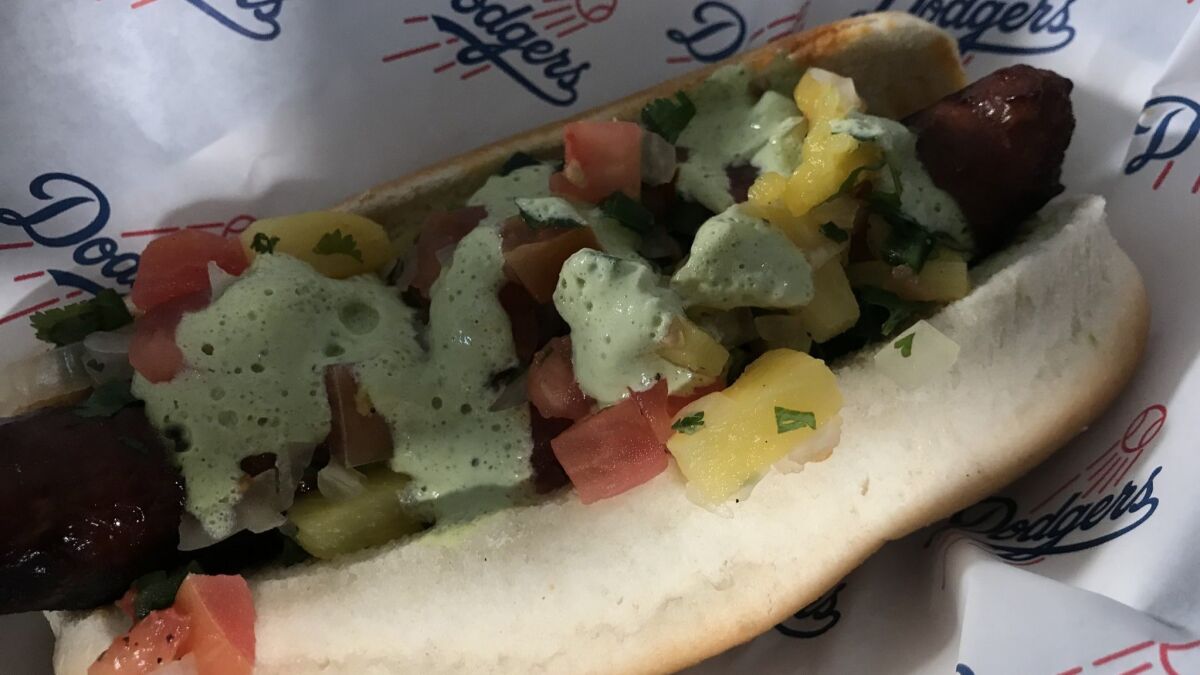 Dodger Sausage: Dodgers executive chef Ryan Evans said his goal this season was to add more sausage. This tamer version of Going Yard is an al pastor-seasoned sausage. If you like pineapple on your pizza, you'll probably go a little nuts over this. Like Going Yard, the links are made by Maestro Sausage, an L.A. company that produces specialty sausages.
Cost, where to find it: $12.50; near sections Field 10, Loge 133 and Reserve 4
See a video of our taste test »
Chicken Burrito Bowl: A combo of marinated chicken, black beans and pico de gallo over rice. Solid single.
Cost, where to find it: $13; near Loge 137 and Reserve sections 23 and 24.
Four-Taco Plate: Tacos are back. (Evans acknowledged it was a mistake to eliminate them last season.) Are they destination-worthy? No. Is it only right to be able to eat tacos anywhere at any time in Los Angeles? Yes.
Cost, where to find it: $18 (which feels overpriced, even by ballpark standards); near sections Field 10 and Reserve 13.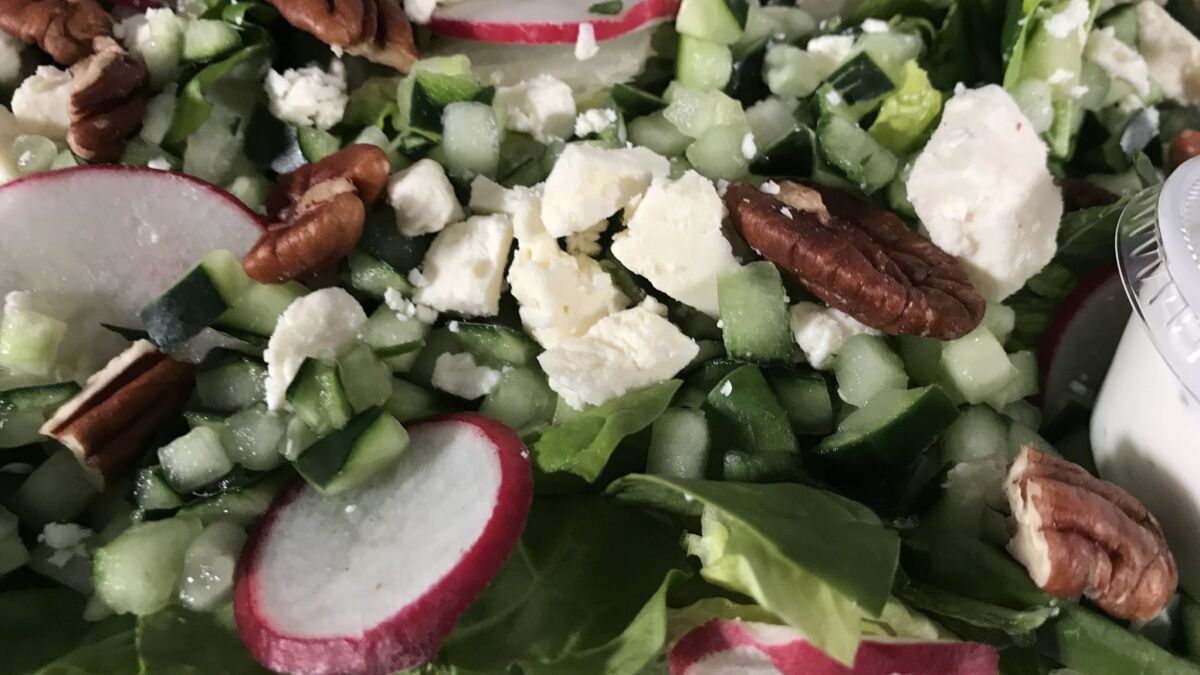 Summer green salad: I'm not going to order a salad at the ballpark. But for those who do, they'll find a mix of walnuts, feta and radish slices that lend a little pop to a serviceable salad in a creamy mint dressing.
Cost, where to find it: $10.50; near sections Field 5, Loge 132 and Reserve 10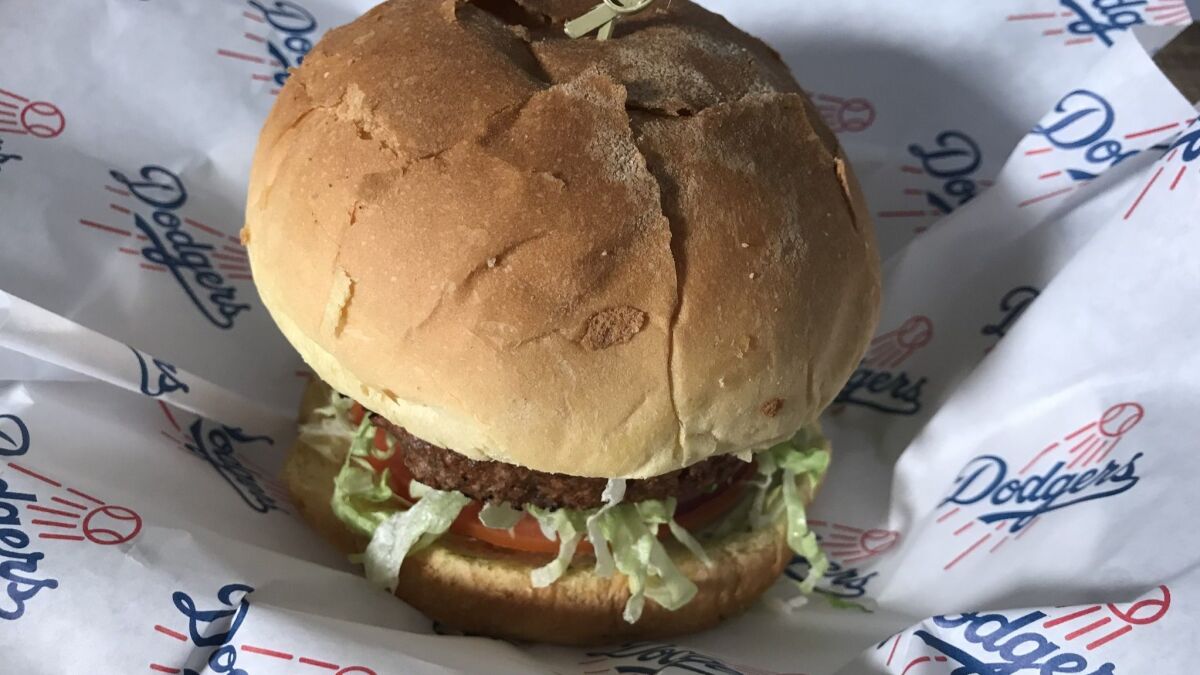 Failures
Beyond Meat Burger: The Dodgers' vegetarian protein option replaces the veggie dog. To me, it tastes like sadness on a bun, though the herb mayo helps.
Cost, where to find it: $14; near sections Field 47 and Reserve 29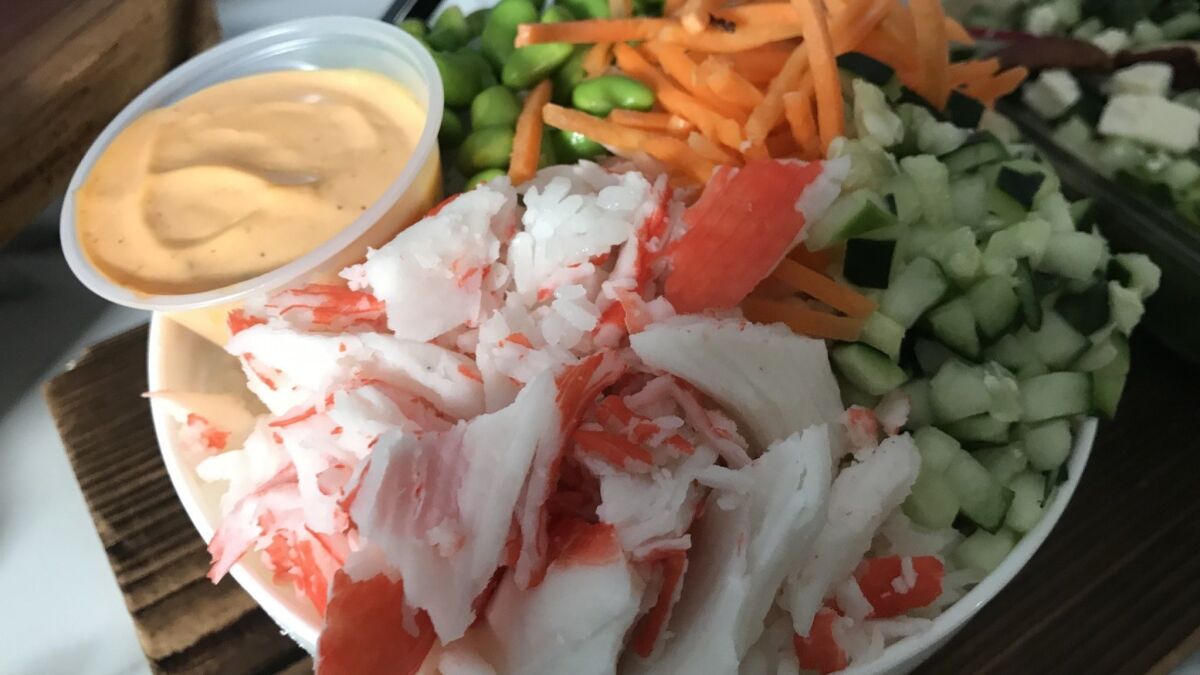 California Roll Bowl: This is the sort of item the stadium needs more of because it's reflective of L.A.'s tastes and desires. But in the country's best sushi city, this dish is the equivalent of getting thrown out on the way to first after hitting the ball to the wall. Good swing, no hustle.
Cost, where to find it: $15; Field Level near section 45.
Postscript: Evans says he follows fan feedback and alters the menu based on response. His Twitter is @LADExecChef
Twitter: @erskinetimes
Get our L.A. Goes Out newsletter, with the week's best events, to help you explore and experience our city.
You may occasionally receive promotional content from the Los Angeles Times.