L.A.'s tacos are filled with a world of flavors; chef Enrique Olvera loves that about us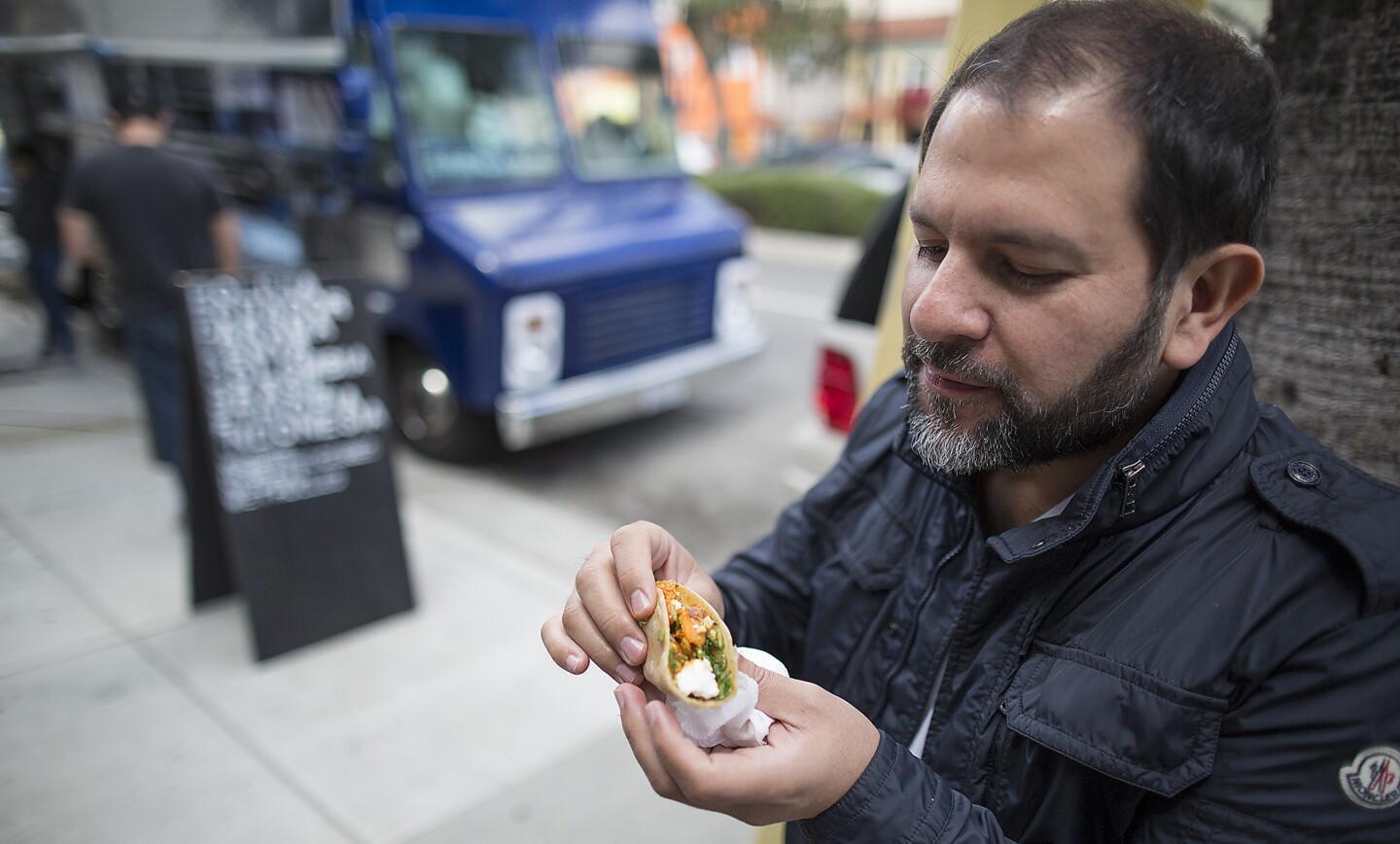 Enrique Olvera, the chef known for Pujol in Mexico City, samples some of L.A. best tacos during a visit here. He likes the cultural crossover that is taking place inside the city's tortillas: bulgogi tacos, pastrami tacos and so on. "Here you find people from everywhere with many different interests," he says. "In a way, Los Angeles is like a spice route now — a lot of people from many places."
(Brian van der Brug / Los Angeles Times)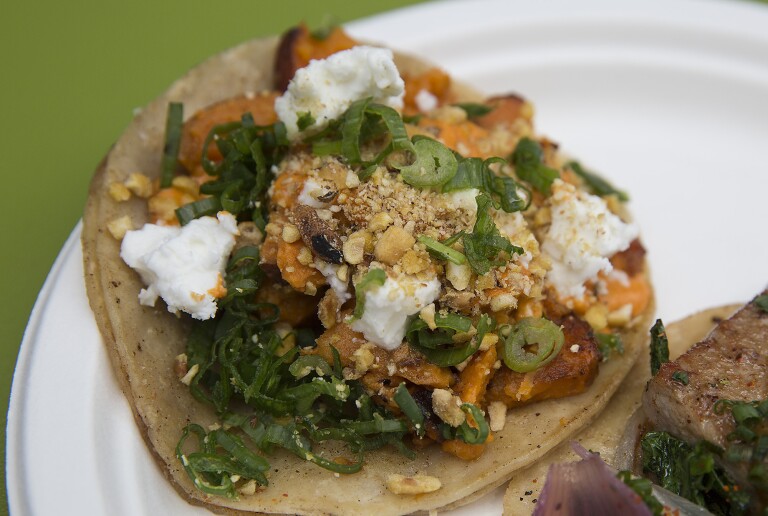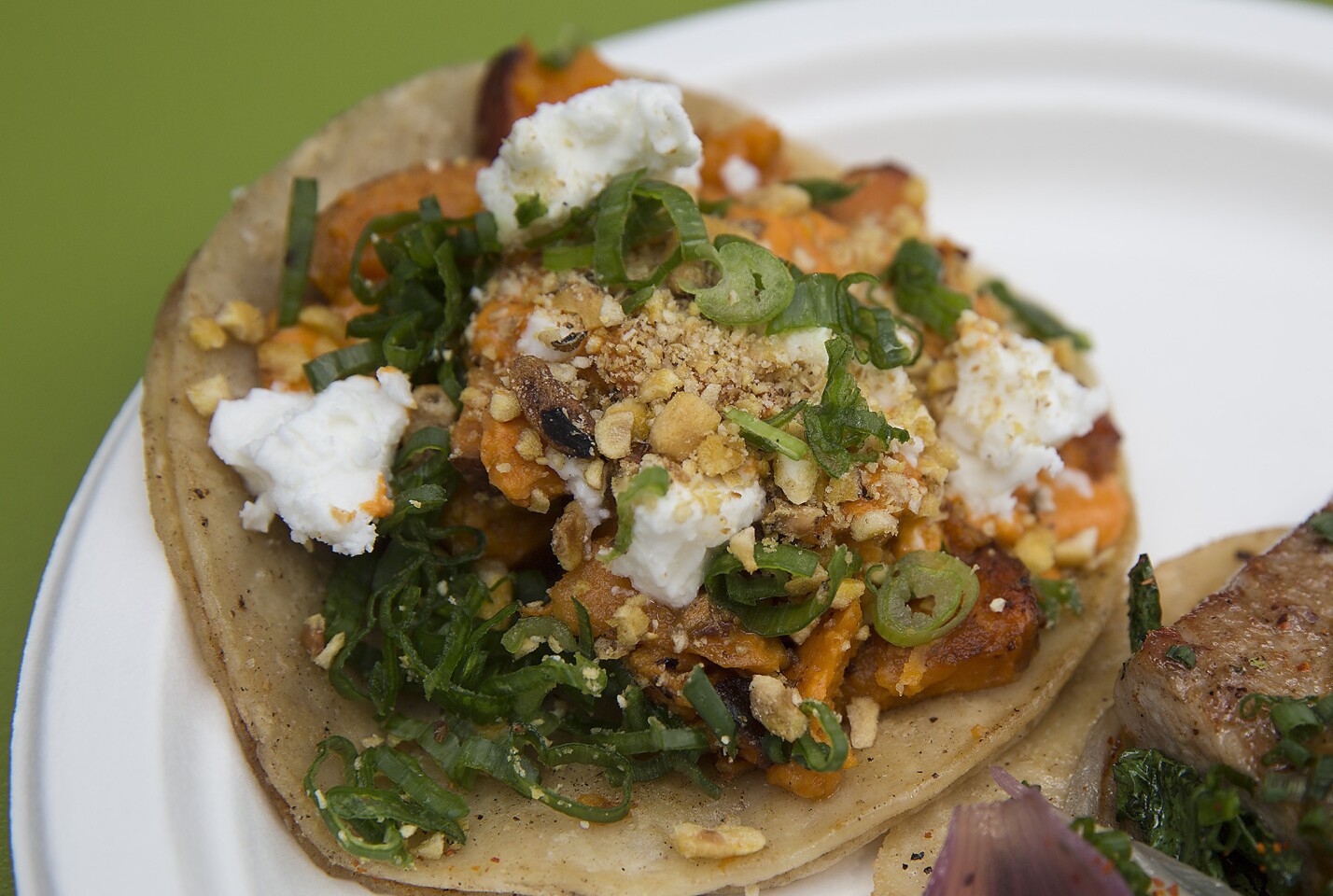 Guerrilla Tacos' sweet potato taco with almond chile, feta cheese, fried corn and scallions. This vegetarian taco is a signature of the roving truck's chef, Wes Avila.
(Brian van der Brug / Los Angeles Times)
Tacos in the making at Mexicali Taco & Co.
(Brian van der Brug / Los Angeles Times)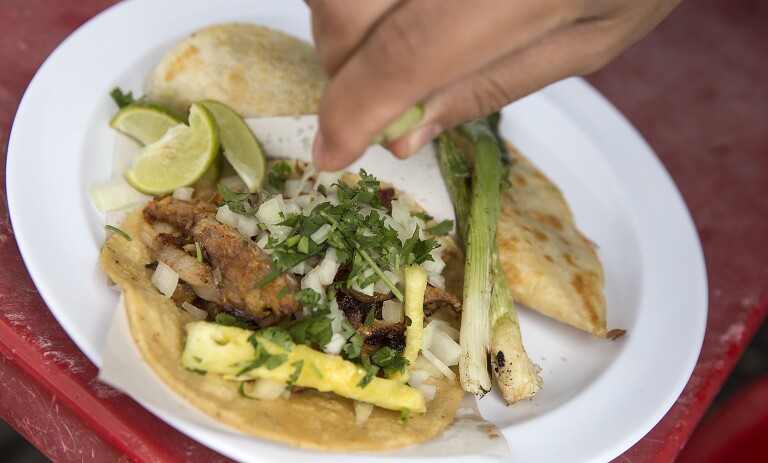 A pastor taco at Mexicali Taco & Co.
(Brian van der Brug / Los Angeles Times)
Chef Enrique Olvera eats a taco at the Mariscos Jalisco truck. Raul Ortega runs the seafood truck.
(Brian van der Brug / Los Angeles Times)
The "Poseidon" at Mariscos Jalisco.
(Brian van der Brug / Los Angeles Times)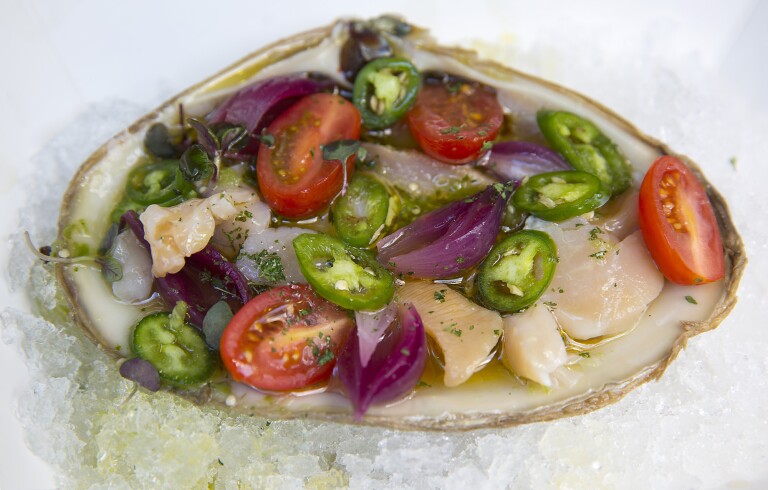 An order of clams from Guerrilla Tacos.
(Brian van der Brug / Los Angeles Times)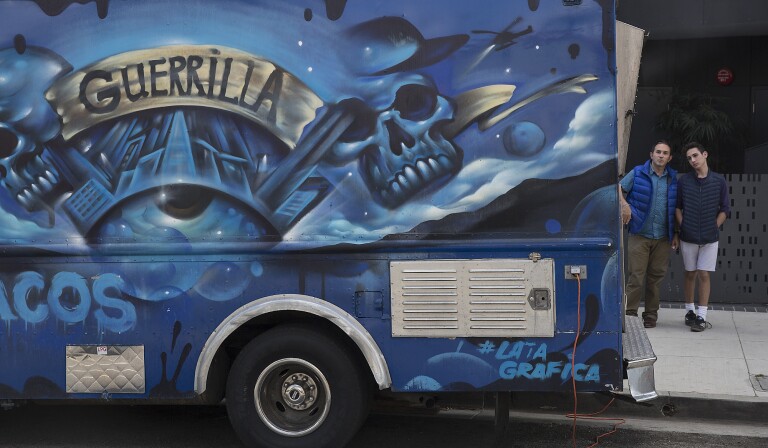 Patrons check out the Guerrilla Tacos menu board.
(Brian van der Brug / Los Angeles Times)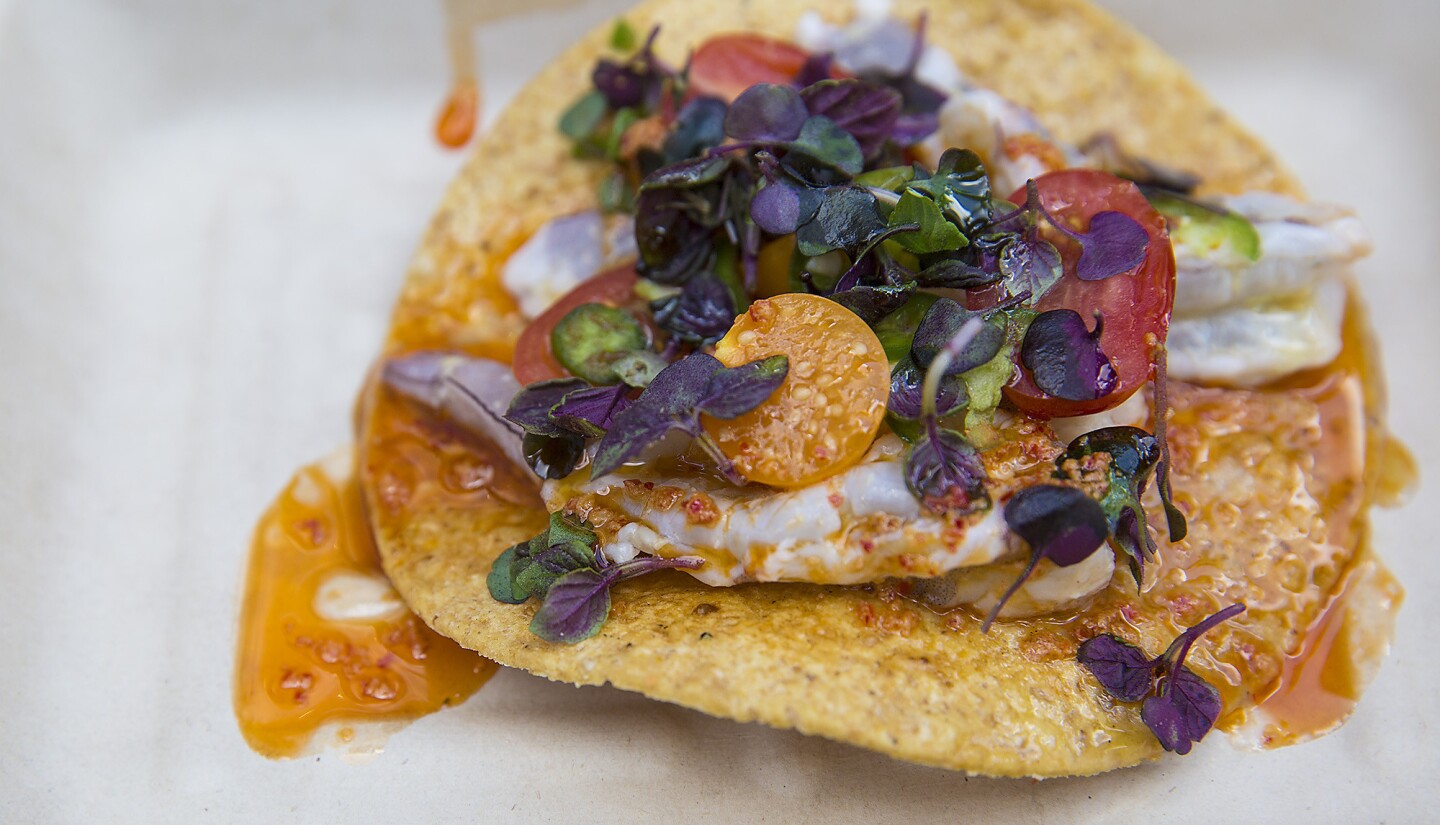 Guerrilla Tacos' aguachile tostada.
(Brian van der Brug / Los Angeles Times)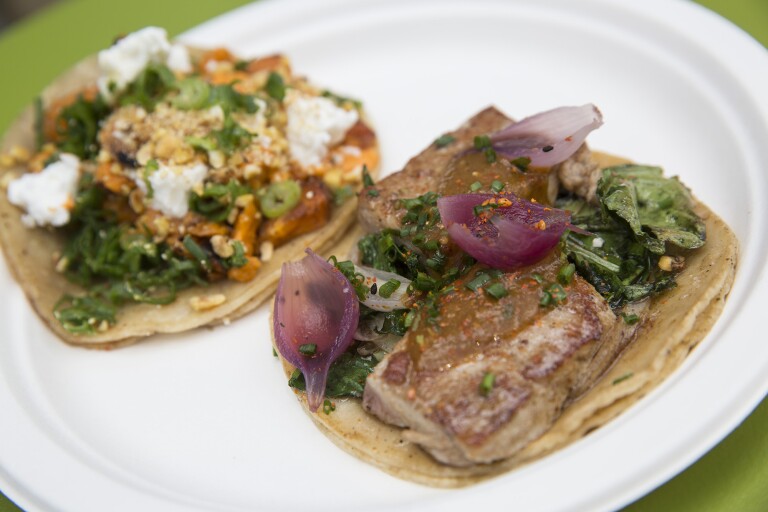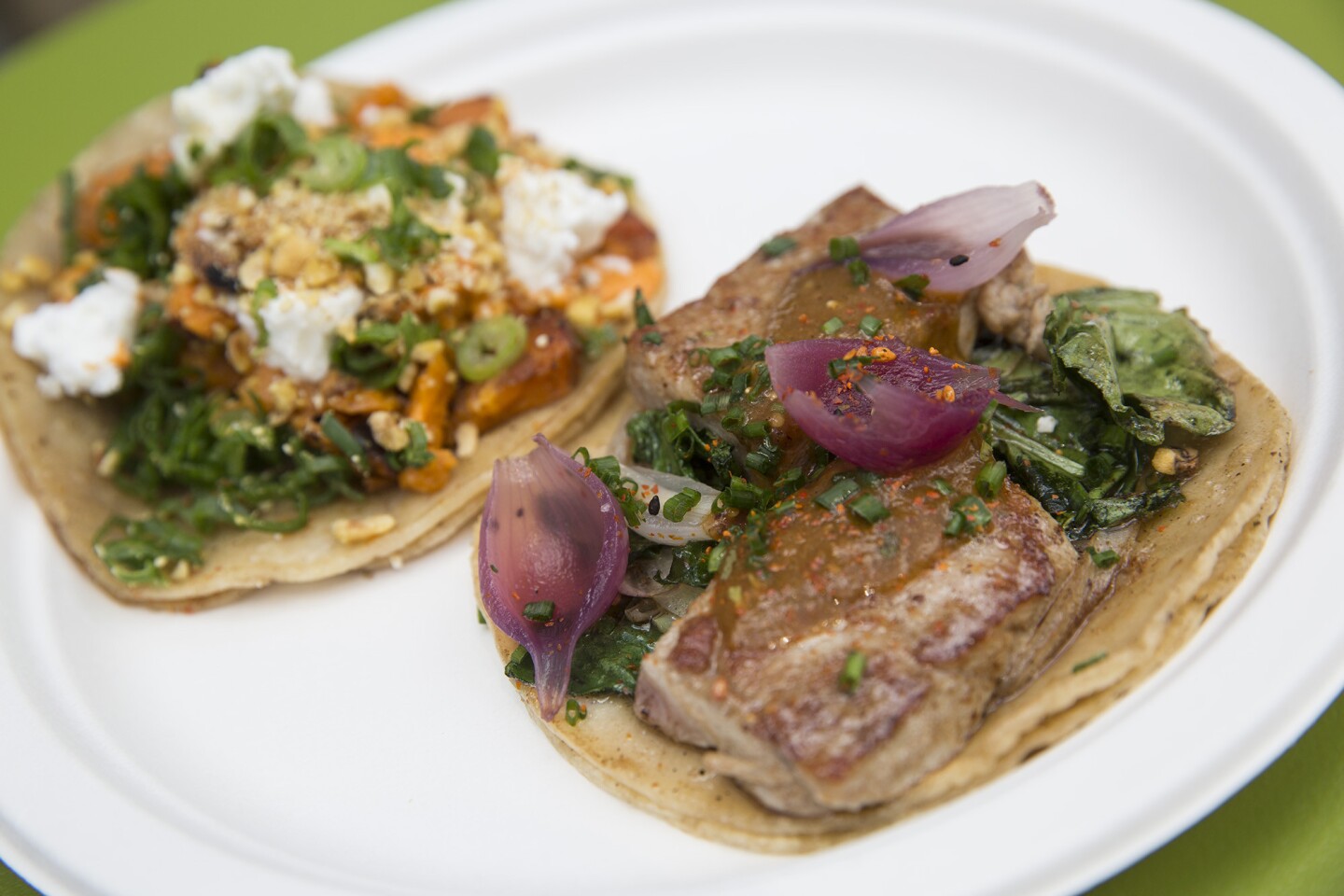 The seared bluefin tuna taco, right, and the sweet potato taco by Guerrilla Tacos.
(Brian van der Brug / Los Angeles Times)
Enrique Olvera doesn't believe in Mexican food.
The 40-year-old chef behind Pujol in Mexico City and Cosme in New York cites the difference between Texas barbecue and California cuisine to prove his point. "Nationality in general is a stupid discussion," he says. "There is a Mexican cuisine that is from Los Angeles, just like there is a Mexican cuisine that is from Oaxaca."
Olvera is Mexico's most famous culinary star. His flagship, Pujol, is currently ranked No. 16 on San Pellegrino's influential list of the world's 50 best restaurants. With seven concepts stretched across North America — six in Mexico and one in Manhattan — he's rarely in one place long enough to settle into a routine.
On a recent night he was behind the stoves at Providence (Michael Cimarusti's fine-dining sanctuary, ranked No. 1 on Jonathan Gold's list of 101 Best Restaurants three years in a row), serving Maine lobster with charred seaweed mole and fiddlehead ferns as part of the restaurant's 10th anniversary guest chef dinner. Another morning finds him making an ad hoc taco tour of L.A. He's on a Culver City sidewalk waiting for his order from Wes Avila's roving truck, Guerrilla Tacos.
This dichotomy of high and low is a familiar place for Olvera, who ushered in a new era of Mexican cooking at Pujol — one that blends the technique and precision of fine dining with the flavor and soul of street food.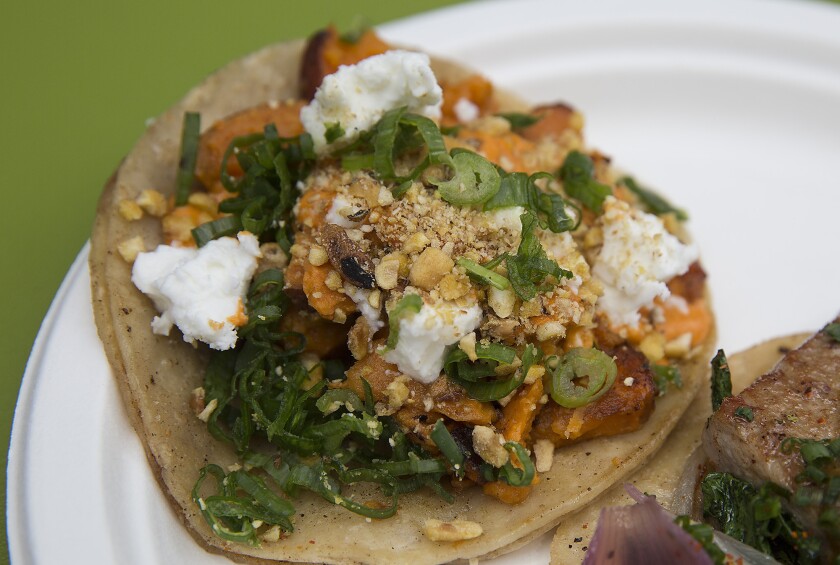 "Enrique!" Avila calls from the truck, delivering his signature vegetarian taco, piled high with roasted sweet potato, feta cheese, fried corn and scallions. A few minutes later, a dish of surf clams emerges from the truck's window. The clams, slivered into long strips and served in their own palm-sized shell, are dressed with a Vietnamese-style noc nam, or dipping sauce, and scented with yuzu, a citrus most often associated with Japan and Korea.
Avila, who worked for Alain Ducasse in Paris and later Gary Menes at Le Comptoir in Los Angeles, brings his fine-dining training to the street, whereas Olvera brings the energy of the street into the dining room. Both are deeply imbued in the flavors of their own community, which for Avila is the melting pot of Los Angeles, and for Olvera is the mercados of his hometown, Mexico City.
"Tacos are cultural expression," Olvera says. "And in L.A. there's that approach of, 'Screw it — as long as it's delicious, who cares what kind of cuisine it is?'"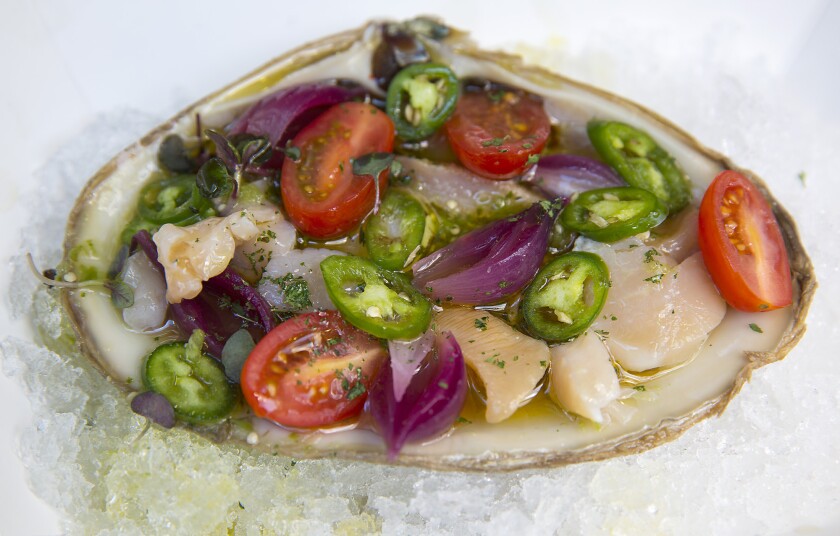 Olvera, who in addition to his work as a chef organizes the annual Mesamérica conference, a multi-day gastronomic summit in Mexico, likes to talk about authenticity, which he defines as who you are, not where you're from.
"I don't have a mariachi hat," says Olvera, dressed in white Italian leather sneakers, dark denim and a black windbreaker. "I don't play Alejandro Fernández in my car. I'm extremely Mexican, but there is nothing Mexican about me."
Half an hour later, he inverts a bottle of Tapatío over an octopus coctel outside Mariscos Jalisco, Raul Ortega's seafood truck that has been parked on East Olympic Boulevard for over a decade. "It can never be too spicy," he says.
Instead of the familiar tacos dorados filled with potato and topped with green salsa Olvera is accustomed to in Mexico City, the tacos dorados at Mariscos Jalisco are crisp yet pliable corn tortillas stuffed with shrimp and decorated with a rough dice of tomato salsa and delicate slab of avocado. "That's the beautiful thing about food," he says lifting his paper plate, "it's yours. It doesn't belong to the culture, it belongs to you."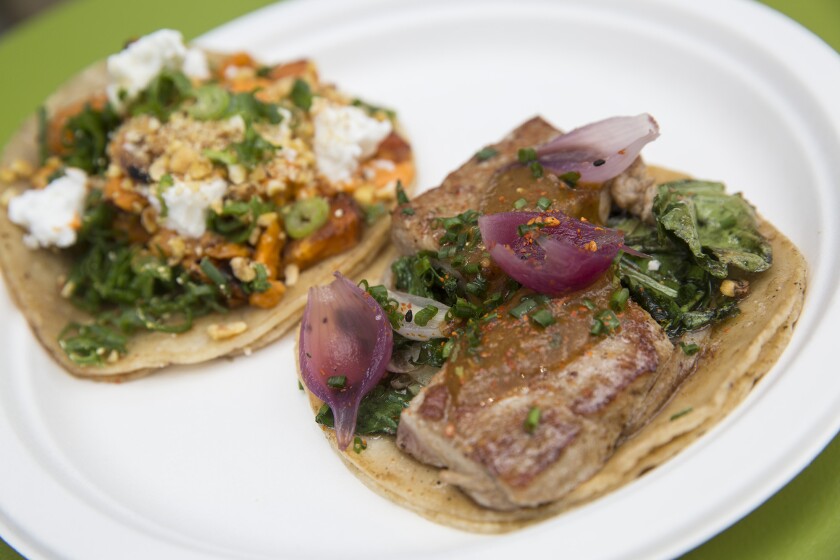 Back in the car, inching toward Mexicali Taco & Co. on the 101 Freeway, Olvera compares the sprawling yet comparatively sparse street food scene in Los Angeles with Mexico City's vast web of esquites and al pastor.
"In Mexico, I miss diversity," he says. "Here you find people from everywhere with many different interests. In a way, Los Angeles is like a spice route now — a lot of people from many places."
The cliché is that all of Los Angeles is Hollywood, a city of shallow roots and perpetual reinvention, but the food in Los Angeles has deep roots that spread laterally, borrowing ingredients and tinkering with existing formulas. Korean bulgogi tacos, vegan ramen and sushi burritos have come to exemplify a cuisine that can't be pinned down.
"I love the way that you guys are playing around with your food," Olvera says.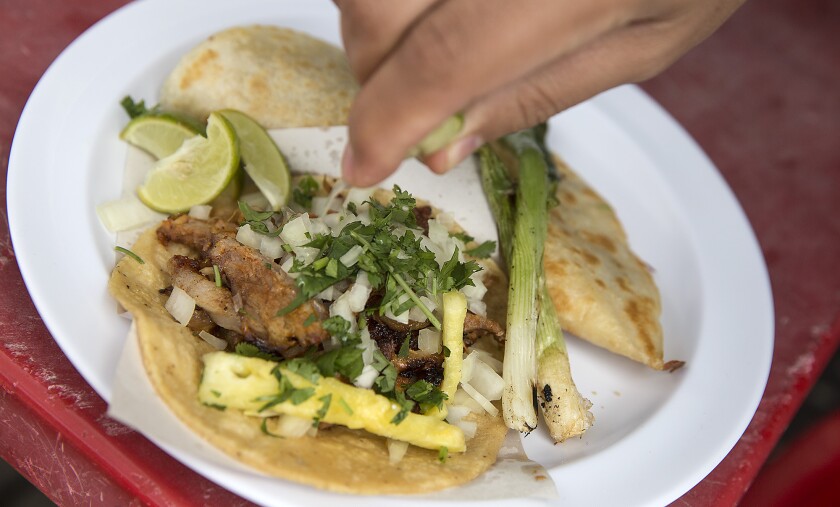 At Mexicali a taco al pastor and a vampiro — the griddled Sonoran specialty that welds carne asada and flour tortillas together with melted cheese — arrive and Olvera dives into the pastor, a familiar taste from the streets of Mexico City where the combination of spit-roasted pork and sliced pineapple is a sidewalk staple.
Whereas cochinita pibil belongs to the Yucatan, tlayudas to Oaxaca and chilpachole to Veracruz, Olvera says that everyone tries to claim al pastor as their own. Food historians attribute the spit-roasted meat to Lebanese immigrants from Puebla who adapted lamb shwarma into pork-filled tacos arabes in the early 20th century. The addition of pineapple, which Olvera credits to Mexico City, has since been exported to taquerias across North America, including this one — Mexicali — which sits on a nondescript block of Figueroa Street on the outskirts of L.A.'s Chinatown and is named after a border town home to La Chinesca, the largest Chinatown in Mexico.
Like people, food wanders. And in a city like Los Angeles, the pleasure of eating lies in the uncertainty of what's next. For Olvera, the Philippines is next, where he'll wander the spice route that gave Mexico mangoes, cilantro and tamarind. After that, he's off to Japan before returning home to Mexico, a trail of paper and ceramic plates in his wake.
---
Get our weekly Tasting Notes newsletter for reviews, news and more.
You may occasionally receive promotional content from the Los Angeles Times.