Farmers Markets: West Hollywood market a mixed bag for Mondays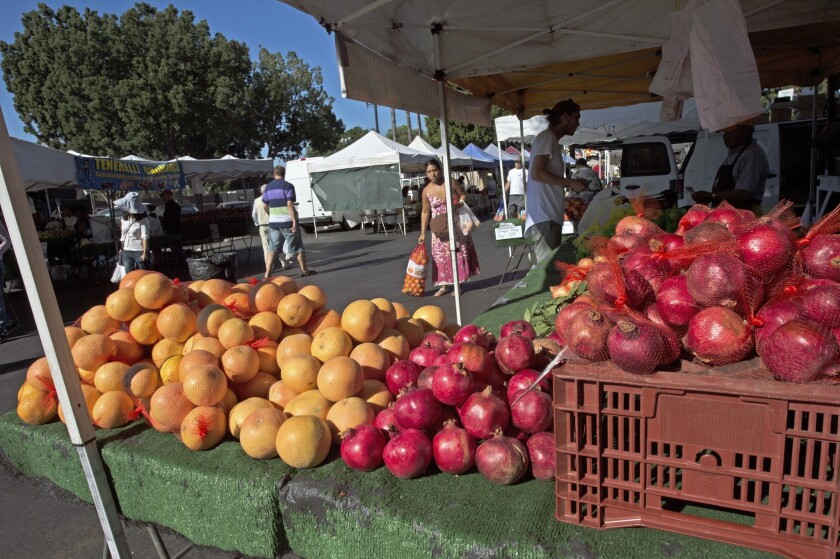 Crown 12 Ranch sells Shambar grapefruit and Angel Red pomegranates grown in Corona, at the West Hollywood farmers market.
(David Karp)
Smith Farms of Orange County sells red, green and yellow bell peppers.
(David Karp)
Red seedless watermelons sold by Smith Farms of Orange County.
(David Karp)
Gama Farms of Arvin sells potatoes and onions.
(David Karp)
J&J Farms sells kale, broccoli and other vegetables grown in Santa Maria.
(David Karp)
Variegated Pink Eureka lemons grown by J.J.'s Lone Daughter Ranch (Laura Ramirez) in Redlands, at the Santa Monica farmers market.
(David Karp)
Cactus pears grown by Louis Diaz of Rancho Mexico Lindo in Valley Center.
(David Karp)
The West Hollywood farmers market for more than 25 years has served its community well by sticking to the basics. Along with Bellflower and South Gate, it's one of just three markets in the Southland held on a Monday, when farmers are usually busy farming or are reposing after working all weekend.
It's average in size, with a good balance of 18 farmers and 12 non-agricultural food vendors. The market is set in a parking lot at the northern end of Plummer Park, and customers include Russian babushkas and professionals.
Its offerings are equally diverse, ranging from gold-standard farms such as Harry's Berries and Tenerelli Orchards to several vendors who have recently been cited by agricultural authorities for selling purchased produce as their own. The market generally is well managed but could be improved if the city exercised more oversight.
Koreen and David Strandberg of Crown 12 Ranch, who have been selling at the market for a quarter century, grow several rare, historic varieties special to Corona. They have old-crop Shambar grapefruit, a pink mutation of Marsh White discovered in Corona in 1936, when citrus still blanketed the foothills.
California's counterpart to the Ruby and Redblush mutations that were discovered in Texas just a few years before, Shambar ripens early but holds remarkably well on the tree, getting sweeter without becoming puffy. By now it's as mild and sugary as an orange, yet not insipid, with no trace of the dry, granulated flesh that plagues other grapefruit by September.
Crown 12, which is usually represented at this market by longtime employee Rutilo Maldonado, is one of the few farms that still offers the old Villafranca lemon, a minor variety of Sicilian origin that found its way to California in the late 19th century and was once widely grown in Corona. It's similar to Eureka but with a thinner skin. The lemons are now in the silver stage, intermediate between green and yellow, but perfectly good and a bargain at five for $1.
Crown 12 also offers heirloom Spanish Sweet (a.k.a. Papershell) pomegranates, which look scruffy in their light skins but have extraordinarily sweet pink arils containing very soft seeds. Its Angel Red pomegranates, a new variety that has received a lot of attention recently, have flavorful red arils and relatively soft seeds.
Hass avocados from warm inland areas are overmature by now, but in a week or two the Strandbergs will start bringing their new crop of Teague, an early-ripening, green-skinned cross of Duke and Fuerte named after Crawford Teague, a renowned Corona grower and nurseryman. The farm also sells at both Torrance markets, at Riverside (Arlington) and at Victorville (High Desert).
J&J Farm of Santa Maria, where it rarely gets much hotter than 70 degrees, is a reliably honest source for crops that require cool temperatures, such as broccoli, cauliflower and celery. Moua Kao Youa, a Hmong grower from Fresno, displays a wide variety of Asian vegetables, peppers, eggplant and okra.
Gama Farms of Arvin brings its trademark medley of eggs, potatoes and onions, along with Crimson and Autumn Royal grapes, two standard varieties with mild, sweet flavor that are in prime season now.
This week Tenerelli Orchards will start bringing Fairtime, a 50-year-old yellow peach, derived from Rio Oso Gem, that is a longtime standard for the late season from the high desert. It differs from previous varieties by having less red blush and by ripening from the inside out, so that even relatively firm fruits can be ready to eat. Look for specimens with a rich golden yellow background.
West Hollywood farmers market, 1200 N. Vista St. (at Fountain Avenue), 9 a.m. to 2 p.m. Mondays.
Tip of the week: Premium old-crop Hass avocados grown in Morro Bay by Shanley Farms are at the Santa Monica Wednesday farmers market and at Whole Foods. Morro Bay, along the Central Coast, is one of the latest avocado growing districts in California and one of the few where the fruits remain in prime condition late into the fall. The fruits not only avoid rancidity, they're also higher in oil and richer in flavor than any other avocados.
---
Get our weekly Tasting Notes newsletter for reviews, news and more.
You may occasionally receive promotional content from the Los Angeles Times.