Farmers Market: Fall Fiesta has post-season plum taste in Brentwood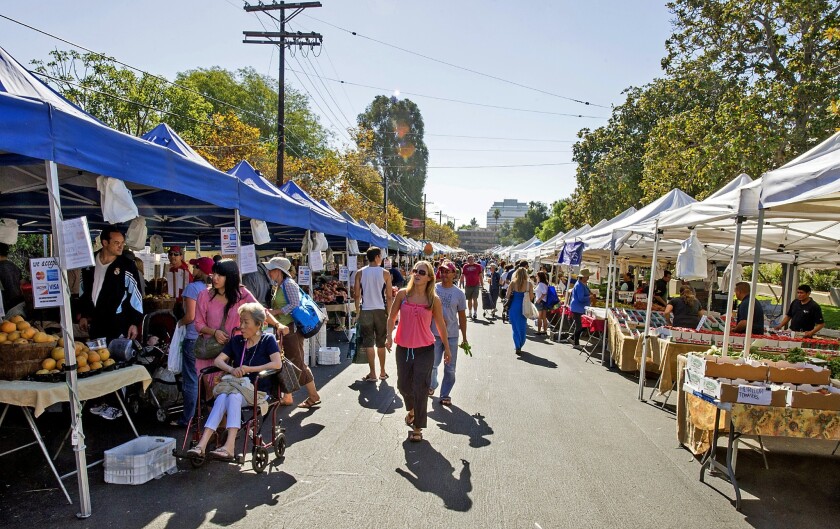 The Brentwood farmers market, which on Sundays stretches along South Gretna Green Way between San Vicente Boulevard and Montana Avenue.
(David Karp)
Super-hot Ghost Chili Peppers grown by Country Fresh Herbs in Somis, at the Brentwood farmers market.
(David Karp)
Fall Fiesta pluots -- with plum, cherry, peach and nectarine in its parentage -- grown by Arnett Farms in Fresno.
(David Karp)
Pitahaya (dragon fruit) grown by Pedro Gallardo in Fallbrook, at the Long Beach downtown Friday farmers market.
(David Karp)
San Manzano tomatoes grown by McGrath Family Farms in Camarillo, at the Santa Monica farmers market.
(David Karp)
Sugar Bear pumpkins grown by Weiser Family Farms in Tehachapi, at the Santa Monica farmers market.
(David Karp)
Tahitian squash grown by Schaner Farms in Valley Center, at the Santa Monica farmers market.
(David Karp)
Country Fresh Herbs sells shishito and padron peppers, grown in Somis, at the Brentwood farmers market.
(David Karp)
Baby bok choy grown by Underwood Ranches of Moorpark and Somis, at the Brentwood farmers market.
(David Karp)
The decade-old Brentwood farmers market is the largest of the 20 venues run by the Raw Inspiration group, stretching for almost a quarter mile down Gretna Green Way from San Vicente Boulevard to Montana Avenue. It's a flourishing event with a relaxed vibe, less crowded than nearby Pacific Palisades, less of a scene than Santa Monica Wednesday.
About a third of the 100 vendors are farmers, and there's always a long line at Arnett Farms, where Secil Atalay attractively displays and identifies a wide range of fruit, including cutting-edge new varieties rarely found elsewhere. This week the most interesting is Fall Fiesta, which looks like a standard purple Pluot, but is actually a brand-new Zaiger hybrid of three species: plum, cherry, peach and nectarine (peach and nectarine are fuzzy and hairless forms of the same species). Previously the wizards at Zaiger have come up with Cherums (plum and cherry) and Peacotums (peach and apricot and plum), but this appears to be the first combination of plum, peach and cherry in a commercial fruit.
Historically plums have started later and finished harvest earlier than peaches, so by now, weeks after the end of the traditional plum season, most plum-like fruits have been in storage for a while; but the ultra-late Fall Fiesta can be harvested well into October in Fresno, and tastes close in quality to a midsummer Pluot, with firm but juicy yellow-orange flesh, and a moderately rich sweet-tart flavor derived from its complex ancestry. The trees are young and supplies are limited, but Atalay says she will also sell the fruits at Irvine and Culver City.
Ruben and Sonya Mkrtchyan bring huge, elongated Mirza melons with intensely sweet and aromatic white flesh, originating in Uzbekistan and grown in remote Onyx, at the southern end of the Sierras. Most remarkably, Sonya braids dried Mirza melon strips into traditional Uzbek melon sticks ($4 each), which have a chewy but tender taffy-like texture, and a musky flavor so concentrated it smacks of umami. The Mkrtchyans also will have oval Gulobi melons with a bright golden netted rind and more simply sweet, honeydew-like white flesh; they also sell at Calabasas and Santa Monica Wednesday.
Camarillo-based Isabell's Farm, run by the Mkrtchyans' daughter, has unusual raspberry blossom honey, with a wisp of the flavor of the berry.
One of the best vegetable vendors is Garrett Feig of Country Fresh Herbs, from Somis, who has gorgeous shishito and padron peppers, Spanish piquillo peppers, and insanely incendiary Ghost chiles. Scarborough Farms, a large grower from Camarillo that sells mostly to restaurants, produces fresh, tender salad greens, including mesclun mix, wild arugula, frisee and unusual golden pea shoots. Underwood Family Farms of Moorpark brings a wide range of quality vegetables, including fully ripe and flavorful Cherokee Purple and Pink Brandywine tomatoes, laid out in single layers so they don't bruise.
Although a slightly greater number of farmers markets are held on Saturday, Sunday offers the stiffest competition among large, high-quality markets in the densely populated western and central districts of Los Angeles County. Hollywood, Beverly Hills, Mar Vista, Santa Monica Main Street, Brentwood, Pacific Palisades, Encino and Studio City are all strong markets. Hollywood has the most farmers, and draws more chefs and customers from around the city.
Brentwood probably has the largest section of prepared and packaged food vendors of any Southern California farmers market; customers who just want produce can stick to the northern portion of the block. As for the farm section, quality varies considerably: seven of the 35 farmers have been cited by agricultural authorities, or ejected by other markets, for illicit reselling. Compared with the best of the competition, Brentwood has a relatively high ratio of such known cheaters, and a lower percentage of stands where the actual farmer, rather than employees, shows up. But there are still many honest, worthwhile farms, and careful shoppers can do well.
Brentwood farmers market, 741 Gretna Green Way, Sunday, 9 a.m. to 2 p.m.
Tip of the week: On Wednesday at the Santa Monica farmers market Andrea Crawford of Kenter Family Farms will start selling whole berries and flour of Sonora, Red Fife and Glenn wheat grown in Hollister, along with artisanal breads she is baking with the flour.
Also at Santa Monica, Alex Weiser has ristras made from Espelette chile peppers, the pride of the Basque country. He says he will be grinding the pods into powder, which has medium heat and exceptionally rich, complex flavor, enough to entice many of the famously chile-phobic French.
---
Get our weekly Tasting Notes newsletter for reviews, news and more.
You may occasionally receive promotional content from the Los Angeles Times.