The Find: Ramen Yamadaya in Torrance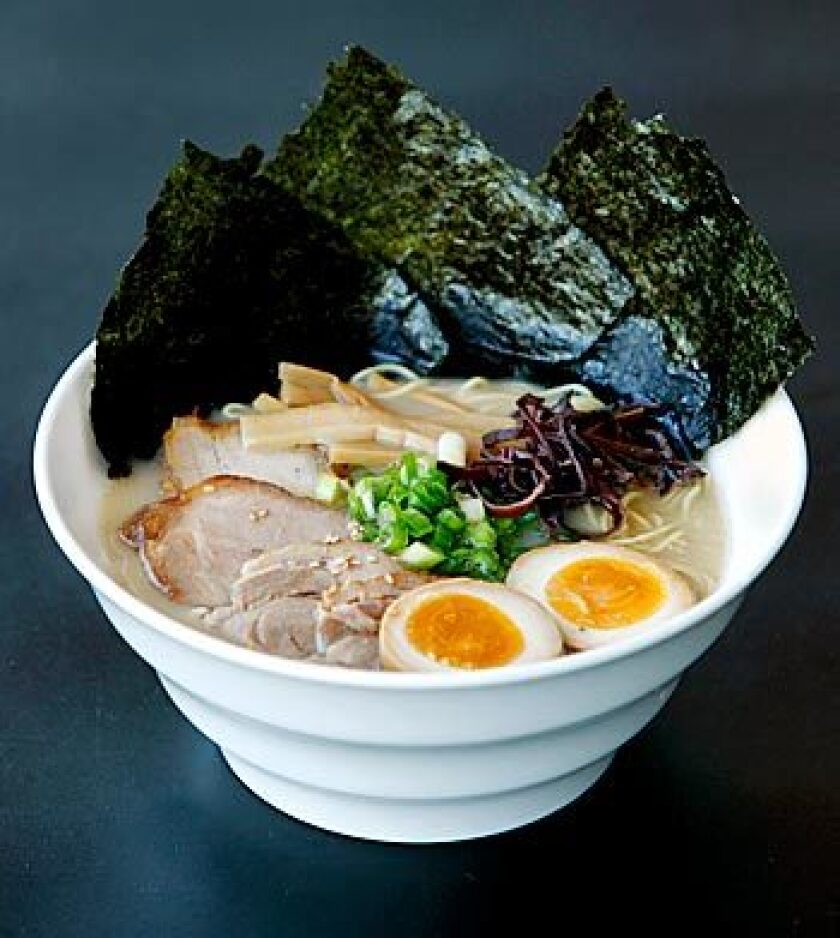 Tonkotsu is the heart of the matter at Ramen Yamadaya, an unassuming little ramen shop in Torrance squeezed between a skate shop and the 405 Freeway. Proper tonkotsu broth is made by simmering pork bones for the better part of the day, and the result is a lush, intensified, liquefied pork. A good tonkotsu broth feels like a crushed velvet smoothie.
Yamadaya's tonkotsu broth looks promising: cloudy, dense with porky particulate. A first sip doesn't disappoint, revealing a sensuous version of tonkotsu broth — almost fuzzy, like drinking a pork Snuggie.
A newbie to hard-core pork ramen should certainly begin with the broth in its most elemental form: Order tonkotsu ramen with thin noodles for an unadulterated experience of the long-simmered-bone broth. The more pig-lusting among you should order chashumen, which adds a few extra slices of luscious pork belly. Close your eyes, focus your mind and sip the broth as if it were a glass of fine red.
Ramen Yamadaya offers a subtler version of tonkotsu broth than some of its competitors. If Los Angeles' famed Santouka Ramen gives you the James Brown dirty funk version of tonkotsu, then Ramen Yamadaya offers a more meditative broth flavor, a Bach cello suite in the key of pork.
But unlike some of the other tonkotsu vendors in Los Angeles, Ramen Yamadaya might be at its best when it strays from the formula. The classic tonkotsu style comes from Kyushu, a southern island of Japan, but tonkotsu has become a favorite in Tokyo, where the style has gone through a number of mutations. Ramen Yamadaya offers some of the popular Tokyo variants, including tonkotsu shoyu ramen: tonkotsu broth cut with soy sauce and flavored with black sesame paste.
The best bowl here might be Yamadaya ramen, which is your choice of classic tonkotsu ramen or Tokyo-style tonkotsu shoyu ramen, with a bunch of extra toppings: a seasoned egg, fermented bamboo shoots and a square of dried seaweed. Get it with shoyu. The saltiness and brine of the seaweed leaches out into the broth and combines with the fermented funk of quality soy and triggers some mysterious, wild alchemy. It is one of Los Angeles' definitive liquid experiences.
Jin Yamada, owner of Ramen Yamadaya, is most excited about his tsukemen: thick, chewy noodles served with a side of a tonkotsu-based dipping sauce. Tsukemen is a popular style of ramen in Tokyo, says Yamada, but it's rare in Los Angeles.
Ramen Yamadaya's version of tsukemen features cold noodles with your choice of toppings and a bowl of warm dipping sauce, for added contrast. The dipping sauce is made from a concentrate of the tonkotsu pork broth, with fish powder for extra zest. The sauce is charmingly, puckeringly salty.
Tsukemen is also, by far, the lightest ramen experience at Yamadaya. It's a useful counteragent to kakuni ramen, which is tonkotsu ramen with the addition of a massive slab of steamed pork belly. The kakuni is so powerfully and beautifully soporific, you may need a designated driver.
RAMEN YAMADAYA
LOCATION: 3118 W. 182nd St., Torrance; (310) 380-5555
PRICES: Ramen, $8 to $13; other entrees, $6 to $10; sides $2 to $5
DETAILS: Open 11:30 a.m. to 3 p.m. and 5 p.m. to midnight Monday to Friday; noon to midnight Saturday; noon to 9 p.m. Sunday. Soft drinks, tea. Cash only. Lot parking.
---
Get our weekly Tasting Notes newsletter for reviews, news and more.
You may occasionally receive promotional content from the Los Angeles Times.