Recipe: Butterscotch pot de crème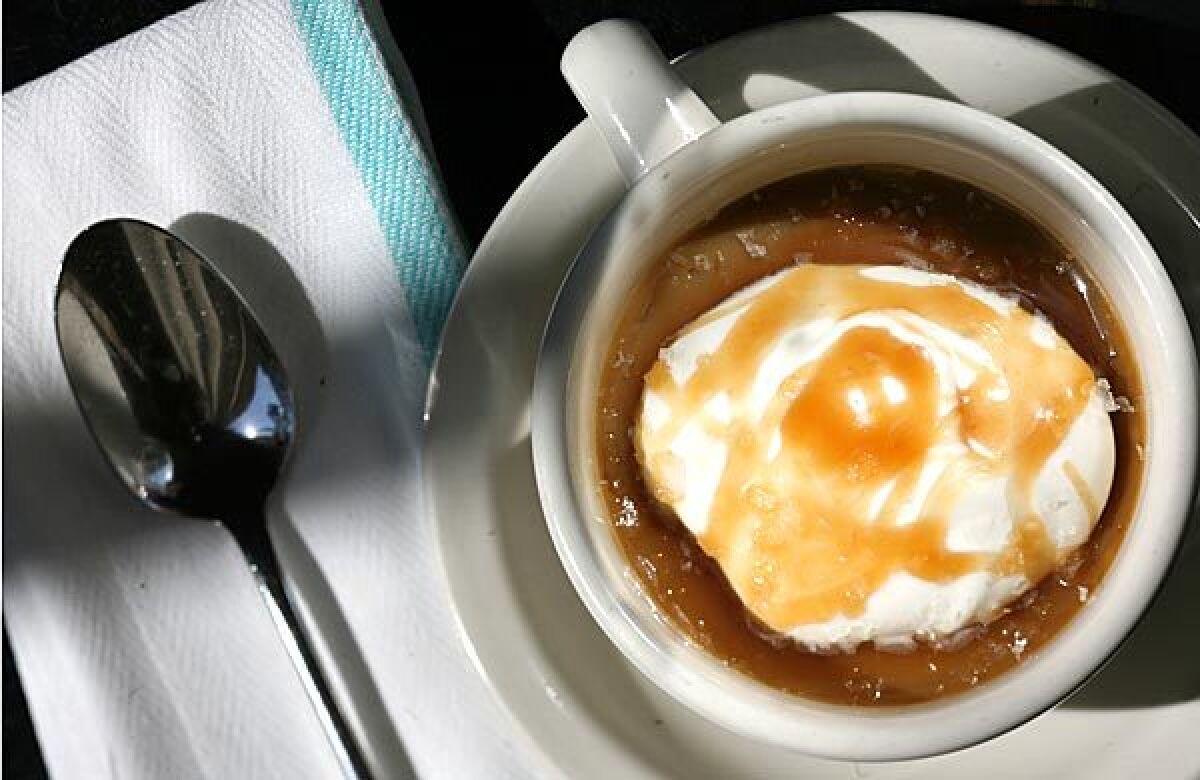 Butterscotch pot de crème
Total time: 1 hour, plus cooling time
Servings: 10
Note: Adapted from Travis Lett of Gjelina.
---
Our recipes, your kitchen: If you try this or any other recipe from the L.A. Times Test Kitchen, we would like to know about it so we can showcase it on our food blog and occasionally in print. Upload pictures of the finished dish here.
---
9 egg yolks
3/4 cup (1½ sticks) plus 6 tablespoons butter, divided
1 1/2 cups packed brown sugar
1/2 tablespoon salt
1/2 vanilla bean
4 1/2 cups heavy cream, divided
2 cups granulated sugar
1/2 cup water
1 cup crème fraîche
Flaky sea salt (such as Maldon) for garnish
1. Heat the oven to 325 degrees.
2. In a large mixing bowl, whisk the egg yolks until smooth and set aside.
3. In a large heavy-bottom saucepan, melt 6 tablespoons butter over medium heat. Once melted, whisk in the brown sugar and salt. Scrape the vanilla bean seeds into the pot and drop in the pod. Cook over medium heat until the sugar begins to darken slightly and takes on a nutty, caramel fragrance, about 5 minutes depending on the heat of your stove.
4. Turn heat to medium-low and whisk in 3½ cups cream, pouring slowly. The sugar will seize and harden when the cream is added. Cook and continue whisking until all of the sugar is dissolved and the mixture just begins to boil.
5. Remove from heat and temper the cream-sugar mixture into the egg yolks: Whisk about 1 cup of the mixture into the eggs to warm/temper them, then very slowly add the remaining cream, whisking constantly. Strain through a fine mesh chinois or cheesecloth. You should have about 5 cups of the custard base, which will be divided into 10 (one-half-cup) servings.
6. Place teacups or ramekins in a large baking or roasting pan, leaving at least 1 inch of space between each (the cups may need to be divided between 2 pans). Gently pour one-half cup of the custard base into each cup. Place the pan in the oven, and gently pour simmering water into the pan, coming at least halfway up the sides of the cups. Cover the pan with aluminum foil.
7. Bake the custards until set; they should jiggle gently when tapped (as with gelatin), about 45 minutes (check after 30 minutes to see how they are setting up; total baking time can vary from about 35 to 50 minutes, depending on the shape of the cups). Gently remove the pan from the oven, and remove the cups from the pan. Set aside until cool.
8. While the custards are baking, make the caramel: In a large, heavy-bottom saucepan, combine 2 cups granulated sugar with the water. Heat over medium heat until the sugar turns a deep amber (dark, reddish brown) color and is fragrantly nutty, about 15 minutes.
9. Add the remaining three-fourths cup (1½ sticks) butter and stir until it melts and is thoroughly incorporated (be careful; it will steam and bubble vigorously). Add a little of the remaining 1 cup cream (the caramel will seize) and stir, then add a little more and stir. Stir in the rest of the cream until incorporated; remove from heat and set aside. This makes about 2½ cups caramel, more than is needed for this recipe. The caramel will keep, covered and refrigerated, for up to 2 weeks.
10. In the bowl of a mixer, or in a large bowl using a hand-held mixer, whip the crème fraîche. Serve the pot de crème at room temperature. Garnish each serving with a generous tablespoon of whipped crème fraîche, 2 generous teaspoons of caramel and a pinch of flaky sea salt, or to taste.
Each serving: 634 calories; 5 grams protein; 41 grams carbohydrates; 0 fiber; 52 grams fat; 31 grams saturated fat; 327 mg cholesterol; 38 grams sugar; 416 mg sodium.
Get our L.A. Goes Out newsletter, with the week's best events, to help you explore and experience our city.
You may occasionally receive promotional content from the Los Angeles Times.