Counter Intelligence: The basics of life at Kang Ho-dong Baekjeong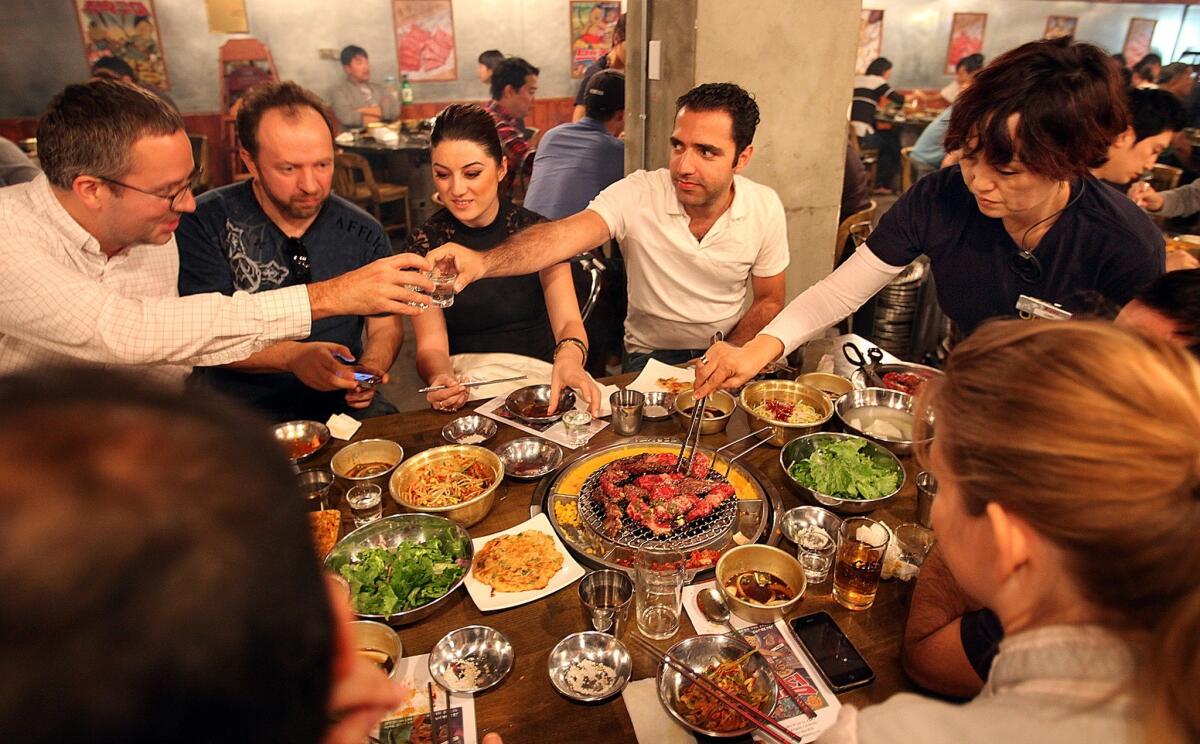 Los Angeles Times Restaurant Critic
Meet Kang Ho-dong. Kang Ho-dong is a South Korean celebrity, a former wrestler turned TV personality whose ubiquity on Korean television approaches what you might get if you added Ryan Seacrest's TV appearances to those of Charlie Sheen's. Last year, before his career was briefly interrupted by accusations of tax evasion, since tossed out of court, Kang starred in four prime-time shows: three variety hours, plus a reality show that combined travelogue with aspects of "Celebrity Rehab."
I spent a couple of hours last week watching Kang Ho-dong clips on YouTube, and I still find it no easier to explain the essence of his celebrity. He is an alpha-wolf extrovert who convulses with laughter at his own jokes. Like his near-look-alike Psy, the singer behind "Gangnam Style," he is an uncouth, beefy man in a Korean pop culture that reveres exquisite beauty in its male stars. This week, he makes his triumphant reentry onto Korean television, after a 14-month-absence, returning as a host on "Star King." The Korean gossip magazines can scarcely talk about anything else.
I bring this up because Kang Ho-dong runs a restaurant chain on the side, a dozen or so high-end Korean barbecue places in the motherland, plus restaurants in Honolulu and suburban Atlanta. His Los Angeles restaurant is in Chapman Market, a superb Art Deco complex designed in 1929 as a drive-through market but which is now a Koreatown wonderland of crowded nightclubs, year-round Christmas lights and beery restaurants.
Kang Ho-dong Baekjeong, which everybody calls just Baekjeong, has no sign in English but is easily identified by the life-size cardboard cutouts of Kang Ho-dong on either side of the entrance and also by the size of the crowd outside. Kang has yet to make his first visit to the restaurant, but nobody seems dissuaded by this. On weekends, the wait for a table is often two hours.
PHOTOS: Kang Ho-dong Baekjeong
While Kang Ho-dong Baekjeong may be, more or less, a Korean Hard Rock Cafe, based on a fantasy of an old-fashioned, beef-serving Korean bar, the food, while basic, is of surprisingly high quality. When you finally are seated, you will find the table already set with a metal bowl of water kimchi bobbing in a brine that tastes a little like 7Up, a little dish of super-fermented cabbage kimchi and a pancake, probably a stretchy bright-green thing that is much sweeter than you expect. A waiter will snap on the round gas grill in the middle of the table, which has been supplemented with two or three chunks of imported charcoal. (There can't be more than a homeopathic effect on the taste.) The K-pop on the sound system blares. One evening, I counted six repetitions of "Gangnam Style."
The menu is short, basically a pamphlet listing various cuts of meat, and unless you have a specialist's agenda, you will probably order one of the two beef set-course dinners — at $44.99 and $79.99, they feed three or six people comfortably. The waiter pours beaten eggs from a pitcher into one special well around the rim of the charcoal grill. He spoons corn kernels and grated cheese into another well. He brings you small, icy bottles of the low-proof Korean vodka called soju and big bottles of cold Hite beer. If you are nice, he will explain the markings on the glasses indicating the ratio of beer to soju, should you care to mix a soju bomb. Sobriety is not considered a virtue here.
You should also probably get an order of shaken dosirak — a Korean kid's lunch box with meat, egg, kimchi and tiny anchovies arranged over rice in a flat metal container. The waiter whangs the box around until its contents rearrange into a crude bibimbap. This may be the only standard restaurant dish anywhere in the world whose origin points to a bored 6-year-old on a playground.
In theory, you cook your own barbecue over the grill. In practice, the waiter arranges thinly cut pieces of brisket over the hot metal and distributes them to you when they crisp, cuts the slabs of boneless short rib with his scissors or fiddles with the thumbs of well-marbled prime ribeye so that they sear but don't burn. Will you be getting pork belly, samgyeopsal? You may as well — the seared meat doesn't quite explode into juice the way that it does a few blocks away at Park's Barbecue, but it is leagues better than anything you'll find at the all-you-can-eat barbecue joints that crowd this part of town.
In theory, you can season your barbecue with raw garlic, fermented bean paste, powdered beans, chile paste or any of a dozen other things the waiter is happy to fetch from the kitchen. But you won't: You will season a bit with coarse sea salt or dip it into a sweet concoction of soy and rice wine, or drape it over dressed lettuce or slivered scallions as kind of a salad.
A glazed look overtakes you — beer and meat and soju. You spoon the soft scrambled eggs into your bowl. You scrape up a bit of cheesy corn. You are going to be feeling this in the morning.
LOCATION
3465 W. 6th St., Los Angeles (in Chapman Market), (213) 384-9678
PRICES
Meats, $14.99-$24.99; side dishes, $6.99-$7.99; beef combo meals, $44.99 (for two to three) and $79.99 (for four to six); pork combo meals, $39.99 (two to three) and $69.99 (four to six).
DETAILS
Open 11:30 a.m. to 1 a.m. Monday to Friday, 4 p.m. to 1 a.m. Saturday and Sunday. Credit cards accepted. Beer, wine and soju. Validated lot parking in Chapman Plaza.
Get our L.A. Goes Out newsletter, with the week's best events, to help you explore and experience our city.
You may occasionally receive promotional content from the Los Angeles Times.