Counter Intelligence: Stylish, deluxe Japan-inspired cuisine at Hinoki & the Bird
A plate of hinoki scented black cod at Hinoki & the Bird, a new restaurant at the base of a Century City condo tower in Los Angeles. Photo taken Friday, Feb. 22, 2013
(Allen J. Schaben / Los Angeles Times)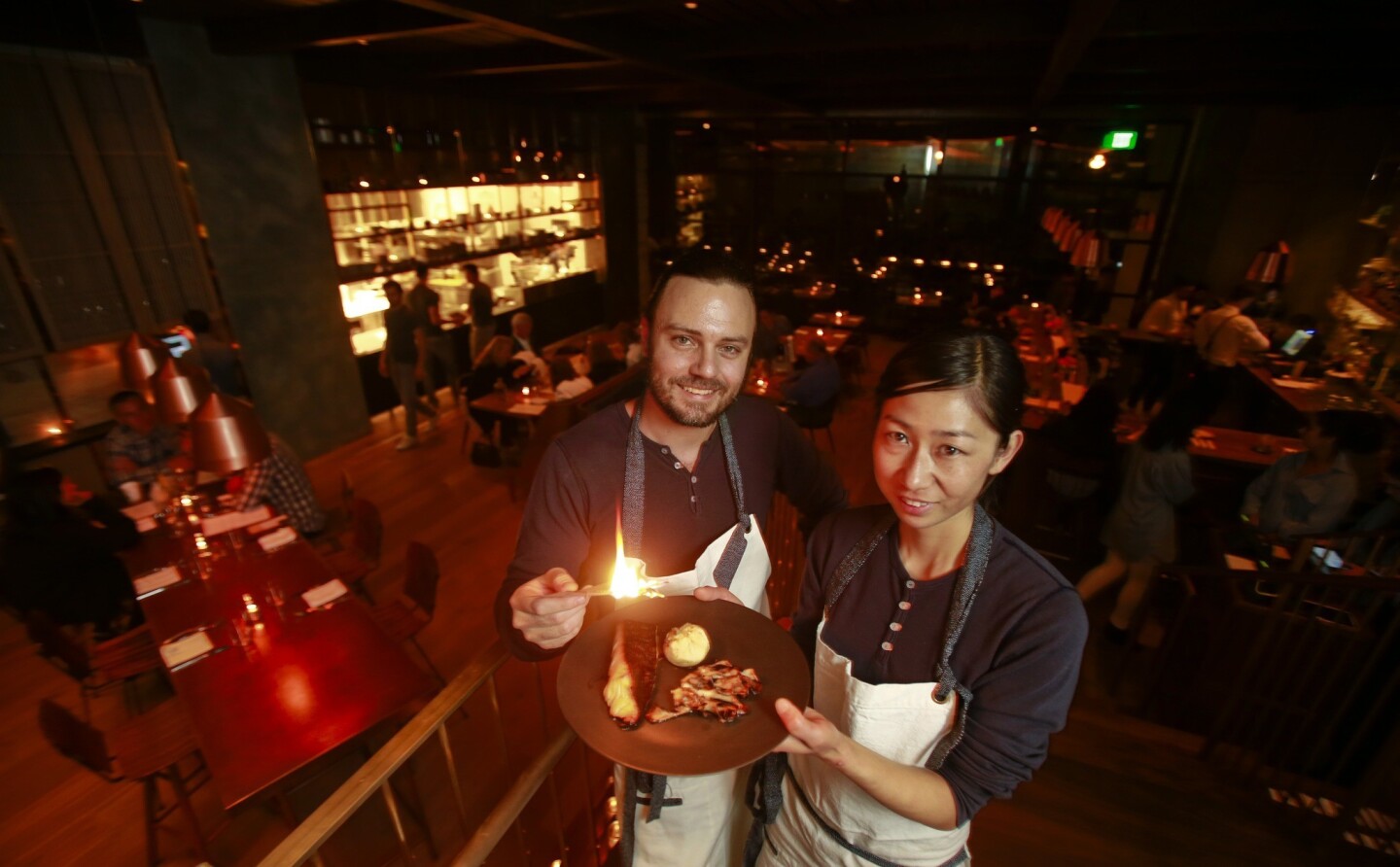 Hinoki & the Bird chef and owner David Myers and executive chef Kuniko Yagi hold a plate of hinoki-scented black cod noted in Bon Appétit magazine's list of 50 nominees for the best new restaurants in the United States.
(Allen J. Schaben / Los Angeles Times)
A bowl of kale, crispy and raw, with curried almonds, pecorino and red wine vinaigrette.
(Allen J. Schaben / Los Angeles Times)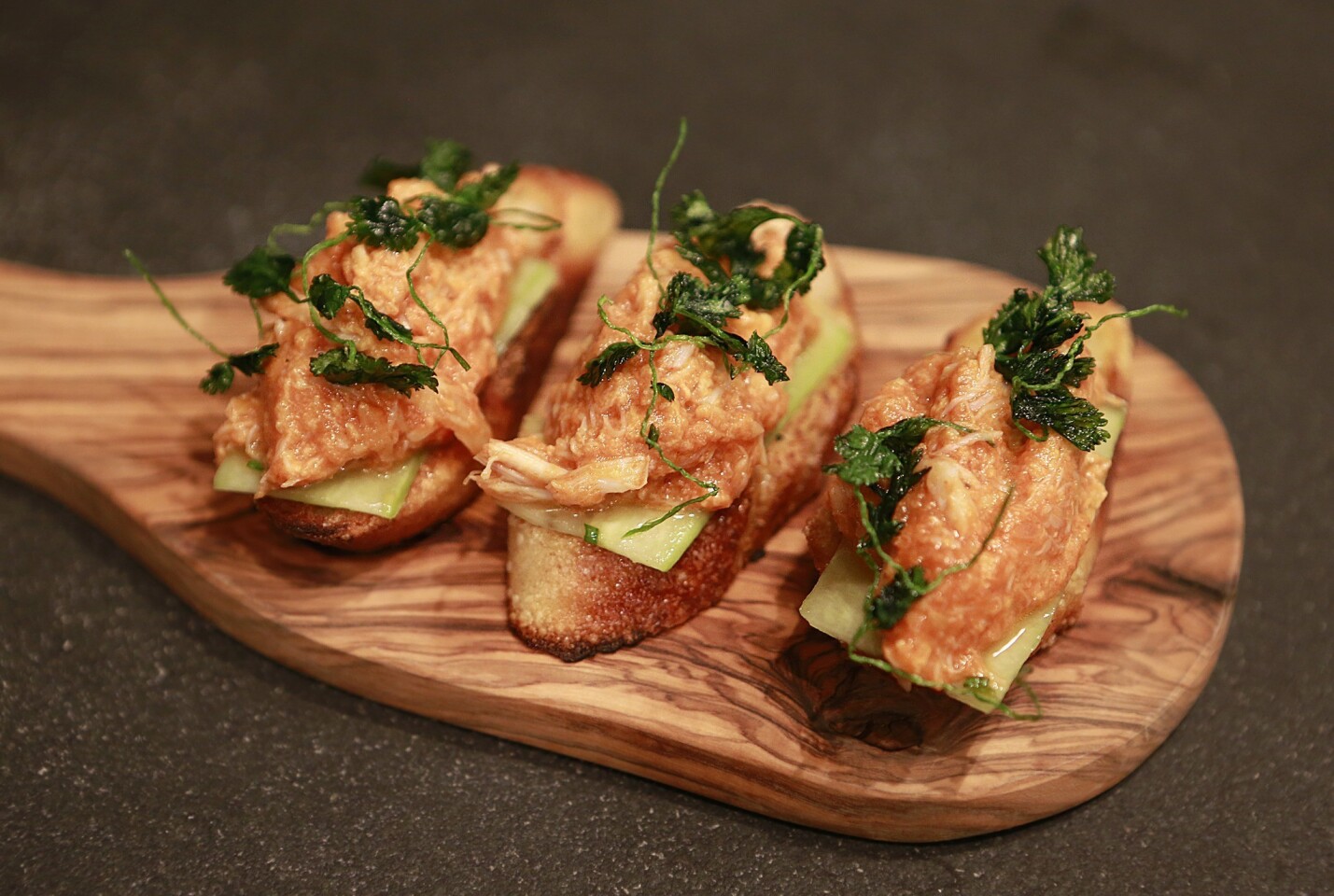 The chili crab toast is a canape-sized take on the Singapore classic.
(Allen J. Schaben / Los Angeles Times)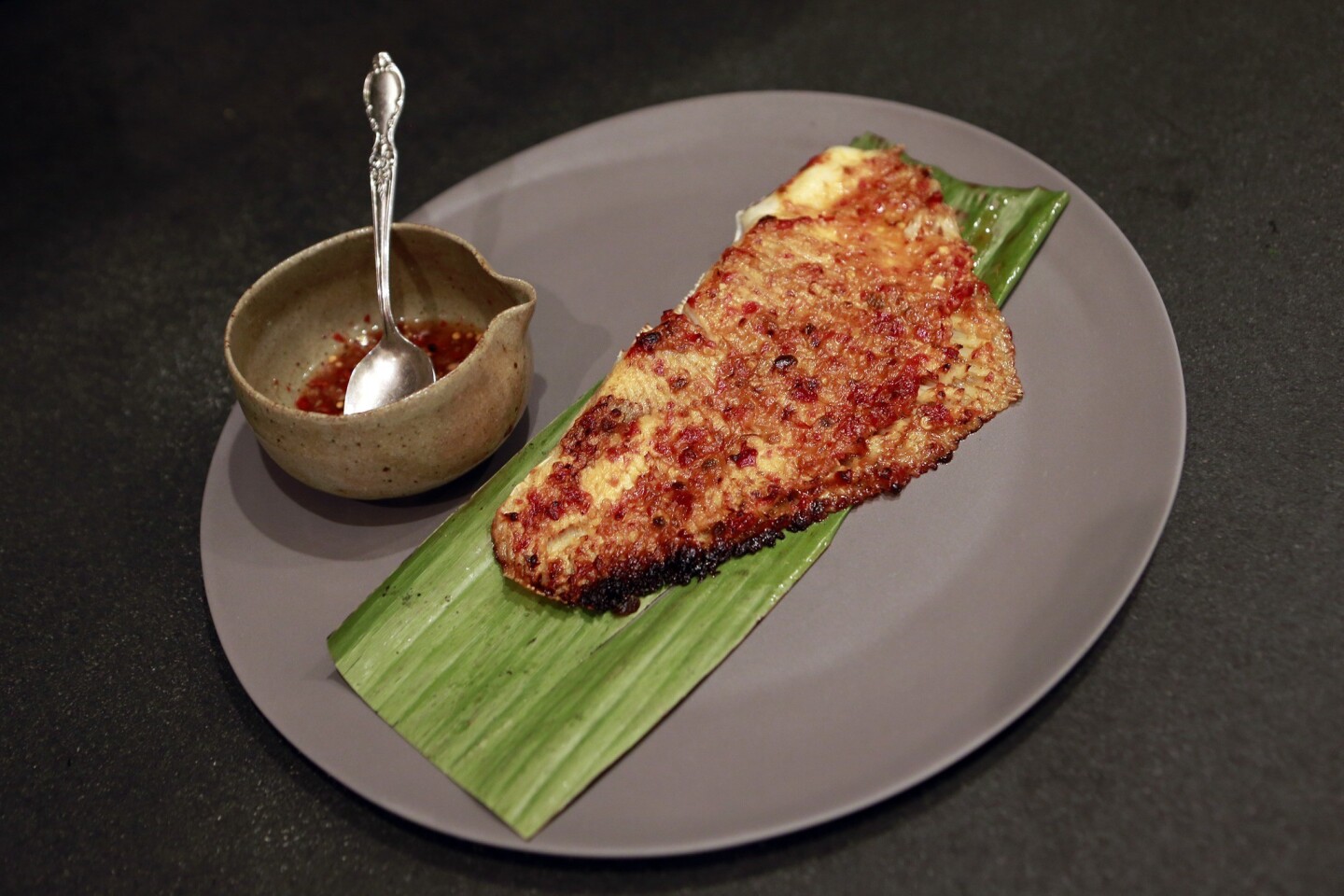 The grilled skate wing is crusted with a fragrant paste of chiles and fermented seafood.
(Allen J. Schaben / Los Angeles Times)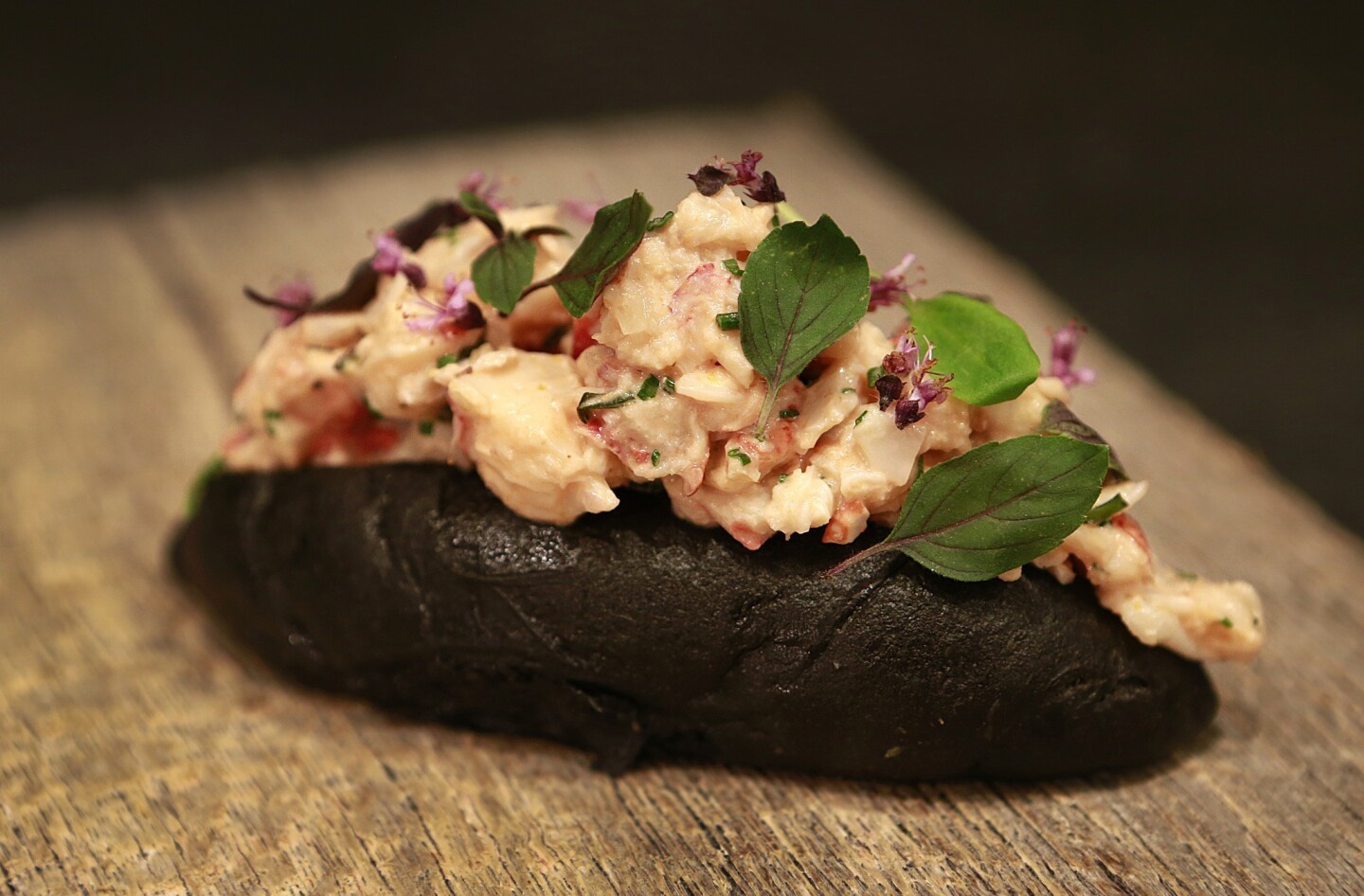 The lobster roll is made with green curry and Thai basil tucked into a black roll made with charcoal-enriched flour.
(Allen J. Schaben / Los Angeles Times)
The Tanabata Star Festival is a tradition in Japan. Hinoki & the Bird intends to celebrate with flair.
(Allen J. Schaben / Los Angeles Times)
Los Angeles Times Restaurant Critic
Hinoki is a fragrant cypress most Japanese associate with extremely expensive bathtubs, popular with the wealthy because the wood is used to build the soaking tubs at onsen, Japanese hot springs. Hinoki wood is also used to build the counters of the most prestigious sushi bars; long, smooth planks that are sanded every day and given weekly baths of milk.
Hinoki & the Bird, on the other hand, is the new Century City restaurant from David Myers, who became well-known as the auteur behind restaurant Sona until it closed in 2010 and who runs the Melrose Avenue brasserie Comme Ça and the South Coast Plaza pizzeria Ortica. Myers, who also runs a small chain of cafes in Tokyo department stores, is famously a Japanophile, obsessed with the nuances of kaiseki cooking. Kaiseki, a complex, ritualized cuisine keyed to the seasons, is often served in ryokan, traditional inns, attached to onsen.
The scent of hinoki reminds Myers of onsen, and thus serenity, although the restaurant's soundtrack tends toward unserene '80s pop.
Myers ignites paper-thin sheets of the hinoki and lays them, still smoldering, over charred clumps of oyster mushrooms and crisp-skinned hunks of black cod. The wood perfumes the restaurant — you can always tell when somebody across the room has ordered it — as well as lending the fish a subtle bouquet, the scent of a distant bonfire. The mildly salty flesh separates into flakes at the touch of a fork, which melt away on your tongue.
There is always a touch of carnality in slightly undercooked black cod, but Myers' dish expresses longing rather than satiety. When you taste it in late winter, you yearn for early spring. Hinoki & the Bird, which serves elevated versions of the kale salad, fried calamari and braised pork belly you can find everywhere else in Los Angeles, may be far from kaiseki, but it can occasionally sing in the same key.
To get to the restaurant, you nose your car onto a service road and circle down to a cluster of muscular men, who will swing open an unmarked section of wall to reveal a curved flight of stairs leading down into the restaurant, which is at the base of a posh condo complex. The first dining room is a pretty Bond-villain lair, designed with security in mind, all sleek-wood finishes, severe Modernist lines and strategic darkness. The restaurant's rear recalls a chic garden party. You are probably not as stylish as this room. You probably couldn't afford to be.
The cocktails were designed by Sam Ross, the New York bartender who introduced the new cocktailian thing to Los Angeles when he started the bar program at Comme Ça a few years ago. You should try one of his variations on the Negroni made with Japanese whiskey or Jamaican rum. You could drink Screaming Eagle or La Tache if your board of directors OKs it, although modest, high-acid wines like Huber Gruner Veltliner or Domaine de Saint-Just Saumur-Champigny seem to go better with Myers' cuisine.
If you had to categorize the cooking of Myers and his chef Kuniko Yagi here, you would probably put it in the school of local pan-Asian kitchens such as Lukshon or Spice Table, with a somewhat higher reliance on luxury ingredients. So a dish of sliced, raw scallops with juicy grapefruit segments is just that — modestly scented with Thai lime leaf, given a bit of crunch from a few scattered grains of toasted rice — and the steak tartare, although mixed with egg yolk and a thimbleful of grated Parmesan, seems somehow Japanese in its austerity.
One section of the menu is actually labeled Fun Bites, most of which fall under the category of bar snacks. Fried oysters are fried oysters, more Southern-fried than Japanese despite the panko-intensive crust. Salt-and-pepper calamari swings closer to the bar standard than to the Chiu Chow dish that was presumably its inspiration.
But the chili crab toast, a canapé-sized take on the Singapore classic, is simultaneously refined and rustic, with all the sloppy, spicy flavor of the original packed onto a cracker-sized slice of bread; the roast pumpkin on toast with miso and goat cheese is just as good. Half the new restaurants in Los Angeles are riffing on the New England lobster roll these days, but nobody's version is as surprising as Myers': lobster salad — a bit of citrus, a licoricey hint of Thai basil — tucked into rolls of a surpassing blackness, made with charcoal-enriched flour, which gives the sandwich a pleasant, mild grittiness.
Myers' cooking at Sona was ethereal, almost abstract. One often emerged from a many-coursed tasting meal as if from a dream, aware of a pleasant floating sensation but a little hazy on the specifics. I tended to think of Debussy.
Hinoki & the Bird can provide a few of those sensations — a salad of escarole and watercress with sugar-sweet roasted purple carrots, a wash of emulsified Greek yogurt and a blast of toasted cumin seed comes to mind. But the cuisine here is more popular, more grounded in the sort of dishes people actually eat: sinewy braised short ribs; an excellent dish of mussels and sausage in a broth with the flavors and weight of Thai chicken-coconut soup, with wisps of raw cauliflower shaved over the top as if it were pecorino cheese; or a young-spinach salad with goat cheese in a sunflower-seed vinaigrette. There are vegetables too: boiled, chilled string beans with ground sesame, roasted yams with chile, or a pillow of grilled rice that reminded a Japanese friend of her childhood lunchbox. In Singapore, locals would ride a half hour on the subway to experience a grilled skate wing like the one Myers serves here, crusted with a fragrant paste of chiles and fermented seafood.
Desserts here lean toward Japanese austerity: either lozenges of tea-saturated sponge cake with white chocolate or chewy mochi-wrapped ice cream balls flavored with umami-intensive ingredients like licorice and strong honey, sesame and hibiscus, or miso and the Japanese pepper blend togarashi. You will not be finding these in the freezer case of your local Whole Foods soon.
David Myers returns to fine dining, inspired by — what else? — Japan.
LOCATION
10 W. Century Drive, Century City, (310) 552-1200, hinokiandthebird.com
PRICES
Snacks, $6-$15; small plates, $11-$25; grilled dishes, $21-$38; vegetables, $5-$12; desserts, $4-$8.
DETAILS
Open 5:30-10 p.m. Tuesdays to Saturdays. Credit cards accepted. Full bar. Valet parking.
---
Get our weekly Tasting Notes newsletter for reviews, news and more.
You may occasionally receive promotional content from the Los Angeles Times.