Counter Intelligence: Jonathan Gold | L.A. restaurant review: Littlefork takes a big-eats turn north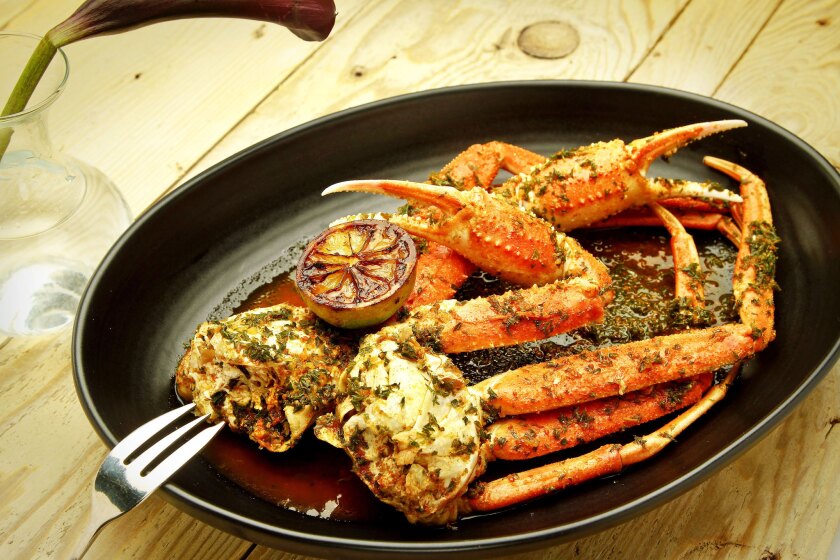 Los Angeles Times Restaurant Critic
Across the street from the Hollywood post office, a few short blocks from the 1930s complex that calls itself Crossroads of the World, Littlefork is an improbably rustic roadhouse in the middle of old Hollywood — a spare tavern, a slash of neon scrawl and a slender apron of parking lot you could imagine filling up with Packards instead of Lexus hybrids.
Littlefork is the new restaurant from Jason Travi, whose Mediterranean-style cooking you may have tried at the late Fraîche in Culver City, and from David Reiss, a Westside bar owner whose portfolio includes A-frame, Sunny Spot, the Alibi Room and the Brig. Dino Balocchi, who used to tend bar at Chicago's well-regarded Longman & Eagle, concocts bitters-intensive variations on sours, daisies and Manhattans here — it's one of the better cocktail bars in this part of Hollywood at the moment. You can get cult Quebec beer le Fin du Monde on tap. There are dead animals on the walls.
In most respects, Littlefork is a typical Reiss restaurant, which is to say a really good drinking place with high-concept eats — in this case, 1950s New England seafood joint crossed with grungy Montreal bistro, a boozy small-plates restaurant with Travi in the Roy Choi role and almost inexpensive unless you let the cocktails and the crunchy oyster sliders add up. You would be surprised how quickly you can inhale a plate of chilled oysters, nostalgia-flavored fish sticks or even a half dozen clams casino, whose blanket of crisp, bacony bread crumbs in no way slows you down. You will not be surprised to see a lobster roll here, but Travi's is a good one — coarsely chopped, slicked with mayonnaise and stuffed into a toasted dinner roll.
There are mussels steamed in the New Bedford style with chickpeas and Portuguese linguiça sausage; bowls of clam chowder with bacon; and the inevitable kale salad, here enlivened with blood orange and shreds of red onion. ("If I see another kale salad, I'll cry," said New York chef Amanda Cohen to the Village Voice this week.)
But while Travi may come from New England, you get the sense that he is more invested in the glamour of Quebec, the smoky, heavy sweetness of Montreal. If you look at fine dining from the whole-hog perspective rather than through the pince-nez of modernist gastronomy, Montreal may have been the most influential food city in the world in the last couple of years, home to a brand of big-eats French cooking that has more or less disappeared from 21st century Paris: a paradise of off-cuts and pork fat; winy excess, random accents of maple syrup and breathtaking doses of cholesterol. The most famous Montreal dishes include the weighty pork pies called tourtières; poutine; and a kind of smoked, cured brisket whose admirers disparage U.S. deli pastrami for being overly lean and bland.
Travi's poutine, while perhaps not up to the gooey magnificence of Montreal's best, is still a nice thing to power through on a chilly winter night, a concoction of French fries, cheese curds and 40-weight gravy dense enough to stop rifle bullets, enhanced with cubes of that smoked meat. His kettle corn is seasoned with Montreal steak spice, which is that vaguely pickle-scented blend you may have picked up at Penzey's once and never figured out what do to with. (If you follow Travi's lead, the spice blend may be the Quebecois answer to the Japanese seaweed spice furikake — an all-purpose shake.)
The onion rings have a little maple in the batter. Travi passes half his larder through the applewood smoker, including duck breast, cured pork belly and trout. There is something called a maple egg, which is a lowbrow version of the maple-scented eggs that were a specialty of Alain Passard at the Paris restaurant Arpege a decade ago, except that where Passard cooked his eggs very slowly with cream, Travi scrambles them and plops them back into the shell with a little piece of crisp bacon.
There's nothing wrong with this approach, of course. The collision of maple syrup, eggs and bacon is for many people the best thing about being alive on a Sunday morning. And where Passard was making an artistic statement as part of a $200 tasting menu, Travi's eggs are three for five bucks, basically at the point where they compete with a bowl of bar peanuts, which at Littlefork are lightly smoked and not so bad.
And by the time you get around to the point where you think you should be eating the grown-up plates of duck confit or soft monkfish tail with mashed potatoes, you may be too sated to bother. Because there are freshly fried apple-cider doughnuts for dessert.
Chef Jason Travi turns from the Mediterranean to Montreal.
LOCATION
1600 Wilcox Ave., Hollywood, (323) 465-3675, littleforkla.com.
PRICES
Snacks, $3-$7; small plates, $9-$18; large plates, $22-$28, desserts, $8.
DETAILS
Open 5 to 10 p.m. daily; bar open late Tuesdays to Saturdays. Credit cards accepted. Full bar. Valet parking.
---
Get our weekly Tasting Notes newsletter for reviews, news and more.
You may occasionally receive promotional content from the Los Angeles Times.