Jonathan Gold | L.A. restaurant review: Chego the sequel opens with familiar pan-Asian flavors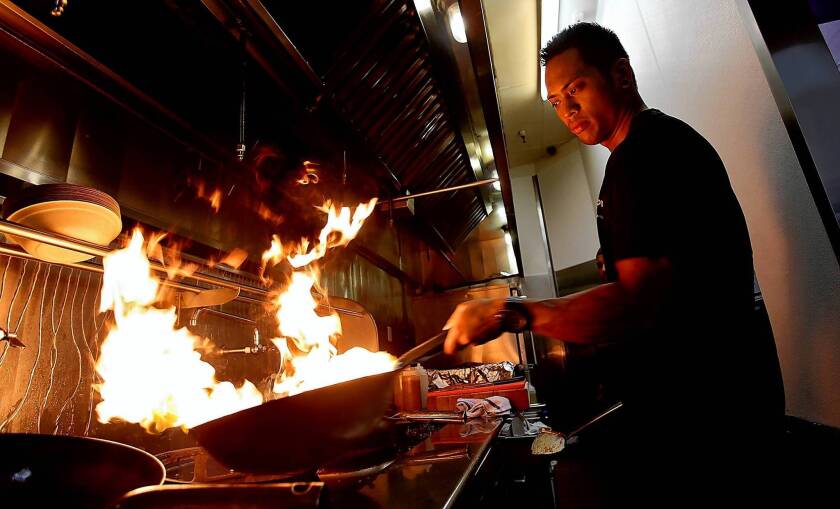 Los Angeles Times Restaurant Critic
If you were obsessed with the Kimchi Spam Bowl, and dismayed when the original Chego, the one in Palms, closed a few months ago, then you were probably all over the news that the new Chego 2.0, Roy Choi's rice bowl joint, has been transplanted into a faded walking mall, behind Ocean Seafood in downtown's Chinatown. Chego is all blasting reggae, sticky picnic tables in the courtyard, and frothing seas of Sriracha sauce that leave few dishes, including desserts, unscathed. A Chego banner, big as any Communist-era wall banner, is draped down the side of the building.
In the storefront once occupied by the original Mandarin Deli, the restaurant that brought soup dumplings to Los Angeles 35 years ago, there are now skinny spears of asparagus, blistered into submission, blanketed with crisply fried shallots, a duo of spicy sauces, and a shower of grated Parmesan. From the kitchen that introduced L.A. to hand-cut noodles, seaweed salad and scallion pancakes, Choi's crew hits beer-battered French fries with melted cheese, sour cream tinted pink with spicy Indonesian sambal, and handfuls of chopped chiles and roasted garlic cloves, a combination that probably demands stronger drink than the bottles of Mexican pop in the fridge.
Chego, from its beginnings in a nondescript Westside mini mall, has always been perhaps the purest of Choi's restaurants, the land of the three-culture rice bowl and a fount of culinary postmodernism. Chego was the first place where it was possible to discover Choi's game plan: using the tricks of fine dining to elevate street food — the direct opposite of the semi-exoticized cooking he'd been doing at a giant Century City fusion restaurant, a kind of pan-Asian Chili's, before he quit to start the Kogi truck.
The old Chego was famous for its vaguely intense anti-customer attitude: an indecipherable wall-sign menu, a line that stretched halfway to the moon, and a staff that invited you to wrap up your own to-go order in what seemed like a utility room at the back. If you went to the restaurant often enough to know what Choi meant by a Sour Cream Hen House, what a bottle of Korean grape soda tasted like, and that your asparagus might be replaced at any moment by a plate of long beans, you were probably fine with the protocol, but there was a steep learning curve involved.
By comparison, the Chinatown Chego is almost user-friendly. You still wait in a line, but there are paper menus to study, and the woman behind the register doesn't roll her eyes when you ask why the $12 Salad costs $7. (It began as a joke on Carl's Jr.'s $6 burger, I think.) You take a number after you pay, fill your own drink order, and grab a table outside, in a corridor as attractively grimy as a Singapore hawker (food) center.
If you've tasted Choi's cooking, a galbi taco from a Kogi truck, a crispy pig's foot from Sunny Spot, or a bowl of furikake popcorn from A-frame, you know that his cooking tends toward the cross-cultural mash-up, and at Chego, where the basic unit of consumption is the rice bowl, the cultural spin is almost the point.
A damp cardboard bowl of rice and fried tofu lashed with chile and garlic is tossed with diced ong choy and gai lan, then topped with a fried egg. (Almost everything here is topped with a fried egg.) Does this dish, the Leafy T, lean toward Malaysia, where that particular flavor of chile and browned shallots is common, or toward southern China? Does the particular intensity of vinegary heat indicate Korea? Does the licoricey spark of fresh Asian basil mark it as a Chiu Chow dish from Vietnam?
There is a rice bowl dubbed Chubby Pork Belly with crunchy, juicy chunks of caramelized pork belly rubbed with the Korean spice paste gochujang. The Sour Cream Hen House bowl has grilled chicken with sambal-tinted sour cream, basil and sesame and Chinese broccoli. There is a bowl with slabs of grilled prime rib and creamed horseradish thrown into the spicy multi-Asian mix. One of the dishes, the kung pao noodle bowl, takes many of its flavor notes from the spicy Korean Chinese seafood noodle called champong, although there is no seafood in Choi's dish, and the tart notes of basil and lemon grass bring the concoction to a third, more tropical, place, close to non-champong Korean street food. It's a complicated thing. Or maybe it's just stoner food. It's sometimes hard to tell.
Kogi regulars know to show up early, before the desserts sell out. At Chego, you can usually be assured of a shot at the Sriracha bar, which is like a 100 Grand Bar gently saturated with the hot sauce, or a sizzling, salty-sweet concoction of grilled pineapple, caramel and coconut rice, known as the Piña Krackalada.
Chego
Grab a menu, get in line and then dig into a bowl of culinary postmodernism.
LOCATION
727 N. Broadway, Los Angeles, (323) 380-8680.
PRICES
Snacks, $4-$7; bowls, $8-$10; sandwiches, $10; desserts $4-$6.
DETAILS
Open 11 a.m.-11 p.m., Tues.-Sat.; 11 a.m. to 9 p.m., Sun. Takeout. No alcohol. Credit cards accepted.
RECOMMENDED DISHES
Ooey gooey fries; chubby pork belly; piña krackalada.
---
Get our new Cooking newsletter.
You may occasionally receive promotional content from the Los Angeles Times.