Review: Guerrilla Tacos rolls up in high style
If you are the guy who lifted my iPhone last year, you may have noticed that the camera roll was as rich in taco snapshots as it was lacking in selfies — my inner life tends to be measured out in radishes, meat and limes. If you peered closely at the tiny images more closely, trying to figure out who might spend so many of his days in proximity to small tortillas, you may have inferred that a startling number of the tacos came from a single source: Guerrilla Tacos, a tiny operation that pops up a few days a week around the corner from Handsome Coffee Roasters in downtown Los Angeles.
Guerrilla Tacos is a pretty singular taqueria, the creation of Wes Avila, whose culinary training came under Alain Ducasse in Paris and who spent years with Republique chef Walter Manzke in Carmel. I first heard about Avila from Gary Menes, for whom he was chef de cuisine at the splendid pop-up Le Comptoir. Between shifts at Le Comptoir, Avila was crafting tacos in empty storefronts or stairwells or garage spaces deep downtown, and there were rumors about tacos made with diver scallops, weird vegetables and sushi-grade yellowtail.
By the time I caught up to Avila, he had graduated to a couple of card tables set up outside Handsome, an assistant to handle the cash and a griddle he manned at the deliberate pace of a chef piecing out a tasting menu. The first taco I tried involved wild boar. The second was plumped out with Santa Barbara sea urchin. The third was probably just seared cauliflower with raisins — Avila uses cauliflower with the abandon most taqueros reserve for buche or tripas de leche — but by then I was among the converted. When I published a list of the best dishes of 2013, I included his taco made with roasted squash, rubbery Oaxacan cheese and a hint of chile and smoky charred tomato, but I could just as well have chosen tacos stuffed with halibut, or celery root or kale.
A pork belly taco from the Guerrilla Tacos, a tiny operation that pops up a few days a week around the corner from Handsome Coffee Roasters in downtown Los Angeles.
(Cheryl A. Guerrero / Los Angeles Times)
Guerrilla Tacos owner Wes Avila holds a pork belly taco in his truck. Before the truck, Avila had a couple of card tables set up outside Handsome Coffee Roasters.
(Cheryl A. Guerrero / Los Angeles Times)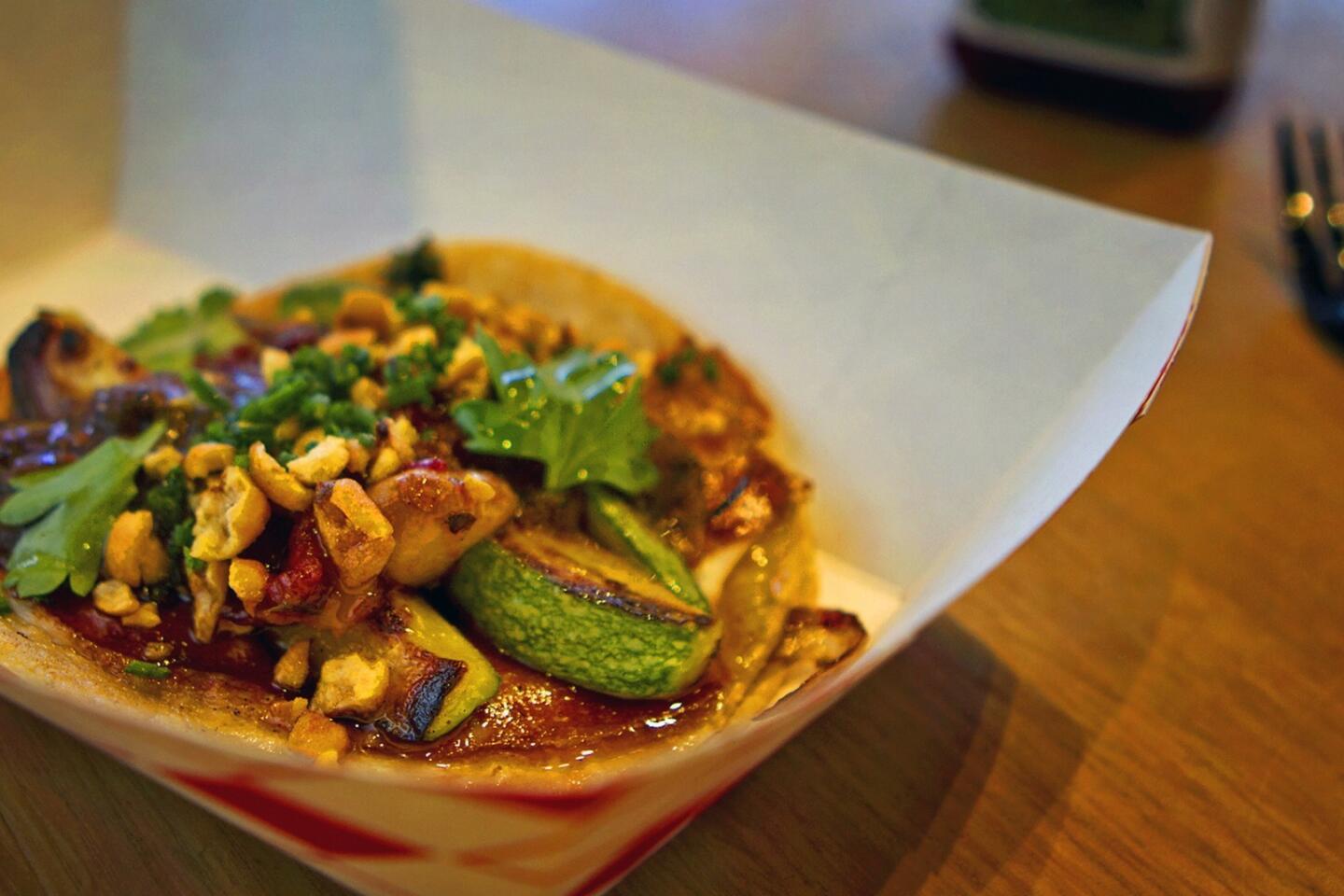 The squash, Oaxacan cheese and burnt tomato taco, a favorite on the menu.
(Cheryl A. Guerrero / Los Angeles Times)
A taco with broccoli, cheddar, bacon and a poached egg.
(Cheryl A. Guerrero / Los Angeles Times)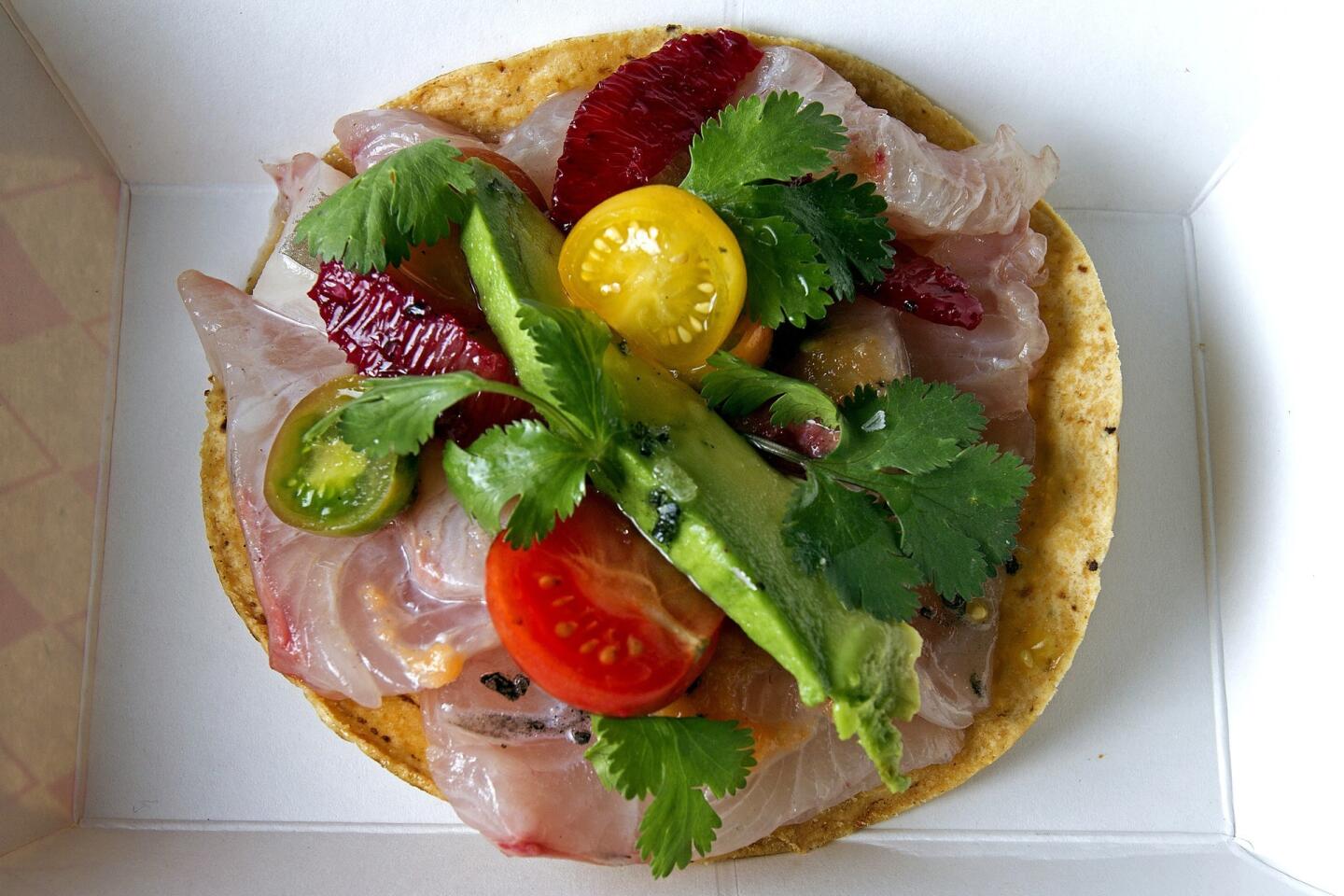 A kampachi fish tostada.
(Cheryl A. Guerrero / Los Angeles Times)
Wes Avila prepares a sardine plate inside his truck.
(Cheryl A. Guerrero / Los Angeles Times)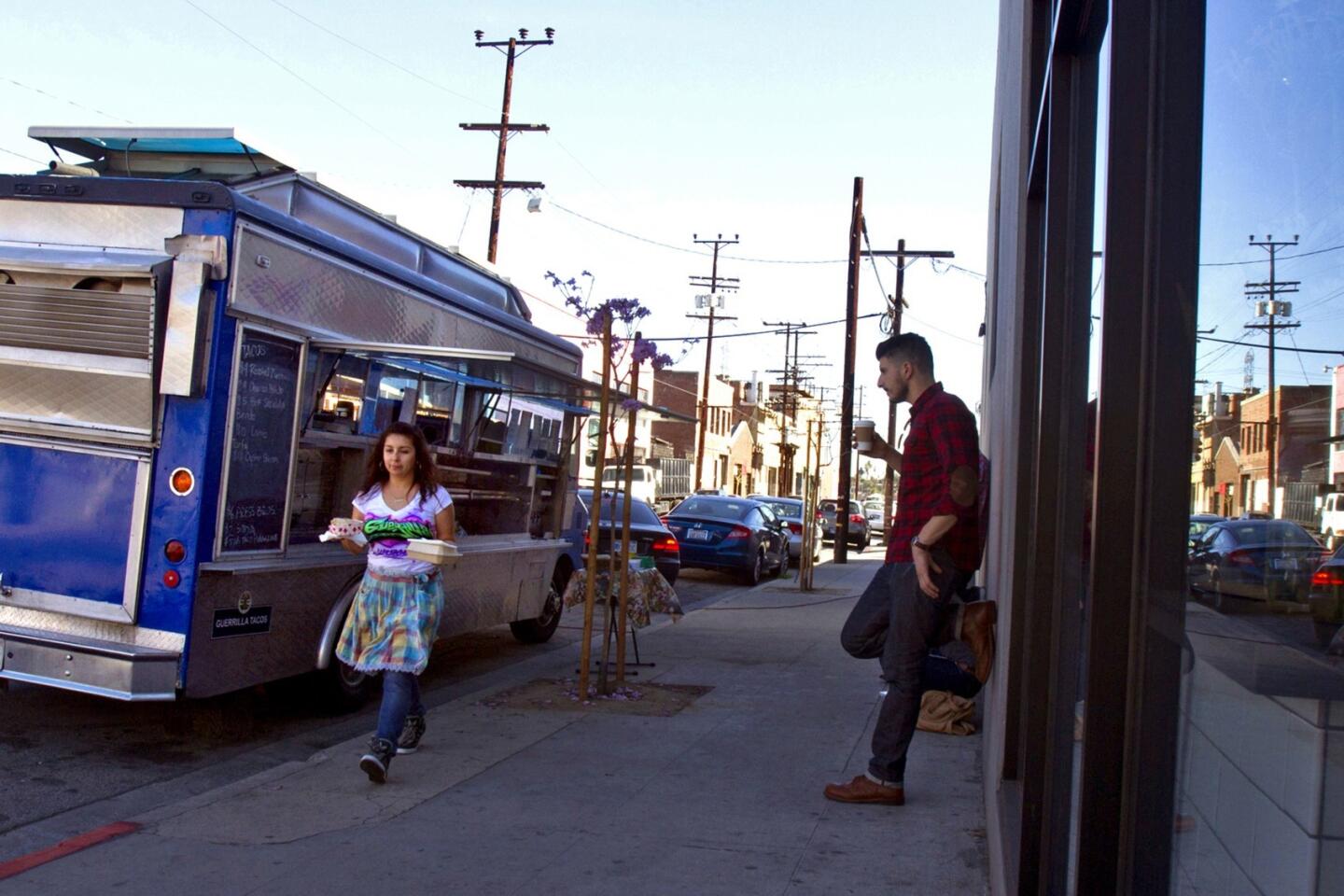 Guerrilla Tacos spends three days parked near Handsome Coffee Roasters in the Arts District, in addition to one day in Culver City on Wednesdays.
(Cheryl A. Guerrero / Los Angeles Times)
Skandia Shafer looks over the menu.
(Cheryl A. Guerrero / Los Angeles Times)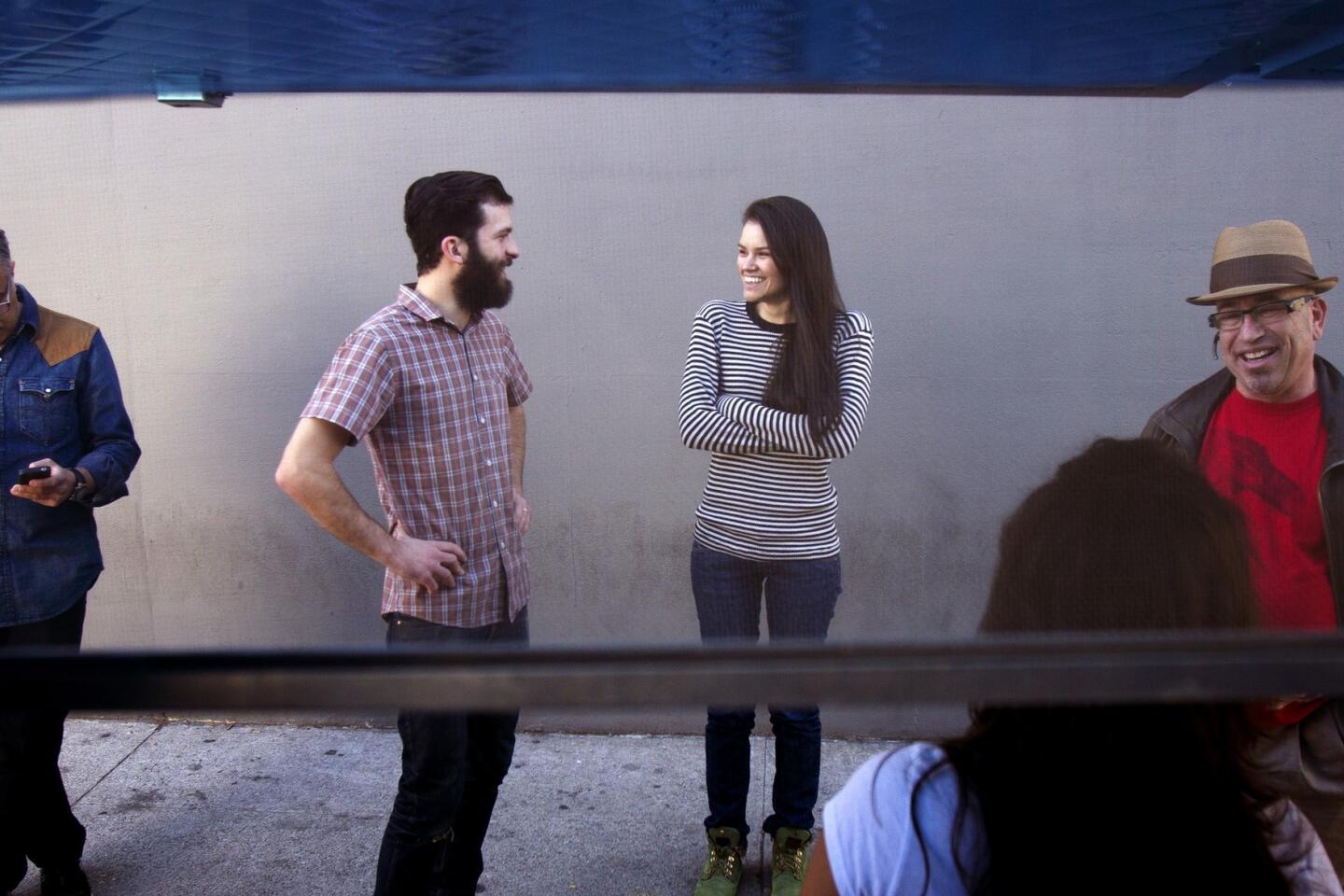 Customers wait for their orders.
(Cheryl A. Guerrero / Los Angeles Times)
Guerrilla Tacos has grown up a little since then. It now occupies a truck instead of a street cart, and it now parks outside Cognoscenti Coffee in Culver City one day a week in addition to its stints downtown.
You can even approach Guerrilla as you would any other taco truck, making a lunch of an overstuffed taco or two and a bottle of Mexican pop. If the menu gods are with you, you can do pretty well that way — carnitas made from slow-roasted Cook Pig Ranch pork shoulder is really, really good carnitas, and the tart, scorching tomatillo purée is a step up from even the best green salsas in East L.A. The tortillas don't seem to be made to order, but they are fresh and toasty enough — the taco equivalent of the energy that Chinese cooks sometimes call "the breath of the wok" is in full effect. The tacos go down as quickly as saplings through a wood chipper. If you are the kind of person whose proclivities fall onto the Yale-Brown scale for obsessive-compulsive behaviors, you may fire off a Yelp review noting that $4 is twice what you would ever pay for a taco, but that's OK. Small-scale, lovingly raised meat costs more than commodity pork, and anyway the truck often runs out of tacos, and almost everything else it sells, well before noon.
When you hit Guerrilla early, it can serve as a reliable breakfast spot, a place to sit in the sun for a bit with a perfect Handsome cappuccino and a torta with chorizo and fried duck egg and contemplate the superiority to the dismal corner-deli bagel you might have been eating if you'd have happened to be in New York. There are sometimes scrambled egg burritos supplemented with morita chile salsa and slabs of breakfast sausage made from that sustainable Cook Pig Ranch pork, or with bacon, Brussels sprouts and feta. On Sunday mornings, Avila makes waffles — last week's were smeared with Nutella and whipped cream. Guerrilla took over the ecological niche that opened when Egg Slut abandoned this slot for a stall at Grand Central Market, so breakfast is kind of built into the social contract.
On Wednesday evenings, Guerrilla's hours coincide with those of the tiny neighborhood farmers market set up at Handsome Coffee Roasters, and a lot of the boutique vegetables also find their way into Avila's tacos.
You figure out what is on the daily menu from the truck's Facebook feed, you find parking in the weirdly crowded industrial neighborhood and you order from an associate, who will swipe your credit card through a reader on her iPad. You wander into Handsome and order a coffee drink. The woman you ordered from will find you, or perhaps you will find her. Prepare to wait a bit.
(Handsome may serve the best coffee in Los Angeles, by the way, especially if your tastes lean toward fragrant lighter roasts, but its ways are singular. "5 ounce" translates to cappuccino in Handsome-speak, "10 ounce" to latte and "3 ounce" to a macchiato plus an espresso. Do not ask for sugar, soy milk, 2% or nonfat — they are not to be found on the premises. Fill your own water glass from the metal cooler. Have a nice day.)
But you can also treat Guerrilla as a kind of tasting-menu restaurant whose dishes happen to be composed on tortillas instead of on fancy plates, and sometimes the best way to experience it is to show up with a few friends and order one of everything — tostadas of citrus-marinated salmon with cherry tomatoes and chiles, duck breast tacos with Cara Cara oranges, Hawaiian-style raw-fish poke with habanero peppers, fried oyster mushrooms with red-pepper escabeche, sizzled broccolini tacos with almonds, cheddar cheese and a poached egg.
If you peek into the truck, you'll see Avila searing off fresh salmon or scallops alongside dewy farmers market vegetables, warming heirloom tomatoes just until their skins pop and juggling his arrangement of herb sauces and salsas like an ace bartender working his speed rack. His biggest fans know to get there early — the lamb shoulder or sea urchin you've been craving may be sold out within minutes, and there is nothing sadder than seeing the last of the grilled sardines with preserved lemon go to the dude in front of you in line.
A Ducasse disciple quitting his job at an haute-cuisine pop-up to serve charred octopus tacos on a downtown street corner? You're not going to find cooking like this anywhere else but L.A.
Seared cauliflower tacos from a truck owned by a Ducasse protégé? Where else but L.A.?
Guerrilla Tacos
Location: In front of Handsome Coffee Roasters, 582 Mateo St., Los Angeles; guerrillatacos.com
Prices: Tacos, $4-$6; quesadillas, tostadas, waffles, seared sardines, etc., can be more, occasionally up to $12.
Details: Open (highly subject to change) 5 to 8 p.m. Wednesdays; 9 a.m. to 2 p.m. Fridays, 9 a.m. to 1 p.m. Saturdays and Sundays. Also in front of Cognescenti Coffee, 6114 Washington Blvd., Culver City, 9 a.m. to 1 p.m. Wednesdays. Credit cards accepted. Street parking only. Takeout only, although seating is usually available at Handsome Coffee Roasters if you buy something.
Recommended dishes: Menu changes daily.
Get our L.A. Goes Out newsletter, with the week's best events, to help you explore and experience our city.
You may occasionally receive promotional content from the Los Angeles Times.