Review: Head to Broken Spanish in DTLA for an ambitious, modernist take on Mexican food
Chicharron, elephant garlic mojo, radish sprout and pickled herbs at Broken Spanish.
(Anne Cusack / Los Angeles Times)
The camote with sweet potato, pigtail, trompa, chile de arbol and verju.
(Anne Cusack / Los Angeles Times)
Chef Ray Garcia plates chicharrones.
(Anne Cusack / Los Angeles Times)
One of several dining areas at Broken Spanish.
(Anne Cusack / Los Angeles Times)
The Cazuela, consisting of mezcal, blanco tequila, Mandarine Napoleon, lime, fresh jicama, pineapple and Fresno chili, is served in an earthen Cazuela dish with some pretty flowers.
(Anne Cusack / Los Angeles Times)
The bar at Broken Spanish.
(Anne Cusack / Los Angeles Times)
Chile mango.
(Anne Cusack / Los Angeles Times)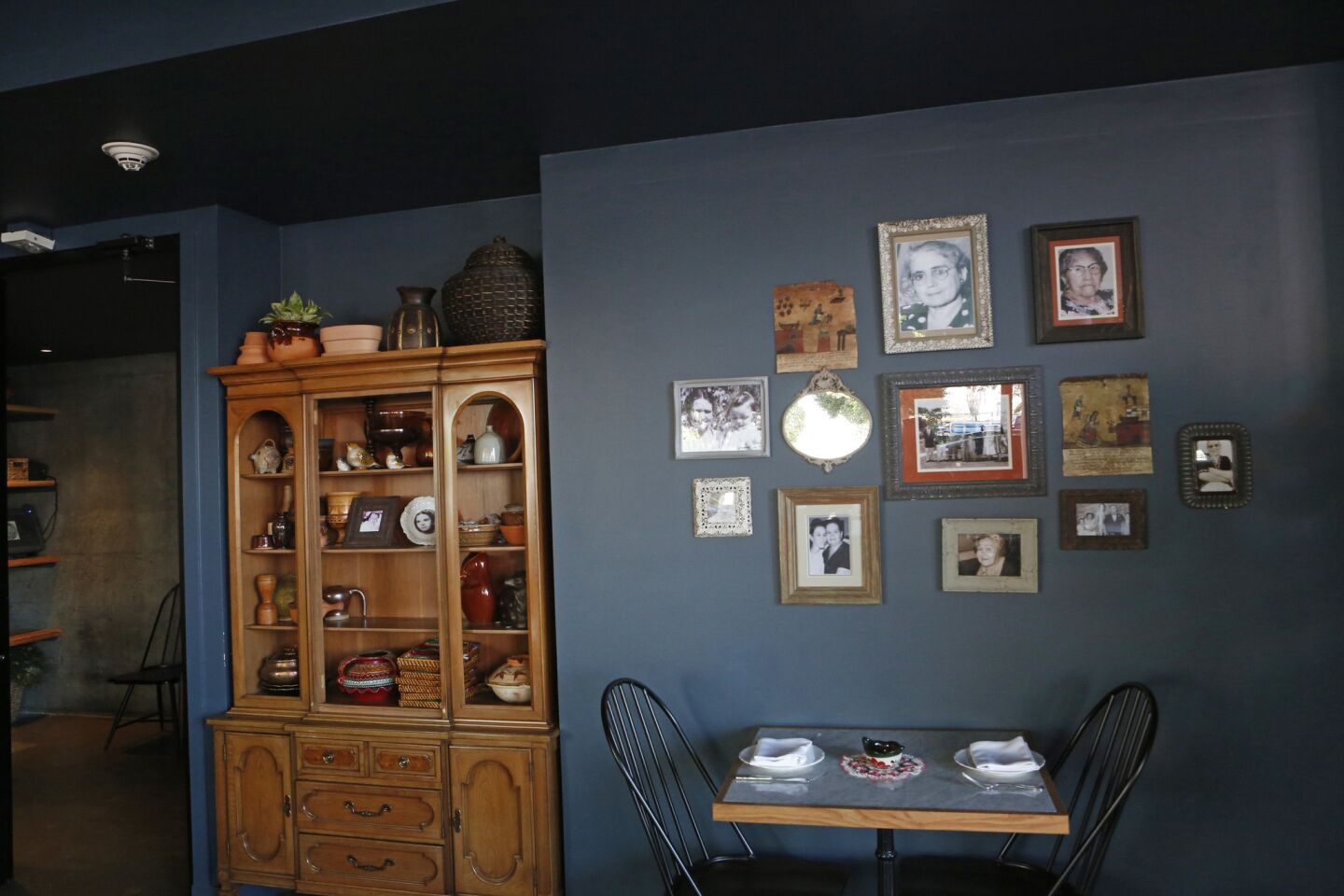 One of several dining areas at Broken Spanish.
(Anne Cusack / Los Angeles Times)
Rosario Joaquin makes the blue corn tortillas for customers at Broken Spanish.
(Anne Cusack / Los Angeles Times)
The blue corn tortillas with carnitas fat at Broken Spanish in downtown Los Angeles.
(Anne Cusack / Los Angeles Times)
Los Angeles Times Restaurant Critic
How is Broken Spanish? Your opinion of the place, a modernist Mexican restaurant a few steps from Staples Center, is probably going to depend on what you think about the idea of chopped snout in your sweet potato.
If you are of a certain adventurous bent, you may say to yourself, "Why not?" And, in fact, the soft, gelatinous bits, cooked to a point where you could dismiss them as merely a rumor of snout, do add a presence, a kind of faint porkiness to the caramelized sweet potato. There are some chiles in there too, and a hint of acid, and some scraps of pigtail that are discernible from the snout more by their more elongated shape than by any radical difference in taste or texture. Unless you think too hard about what might be in it, the camote is a tasty, reasonable dish.
For the record:
5:10 p.m. Oct. 16, 2015An earlier version of this review incorrectly attributed the cocktail program to Julian Cox. It is by Mike Lay.
On the other hand: snout. Or as the menu has it, trompa. And as glam as the indoor-outdoor dining room may be, as intoxicating as Mike Lay's mezcal-based cocktails and as cheerful as the waiters, Broken Spanish is a kind of Guillermo del Toro movie of a restaurant, where serene farmers market cooking and bloody late-night taquería fantasies exist not just in the same restaurant but on the same plate, and the only thing of which you can be certain is that you have no idea what might be coming your way next.
Green beans with ground grasshoppers? Blood sausage sliced like bread? Prensado, a kind of spicy headcheese Mexico City cooks make from the goo at the bottom of the carnitas pot, reinterpreted as a slippery, chickeny composition of skin, weirdly crunchy cockscomb and meaty chunks of thigh? You've come to the right place.
The chef here is Ray Garcia, a young Los Angeles native who cooked for years at the Belvedere and supervised an organic-leaning menu at the hotel restaurant Fig, but in food circles he was probably best known for his wild Mexican cooking at chef's events, where he puréed organ meats with tamarind and served the goo in a squeeze tube associated with Mexican candy, boiled super-strength pozole, and enriched cheese grits with blood sausage. His technique and his sourcing are pure high-end California French, but his palate, as also expressed at his B.S. Taqueria, seems to be pure Eastside pocho. He may spend a lot of his time involved in Alice Waters-style community garden projects with kids, but you would not be surprised to run into him downing bootleg suadero from a truck at 2 a.m.
His rebanadas, the frosted bread slices that are nobody's favorite kind of pan dulce, become something different when he flavors the rough unrefined sugar piloncillo with foie gras, a composition of fresh and stewed Mission figs are arranged around clumps of fresh cheese and a bit of the black sesame paste you may associate with Chinese desserts, and the molletes, a favorite snack of refried beans smeared on toasted bread, is lightened with peas and mint.
Tamales are huge round things, the size of upside-down cakes, filled with things like goat cheese or stewed lamb's neck with mushrooms. The restaurant makes its tortillas from heirloom Mexican corn nixtamalized by Taco María's Carlos Salgado in Orange County — it just switched over to yellow corn from blue — and serves them with a fluffy schmear of carnitas fat, or with a paste of refried lentils if the notion of pure lard is too hardcore.
There is also the lamb's head, which sort of fails to solve the problem of extreme gaminess inherent to the preparation. If you are going to serve a neatly bisected lamb's head in a restaurant like this, it should probably be a great one, although I did appreciate the grinning skull.
Broken Spanish is another restaurant in the fiefdom of restaurateur Bill Chait, who is behind Bestia, République and Sotto, among many other places. Chait's restaurants are loud, chef-driven, and feature excellent cocktails. (The best drinks at Broken Spanish include a Mariachigroni, which is more or less what it sounds like, and a Cazuela, a juicy mescal-tequila drink served in a pretty clay pot with two straws, like a Scorpion Bowl for the taqueria set.) Servers at Chait restaurants are expected to overexplain each dish in the manner pioneered by New York's Danny Meyer, which can start to drive you a bit nuts the third or fourth time you come in.
Chait is also known for having his chefs open high-volume popular restaurants while they are waiting for their statement restaurants to open: Walter Manzke did Petty Cash before République; Timothy Hollingsworth, Barrel and Ashes before the upcoming Otium; Jason Neroni, Catch & Release before Rose Café. And at this point, Garcia's B.S. Taqueria, a fun, full-on riff on East L.A. street food, is fully realized, while Broken Spanish, I expect, has not quite hit its stride. (The obvious comparison is with Rick Bayless' restaurants in Chicago, where Topolobampo is the serious one and Frontera Grill is the one where everybody wants to eat.) Opening two high-profile restaurants within a few months of one another has got to be difficult.
But the menu's highs are pretty great, like a giant, curling octopus tentacle cooked sous-vide with chorizo, so that the paprika, cumin and fermented meat aromas of the sausage inhabit every molecule of the marshmallow-soft kraken; the chicharrón, which is less like the crunchy pigskin you might be expecting than a glorious, Mexican-spiced porchetta; and the delicious, chile-soaked rabbit mixiotes gift-wrapped in cellophane.
Are you going to finish with the goat's milk flan? Probably not. Because the restaurant's baba au rhum, tres leches cake and chocolate cake flavored with the Abuelita-brand chocolate tablets whose package beams down from the shelves of every Mexican market in the world are pretty hard to pass up.
Other chefs have walked the high-low line in Los Angeles Latin-American restaurants, most notably John Sedlar, whose great restaurant Rivera was until recently in the space Broken Spanish now inhabits. But Garcia seems to be as obsessed with Mexico's happy, sticky pop-food culture as he is with its elevated flavors, and his cooking, while at times executed with perhaps less finesse than one might hope for, occupies a fresh, unusual niche in American cuisine.
Broken Spanish
Chef Ray Garcia cooks an ambitious Mexican menu in the rebooted Rivera space in downtown L.A.
Location: 1050 S. Flower St., Los Angeles, (213) 749-1460, brokenspanish.com
Prices: Botanas, $7-$13; tamales, $12-$15; small plates, $11-$19; big plates, $17-$49; desserts, $10-$12.
Details: Dinner, 5:30-11 p.m. nightly. Full bar. Valet parking. Credit cards accepted.
Recommended dishes: Requesón; goat cheese tamal; pollo prensado; octopus with chorizo; chicharrón; Abuelita hot chocolate cake.
Get our L.A. Goes Out newsletter, with the week's best events, to help you explore and experience our city.
You may occasionally receive promotional content from the Los Angeles Times.