Review: A lesson in up-to-date good taste at Gjusta in Venice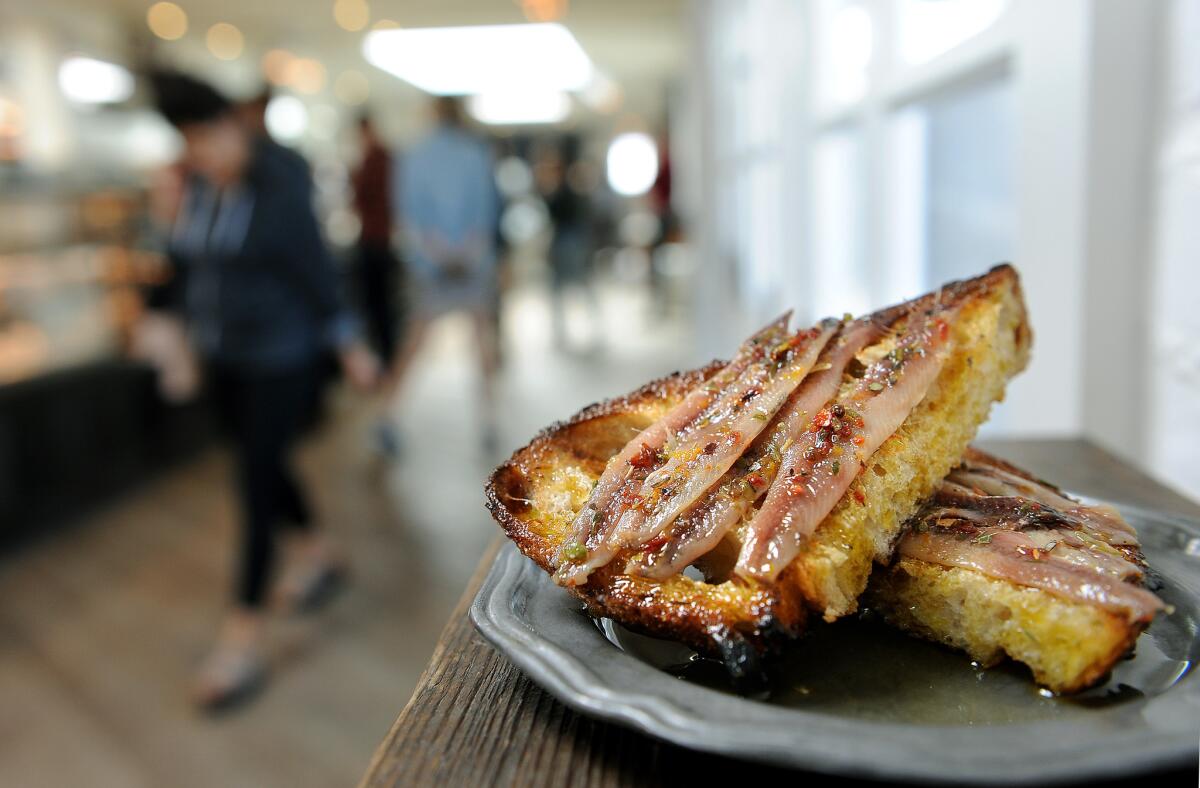 Los Angeles Times Restaurant Critic
To get to Gjusta, you tool past Santa Monica's Main Street boutiques, past Jonathan Borofsky's leering ballerina clown on the corner of Main and Rose, and turn left just after the giant Claes Oldenburg binoculars that mark Google's Los Angeles offices. You will see the sprawling Gold's Gym mothership, and arms the size of hippopotamus legs, on your left. The restaurant itself is unmarked, as is the current fashion, but you will see a blond dude directing cars into the small parking lot adjoining a former warehouse. You have arrived at the de facto Silicon Beach canteen.
And like the community it serves, Gjusta, the newish place from owner Fran Camaj and chef-owner Travis Lett, the people who brought you Gjelina and Gjelina Takeaway, is dedicated to creative disruption.

For the record:
2:51 p.m. July 14, 2020In the Feb. 28 Saturday section, a restaurant review of Gjusta misidentified the giant binoculars sculpture at the Google offices in Venice as being a Frank Gehry creation. The building was designed by architect Gehry, but the binoculars are by Claes Oldenburg and Coosje van Bruggen.
The cotton coats the bakers wear are fetishized by fashion blogs. The baklava croissants have become cult objects. A city planning hearing on a proposed patio drew Zach Galifianakis among the protesters. "It's the soul-wrenching velvet-roping of Venice Beach," said the actor, according to the Argonaut, "and we're here to say enough is enough."
Is it a bakery? Kind of. The charred, crunchy baguettes, sourdough loaves and whole-grain boules dominate the north end of the enormous counter, along with the tarts, flatbreads, quiches and butter-saturated croissants. Is it a deli? Also yes: A few yards farther down in the glass case are house-cured pastramis, pickles and hams, along with an extensive array of the smoked fish and condiments that people in New York call "appetizing'' — food meant to be eaten with bagels and bialys.
A lot of the food has a hint of Middle Eastern flavor — you can get the thickened yogurt called labneh on your bialy instead of cream cheese if you like. Alongside the pain au chocolat are those "baklava'' croissants stuffed with pistachios. And puffy flatbreads smeared with the herb paste za'atar lean next to the ones topped with dried tomatoes.
Signs behind the counter list sandwiches, breakfasts and main dishes. There is a full juice bar — nut milk! kale smoothies! — and a marble coffee counter that is probably bigger than your first apartment. If this is your first time, or even your fifth, your reaction to the 5,000 square feet of excess and dozens of working cooks is likely to be first awe, then befuddlement. Gjelina is a restaurant. Gjusta is a Choose Your Own Adventure.
This is the point where I should probably note that one thing Gjusta doesn't have is chairs — its current zoning apparently forbids them. So you stand at the counter, you lean on the coffee bar or you balance your lunch on a narrow beam set into the wall like vaguely useful wainscoting. If you are the outdoorsy type, you will find a bench or two to sit on out in the parking lot if you must, although sitting, all the blogs say, is so, so last century.
Waiting in line is pretty last century too. What happens in practice is that someone behind the counter will eventually notice your helplessness and help you assemble lunch, acting more as a personal shopper than as a traditional counterperson. Are you a cucumber limeade person or more of a café con leche man? Do you want your lox on a bialy unadorned, or would you rather have it fully loaded? Is the kitchen out of meatloaf? That gooey chicken Parm is you!
So you smile, you pay, and you find a place to stand, maybe near the babies in car seats that seem to gather in a far corner on weekends, maybe at an unoccupied milk crate outside. And when the food comes, it is generally worth the fuss — maybe hot, sliced porchetta with melted Fontina, or a drippy portion of spicy merguez lamb sausage on one of those charred baguettes, a plate of dripping smoked brisket, or a Reuben with griddle-seared corned beef, house-cured sauerkraut, gooey cheese and Russian dressing on drippy, crunchy rye.
Somebody will assemble a smoked fish plate for you if you want — pastrami-cured salmon, hot-smoked herring, oil-cured mackerel, kippered salmon — and bring you something like seed-filled Scandinavian rugbrod to go with it. The dandelion salad is fresh, bitter, delicious. The cold vinegared cauliflower with capers is seasoned like a dreamy cauliflower version of Italian puttanesca sauce; last-of-season cold puntarelle is tossed with shards of sharp cheese; the labneh spiked with za'atar is pretty great.
Is any of it remotely authentic, whatever that might be? Don't be so old-school.
Gjusta
A bakery, a deli, a local hang-out.
Location: 310 Sunset Ave., Venice, (310) 314-0320
Prices: Soup, $8; salads, $12; sandwiches, $12-$15
Details: Open 7 a.m. to 7 p.m. daily. Takeout only. Credit cards accepted. No alcohol. Limited lot parking.
Recommended dishes: Smoked fish on toasted bialy; porchetta and Fontina sandwich; cauliflower salad
Get our L.A. Goes Out newsletter, with the week's best events, to help you explore and experience our city.
You may occasionally receive promotional content from the Los Angeles Times.