Review: Bring your wallet and your patience for dinner at Gary Menes' Le Comptoir in Koreatown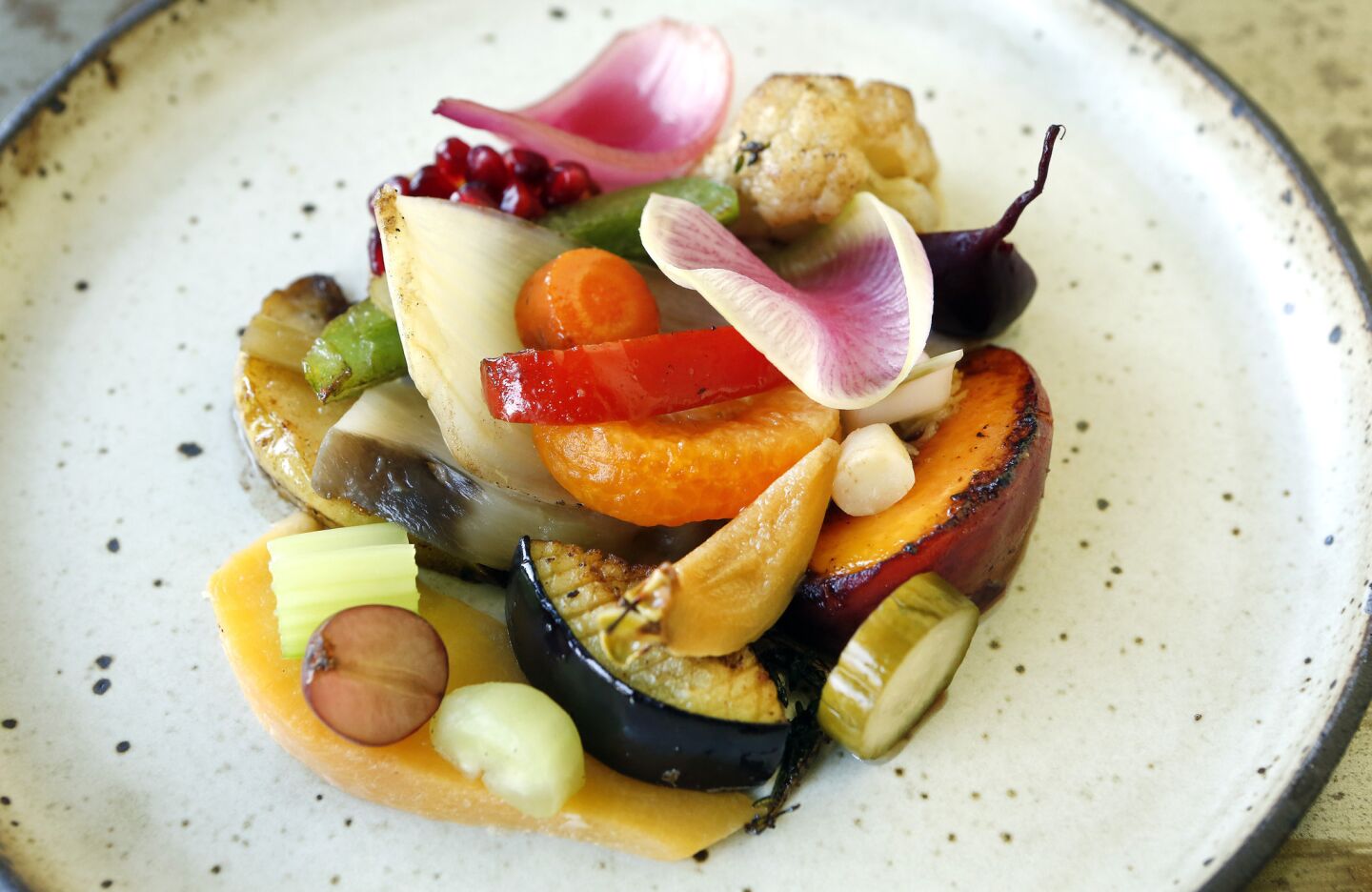 A vegetable-and-fruit plate is on the menu at Le Comptoir, located at the Hotel Normandie on 6th Street in Los Angeles.
(Mel Melcon / Los Angeles Times)
Chef Gary Menes, left, sharpens knives before the start of service at Le Comptoir.
(Mel Melcon / Los Angeles Times)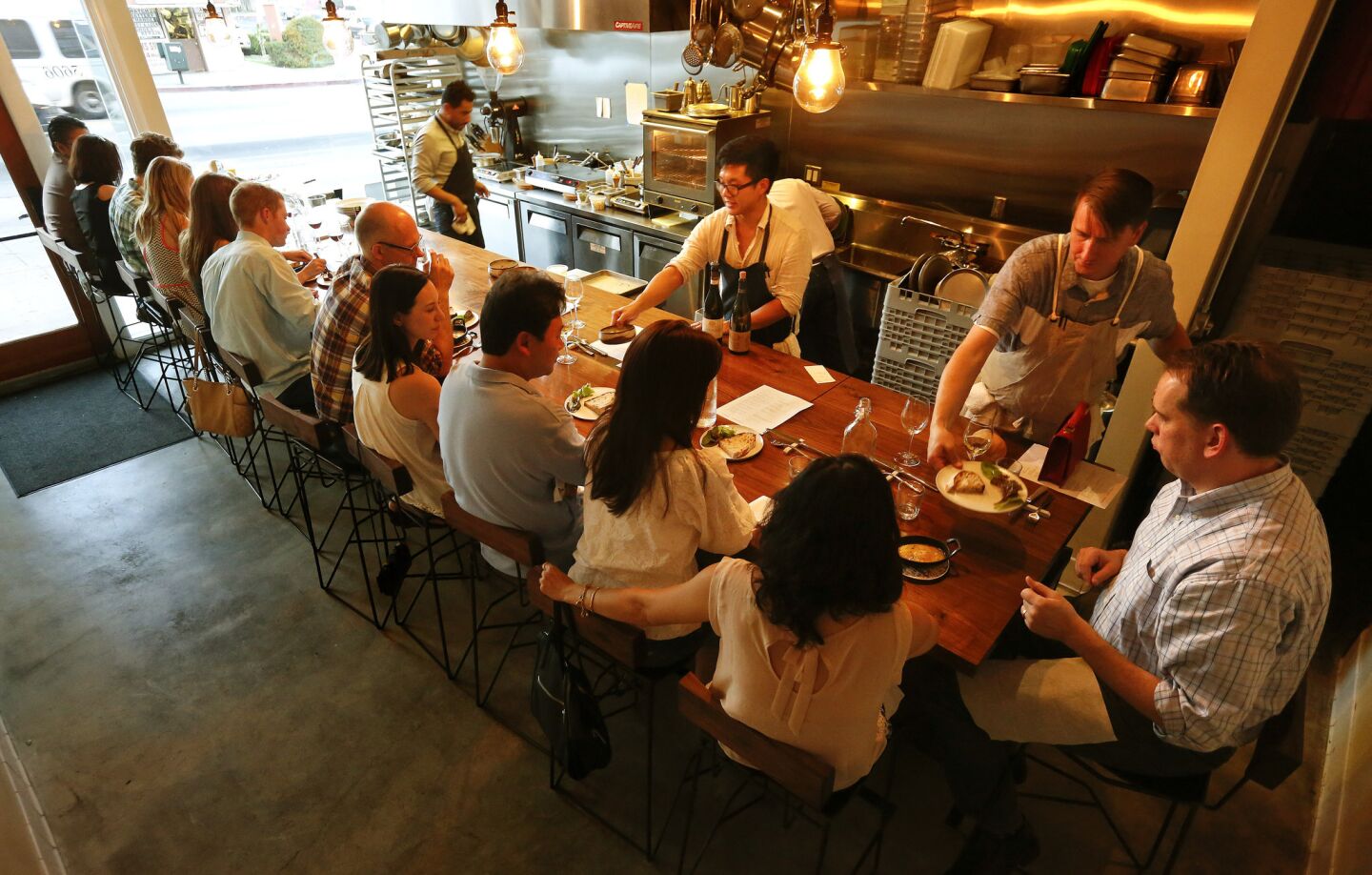 Customers are served while seated at the counter inside Le Comptoir.
(Mel Melcon / Los Angeles Times)
Oeuf sur la plat with lettuce from the garden, garlic chives, reggiano and beurre noisette.
(Mel Melcon / Los Angeles Times)
"The Three Sisters," featuring country gentlemen corn, butternut squash and christmas lima beans.
(Mel Melcon / Los Angeles Times)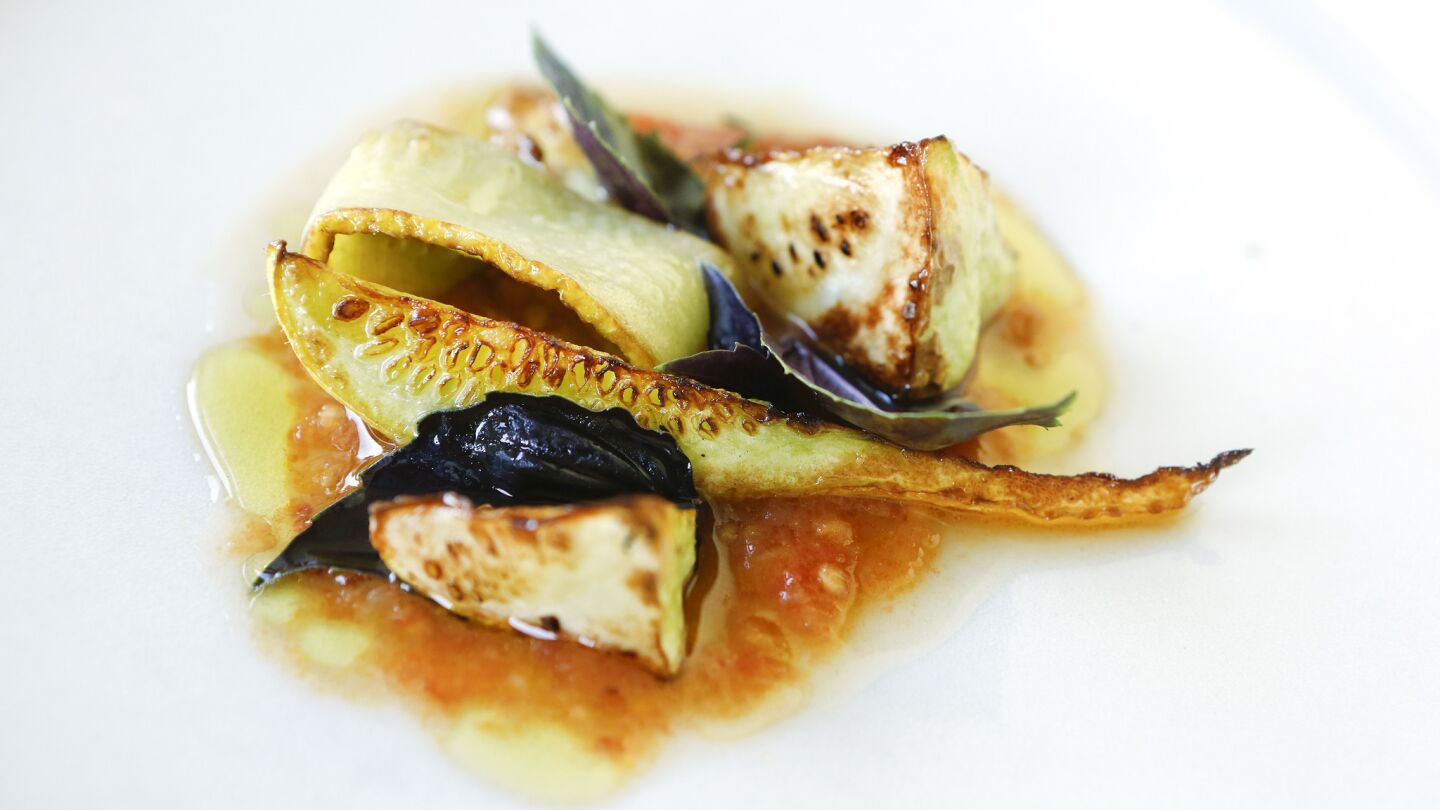 Summer squash, tomato fondue, purple basil and corsican olive oil.
(Mel Melcon / Los Angeles Times)
Sweet potato veloute with toasted bread crumbs, greek yogurt and fennel fronds.
(Mel Melcon / Los Angeles Times)
Apprentice Alejandro Guzman, left, serves sweet potato veloute to customer Mark Brubaker.
(Mel Melcon / Los Angeles Times)
Pots de creme with blackberry compote, graham crumbs and chantilly cream is a dessert item at Le Comptoir.
(Mel Melcon / Los Angeles Times)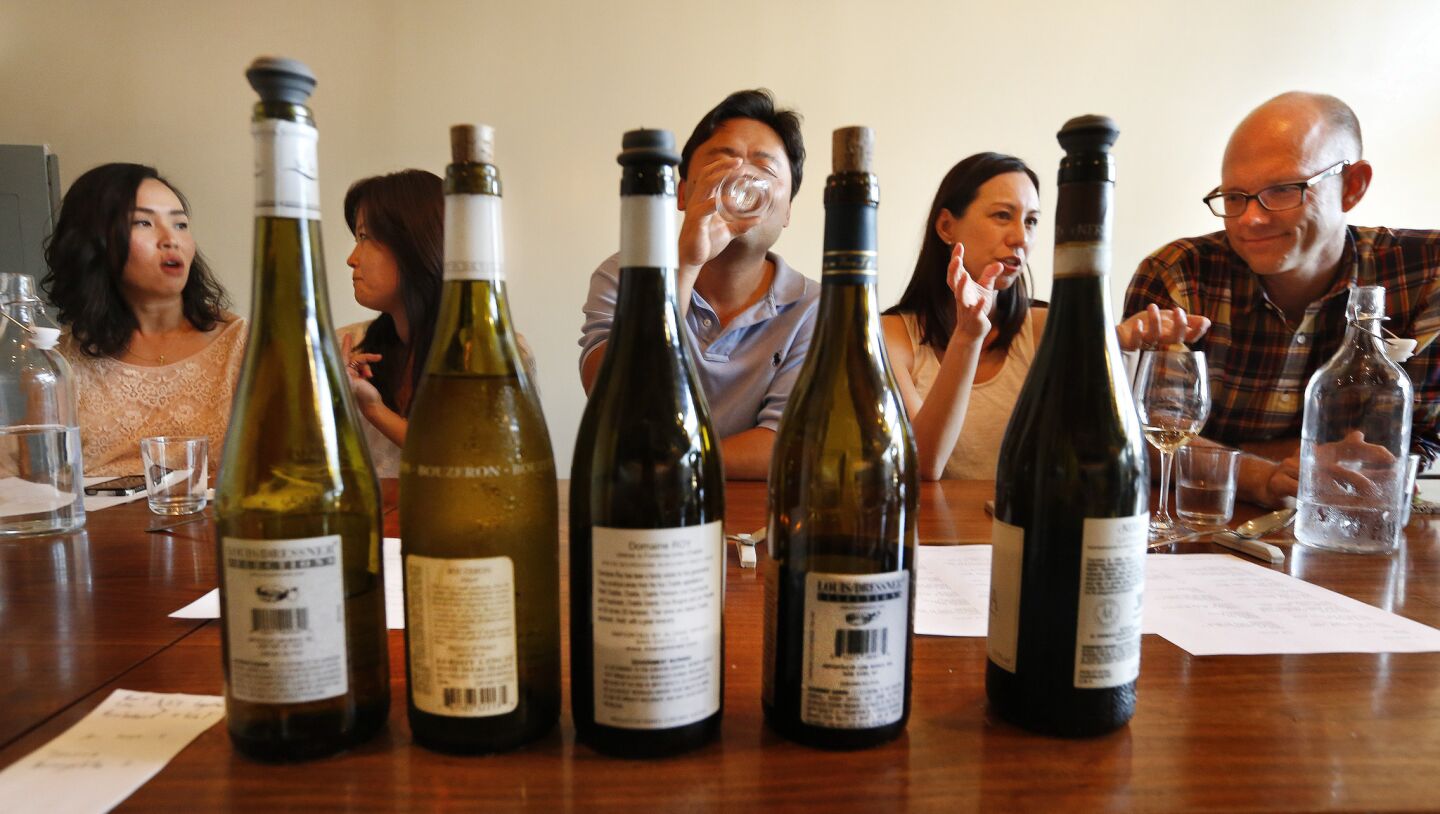 Customers sit at the counter.
(Mel Melcon / Los Angeles Times)
Chef Gary Menes poses with butternut squash from the garden.
(Mel Melcon / Los Angeles Times)
Los Angeles Times restaurant critic
When you walk down 6th Street in Koreatown about a quarter to nine some night, perhaps on your way to an early cocktail at the Walker Inn or a late cheeseburger at Cassell's, you are likely to run across an odd scrum of people lining the sidewalk outside the Hotel Normandie, not quite all of whom happen to be sporting important eyewear or $400 sneakers. What you have encountered is the second seating at Le Comptoir, chef Gary Menes' minuscule tasting-menu restaurant in the hotel. They will momentarily be invited inside as a group and seated along the counter in the exact order in which they have queued. This process, oddly enough, makes its participants feel more as if they are on some sort of school field trip than hungry diners about to be fed.
If you have ever followed L.A.'s pop-up restaurants, you probably know about Menes, a French Laundry alum who followed a short turn as chef at the Sherman Oaks restaurant Marché with extended runs, usually as eight- or 10-seat counters inside vast deserted rooms, in Glendale and downtown. His gift is his ability to draw out the flavors of vegetables through precise low-temperature cooking. This 10-seat counter is his first permanent restaurant in quite a while.
And for fans of Menes' austere California French cooking, Le Comptoir's $69 tasting menu is exactly what they'd come to love: a half-dozen courses mostly based on vegetables from an organic Long Beach garden, artfully composed, extensively explained, served with appropriate wines.
SIGN UP for Jonathan Gold's Counter Intelligence dining newsletter >>
Then there is an amuse bouche, or kind of an amuse bouche, possibly involving small quenelles of fluffed crème fraîche with a little lemon zest and a few crunchy kale leave — a course that takes a cook 10 minutes to plate and that you scarf down in about a second and a half. Some time later comes a kind of eggplant beignet with a bit of stewed tomato, then a creamy sweet potato soup poured out of a coffee pot over a spoonful of Greek yogurt and some crunchy bread crumbs.
This is probably the place to note every step of the plating process on a sort of working counter that faces your counter, so you become aware of details of pacing and finicky arrangement that usually escape you. The wavelike rhythm of everyone being served the same course at the same time can be soothing, or it can aggravate your OCD, or both. And there are moments when you realize that one of the cooks has prepared three too few green beans and that one of the roasted squash plates has gotten none at all, and because he is 18 inches away from you instead of in a second room, he can't filch beans from other plates, and for a second the service sputters to a halt. (I'm still not sure where the extra green beans came from.)
And so, when it comes time for what Menes calls the vegetable and fruit plate, lightly inspired by the gargouillou of Michel Bras in Laguiole, which involves probably 20 different elements, each cooked separately and assembled at the last moment with long tweezers, you should probably will yourself to become as excited as a 3-year-old at a building site as you watch the assemblage of fennel, squashes, asparagus, carrot, apple, persimmon, cauliflower, turnip, zucchini, watermelon radish, red pepper, yellow pepper, broccoli, halved grapes and some other things gradually come into being, steamed, pickled and/or sautéed. It's pretty cool, what the Gladys Avenue Farm can do.
There will always be a roasted egg on the menu at Le Comptoir, bubbling with Parmesan and plenty of brown butter in its tiny cast-iron casserole, and it will always be served with three or four leaves of dressed lettuce and a slice of the sour, crusty country bread that Menes bakes himself. The last time I was in, that caramelized blue Hubbard squash with green beans and charred onions was delicious, but the acrid, rock-hard matsutake mushroom in mushroom broth was not.
Most of the dishes can be swapped out for things like foie gras, ricotta ravioli with truffles, buttery lobster or an ultra-rich Japanese Wagyu beef with cherry marmalade, but at a supplement that ranges from $15 to $23. And the luxury add-ons are rarely as delicious as the vegetable dishes they supersede.
You'll probably be happy with the hot sourdough doughnuts, although the cheese course — 10-year Hook's cheddar, super-fresh Brillat-Savarin — is pretty good too. Do not neglect to order coffee after the meal. You will not find a chef half so obsessive about its sourcing and preparation. Even that $18 cold ultrasound Geisha, whose weight and body seem closer to a semillon than to Starbucks, is worth those few minutes of quiet contemplation at least once.
::
Le Comptoir
Gary Menes cooks Long Beach-farm-to-Koreatown-counter cuisine.
LOCATION
3606 W. 6th St., Los Angeles (in the Hotel Normandie), (213) 290-0750, lecomptoirla.com
PRICES
Tasting menu, $69
DETAILS
Seatings at 6 and 8:30 p.m. Tuesdays, Thursdays, Fridays and Saturdays. Beer and wine. Valet parking at the hotel. Credit cards accepted.
RECOMMENDED DISHES
Tasting menu.
MORE JONATHAN GOLD REVIEWS:
Lobster rolls and 'HoJo-style' clams at Catch & Release
Bryant Ng's Cassia in Santa Monica stars a brilliant pot-au-feu
Garlic & Chives offers Vietnamese cooking with some surprising twists
---
Get our L.A. Goes Out newsletter, with the week's best events, to help you explore and experience our city.
You may occasionally receive promotional content from the Los Angeles Times.