Review: Lobster rolls and 'HoJo-style' clams at Catch & Release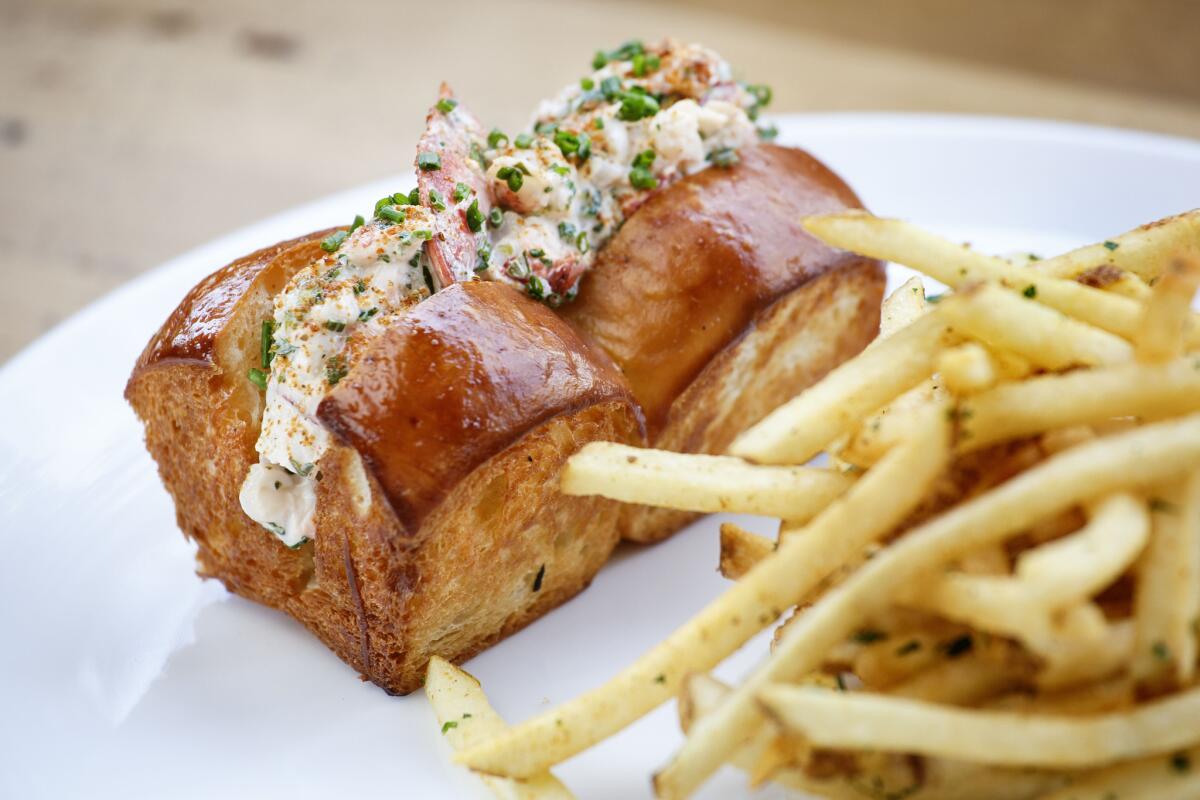 Los Angeles Times restaurant critic
The life of a certain kind of restaurant, one is given to understand, can be nasty, brutish and short. A bakery-cafe concept, reborn as an Asian fusion restaurant, may already be out of business in its new incarnation as a Mexican-leaning nose-to-tail beer garden. Your great-aunt's favorite pasta place serves barbecue now. There are some high-visibility restaurant spaces in Pasadena and Manhattan Beach that have changed identity more often than most of us rotate our tires.
And sometimes a new restaurant, no matter how appealing, can come off as a bit arbitrarily conceived, as if its developers were playing a game of restaurant Mad-Libs: "(Verb) & (Verb), a modern (traditional restaurant genre) helmed by (chef), formerly of (hip restaurant) and (famous New York restaurant), will be opening in the grand space until recently occupied by the (slightly dated genre) restaurant (unpronounceable foreign noun). Expect cocktails, natural wine and a wide selection of microbrews on tap."
Even as Los Angeles experiences a boom in cuisine powered by pop-ups, food trucks, farmers market fetishes and indie-style exuberance, it is hard to ignore the fact that consultants and developers, some of them brilliant, continue to rule the scene. As varied as the portfolios may be, it is possible to talk about a Sprout group restaurant, or a Simmzy's group restaurant or a Rustic Canyon group restaurant and convey a fairly precise idea of what that might mean.
SIGN UP for Jonathan Gold's Counter Intelligence dining newsletter >>
When I say that Catch & Release, a big new East Coast-style seafood restaurant in the old Paiche space in Marina del Rey, feels perhaps more like a Sprout-group restaurant than like the natural result of culinary ambition, I do not mean to slight Jason Neroni, a fine chef who has been working in the Los Angeles area for many years. Sprout's formula, honed by its founder, Bill Chait, practically mandates a prominent chef — restaurants in the portfolio include Redbird, Bestia and Republique — as well as decent cocktails, an impeccably schooled staff and a high decibel reading. We've seen mostly Italian cooking from Neroni, at Osteria la Buca and Superba Snack Bar, but he may well have dreamed of opening a New England lobster shack. It's hard to know. The Marina has always been a tough area.
You find a seat at the seafood counter, a table in the dining room or a niche in the narrow open-air patio from which you can look out on the chain restaurants in the mall across the street. You settle in with a glass of Oregon Pinot Gris and a peel-and-eat shrimp cocktail, half a dozen oysters or a $150 cold seafood platter actually called the Baller if you're in the mood. And you contemplate digging in.
Neroni isn't the first person to open a New England-style seafood parlor in Los Angeles — the Hungry Cat, Connie and Ted's, Fishing With Dynamite and Littlefork, among others, precede it — but Catch & Release is the only restaurant of its kind in the Marina, and if you were to be honest, you might concede that the striped bass with puréed zucchini, the cider-steamed mussels and the bucatini with sweet corn and Dungeness crab are probably better than the tuna tartare and squirt-bottle ceviche that preceded it in this space.
If you have been to one of the New England-style restaurants here, or to their spiritual predecessor, Pearl's Oyster Bar in New York's Greenwich Village, you pretty much know what to expect: fried oyster sandwiches at lunchtime, whole steamed Maine lobsters with melted butter and freshly baked Parker House rolls. But the cod chowder is particularly nice here, not overwhelmingly heavy but thick with diced Weiser Family Farms potatoes and almost more chopped bacon than fish. The shredded kale salad, tossed with soaked yellow raisins and toasted pine nuts, is especially good — Portuguese New England if you squint a little, Westside Los Angeles if you don't. Spaghetti with squid and olives, sluiced with olive oil and tomatoes, neatly splits the difference between Rome and Connecticut. The New England clam bake comes in a big Le Creuset pot; mellow lobster broth bathing clams, mussels, sweet corn, potatoes and a bit of lobster.
And the crispy "HoJo style'' clam strips, no fancy Ipswich bellies here, are breaded with a coating whose flavor may remind some Angelenos more of the seasoning Shakey's uses on its MoJo potatoes than of anything Howard Johnson's used to serve. A win-win, as I see it.
New England-style seafood restaurants in California used to be judged by the succulence of their fried clams, and I knew people who would jump in the car the instant they heard of a possible contender in Ventura or Del Mar. Now the essential dish is probably the lobster roll, a subject on which any proper Massachusetts expat will be happy to lecture you for hours, and Neroni's version is wonderful, if a bit unconventional: big chunks of chilled lobster meat tossed with Duke's mayonnaise and tarragon, stuffed into butter-toasted rolls and sprinkled with minced chives. Are they made with top-loading Pepperidge Farm hot dog buns? They are not: The lobster is tucked into freshly baked Parker House rolls instead, whose shape and sweetness give the brief and delightful impression of perfected King's Hawaiian Bread. Is the mayonnaise from South Carolina? Get over it.
You are probably going to want a piece of the flaky, oozy slab pie for dessert. At the moment, late summer, it is made with peak-season peaches from the farmers market stalwart Regier Family Farms, which collapse nicely into the crust. Or if Marina del Rey puts you into a 19th century frame of mind, and I think we might all appreciate an Emma set among the sailboats, there is also, oddly enough, Eton mess, a venerable composition of meringue, cream and strawberries associated with cricket and late spring. Long may it live.
::
Catch & Release
Chef Jason Neroni channels his Maine childhood in Catch & Release.
LOCATION
13488 Maxella Ave., Marina del Rey, (310) 893-6100, catchandreleasela.com
PRICES
Raw bar, $15 and (way) up; snacks and starters, $6-$16; pasta, $17-$19; main courses, $16-$29.
DETAILS
Lunch, 11:30 a.m. to 2:30 p.m. Mondays to Fridays; dinner, 6 to 10:30 p.m. Sundays to Thursdays, 6 to 11 p.m. Fridays and Saturdays; brunch, 11 a.m. to 4 p.m. Saturdays and Sundays. Credit cards accepted. Full bar. Free lot in building behind restaurant.
RECOMMENDED DISHES
Cod chowder, lobster roll, kale salad with pine nuts and pickled raisins, New England clam bake, slab pie.
More Jonathan Gold reviews:
Mapo Galbi has a one-dish wonder
Bryant Ng's Cassia stars a brilliant pot-au-feu
Sambar brings an enlightened plane of Indian cuisine to Culver City
Get our L.A. Goes Out newsletter, with the week's best events, to help you explore and experience our city.
You may occasionally receive promotional content from the Los Angeles Times.