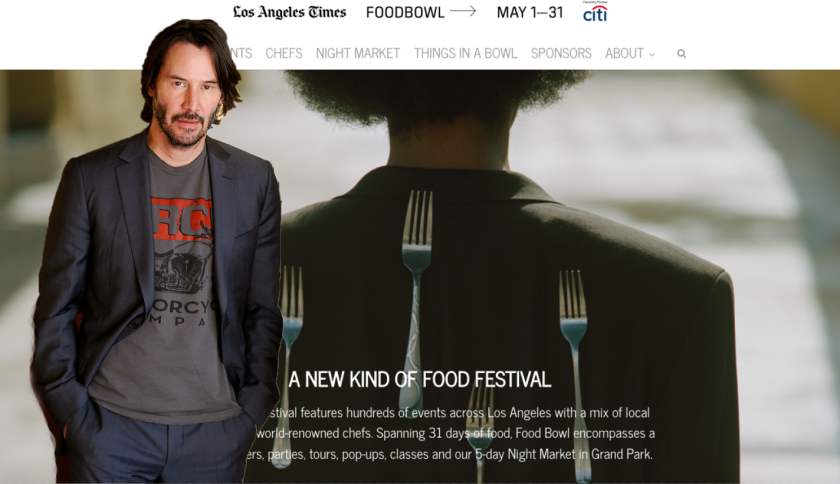 We know LA Food Bowl is a lot. Here are a few pointers to help you to do it like a pro:
1. Clear out the month of May. Reschedule birthdays, quinceañeras, whatever you were planning. You're going to be busy — there are more than 150 events all over Los Angeles and beyond.
2. There's a website with lots of colorful boxes and words on it. This is the matrix you will enter, and, like Keanu Reeves, you will emerge from the experience able to dodge bullets in slow motion — but unlike Reeves, who looks so solemn in the Matrix, you will emerge with a month's worth of plans to eat and drink and listen and learn. Take a blue pill or a red pill or, if you're like us, just pour a big cup of black coffee and open it up in a new browser window. After this, there is no turning back.
3. Go through it page by page, opening the events you don't want to miss in new tabs. There will be many tabs, but because you are Reeves in the Matrix now, you will not become overwhelmed. You are a suit and tie-wearing event-selection time-traveling ninja. You will find many reasons to want to go to things: the great chefs, the good deals, the good talks, the good times.
3. You'll notice as you wade in that there are big events, there are small events, there are particular dishes appearing on certain menus around town listed as events. Some of these things will be bigger commitments than others. More tabs. Deeper into the matrix.
4. You will start texting friends to see what they're into and coordinate: Does Chuck want to see some of those cool food movies? Will Taylor be very upset missing out on Aaron Franklin's brisket? Things will start falling into place. You will click and buy tickets. You will make entries on your Google calendar, which you have cleared out. You will have another cup of coffee and/or more pills.
5. Suddenly, you emerge. You're set. You've got tickets. You've got plans. Your reality has shifted: You are no longer Reeves in "The Matrix." You are a younger, less brooding Reeves, in the final stretch of "Bill & Ted's Excellent Adventure," standing onstage with Socrates, drinking fermented yak milk with Genghis Khan. Congratulations. Probably time to go to the gym and get yourself in shape for all the eating, drinking and food bowling you're about to do.
---