A fast-growing East L.A. tortilla business started with two high school friends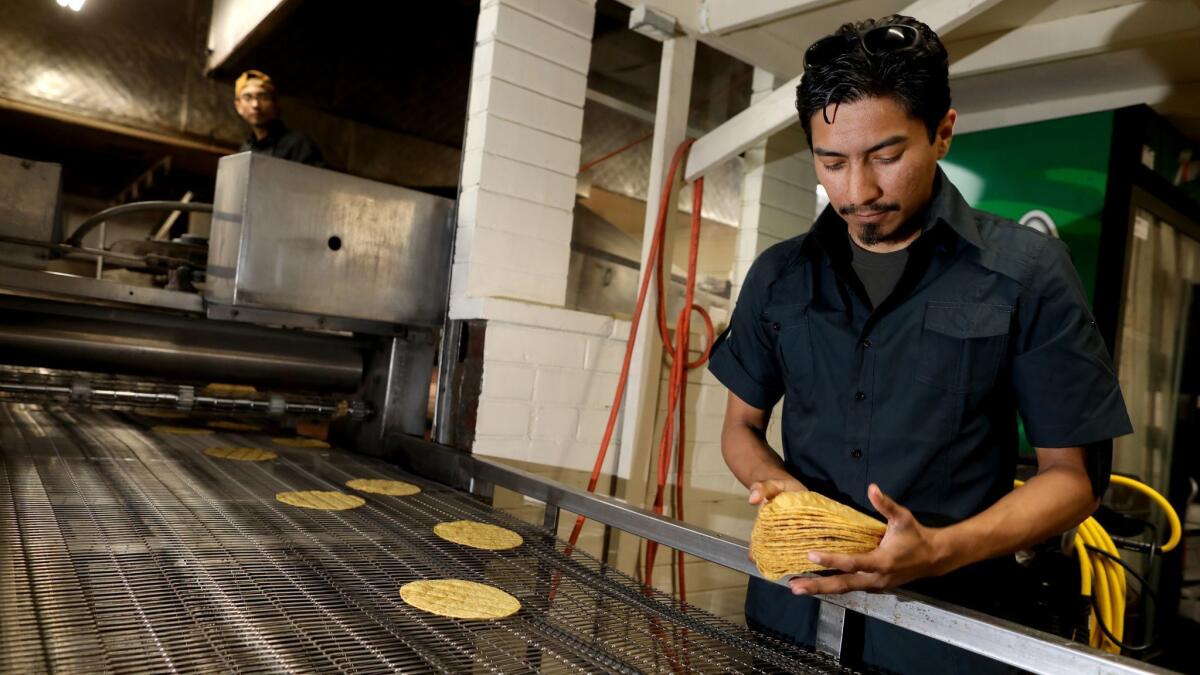 Chances are you've had supermarket corn tortillas, the thick, bland, chalky discs that Rick Ortega calls "hot dog tortillas."
Ortega, along with business partner Omar Ahmed, runs Kernel of Truth, a Los Angeles company that makes tortillas almost unrecognizable in taste from those mass-retail bulk versions.
The two are pushing back against a tortilla-making process that became industrialized in the 20th century, particularly through the domination of Maseca, a producer of dehydrated tortilla flour.
Chefs and restaurateurs say they have been inspired by corn's spiritual meaning in Mexican indigenous culture and by the decade-long battle that has been fought in the Mexican courts to keep genetically modified corn out of the country and from contaminating the country's most valuable agricultural product.
In 2014 Ortega and Ahmed, who have been best friends since they were teenagers in Echo Park, began making organic, non-GMO tortillas. The two have had the entrepreneurial bug since high school, when they sold burgers to make money to buy instruments for their band.
Ahmed grew up in the tortilla business: His aunt and uncle had a tortilla factory in Los Angeles, and he decided to take it over. Ortega soon joined the enterprise, promising to do whatever he could to help people fall in love with the traditional tortilla, having sold them during his childhood summers at his family's Mexico City market stall.
Soon, Ortega and Ahmed began making masa for the tortillas in a tiny space inside El Mercado de Los Angeles in Boyle Heights, calling the business Kernel of Truth. They chose the name to reflect "our mission to put integrity first" and to reach out to a larger community. They used an English name to break the stigma that all tortillerías should have a Mexican name.
"We wanted to be a voice for everyone — to speak for the Westsider, the Mexican, the pocho," Ortega said.
Five years ago, Ortega began selling his tortillas to high-end Mexican restaurants in L.A. He first touted them at Red O, a Mexican restaurant associated with chef Rick Bayless, but Ortega said he felt he and his product weren't taken seriously.
Things changed when vegan Mexican restaurant Gracias Madre hired the company to make tortillas for their West Hollywood location. Word soon spread, and Ortega began selling to more than 30 of L.A.'s top Mexican restaurants, including Guerrilla Tacos, HomeState, CaCao Mexicatessen and Petty Cash Taquería.
Wes Avila, the chef-owner of Guerrilla, was not easy to win over, Ortega recalled. He brought his tortillas to Avila's truck at least once a month for six months, but the chef kept rejecting them because he needed the tortillas to be a certain size and weight.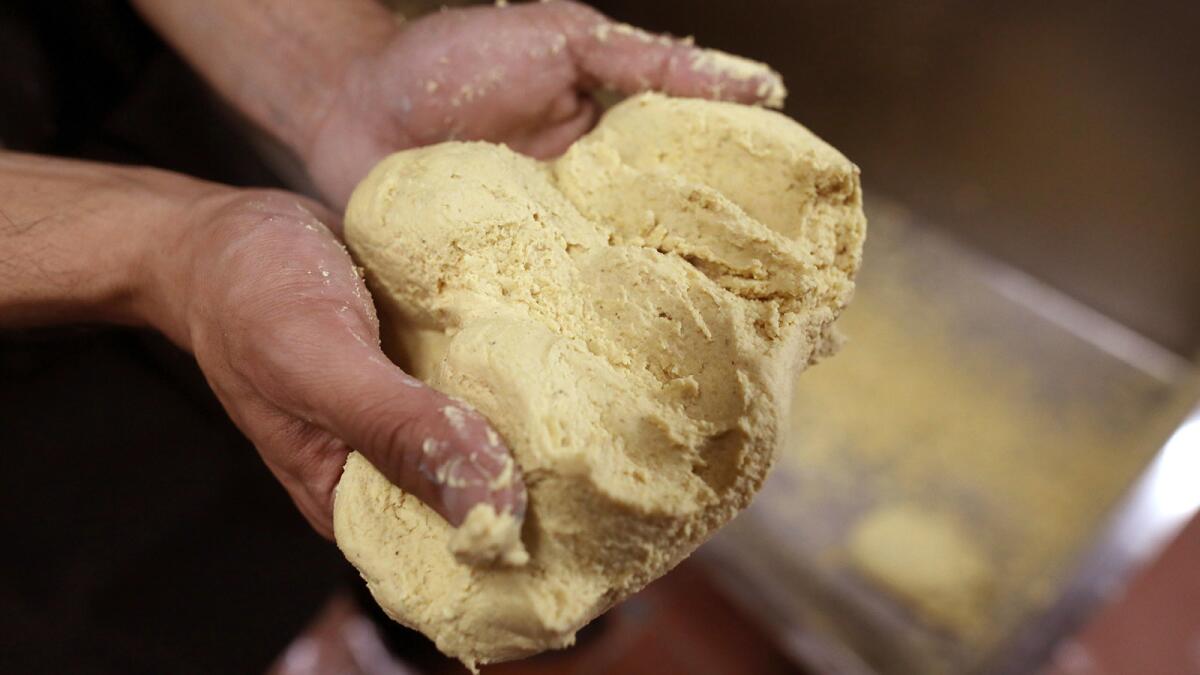 "I wanted this guy to love our tortillas and, finally, he took a chance on us," Ortega said.
"I was won over by their persistence and the flavor," Avila said. "Their tortillas are fantastic."
More customers signed on, and Kernel of Truth's business took off. Last year, the company's revenue was half a million dollars, up from $80,000 in 2015. Revenue is expected to reach nearly $1 million this year.
Eventually, Ortega and Ahmed outgrew their tiny space in the mercado and, last year, opened their first full-scale tortilla production facility in Boyle Heights on Cesar Chavez Avenue.
"Boyle Heights is tortilla country; there are five tortillerías in a 2-mile radius," Ortega said.
They stood out, however, as the only one to use organic, non-GMO corn and to reclaim the flavor of the traditional tortilla.
Recently, they began to further distinguish themselves by specializing in blue corn tortillas. They spent an entire year mastering the science of organic blue corn, a variety which spoils more easily, is more affected by weather and farming conditions, and has a shorter growing period than genetically modified corn, but which produces a superior product.
They source the corn from small farms in Illinois and Nebraska. Ortega said while other blue corn tortillas can be coarse, theirs are smoother and better ground.
"Our tortilla has more water and therefore more flavor," he said.
The city's food critics and writers seem to agree. In September, Kernel of Truth's tortillas made it into the final four at Gustavo Arellano's Great Tortilla Tournament, hosted by KCRW, along with those from Sonoratown, Burritos La Palma and Taco María.
Ortega feels indebted to Arellano and the late restaurant critic Jonathan Gold for having elevated the status of the tortilla.
"Before, the tortilla was seen just as a plate — not an ingredient," Ortega said. "It's about time we no longer remain in the shadows."
Ortega and Ahmed continue to expand their business by selling directly to customers at the Hollywood Farmers Market and organic markets in Echo Park and East L.A., where their tortillas sell for $3 for a dozen. They hope to add more farmers markets to their schedule and, over the next few years, make Kernel of Truth a national brand by partnering with organic tortillerías around the country.
Kernel of Truth
Co-owners: Rick Ortega and Omar Ahmed
Location: 2710 E. Cesar E. Chavez Ave., Los Angeles
Founded: 2015
Restaurant customers: Guerrilla Tacos, CaCao Mexicatessen, Gracias Madre, Puesto, HomeState, Little Llama Peruvian Tacos, Petty Cash Taquería
Number of tortillas produced a year: 4 million
Where to buy: Hollywood Farmers Market; Cookbook, Los Angeles; Sara's Market in Boyle Heights
Get our L.A. Goes Out newsletter, with the week's best events, to help you explore and experience our city.
You may occasionally receive promotional content from the Los Angeles Times.