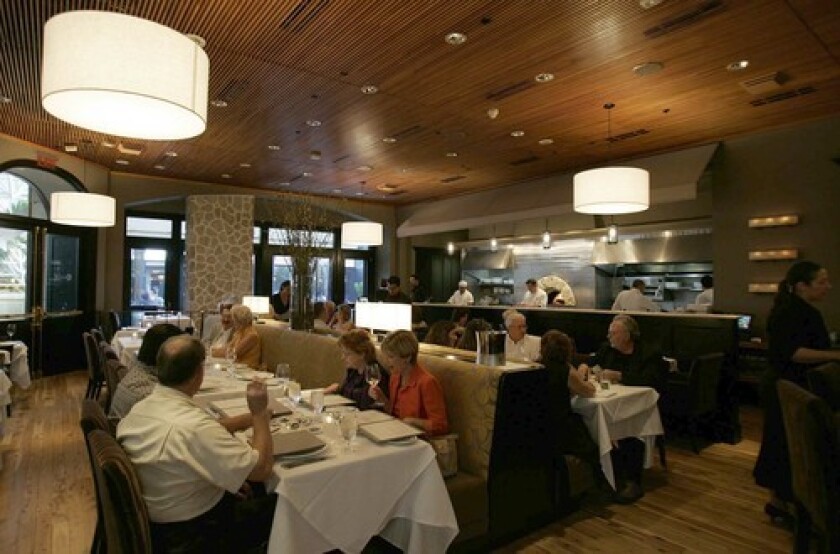 Los Angeles Times Staff Writer
The charcuterie on the wooden board in the center of the table is arranged as precisely as a Cezanne still-life. Fine slices of pink prosciutto are dropped like handkerchiefs. It's the excellent artisanal prosciutto Americano made from acorn-eating pigs by La Quercia in Iowa. Quarter-sized slices of Spanish chorizo streaked with paprika and crimson and white marbled salametto Toscano march across the board. They're all top-notch, but what grabs my attention are the rabbit rillettes and that thick slab of duck terrine, both house-made. I take a bite of terrine, and it has that rich, gamey taste of the real thing, rustic and earthy.
This is the taste of France, the memory of so many bistros and bouchons and picnics beside the road. The rillettes taste as authentic as the terrine, fatty and delicious smeared on a piece of toast with a little mustard cream. I take a sip of Chablis, savoring its stony minerality against the evocative funk of the charcuterie.
Florent Marneau, chef-owner of the new Marché Moderne in Costa Mesa, comes on full throttle with this bistro in the old Troquet space at South Coast Plaza. I've hauled a group of friends all the way from L.A. to Costa Mesa, and by the time we've finished our first courses, no one is complaining about the drive because it's clear this is probably the best bistro in Southern California.
Opened just this April, Marché Moderne takes the word moderne seriously. This is no rehashing of tired French clichés. If he does a classic, Marneau gives it his full attention, and often a smart twist of his own.
Kumamoto oysters on the half shell are chilled to the ideal temperature and served with a touch of ginger in the mignonette. Then there's also a stunning "cocktail" of raw sea urchin roe heaped into a martini glass with chunks of avocado in a lime-drenched vinaigrette and topped with julienned breakfast radish. The combination of flavors is brilliant -- and completely moderne.
In his element
Another night there's a special of cepes, gorgeous, egg-sized mushrooms, so fresh and pristine, he simply halved and sautéed them in butter to make a sumptuous first course. With ingredients like this, Marneau knows enough not to sublimate the flavors with a heavy sauce.
A native of Fontainebleau southeast of Paris, Marneau was longtime chef at Pinot Provence (part of the Patina Group) across from South Coast Plaza, and before that he was chef de cuisine at Aubergine and Pascal, both in Newport Beach. But here in his own restaurant, with his wife Amelia as pastry chef and a hand-picked staff, some of whom have worked with him before, his cooking is fresh and uncomplicated -- modern.
I love his chilled foie gras with a hint of sweet spices set on thin slices of roasted pineapple splashed with a little Sauternes. The unctuous foie gras is fabulous against the fresh acidity and sweetness of the pineapple, the flavors clear and direct.
Another tour de force is his scallop tagine, which comes in a small glazed tagine pot with a conical lid. Remove the lid and the enticing scent of cumin and other Moroccan spices floats over the table. The meaty scallops come with soft, roasted eggplant and zucchini in a spice-laden sauce dotted with golden raisins, almonds and preserved lemons and fired with a touch of harissa. Langoustines poached in Echiré butter imported from France are delicious too with wild ramps and trumpet royale mushrooms.
At Marché Moderne, Marneau takes center stage in front of the wood-burning oven outlined in stone, turning out savory tarts. I was thrilled to see tarte flambé from Alsace on the menu. It is not, however, the classic thin-crusted tart. Yes, it does have the smear of crème fraîche and the caramelized onion, but instead of lardons, Marneau uses Wisconsin ham and includes a little cave-aged Gruyère cheese. His comes on a pillowy bread crust with a robust yeasty flavor, so he has, in a sense, reinvented the tarte flambé to suit his aesthetic.
His two other "tarts" are not quite pizzas, but very close. There's one topped with boudin noir (blood sausage) made by a Basque family in Chino, braised lettuce, red onion and a little cheese and raw apple; to my taste it has just a little too much going on. The one with La Quercia's superb prosciutto Americano on top, along with some imported mozzarella, tomato, basil and olive oil and a garnish of asparagus, works the best with the crust.
These are big enough for four to share as an appetizer; at lunch they could easily be the main event.
The location is a bit odd, to be sure. But I felt the same way when Troquet was here. It's up on the third floor of the Nordstrom wing of South Coast Plaza, but the restaurant does have an outdoor patio open to the sky. And once you're inside, you'd think it was Galeries Lafayette over there rather than Nordstrom, the room looks so completely French -- with the double row of banquettes down the middle and a tall vase of pussywillows or cherry blossoms placed on top. Near the door there's a sweet little bar where the Marneaus are pouring 40 or so wines by the glass. And white-clothed tables are lined up against the smoked glass French doors.
The salads are better than most of what you'd get in France, the greens fresher and more abundant. Even the lovely basic salad of market greens is made with the kitchen's full attention, the lettuce tossed with some cucumber and avocado in a beautifully modulated Champagne vinegar and walnut oil dressing sprinkled with chives.
Beet salad is goosed with orange and goat cheese, then garnished with pine nuts and basil.
Marché's salade composée plays off the ubiquitous chopped salad idea, but this one embraces hearts of palm, P'tit Basque cheese and pale green fresh garbanzo beans, along with the usual tomatoes and ham.
Marneau writes a good menu; when it comes to main courses, I want to order everything. My eye goes straight to the two dishes "in the style of coq au vin" -- rabbit or short ribs.
A light touch
On my first visit I order the Devils' Gulch Ranch braised rabbit and sautéed loin braised in red wine and served with chunky little Yukon Gold gnocchi. It's presented in a small cast iron casserole with root vegetables and fresh, musky morels from Washington state. Stained with red wine, the rabbit is moist and delicious, the sauce loose and transparent. This is a wonderful bistro dish; it's so satisfying to find a dish like this here.
Another time, we try the Four Story Hill Farms beef short ribs. You see short ribs everywhere, but these are so expertly cooked and with such a light hand that I'm seduced. The sauce is the red wine braising juices, making it a beautiful match with a Burgundy or Rhône red. This is very good cooking.
The wine list is a sweet little compendium of California and French bottles that drink well with food, and the prices are very fair. And a good many are available by the glass as well, such as the Sylvaner from André Ostertag in Alsace or a Clos de la Coustade Cahors from southwest France.
Steak frites means your choice of three different cuts, each prepared with caramelized shallots and served with perfect fries and a few leaves of romaine freckled with red wine vinaigrette. The Kobe flatiron has a dense texture and a deep beefy flavor.
And for lamb lovers, there's a roasted lamb rib-eye livened up with a black olive jus straight out of Provence. It's a wonderfully flavorful cut, perfectly pink at the center.
The one dish I didn't like was the mussels steamed with white wine and garlic, because the batch of mussels that night had a slight funk. But my ever-hungry friend who'd ordered it didn't seem to notice and polished it off nevertheless.
Warm service
Under the direction of Sylvie Cahuzac, the dining room runs like clockwork. The service is very correct, but it's also very warm. It's almost impossible to find the two qualities together in one dining room, and it's that Gallic charm coupled with a deep seriousness about food that makes eating at Marché Moderne such a pleasure.
Cahuzac's face lights up when a guest asks about the cheese course. She's from Paris, she'll tell you, and she grew up on cheese. And the cheese course here is truly lovely, four or five well-chosen cheeses, including a Humboldt Fog goat cheese, a St. Augur blue, a Brillat Savarin, a Reblochon and a Livarot. They're not served too cold, as they are at most restaurants. And the accompaniments -- honeycomb, grape marmalade and candied walnuts -- make sense.
Desserts from Amelia Marneau are nicely understated -- never too sweet, never too rich. A graduate of Le Cordon Bleu in Paris, she's worked at Hotel de Crillon Paris, the Ritz-Carlton Laguna Niguel and Aubergine in Newport Beach.
Right now she's making a terrific peach upside-down gâteau, which consists of a single peach on a buttery cake just that size served warm with whipped crème fraîche and peach gelato. Even lighter is her ice cream perfumed with rose petals and served with a long thin butter cookie called an arlette. It's the perfect way to end a bistro meal at Marché Moderne.
But first you need to find your way to the new bistro, and it's not at all obvious. Park in the structure next to Nordstrom and take the elevator up to Marché Moderne. Think of it as a far-flung arrondissement in Paris, worth the trek for some of the best bistro cooking this side of the capital.
Marché Moderne
Rating: ***
Location: South Coast Plaza, 3333 Bristol St., Costa Mesa; (714) 434-7900.
Ambience: Smart, modern French bistro at South Coast Plaza in the old Troquet space with an outdoor patio and wood-burning oven.
Service: Warm and professional, from experienced servers.
Price: Dinner appetizers, $7 to $16; main courses, $20 to $39; desserts, $7 to $9.
Best dishes: Scallop tagine, langoustine with wild ramps and trumpet royale mushrooms, cold foie gras with pineapple, duck terrine, roasted duck breast, braised short ribs or braised rabbit in the style of coq au vin, American Kobe flatiron steak frites, upside down peach gâteau, rose petal ice cream with arlette cookie.
Wine list: Small, but nice mix of French and California bottles, very fairly priced for a restaurant of this caliber. Corkage fee, $10.
Best table: One along the banquette.
Details: Open for lunch 11:30 a.m. to 3 p.m and dinner 5:30 to 9:30 p.m. Monday through Saturday; 11:30 a.m. to 6:30 p.m. Sunday. Full bar. Lot parking at South Coast Plaza (enter Nordstrom structure); also valet parking on first level of parking structure.
Rating is based on food, service and ambience, with price taken into account in relation to quality. : Outstanding on every level. : Excellent. : Very good. : Good. No star: Poor to satisfactory.
---