Market Watch: Passion for gardening leads to Beverly Hills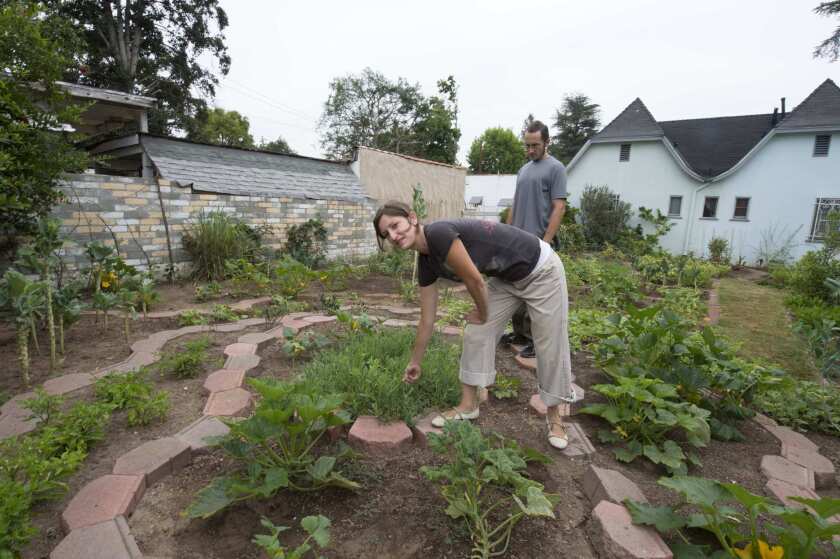 Special to the Los Angeles Times
Is it possible to turn a passion for home gardening into a career growing for farmers markets? Such is the hope of Jennifer Little and James Imhoff, who gave up successful jobs to start Little Farm Fresh in their San Gabriel yard. They have gained a cult following for their unusual heirloom produce, including cape gooseberries, Black Cobra chiles and Richmond Green Apple cucumbers, and believe that their goal — "spending time together doing what we love" — is within sight.
They met as high school sweethearts in Palmdale 19 years ago and stuck together after he was injured in a car accident. A decade ago they bought a home a few blocks from the San Gabriel Mission, and Little attended Los Angeles Trade Technical College. She became a pattern maker for a local wedding dress designer, Camille DePedrini, while he worked his way up to be lead stage manager for Sunset Bronson Studios.
But his health suffered as the job forced him to work up to 100 hours a week, and she longed to spend more time outside in the garden. Two years ago they started offering their garden's bounty with a small delivery service. Still, it was only after a stroke of luck — a horse in which they had just bought a share, TJ's Passion, won its first race at Golden Gate Fields — that they felt inspired to take a risk.
In June 2011, Imhoff left his job, and they began selling at nearby farmers markets in Temple City and then Alhambra. A few months ago they visited the bustling upscale market at South Pasadena, where they were a bit intimidated at first, but manager Greta Dunlap invited them to sell, and they met an enthusiastic reception.
Customers "really appreciate that we're the ones who plant, harvest and know the story behind our varieties," says Little.
This Sunday they'll start selling at Dunlap's other market in Beverly Hills, which makes Little and Imhoff feel like they have really arrived.
"Two years ago we were digging up the lawn in our San Gabriel yard, and now we're selling in Beverly Hills," says Little, her excitement and nervousness palpable.
Her aesthetic training carries over into what she plants and how she displays it, like green, red and lavender long beans that she bundles together at market. Most of their varieties have stories, such as the stridolo, a mildly aromatic Italian green; rau ram, Vietnamese coriander, which tastes like a cross between cilantro and basil; Minnesota Midget heirloom cantaloupes; exquisitely flavorful Lebanese white bush marrow; and Rat-tail radishes, grown for their crisp, edible seed pods and not for their roots. They also offer passion fruit and pomegranates, plant starts, teas, and dried herbs and vegetables, like a marvelously aromatic jar of dried Tropeana Lunga dried onions — all in very small quantities, of course.
By living very frugally and working from dawn to dusk, they have gotten to the point where they are "about two-thirds of the way to being self-sufficient," says Little. It's certainly no picnic. They both have bad backs from bending and squatting. Packing their modest car for market is like a Tetris game, adds Imhoff.
Their venture is part of the vogue for urban farming in the last few years, founded on suspicion about the industrial food system, the dislocations of a recessionary economy and a characteristically American penchant for reinvention.
A century ago, Los Angeles was the largest farm county in the country, so digging up the lawn to plant crops represents a return to the area's agricultural roots, although with profound differences. Since California certified farmers markets began in the late 1970s, a limited number of homeowners have supplemented their income by selling surplus produce from their yards, but this was rarely their primary livelihood. After the novelty wears off, will Little and Imhoff really be able to support themselves from what they can grow in a few thousand square feet in their front and back yards, even if they expand to other local plots? Which crops, growing practices and marketing venues could enable their success? Or will urban farming ultimately prove just another agricultural fad, like jojoba?
To help answer these questions, Little and Imhoff are collaborating with researchers from the University of California Cooperative Extension and the University of Wisconsin on a national study looking at urban farming in seven major metropolitan areas, part of the Community and Regional Food Systems Project.
Tip of the week: Little Farm Fresh has just a few cape gooseberries left, while their plants are on summer vacation, but Steven Murray Jr., a wild-eyed grower of all manner of exotic crops, will have eight to 10 flats of the fruit at next Wednesday's Santa Monica farmers market, he says. This small golden berry, encased in a papery husk like its sister, the tomatillo, is native to South America and grown all over the world, but it has never gained much traction in California. In flavor it is curiously intermediate between fruit and vegetable, both sweet and tart, with hints of tomato, gooseberry and grape.
---
Get our weekly Tasting Notes newsletter for reviews, news and more.
You may occasionally receive promotional content from the Los Angeles Times.