Market Watch: Australian finger limes make a splash in Santa Monica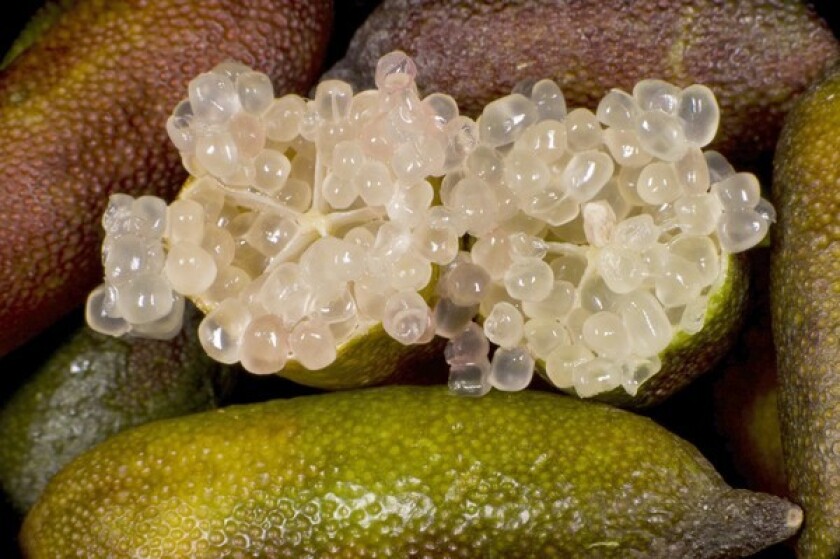 One of the rarest and most sought-after fruits, the Australian finger lime, has started showing up in significant quantities at the Santa Monica farmers market, creating a minor sensation. The fruit's appearance is enough to excite wonder: from the outside it looks like a little gherkin, but when sliced in half, the round, pearlescent juice vesicles ooze out of the fruit, like citrus caviar. The clean, fresh, tart lime-lemon taste is enticing enough, but the texture, crunchy and juicy, like citrus Pop Rocks, is even more prepossessing.
"This is so cool. I'm really excited," said Evan Funke, chef at Rustic Canyon, fascinated by the translucent drops. He was among the crowd of chefs, purveyors and regular market-goers who clustered around the Shanley Farms stand at last Wednesday's market, as Jim Shanley of Visalia and his daughter Megan explained what the fruit is and how to use it.
One of a half-dozen species of Australasian citrus, the finger lime is native to the rain forests of eastern Australia. It is not directly related to familiar Bearss and Mexican limes. Although the species was first brought to the United States more than a century ago, only in the last six years have disease-tested, legal budwood became available to nurseries for propagating the trees, and farmers started commercial plantings. In California, about 40 acres have been planted, or will be shortly; of those, perhaps only a third have started to bear.
The best way to use the fruit is to cut it in half and squeeze out the juice vesicles, like pushing toothpaste out of a tube. The rind is thin and edible in theory but too tough to be pleasurable to eat, though it can be used in marmalades or as a garnish. As with other acid citrus, finger lime pulp is mostly too sour to eat fresh by itself. But it is used as a garnish, in upscale cocktails, on persimmons and as a counterpoint to seafood (it's great on oysters). Josiah Citrin of Mélisse says that he is using finger lime caviar in a red miso vinaigrette with hamachi poisson cru.
Commercial production, in tiny quantities, began just last year. Demand far exceeds supply, so prices are high for now. Both the Shanleys, who have 1,500 finger lime trees, and Mud Creek Ranch of Santa Paula, which has just 12, were selling the fruit last Wednesday for $10 in half-pint plastic clamshells, roughly 6 ounces each. That's not cheap, but a little goes a long way. For the skeptical or frugal, the Shanleys also sell individual fruits for 50 cents.
The season runs October through December and probably longer in coastal plantings. Shanley Farms, which is new to the Santa Monica market, will sell there at least for the next several weeks. Like other new growers of this crop, Jim Shanley is still learning how to farm the wiry, thorny trees, which are as difficult to harvest from as a tangle of barbed wire. For many basic horticultural practices, such as rootstocks, pruning and irrigation, he is finding out by trial and error what works best, he said.
Similarly, buyers are just starting to learn, now that finger limes are becoming available, how to choose and use them. The fattest, plumpest specimens, packed with juicy pulp, are most desirable; thin, scrawny examples provide fewer vesicles. The fruits vary in color from purplish or greenish black, the most typical hues, to light green or rusty red. All are good, but the purplish examples are more likely to have pulp with an attractive pinkish tinge. The fruits have few seeds — a definite advantage — when grown in uniform blocks, away from other citrus varieties with viable pollen from flowers that bloom at the same time.
Because of their thin skins, finger limes kept on the kitchen counter at room temperature dry out in five days or so. But when stored in the refrigerator, they can last several weeks, developing only minor cosmetic blemishes.
Another major grower, Lisle Babcock of Deer Creek Heights Ranch, in Terra Bella, is selling finger limes to Whole Foods stores in the Los Angeles area, where the fruits will be available in the seafood department for 50 cents apiece starting next Wednesday, said Jeff Biddle, the chain's produce coordinator for Southern California.
If all goes well, finger limes could be a mainstream product, grown on hundreds of acres and widely available at supermarkets, Shanley said. Only time will tell whether his enthusiasm is warranted, but meanwhile, market-goers have a new fruit to experience.
'From Seed to Skillet'
One of the many growers at Wednesday's market intrigued by Shanley's finger limes was Jimmy Williams of Hayground Organic Gardening, who said he wanted to offer the trees at his nursery stand. He himself has a new crop: a book, "From Seed to Skillet: A Guide to Growing, Tending, Harvesting, and Cooking Up Fresh, Healthy Food to Share With People You Love" (Chronicle Books, $30).
Williams is rather a cult figure at the market, not just a nursery vendor but a coach to urban gardeners, from novices to cognoscenti. He's as beloved for his calm presence as for his knowledge. As he recounts in the book, co-written with Susan Heeger, growing plants is far more to him than a business or a hobby. It evokes his family and their personal connections and cultural history in a spiritual way.
Williams grew up in Southampton, N.Y., in a large family with grandparents from both the Gullah community (of the lowcountry region of South Carolina and Georgia, descended from Caribbean slaves) and the Shinnecock Indians of Eastern Long Island. At age 4, he was taught how to garden by his grandmother Eloise, to help feed the family. He acquired a lifelong passion for horticulture. For many years, while he worked as a successful clothing designer in Manhattan, he grew plants on rooftops.
Although Williams enjoyed this career, he found his true calling when he moved to Los Angeles. He started gardening in his yard and then selling plants with his son, Logan, at farmers markets, and designing gardens for clients. He joined seed exchanges and scoured catalogs, searching for unusual and delicious varieties with a story, such as — to mention four things he was selling last Wednesday — Appalachian wild kale, with sweet, lettucelike leaves; Okinawan purple spinach, a perennial with purple undersides to the leaves; an Egyptian fava bean with edible pods; and a "collard tree" that has been in his family for 400 years, he says.
Asked whether there was any connection between the aesthetic sense that led him into clothing design and the skills that made him successful as a nurseryman and gardener, he thought for a moment, and then answered affirmatively, saying, "picking the right plant for a space is like picking the right button for a shirt."
His book, which is graced by Eric Staudenmaier's excellent photographs, weaves together the Williams' family history and the advice he has been giving gardeners for years about how to choose what to grow, prepare the soil and tend the crops, along with recommended varieties. There is also a section of recipes handed down by his family.
This Sunday, Ammo restaurant will celebrate the publication of "From Seed to Skillet" with a special menu of recipes from the book, although tables are already fully reserved. The book is scheduled to be in stores next month, and starting this weekend Williams will sell copies at the farmers markets he attends: Santa Monica (Saturday Organic and Wednesday) and Hollywood (Sunday).
---
Get our weekly Tasting Notes newsletter for reviews, news and more.
You may occasionally receive promotional content from the Los Angeles Times.