Market Watch: Kinnows make a sweet citrus juice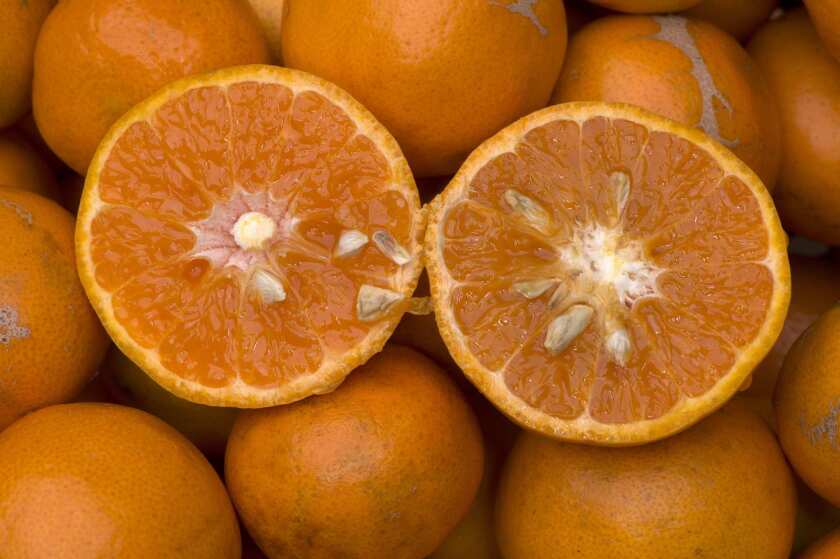 Special to the Los Angeles Times
Amid the seasonal abundance of apricots, cherries, peaches and Boysenberries, it is hard to imagine that a citrus juice would become an object of craving, but few shoppers have any idea just how sweet and flavorful late-harvest Kinnow mandarins can be. Their juice, squeezed fresh at markets by Lucio Trinidad of Piru, is shockingly deep yellow-orange, almost syrupy in texture, and intensely aromatic and sweet, with just enough balancing acidity to forestall insipidity.
The Kinnow is a curious creature, bred by Howard Frost, an Esperantist, misanthrope and brilliant citrus geneticist, at the Citrus Experiment Station in Riverside in 1915. He crossed King, a natural hybrid of mandarin and orange, with Willowleaf, the prototypical, highly aromatic mandarin originally brought from China to the Mediterranean in 1805. In 1943, eight years after Kinnow's introduction, another great citrus scientist, Herbert J. Webber, wrote that it ranked higher in "richness, flavor, and what is generally known as bouquet" than any citrus that he had tasted.
By the 1960s, Kinnow was grown on 900 acres in the California and Arizona deserts, where it proved highly productive and well adapted, partly because the tree's dense foliage sheltered the fruit from the broiling sun. Although very juicy and sweet, it was also outrageously seedy, with two dozen pips per fruit, and this drawback eventually led to its virtual commercial demise in California after consumers came to demand seedless mandarins such as clementines, W Murcotts and Pixies.
"There's still a 20-acre block in the Phoenix area, but those are the only Kinnows I know of," said Jim Meeks, the specialty citrus sales manager for Sunkist, who knew the variety well when he worked in Yuma from 1974 to 1984. "The juice is fantastic, but you don't get much money for them today because of the seeds."
In the Punjab region of Pakistan and India, however, where Kinnow flourishes and remains by far the most widely grown citrus, the fruits and their syrupy juice are much beloved. Before long we may be seeing more of Kinnow here, both in markets and home gardens, since last year UC Riverside released KinnowLS, a selection developed by mutation breeding that averages just two or three seeds per fruit.
When Trinidad, a landscape contractor, bought the old Tangelo Rancho in 2004, it had 40 mature trees of Kinnow, but he didn't have much success selling the seedy fruits at farmers markets. Two years ago, he started making juice from them and moved his whole crop at $5 a pint. The juice would have been plenty sweet two months ago, but Trinidad waits until he finishes his crop of W Murcotts, which don't hold as well on the tree, before bringing Kinnow fruit and juice. He now sells Kinnow and other citrus juices at the Hollywood, Atwater, Brentwood and Pacific Palisades markets on Sundays, at Silver Lake on Saturdays, and at Northridge and Westchester on Wednesdays.
Murrayberries
Each year at this time, readers inquire about "Murrayberries," small, bright glossy red, fairly firm and tart, grown by Murray Family Farms in Arvin. They're too tart to enjoy fresh, but when cooked they have a sharp, clean flavor that recalls rhubarb and red currants. They don't resemble any other berry farmed in these parts, and no one until now has explored their likely identity.
Steve Murray, who has 300 plants of the variety, says that his mother, Annabelle, who turns 90 this week, grew what she called "redberries" in her garden in Riverside at least as far back as the 1960s and used them for making pies. Her husband brought plants of the variety from her family's home on Dufferin Avenue in the Arlington area of Riverside, but beyond that the trail goes cold.
When I sent a photo of Murrayberries to Chad Finn, the U.S. Department of Agriculture's small fruits breeder in Corvallis, Ore., he suggested that they were likely some form of Rubus parvifolius, the Japanese raspberry, also known as the trailing raspberry, a heat-tolerant species native to eastern Asia and Australia.
Introduced more than a century ago to the United States for its fruit and for erosion control, it spread so quickly that it is now regarded as an invasive species in some areas. Parvifolius is still not exactly a household name, but it played a crucial part in the breeding of red raspberries adapted to hot areas, where conventional varieties tend to die young before fruiting. J.P. Overstreet, a Mississippi breeder active from the 1940s into the 1970s, used it to hybridize Dormanred, a heat-tolerant raspberry that is still widely grown in Southern states; it was also used in a North Carolina breeding program.
We won't know for sure unless someone runs genetic tests on the Murrayberry, but it seems likely that it is either a pure or hybrid form of parvifolius, brought to Riverside 50 to 100 years ago as a raspberry-like plant that could take the heat. Murray will sell them for the next week or two at the Santa Monica Wednesday, Torrance, Hollywood and Redlands markets.
Picks of the week
The moderately warm weather recently has made this a banner season so far for Boysenberries, which have a perfect balance of sweetness and acidity, and intense, complex flavor, combining the best of their raspberry and blackberry parents. Robert Poole of Redlands has sublime Boysens, as well as a few Youngberries, at the Santa Monica Wednesday, Hollywood and Redlands markets.
Robada apricots reach perfection, luscious and honeyed, like apricot jam, in the high desert, where they ripen a week or two later than in the San Joaquin Valley. Tenerelli Orchards has them this Sunday at Beverly Hills and Hollywood.
Blenheim apricots from Forcefield Farm of Santa Paula are small and scruffy-looking but have the richest, most concentrated flavor of any apricots at farmers markets in Southern California. Eric and Helle Todd will start bringing them to the Hollywood market this Sunday.
---
Get our weekly Tasting Notes newsletter for reviews, news and more.
You may occasionally receive promotional content from the Los Angeles Times.