Recipe: Squash and bean stew with <i>merk&#233;n</i>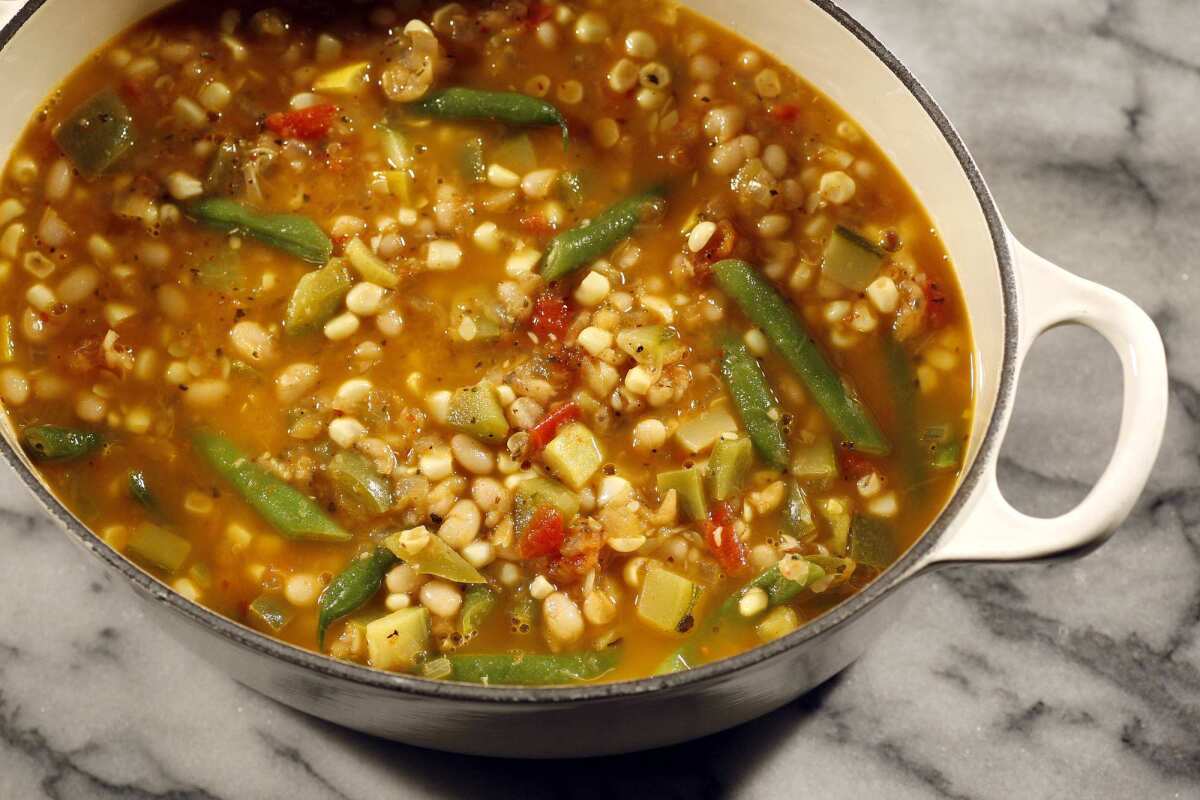 Total time: 1 hour, 15 minutes
Servings: 8 to 10
Note: Merkén can be found at select cooking stores and gourmet markets, as well as online.
1 cup dry white beans
1 tablespoon olive oil
1 clove garlic, peeled and smashed
1 onion, finely chopped
1 cup diced zucchini, chopped into small cubes
1 cup diced yellow or crookneck squash, chopped into small cubes
3 tomatoes, chopped
1 to 1½ cups corn
1 green bell pepper, chopped
1 tablespoon oregano
Salt and pepper
1 to 2 tablespoons merkén
2 cups green beans, chopped into roughly 2-inch pieces if the beans are very large
1. Rinse the beans and cook in a large saucepan of simmering water, partially covered, until tender, about 1 hour. Remove from heat and drain the beans.
2. When the beans are about halfway cooked, after about 30 minutes, start the rest of the dish: In a 3-quart heavy-bottom pot, warm the olive oil and smashed garlic over medium-high heat. When the oil is hot and the garlic is aromatic, about 2 minutes, stir in the onion, zucchini and squash. Cook, stirring frequently, until the onion becomes translucent and the squash begin to soften, about 6 minutes.
3. Stir in the tomatoes, corn and bell pepper, and continue to cook, stirring occasionally, until the tomatoes soften and give up their liquid, and the rest of the vegetables soften and become tender, 15 to 20 minutes. Add a little water as needed, one-fourth cup at a time, to keep the liquid in the pot at a stew-like consistency.
4. While the vegetables are cooking, bring a small pot of water to boil to blanch the green beans. Add the beans and cook just until the beans are crisp-tender, 2 to 4 minutes. Remove from heat and drain the beans.
5. When the vegetables in the pot are softened, stir in the oregano and season with 1 teaspoon salt and one-half teaspoon pepper, or to taste. Stir in the drained white beans, and then the green beans. Add additional water as needed to maintain the stew-like consistency. Stir in the merkén to taste, and season with additional salt and pepper as needed. Continue to simmer the stew for a minute or two to marry the flavors.
6. Remove from heat and set aside for about 15 minutes before serving to continue to develop the flavors. This makes about 8 cups.
Each of 10 servings: 129 calories; 7 grams protein; 23 grams carbohydrates; 6 grams fiber; 2 grams fat; 0 saturated fat; 0 cholesterol; 4 grams sugar; 30 mg sodium.
Get our L.A. Goes Out newsletter, with the week's best events, to help you explore and experience our city.
You may occasionally receive promotional content from the Los Angeles Times.