Recipe: Roasted chicken thighs with spinach, basil, pistachio and avocado oil pesto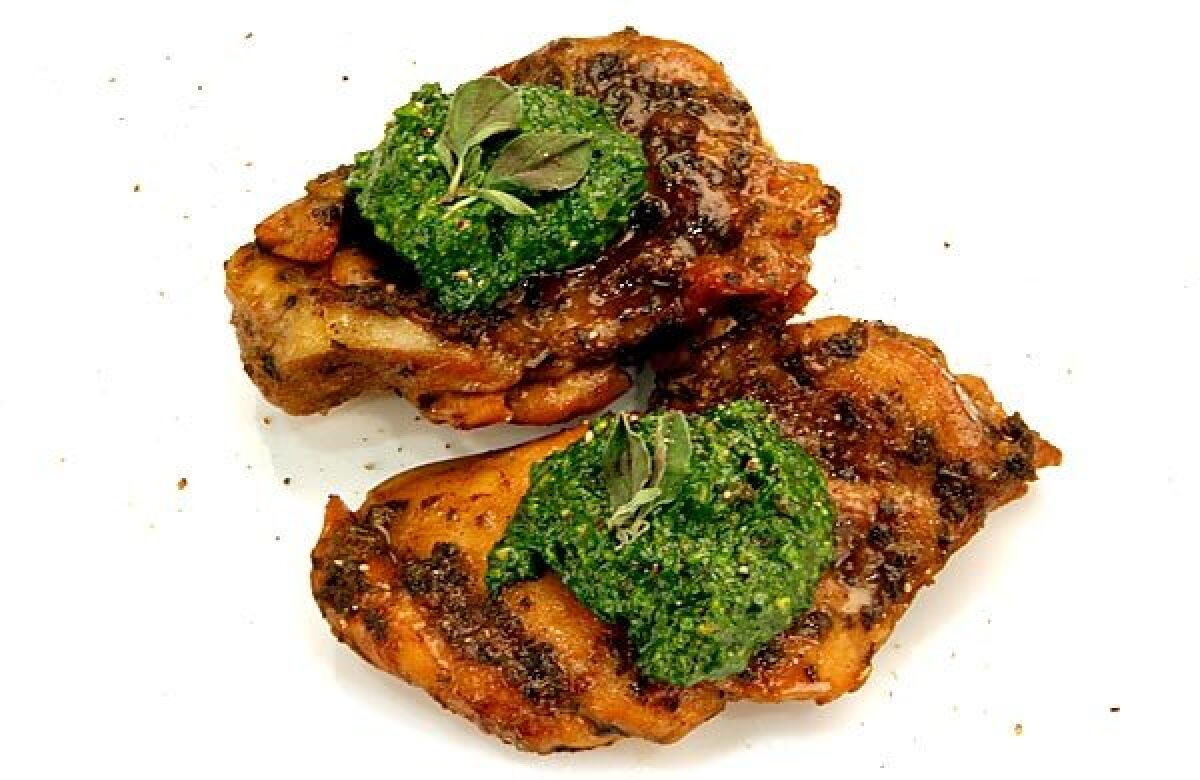 Roasted chicken thighs with spinach, basil, pistachio and avocado oil pesto
Total time: 1 hour, plus marinating time
Servings: 6
---
Our recipes, your kitchen: If you try this or any other recipe from the L.A. Times Test Kitchen, we would like to know about it so we can showcase it on our food blog and occasionally in print. Upload pictures of the finished dish here.
---
12 boneless, skinless chicken thighs
1/2 cup honey
1/4 cup plus 2 tablespoons balsamic or red wine vinegar
1/4 cup plus 2 tablespoons extra virgin olive oil
2 tablespoons dried oregano
8 crushed garlic cloves, plus 2 large whole cloves, divided
Salt
White pepper
2/3 cup toasted pistachio nuts
2 cups packed coarsely chopped spinach leaves
1 cup packed coarsely chopped basil leaves
1/2 cup avocado oil or extra virgin olive oil
11/2 tablespoons grated lemon zest (from about 2 lemons)
2 to 3 teaspoons fresh lemon juice
Coarsely ground black pepper
Fresh oregano sprigs, for garnish (optional)
1. Rinse chicken thighs and pat dry. (Do not remove any fat; it will add juiciness to the dish.)
2. In a large nonreactive bowl, combine the honey, vinegar, olive oil, oregano, 8 crushed garlic cloves, 1 teaspoon salt and one-fourth teaspoon white pepper, or to taste. Toss the chicken with the marinade. Marinate the chicken, covered and refrigerated, at least 2 hours, up to overnight, turning occasionally.
3. Heat the oven to 400 degrees. Transfer the chicken thighs to a large nonreactive baking dish. Place the chicken top-side down in the dish, then pour the marinade over. Roast the chicken until golden-brown at the edges and cooked through, 20 to 30 minutes. (The chicken will be firm to the touch, the juices will run clear, and a thermometer inserted will read 165 degrees.) Rotate the chicken halfway through roasting for even cooking.
4. While the chicken is roasting, prepare the pesto: In the bowl of a food processor, grind the pistachio nuts. Add the spinach and basil leaves, along with the 2 large cloves of garlic, and pulse to combine. With the processor running, gradually add the avocado (or olive) oil, and continue processing until the pesto is smooth. Remove the pesto to a bowl and stir in the grated lemon zest and lemon juice to taste, and season with one-half teaspoon salt and one-eighth teaspoon white pepper, or as desired. (The pesto can be made up to 1 day ahead and stored, refrigerated, in an airtight jar or container.)
5. To serve, place 1 to 2 chicken thighs on each plate and top each with a round dollop of pesto. Garnish with coarsely ground black pepper and a sprig of oregano, if desired.
Each serving: 697 calories; 31 grams protein; 34 grams carbohydrates; 3 grams fiber; 50 grams fat; 8 grams saturated fat; 99 mg cholesterol; 27 grams sugar; 688 mg sodium.
---
Get our L.A. Goes Out newsletter, with the week's best events, to help you explore and experience our city.
You may occasionally receive promotional content from the Los Angeles Times.