Review: At Los Balcones in Studio City, modern mestizo Peruvian cooking is a party
Restaurant Critic
The dining room at Los Balcones, a new Peruvian restaurant in Studio City, is a welter of cheerful, cathartic noise — salsa and cumbia rumble over the speakers, the throng of bearded dudes in the next booth gleefully toasts every fresh round of pisco sours, and you've got the sense you've stumbled into the best party north of the Hollywood Hills.
Your server has spent the last five minutes rhapsodizing about a dish called costilla de short ribs. The beef short ribs are slow-cooked in a beer-infused tomato chile sauce for six hours. The meat is tender as bread pudding, he says.
"This is just a formality. You aren't going to need it," he says as he lays a freshly sharpened steak knife on the table.
The dish arrives in a plain aluminum box that looks like something you might use to stow a first aid kit. Someone removes the lid to reveal a small parcel of bright red, chile-sluiced shredded beef. Your server was correct: a knife is useless here. The muddle of sauce and beef is served with fried plantains, a citrusy salsa criolla of shaved red onions and chopped tomatoes, and the hearty Peruvian lima-bean-and-rice mash called tacu tacu, which is draped in a thin, cakey fried egg. The chile sauce is smoky and deep, a marvelous foil for the pasty, eggy tacu tacu; the plantains and lime-splashed salsa supply gentle hits of sweetness and acid.
Review: Tesse is a Sunset Strip charmer that deserves more attention »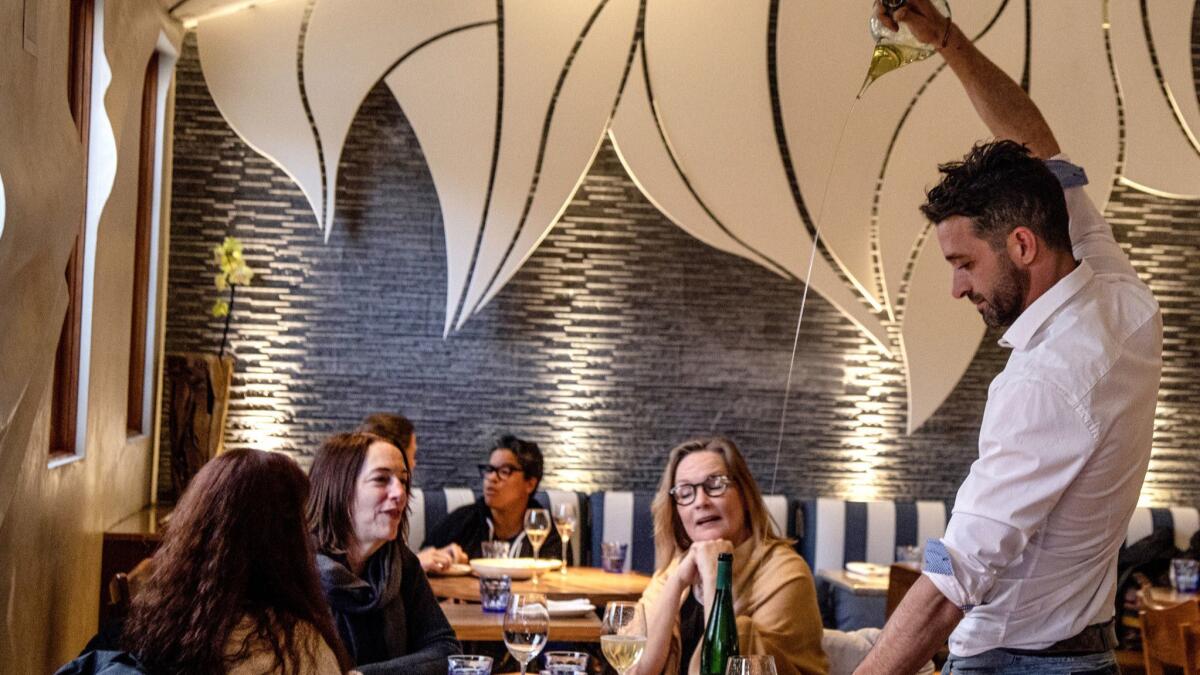 Los Balcones is technically the second location of the Hollywood Peruvian spot of the same name, but there is little overlap between the two restaurants. The Studio City location offers an entirely separate menu developed by lauded chef-restaurateur Ricardo Zarate of Rosaliné, and Girasol's former chef de cuisine, Polit Castillo, who now leads the kitchen at Los Balcones. It's a compelling collaboration that celebrates what the team calls mestizo cuisine — highly regional and traditional Peruvian dishes spliced with modern Spanish and Asian flavors. The menu also reckons with the legacy of Girasol, a restaurant that became known for exalting native California flavors in familiar New American formats like shareable charcuterie boards and vegetable plates.
So you get something like the popular pan de la chola board, a shareable spread of tender, sweet Peruvian potato bread served with seasonal apple jam; a clump of milky burrata; prosciutto and marinated olives; sweet-smoky butter infused with aji amarillo peppers; and a rough-chopped pesto made from huacatay, a minty, earthy herb native to the Andes.
It's a fine start, but it's a mere blip in your sense memory compared to the ceviche frito — hunks of striped bass dredged in bread crumbs and cleanly fried into plump, juicy fish nuggets, served with an intensely tart leche de tigre sauce that nearly squeezes tears out of your eyes. The dish seems to aim for both pain and pleasure, but leans more toward the latter.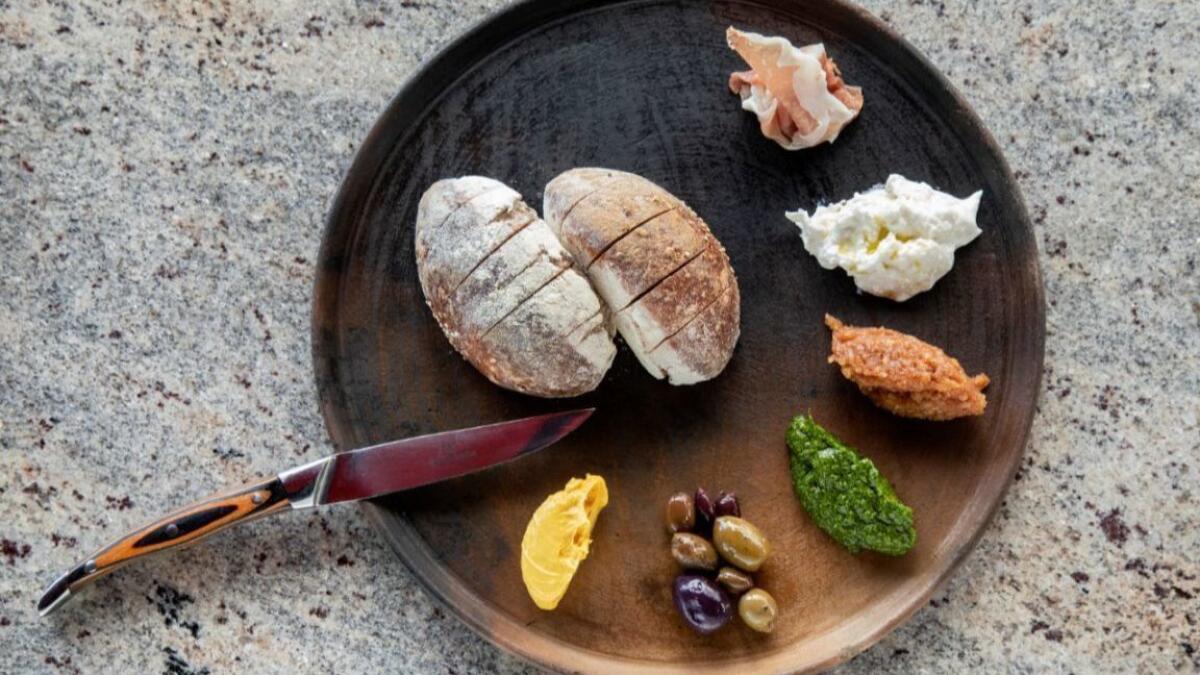 Review: Kasih in Little Tokyo is a shrine to fiery Indonesian sambals, curries and meats »
You could probably enjoy a long meal at Los Balcones without noticing the small but precise details that make so much of Castillo's cooking work: A cornucopia of Japanese mushrooms is used to add a deep, musky quality to a dish called quinotto, which uses truffle-infused quinoa to approximate the richness of a traditional risotto. Seco de pato, a dish of roasted duck served with a fricassee of duck confit, is paired with a creamy, sweet-savory Peruvian huancaina feta sauce made with aji amarillo, the staple chile of Peruvian kitchen. The sauce's subtle smokiness has the lilting sweetness of ripened summer berries, and the sauce galvanizes what would otherwise be a rote dish.
Pan-seared sea bream, crisp yet fleshy, is served over a scattering of lentils resting on what looks like a small pond of emerald-green salsa verde. The flavors collide in delicious and almost imperceptible ways: the firm, crisp fish melts against the thin, acidic jolt of the salsa. Maybe surprisingly, the nutty, buttery perfume of the lentils is the most bliss-inducing thing on the plate.
There are big pasta dishes at Los Balcones. Locro pappardelle is a clever homage to the classic Peruvian pumpkin stew, the tangle of noodles lavished with shaved Parmesan and a delicately sweet roasted pumpkin ragù. The earthy and vaguely tangy huacatay pesto makes a reappearance in a bowl of sweet potato gnocchi, a shrewd pairing that invokes a wide constellation of rich, spicy autumnal flavors.
By the time the check rolls around, your auditory senses have synced nicely with the elegant thrum of Willie Colón, Celia Cruz and Buena Vista Social Club charging over the house speakers. If you're lucky, you will have stumbled on a punch-red cocktail called Sangre de la Pacha, a smooth and earthy honey-bourbon concoction made with beets and habanero bitters. Or maybe you have discovered the majesty of a well-made pisco sour, which you'll find at the bar. Drink or no drink, though, El Balcones is a party.
Los Balcones
Modern Peruvian mestizo cooking in Studio City.
LOCATION
11334 Moorpark St., Studio City, (818) 924-2323, losbalconesperu.com
PRICES
Appetizers $16-$22; shareable plates $18-$26; entrees $28-$38
DETAILS
Credit cards accepted. Valet parking. Full bar. Dining room and restrooms are wheelchair-accessible.
RECOMMENDED DISHES
Ceviche frito; quinotto; sweet potato gnocchi; pan-seared sea bream
patricia.escarcega@latimes.com
Twitter: @piescarcega
Get our L.A. Goes Out newsletter, with the week's best events, to help you explore and experience our city.
You may occasionally receive promotional content from the Los Angeles Times.