Review: Kasih in Little Tokyo is a shrine to fiery Indonesian sambals, curries and meats
Restaurant Critic
The sambal sampler at Kasih (pronounced kah-see), an Indonesian kitchen that opened last spring in Little Tokyo, is an impressive spread: a still life of tiny serving spoons, chile dips, Indonesian crackers, the pickled veggie salad called acar, and a trail mix snack bowl filled with crunchy peanuts, bits of fried shallots and spiced candied cashews. Your server will warn you about the cashews, which are sweet, addictively crunchy and surprisingly spicy. The last time he ate a bowl of them, he tells you, the ambush of heat brought tears to his eyes.
A sort of sambal sommelier will linger over the table to describe the particular spice profile and flavor notes of each dip on the table. There is the sambal dabu dabu, a bright, chunky pastiche of chopped heirloom tomatoes and shallots zapped with habaneros and perfumed with lemongrass and lime. There's a green chile sambal called sambal hijau, an aromatic, medium-spicy blend of tomatillo, serrano chiles, shallot, lime and crushed lime leaves. It might be the most delicious thing on the table.
The yellowish sambal nanas is brighter and milder, a sweet, fleshy slurry of pineapple, chiles and shallots. Sambal terasi, made from roasted tomatoes, Fresno chiles, fried shallots and shrimp paste, is deeply but pleasantly pungent, and you will be tempted to smear it on everything: the cassava crackers that are shaped like pale, crinkly seashells; the pickled cucumbers and carrots; maybe even the extra-spicy candied cashews.
Review: At Dolan's Uyghur Cuisine, a taste of northwest China's cultural crossroads »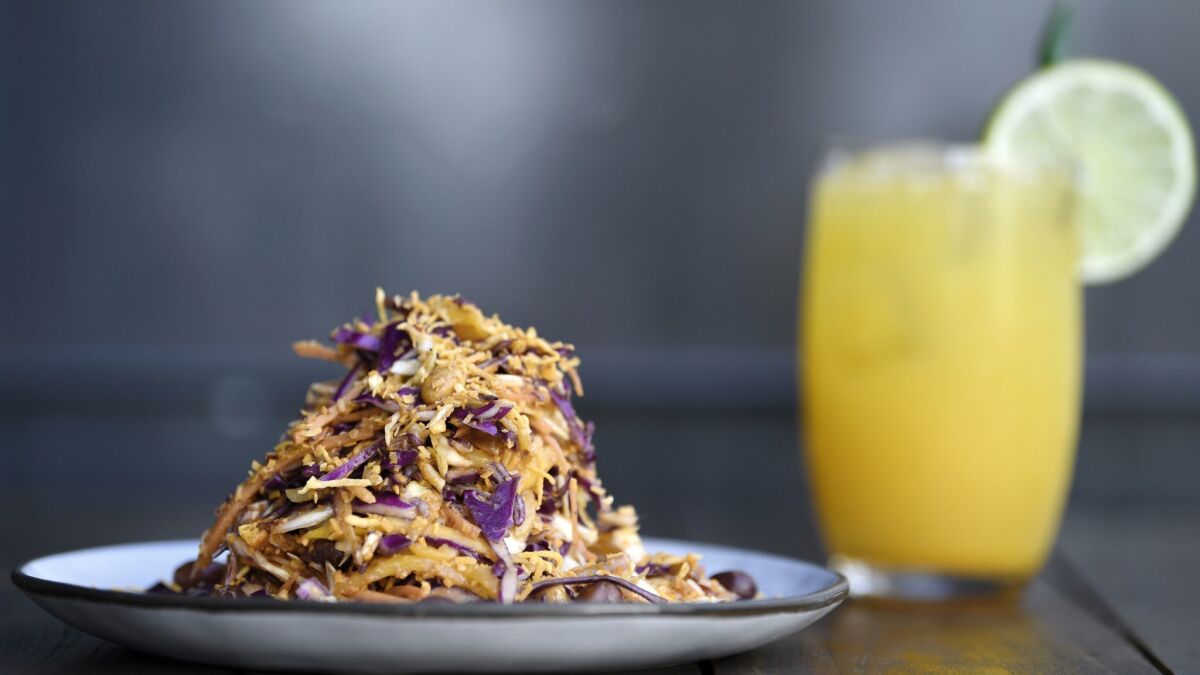 A curated sambal tasting is an improbable thing when you consider that sambals are the workhorse condiment of Indonesian, Malaysian and Singaporean cooking, used to flavor everything from rice stir-fries to seafood marinades. Kasih may be the only restaurant in Los Angeles where sambal is treated with the same level of reverence and seriousness as a Burgundy wine flight or caviar service.
Sambals are the unabashed running theme on Kasih's wide-ranging menu, which is full of sharp, modern riffs on classic Indonesian salads, curries, noodles, meats and rice dishes. The restaurant is backed by a fairly big name: executive chef Vindex Tengker, a globetrotting figure who made a name for himself overseeing the resort kitchens at Four Seasons hotels in Bali, Los Angeles and Jakarta. More recently, Tengker has become a fixture on cooking shows including "MasterChef Indonesia" and "Top Chef Indonesia." In the kitchen, the chef making the restaurant work on a day-to-day basis is chef de cuisine Zachary Hamel, who spent part of his childhood in Thailand, trained in Bangkok, cooked at Momofuku Má Pêche in New York and was most recently the sous chef at West Hollywood's ultra-stylish E.P. & L.P. In the lead-up to Kasih's opening, Hamel spent months in Indonesia learning to interpret the vast and diverse regional matrix that makes up the polyglot country's cuisines.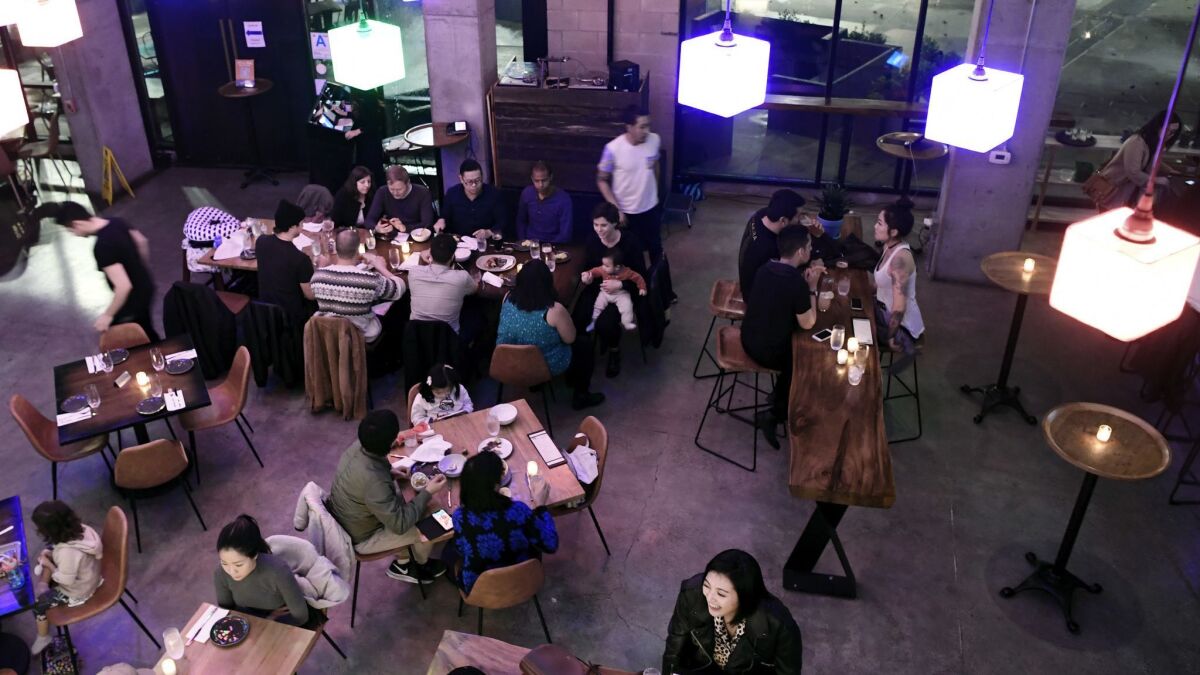 Indonesian cooking is hardly new to Los Angeles, but Kasih may be the most overtly modern Indonesian restaurant in the city. The restaurant is wedged into a corner of Little Tokyo that abuts a fortress of luxury high-rise apartments, a sterile downtown strip awash in daytime fast-casual restaurants and business-class hotels. The dining room contains none of the totemic features of the neighborhood Indonesian cafe — no market shelves piled with chips, teas and other import items. Instead there is a wide-open floor plan with a full bar, an open kitchen, and geometric light fixtures that wash the room in a clubby, electric-blue glow.
Review: Chaak Kitchen is a culinary trip to Mexico's Yucatán Peninsula, via Tustin »
Kasih, like other Indonesian restaurants, serves dishes from across the archipelago; the menu neatly classifies the regional provenance of every dish. You will find Sumatran-style rendang, meltingly tender hunks of beef served over a thick, milky pool of lemongrass-scented coconut curry. If there's a showpiece, though, it's the Javanese gulai kambing, braised lamb neck in a turmeric-coconut sauce that hits every pleasure point, the spicy, nutty sweetness of its broth neatly balanced with salt and garlic.
The pungent and slightly fishy sambal terasi reappears in a stir-fried rice plate called nasi goreng, the chile paste imparting a delicious, funky undercurrent. An umami-rich sambal tomat is the base sauce of mie goreng, stir-fried noodles tossed with chopped shiitake mushrooms and carrots and topped with a spongy fried egg cake. The dish is probably not as spicy as it should be, but the sambal tomat is too creamy and garlicky to resist.
You should not leave without trying ayam rujack, crisp-skinned fried chicken quarters served with a tangy-rich tamarind coconut sauce, or the sweet-smoky sate ayam, delicately charred chicken skewers coated in a sweet peanut sauce. And the slow-roasted Balinese pork dish babi guling, armored in a thick, fatty rind of crackling, feels engineered to satisfy on a molecular level.
Everything is made even more agreeable with a spoonful of turmeric-stained rice, and do not neglect the sweet-tangy Indonesian coleslaw called asinan kelapa. It should go without saying that a smear of sambal transforms whatever is at the end of your fork into something brighter and more alive, a thing vibrating with pure chile heat.
Kasih
Chefs Vindex Tengker and Zachary Hamel interpret classic Indonesian sambals, curries, meats and sides in a sleek Little Tokyo space.
LOCATION
200 S. Los Angeles St., Los Angeles, (213) 266-8156, kasih.la.
PRICES
Sambal tasting $19; curries $15-$22; grilled and roasted meats $10-$24; noodles and rice dishes $13-$14.
DETAILS
Credit cards accepted. Full bar. Parking is available in the Avalon Bay parking garage. Dining room and restrooms are wheelchair-accessible.
RECOMMENDED DISHES
Sambal tasting; gulai kambing curry; beef rendang curry; asinan kelapa; ayam rujack
patricia.escarcega@latimes.com
Twitter: @piescarcega
---
Get our weekly Tasting Notes newsletter for reviews, news and more.
You may occasionally receive promotional content from the Los Angeles Times.