Review: Tesse is a Sunset Strip charmer that deserves more attention
Restaurant Critic
My first dinner at Tesse, an 8-month-old restaurant on the Sunset Strip near La Cienega Boulevard, began and ended with some French triumphs.
A spread of excellent sausages and pâtés kicked things off. Tesse is short for délicatesse, which can translate as either "delicacy" or "charcuterie." Raphael Francois, the restaurant's chef, grew up in Belgium and France and shows an elemental mastery of this kind of meat preparation. A pudgy, gently warmed saucisse de Lyon flavored with Madeira and pistachios balanced porkiness and nuttiness in equal ratios. His terrines — duck with more pistachios and smoked bourbon; a variation with figs and Armagnac that included foie gras before the ban kicked back in — had the correct, silky-coarse texture. This was the stuff of Seurat picnics and vanished bistros.
Pastry chef Sally Camacho Mueller's vanilla soufflé completed the meal: a cumulus spectacle billowing out of its ramekin, custardy at the center but not too eggy. In place of crème anglaise, she paired the dessert with vanilla ice cream dots frozen with liquid nitrogen. Their crunch and chill made for shrewd counterpoints against hot spoonsfuls of soufflé.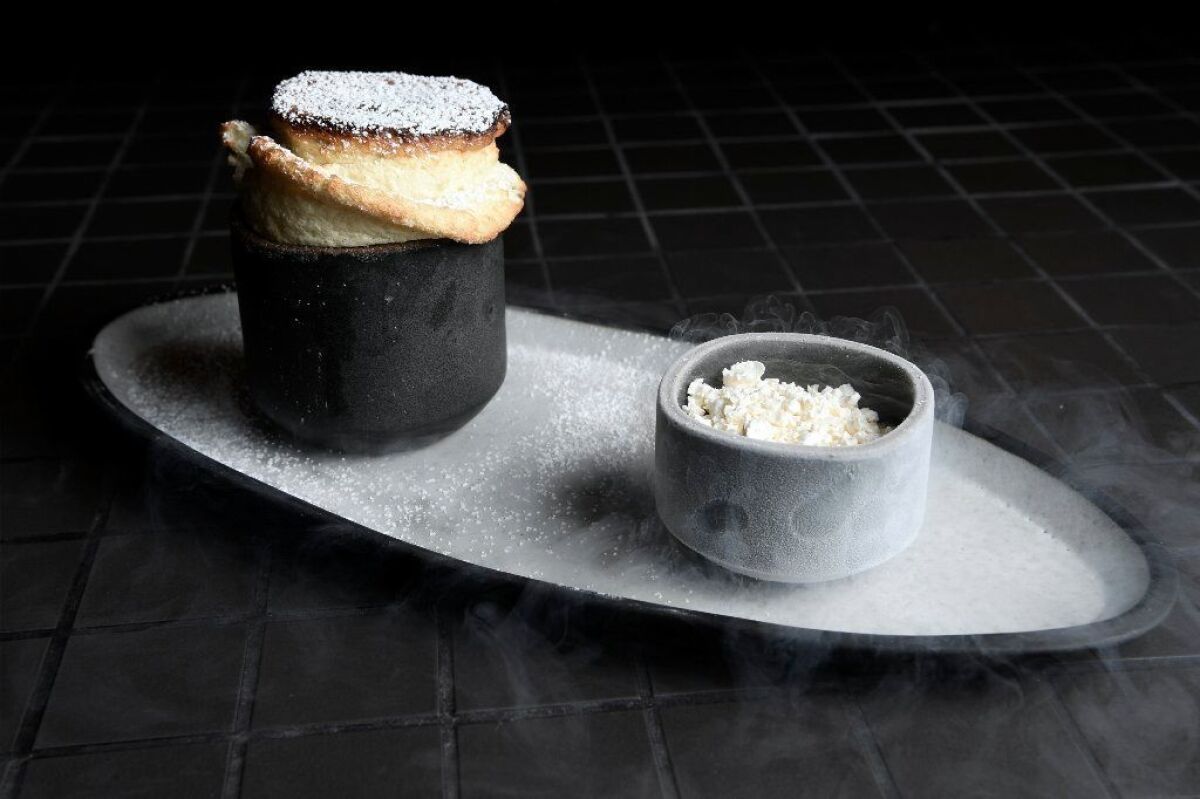 The food that came in between those highlights, in a glam setting buoyed by smooth service, was admirable enough that by the evening's end I asked myself: Why hasn't there been more sustained buzz around Tesse?
The restaurant opened last June, the first Los Angeles project in over two years by Bill Chait, a prolific titan among the city's restaurateurs. In the last decade he backed blockbusters including Bestia, République, Broken Spanish and Otium. Francois' résumé list impressive executive chef gigs such as the two-starred Hélène Darroze at London's Connaught hotel and Manhattan's Le Cirque.
By the time I arrived as a new critic in town six months later, I could barely pick up any chatter about Tesse. Dinner crowds, as I've observed, have been uneven: always quiet in the early evenings, sometimes suddenly crowded around 8:30 p.m.; a classic West Hollywood mix of us regular schmoes alongside men and women so enhanced they might actually classify as bionic.
Did the location, along a stretch known more for boozing than serious dining, squelch word of mouth? Had the restaurant been overshadowed by Chait's next venture, the Manufactory/Tartine Bianco gargantuan that came to life last month in Row DTLA? Was it the food at Tesse? I wasn't around to report on the quality of the cooking at its opening, but I can tell you now that Francois and his crew have settled into an upbeat, feel-good groove in their open kitchen.
Given the look of the dining room — pure midcentury glitz, with sculptural patterned walls, uncluttered lines, calming woods and geometric bar stools — one might expect a more solidly Continental-French bent to the hodgepodge modern American menu. That would square with the renaissance of French cuisine cresting across America; Ludo Lefebvre helped jump-start the country's renewed hunger for precisely blond rolled omelets, escargot and croques messieurs et mesdames with his original Highland Avenue location of Petit Trois. I'm surprised more of it hasn't quite caught the zeitgeist in Los Angeles.
But that's the key to the winning strategy at Tesse: Among its pastas and crudo and beer-battered onion rings, the dishes that most clearly call forth Francois' Gallic soul give the restaurant its defining character. Take simplissime, a white bowl filled with puréed potatoes that channels nouvelle cuisine in its starkness. Dig deep with a spoon and it all comes together: The spuds conceal blue crab nipped with tarragon; a Cognac sauce drizzled over the top brings all the rich, swanky flavors into close harmony. For balance: pleasantly astringent endive salad glossed in a beet reduction that makes the whole leafy mass glow a radioactive fuchsia.
Francois riffs wonderfully on boudin blanc, subbing lobster for the traditional pork and chicken. The seafood sausage comes with a side of thick steakhouse fries cooked in duck fat. I'd rather scarf down the boudin with the potato matchsticks crowning an elegant, non-cloying version of duck a l'orange that rolled off the menu recently. (Bring it back, please.) It delighted when some other entrees proved downers: the slowly rendered and irresistibly named "epigramme of lamb" that was muddled in its flavors and a little greasy; a massive pork chop and Dover sole both arrived overcooked.
Camacho Mueller's desserts left me trailing only happy memories: a tropical trio of coconut mousse with diced mango and passion fruit coulis; a precisely concentric apple pie flaky of crust and fragrant with ginger; a crisp, creamy collage of hazelnuts with dark chocolate mousse and praline. She's the kind of talent who makes me want to show up at Tesse's bar now and then just to gorge on sweets.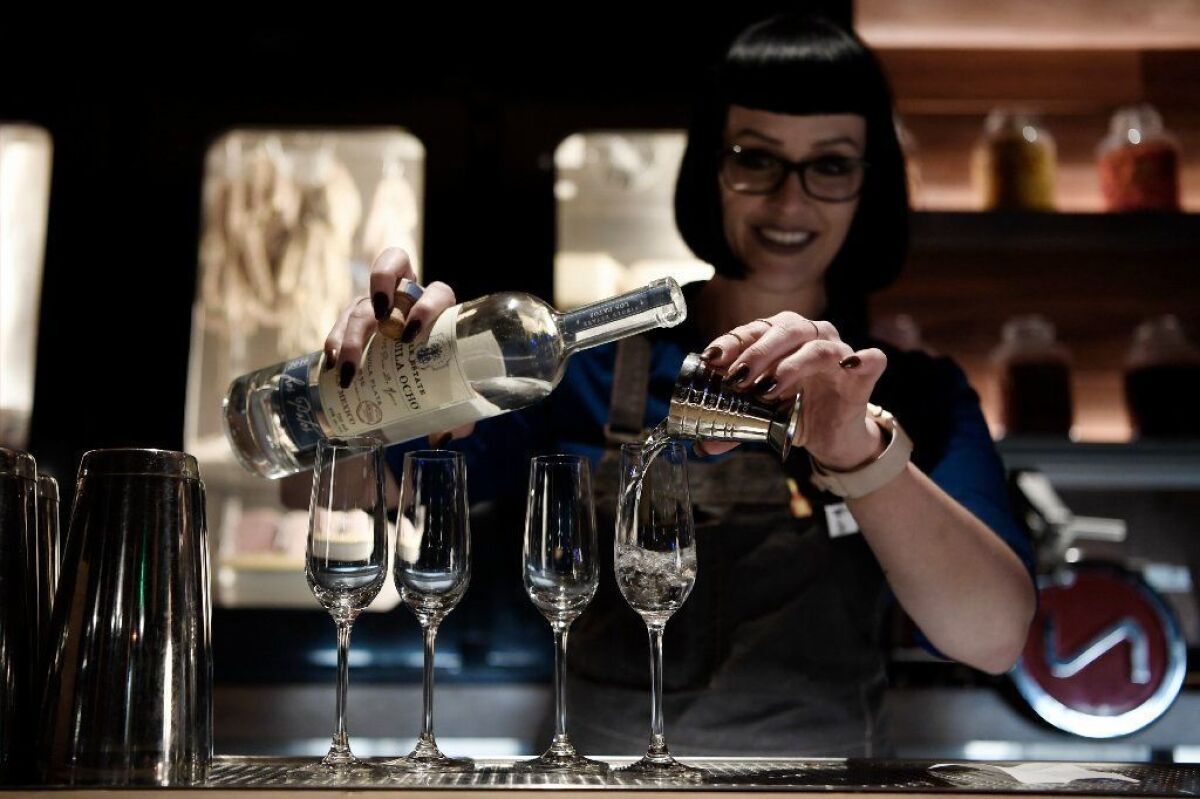 Speaking of bar: Nick Meyer slaps his cocktails with some eye-rolling names (Melon DeGeneres, Weird Bonal Yankovitch), but his bartenders nail the symmetries in their earthy, herb-forward concoctions. Co-owner Jordan Ogron put together a two-page, deftly edited wine list that runs the gamut of styles, prices and geography. Even better, though: Tesse's next-door wine shop, Boutellier, stocks an even broader range of varietals (including some wild and funky natural wines in the section titled "The Forgotten") and prices; these bottles can be purchased at the store and opened in the dining room for a reasonable $15-per-pop corkage fee.
I didn't learn about this handy perk until I happened to be browsing the store before my last review meal. More diners should know about it. But then, that's true of Tesse itself.
Tesse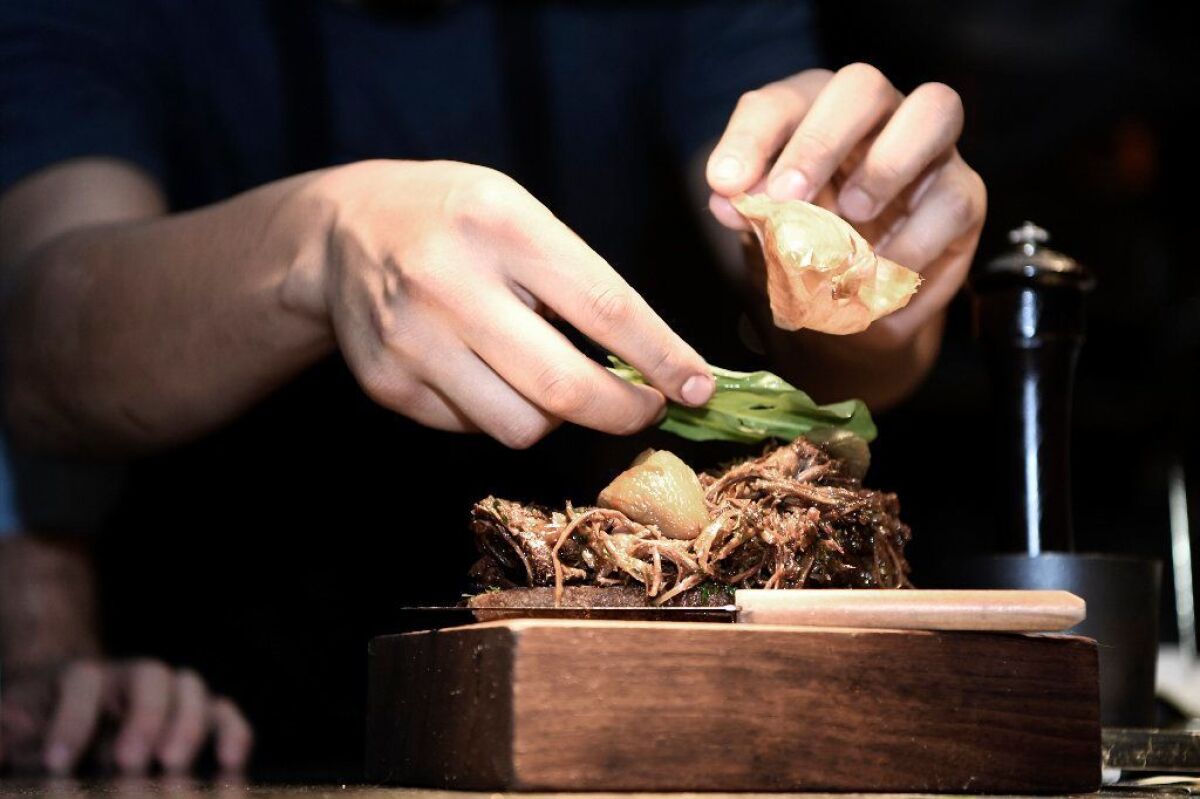 Prolific restaurateur Bill Chait gives Los Angeles a midcentury modern-inspired stunner whose classic French dishes best show the kitchen's strengths.
LOCATION
8500 W. Sunset Blvd., West Hollywood, (310) 360-3866, tesserestaurant.com
PRICES
Charcuterie $6-$16 per selection; smaller plates $11-$38; pastas $18-$42; entrees $28-$52; desserts $8-$16
DETAILS
Credit cards accepted. Full bar. Valet parking. Wheelchair-accessible.
RECOMMENDED DISHES
Saucisse de Lyon, duck terrine, endive salad, blue crab simplissime, sardines, vanilla souffle.
Instagram: @bill_addison
Twitter: @billaddison
Get our L.A. Goes Out newsletter, with the week's best events, to help you explore and experience our city.
You may occasionally receive promotional content from the Los Angeles Times.