Review: Nightshade in the Arts District offers a unique take on L.A. cooking
Restaurant Critic
The pasta dish you see on almost every table at Nightshade is chef Mei Lin's mapo tofu lasagna, a slinky block of egg noodles layered with a Sichuan pepper-infused pork ragù and filaments of tofu cream. The ragù is subtle — the most decadent thing on the plate is the fuzzy handful of Parmesan cheese sprinkled over it — and what you will remember most are the noodles: fine, accordion-like pleats, delicate as dumpling wrappers.
The dish is a distillation of Lin's cooking: her propensity for cross-cultural flavors; her cerebral, precise cooking style, driven as much by ideas and technique as ingredients; a sense of pointed modernism underscored by a devotion to the pleasures of comfort food.
Nightshade is Lin's first restaurant, airy and warm and tucked into a former loading dock that most recently housed the Mexican restaurant Cerveteca DTLA. The 60-seat dining room is a West Elm catalog sprung to life, decked out with serene touches of blond wood, hanging greenery and plush midcentury-inspired furnishings. A long marble bar doubles as the chef's counter, where the view into the open kitchen is of Lin's constantly moving brigade of youthful kitchen dudes, and the chef herself, expediting dishes with immovable focus.
Szechuan hot quail served on a thick slice of Japanese milk bread reckons with both the primacy of Howlin' Ray's and the haunting properties of Sichuan peppercorns. The meat is memorably succulent under the hellfire of that chile heat. The dish, in the way it smashes cultures together on the plate, is perhaps the most Los Angeles thing on the menu.
Not everything works as well. Her take on the bloomin' onion, the goofy stalwart from the pseudo-Australian-but-actually-American chain, is dusted in a tangy tom yum powder and served with an airy, lime-inflected whipped coconut ranch sauce that recalls the flavor of melted lime sherbet. The flavors are big and bold, but I found them jarring and incompatible. The gochujang-infused squid ink bucatini with cuttlefish Bolognese has been gummy and wan every time I've tried it.
Lin cut her teeth at the Chinese restaurant her parents ran in Michigan, where she grew up, a bit of personal history that pops up in her work more than once, like in a shrimp toast that feels like an essay on the virtues of the dim sum staple: The clean-cut slices of bread are paved with a thick layer of ground shrimp and deep-fried to a robust crunch.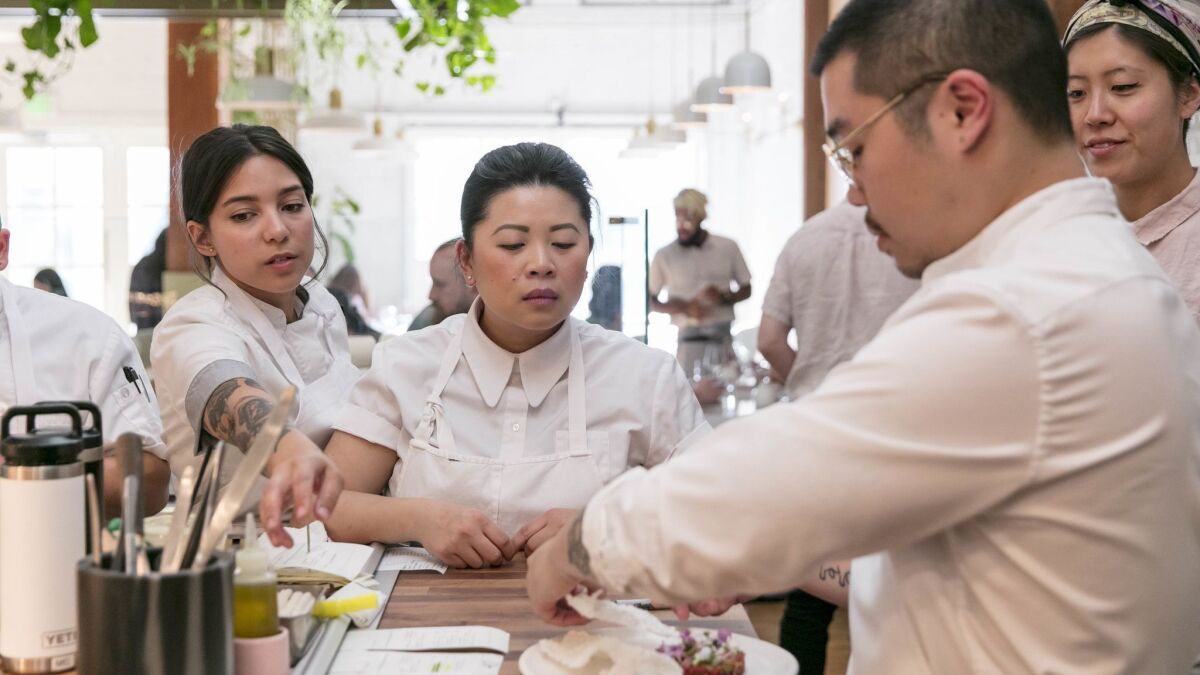 Her congee may very well be the best thing in the house: a thick, molten swirl of XO sauce, pork floss, crisped-up scallions and egg. The flavor builds exponentially, hits of savoriness and spice brilliantly intersecting in different ways from one spoonful to the next. (Lin is probably best known for her triumphant run on "Top Chef," where she cemented her victory by cooking a souped-up congee topped with Mexican carnitas.)
Lin was the sous-chef at Michael Voltaggio's L.A. haute modernist restaurant Ink for three years, and there are very good dishes on her menu that showcase that sort of clean, technique-intensive cooking: curls of sweet Hokkaido scallops cured in a terrific, intensely tart coconut vinaigrette; diced kanpachi, served in a shiso-infused broth, cleverly inflected with the funk of radish kimchi; a sesame-spackled beef tartare inspired by Korean yukhoe, turbocharged by an umami burst of Korean chile powder and egg yolk jam.
Vegetable dishes are routinely intriguing and delicious. Recently there were roasted carrots, withered to a sweet, soft finish and brightened by the sour punch of a reduced tamarind sauce. Crisp roasted sunchokes would have been dull, were it not for the brilliant puddle of sweet-spicy strawberry molé they arrived in.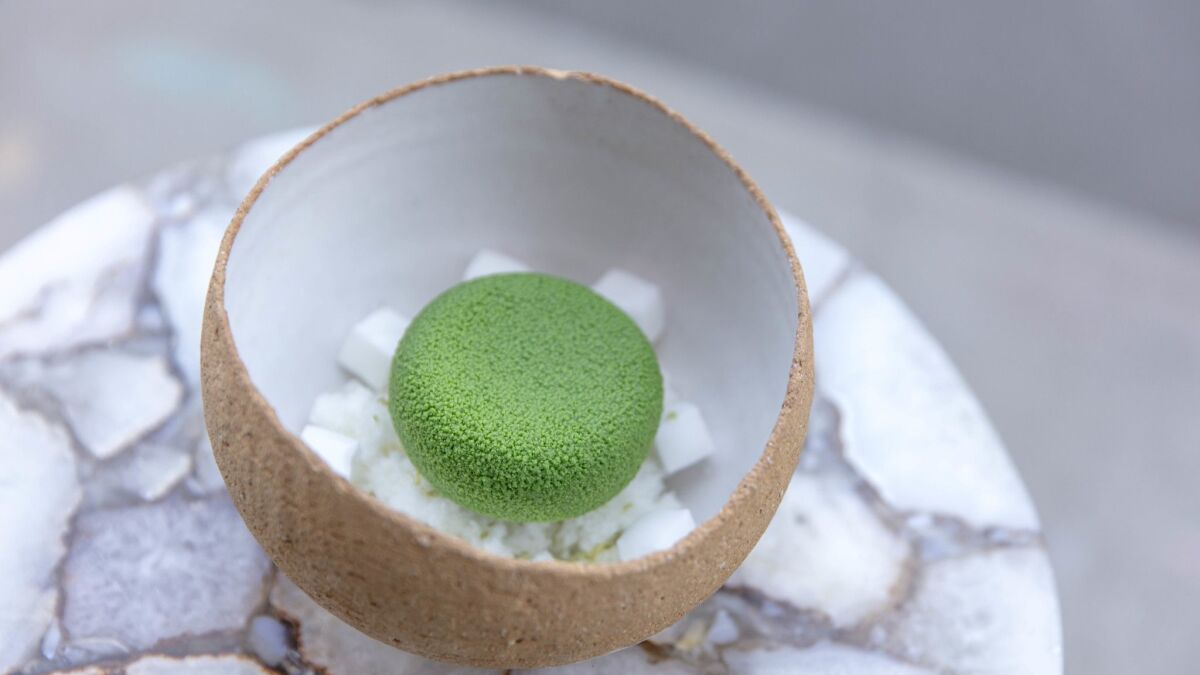 Save room for dessert: Without much fanfare, Nightshade has developed one of the most intriguing dessert menus in the city. Chef de cuisine Max Boonthanakit, working mostly in the frozen dessert oeuvre, has produced a lineup of clean, sculptural dishes that look freshly plucked from a Broad exhibit.
There is almond sorbet, tucked under Saturn-like rings of frozen tangerine ice. A dish of guava sorbet requires you to break through a thick round of white chocolate with the tip of your spoon to dig out the icy treat underneath. There is the popular coconut mousse, served with a head-turning puff of dry ice in a chilled coconut-shaped vessel.
There's magic to a restaurant that knows how to finish strong. And if there's a magic to Nightshade, maybe it's this: The restaurant feels alive with possibility in the way that the best new modern Los Angeles restaurants do, animated by the energy of a young chef with a knack for erasing the boundaries between cultures on the plate. What follows may not be perfect, but it's almost always interesting.
Nightshade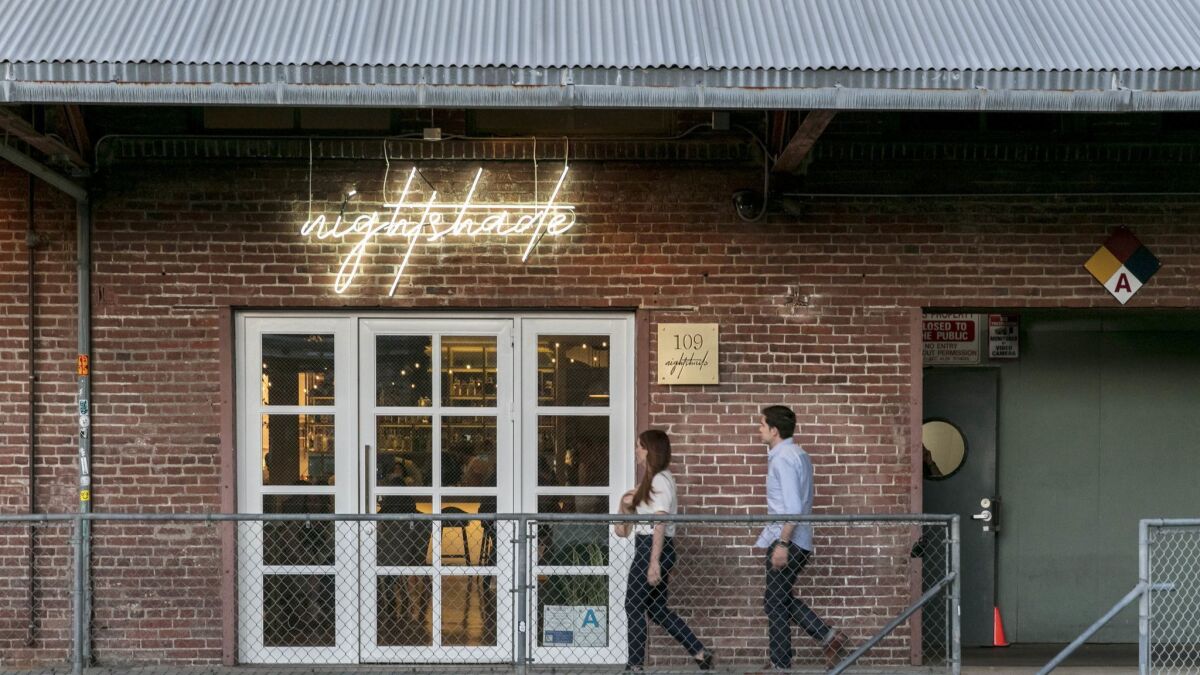 Mei Lin opens her first restaurant in downtown Los Angeles' Arts District.
Location: 923 E. 3rd St., #109, Los Angeles, (213) 626-8888, nightshadela.com
Prices: Small plates $15-$26; desserts $15-$18; beer & cocktails $7-$18
Details: Credit cards accepted. Valet parking. Full bar. The dining room and restroom is wheelchair accessible.
Recommended dishes: Szechuan hot quail; rice congee; lasagna; coconut mousse dessert
---
Get our L.A. Goes Out newsletter, with the week's best events, to help you explore and experience our city.
You may occasionally receive promotional content from the Los Angeles Times.