Review: At Otoño in Highland Park, modern Spanish cooking with an L.A. twist
Restaurant Critic
By the time the negra fideuà makes its appearance on your table at Otoño, you'll have already worked through a few plates of tapas — triangles of Manchego cheese smeared with Asturian honey, tiny bowls of paprika-dusted Marcona almonds, plates layered with lustrous, paper-thin slices of jamón ibérico.
Maybe you've snacked on the crisp salt cod fritters called soldaditos de pavia, or sucked the juices out of the heads of the gambas a la plancha, enormous griddled blue prawns sweetly scented with garlic and brandy. There's pan con tomate, the classic tomato- and garlic-rubbed toast of Catalonia, as crisp and exquisite as any you ever ate in Barcelona. If you chose to start your meal with a gin and tonic — extravagantly garnished with farmers market botanicals like fresh avocado leaves, honeysuckle and chamomile — you chose wisely.
But nothing is quite as memorable as the negra fideuà, which announces itself with all the subtlety of the power chords at the beginning of a Metallica song. It arrives in the oversize carbon-steel paella pan it is baked in, a sputtering and smoky midnight-colored cake of squid ink pasta bedecked with jewel-like scallops and glistening dollops of lemon cream. The short, thin pasta strands paint your mouth a deep shade of purple. The undignified lip stain is a small price for glory: the scallops are sweet and buoyant, capped with fatty rounds of chorizo that dovetail beautifully against the bright lemon cream. The pasta, cooked in dashi, is soupy and salty and wonderful.
Review: Ronan makes stellar pizzas and a whole lot more »
The fideuà should be the culmination of any dinner at Otoño, a modern Spanish restaurant that opened in a narrow Highland Park storefront last summer. It showcases chef Teresa Montaño's facility with fusing Japanese technique and flavors into regional Spanish cooking. She splices Japanese elements into dishes like cerdo asado, thick slabs of miso-marinated pork shoulder, and vegetarian paella, made with a sweet-salty white miso-and-fennel broth.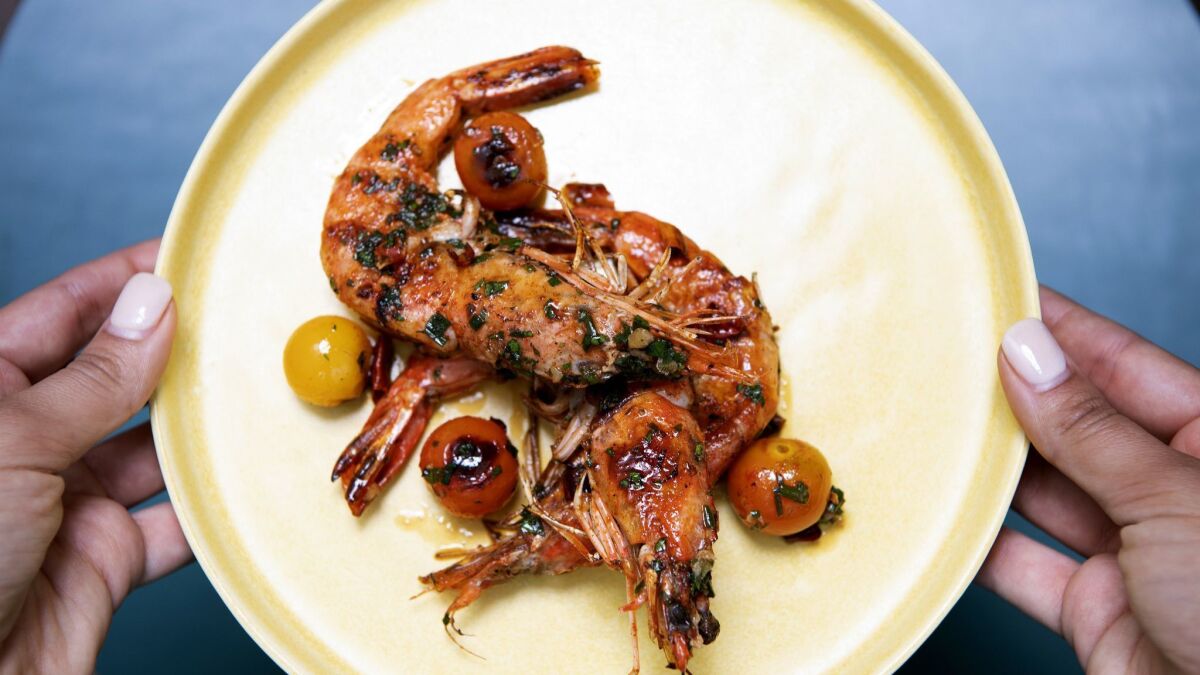 Montaño describes her penchant for mixing and matching Spanish and Japanese ideas as a distinctly Los Angeles impulse — a chef luxuriating in the incredibly wide cultural palette of the city. This is the sort of modern Spanish cooking that Montaño became known for at Ración, the much-loved Basque-inspired restaurant in Old Town Pasadena that she operated for five years with former partner Loretta Peng. That restaurant closed in early 2018, leaving a notable gap in Greater Los Angeles' short roster of Spanish dining gems.
Review: At Sonoratown, worship at the altar of flour tortillas and mesquite-grilled beef »
At Otoño, Montaño has expanded her focus beyond the pintxos of Basque country, diving deeper into the regional dishes of Catalonia and Valencia, adding more fideuàs and paellas to the menu. The restaurant's design was inspired by her recent travels through Valencia, a region she explored at length after leaving Ración. The enormous mural that spans the length of two walls near the front of the dining room is a swirling maelstrom of color and graffiti painted by the superstar Valencian street-art duo PichiAvo. Beyond the mural, the restaurant is outfitted with a grand bar framed by vintage tiles and a tiny, partially open kitchen where Montaño and her team somehow work at a significantly higher volume than they did at Ración. The mood is lively; the service cheerful. If I have one complaint, it's that the pace of service moves too quickly at times, with what feels like regimented spaces between courses. There is sometimes the sense of being rushed.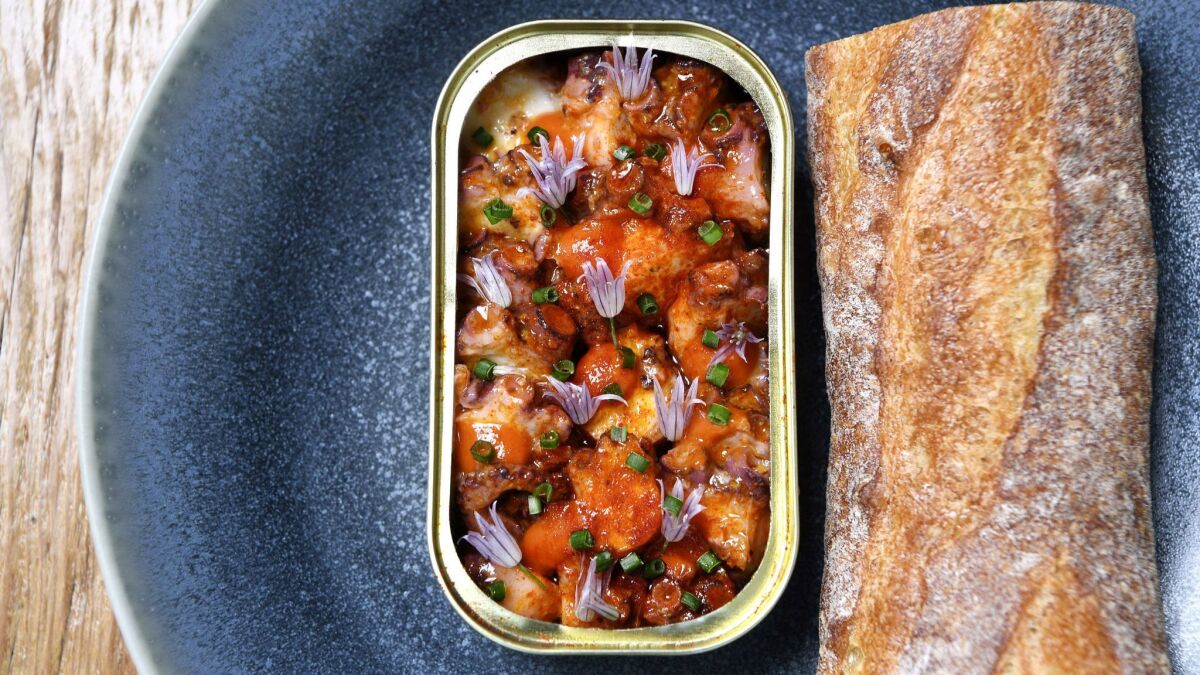 On the menu, you'll note Montaño's newfound obsession with conservas, the high-quality canned seafood that is a staple of Spanish and Portuguese bars. Otoño's conservas selection includes hard-to-find, small-production seafood from Spain's Atlantic coast: creamy slips of squid preserved in olive oil, salty baby sardines, unctuous hunks of tuna belly. Even better are the house-made conservas, especially the conserva de pulpo, Spanish octopus cured in a vibrant, lightly spicy New Mexico red chile sauce, a nod to Montaño's native home state.
You'll find updated iterations of the croquetas that Montaño perfected at Ración, including a crisp fritter filled with jamón serrano and a local milk that's been transmuted into a rich, gooey cream. The croqueta de setas y maiz is even more unforgettable: a wildly rich, pleasantly sweet croquette filled with mushrooms, corn and goat's milk.
Very rarely, Montaño will bring back one of Ración's greatest hits — the lamb meatballs are the most frequently requested item. But on most days, you'll have to settle for the familiar comforts of her crema Catalana, a slightly jiggly, creamy dessert custard topped with candied kumquats. It may not be precisely the same version you remember from Ración. But like much at Otoño, it's got the charm of something you want to enjoy for a long time to come.
Otoño
LOCATION
5715 N. Figueroa St., Los Angeles, (323) 474-6624, otonorestaurant.com
PRICES
Tapas $4-$20; conservas $10-$15; raciones $13-$35; arroz y fideuá $32
DETAILS
Credit cards accepted. Full bar. Street parking. Dining room and restroom are wheelchair-accessible.
RECOMMENDED DISHES
Fideuá; pan con tomate; gambas a la plancha; conservas; crema Catalana
patricia.escarcega@latimes.com
Twitter: @piescarcega
---
Get our weekly Tasting Notes newsletter for reviews, news and more.
You may occasionally receive promotional content from the Los Angeles Times.