White-fleshed peaches and nectarines: How to choose, store and prepare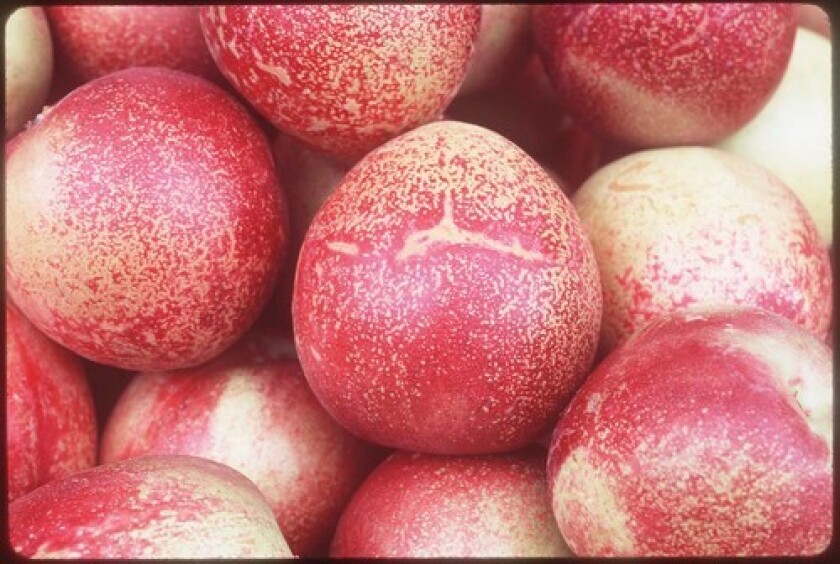 Once a rarity, white nectarines have become popular in the last 10 years. But most modern varieties are what plant breeders call sub-acid--they taste simply sweet. But get an old-fashioned farmers market variety like a Snow Queen or a Stanwick and you've got one of the most amazing fruits of late spring, intensely sweet but with enough acidity to be interesting and layers of flowery peach flavor. The best white nectarines tend to come early in the summer harvest cycle.
Another type of white-fleshed stone fruit has become more popular lately. Whether you call them saturn, donut, bagel, saucer or peento, demand for these flat, white-fleshed peaches is going over the moon. Though white nectarines were uncommon not long ago (only about 50 tons were sold in 1996), sales more than doubled between 2000 and 2005 to a whopping 4,000 tons. Why? Partly because they look so cute, of course. Beyond that, they are very sweet, nearly candy-like, with low acidity and white melting flesh. Saturn peaches are descended from an old Chinese variety called peento or pan-tao (translating rather prosaically to "flat peach"). There are also flat nectarines, though they are not yet as plentiful.
How to choose: Select white-fleshed peaches and nectarines as you would any other stone fruit: They're ripe when they give slightly to the touch and are extremely fragrant. The best varieties of white-fleshed nectarines do tend to be cosmetically challenged, prone to scabbing and cracking, so don't let the appearance put you off.
How to store: If the peaches or nectarines are a little too firm, leave them at room temperature for a day or two, and they'll finish ripening. When ripe, they should be stored in the refrigerator, unless you're going to eat them quickly.
How to prepare: To play up the striking color of the flesh, don't cook white peaches or nectarines (they'll turn brown). Instead, cut them into chunks, sugar them lightly and serve them on a shortcake with plenty of whipped cream.
---
Get our weekly Tasting Notes newsletter for reviews, news and more from critics Bill Addison and Patricia Escárcega.
You may occasionally receive promotional content from the Los Angeles Times.