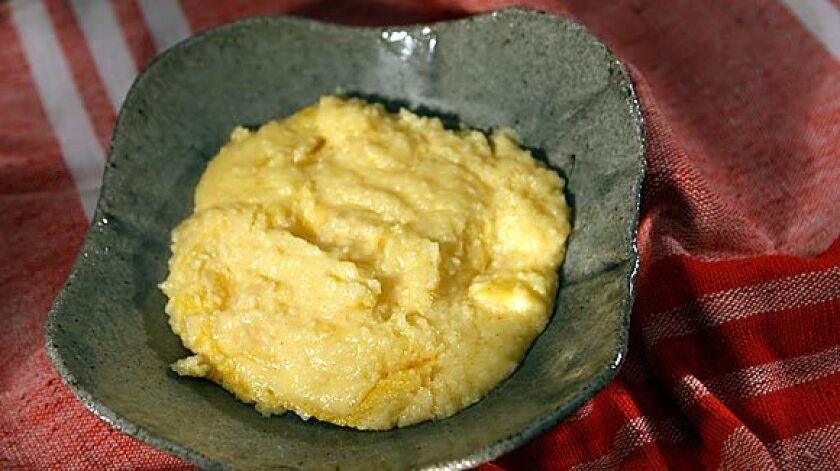 Total time: 55 minutes
Servings: 12
Note: Adapted from "The Pioneer Woman Cooks" by Ree Drummond. Though the recipe suggests using sharp cheddar, she mentions you can "use whatever variety of cheese you like: cheddar, Pepper Jack, Mexican cotija. Even goat cheese (chevre) is sublime in grits."
9 cups water
1/2 teaspoon salt, more if desired
2 cups uncooked quick or regular grits
4 eggs
3/4 cup (1 1/2 sticks) butter, cut into tablespoons
3 cups grated cheese, preferably sharp cheddar, more if desired
2 garlic cloves, finely chopped
1/2 teaspoon cayenne pepper, more if desired
1. Heat the oven to 350 degrees. In a large saucepan, combine the water and salt over medium heat. As soon as the water comes to a boil, stir in the grits.
2. Cover the pan and finish cooking according to the directions on the package. Remove from heat when the grits are cooked.
3. In a large bowl, whisk the eggs. Stir a couple of spoonfuls of the grits into the eggs and quickly whisk together to temper the eggs. Immediately stir in the rest of the grits until fully incorporated.
4. Add the butter and stir until it is melted and incorporated, then stir in the cheese until melted and combined. Stir in the garlic and cayenne. Taste and adjust the seasonings, adding more salt or cayenne if necessary. You could also add more cheese if you think that will bring happiness to your life, but keep in mind that cheese increases the salt and fat content, as well as the number of calories.
5. Pour the grits into a well-buttered 13-inch-by-9-inch baking dish. Bake until the grits are hot and bubbly, about 30 to 35 minutes. Remove from heat and set aside for 10 minutes before serving. The grits will become firmer as they cool.
Each serving: 341 calories; 12 grams protein; 23 grams carbohydrates; 1 gram fiber; 23 grams fat; 14 grams saturated fat; 131 mg. cholesterol; 301 mg. sodium.
---