Recipe: Cornmeal Buckle With Plums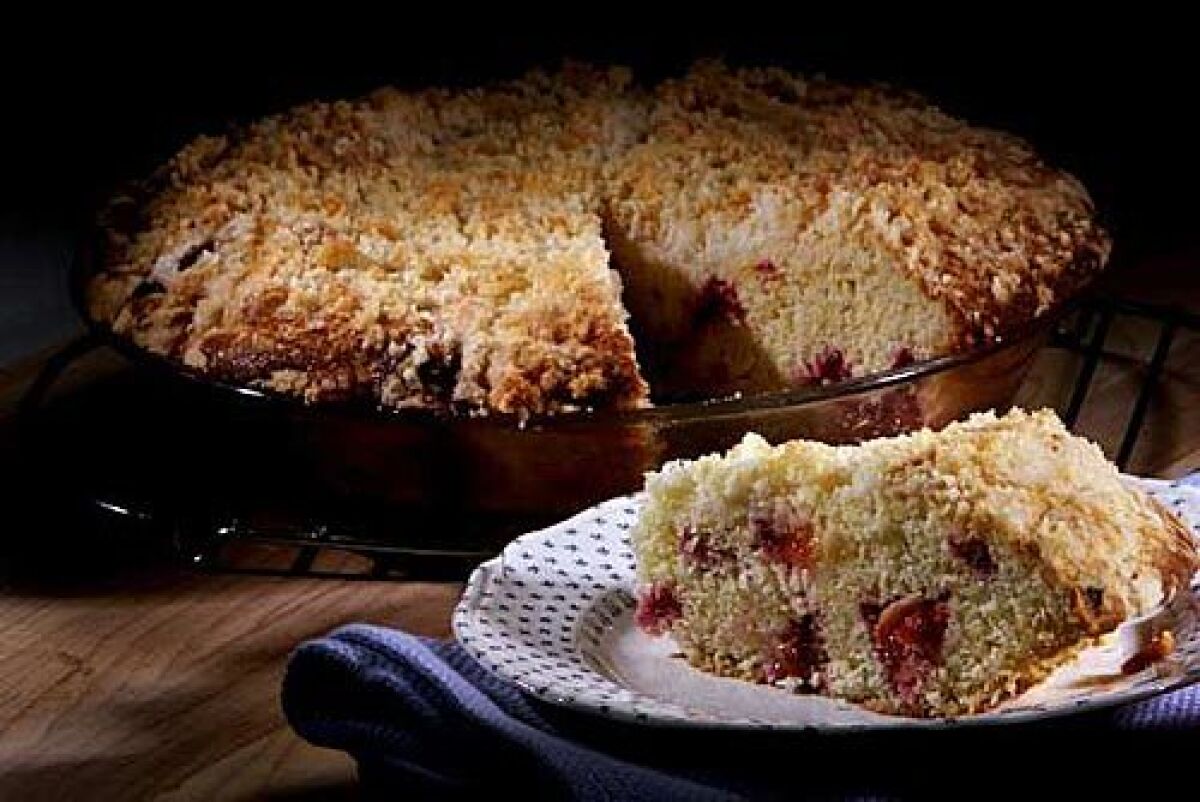 Active Work Time: 40 minutes *
Total Preparation Time: 1 hour, 45 minutes
A buckle is an old-fashioned American dessert, so named, supposedly, because of the way the center collapses when it is removed from the oven. This recipe is a twist on a boysenberry and peach buckle from the newest revision of "Joy of Cooking." Replacing some of the flour with cornmeal provides a bittersweet complement to the tart-sweet plums.
TOPPING
1/2 cup sugar
6 tablespoons flour
1/4 teaspoon salt
1/4 cup (1/2 stick) butter, cut into 1-tablespoon pieces
In a food processor, pulse together the sugar, flour, salt and butter until the pieces are the size of coarse crumbs.
CORNMEAL BUCKLE
1/4 cup (1/2 stick) butter, softened, plus more for preparing pan, divided
1 1/2 cups flour
1/4 cup yellow cornmeal
2 teaspoons baking powder
1/2 teaspoon salt
1 cup sugar
1 egg
1/2 cup milk
1 pound plums (about 4), cut up
Heat the oven to 350 degrees. Butter a 9-inch glass pie plate and set aside. In a large bowl, sift together the flour, cornmeal, baking powder and salt. In another large bowl, beat the 1/4 cup of butter with the sugar and egg until it is fairly light and fluffy. Add half of the milk and beat until smooth. Gradually add the remaining milk while beating.
Stir the dry ingredients into the wet ingredients just until well moistened. It will be the texture of cake batter. Fold in the plum pieces. Pour the batter into the pie plate and spread evenly. Scatter the topping mixture evenly over the top. Bake until the top is golden brown and a toothpick inserted in the center comes out clean, about 45 minutes.
Remove from the oven and let stand 20 minutes before serving. (If you serve the buckle the next day, warm it briefly in the microwave before serving.)
6 to 8 servings. Each of 8 servings: 412 calories; 468 mg sodium; 59 mg cholesterol; 13 grams fat; 8 grams saturated fat; 70 grams carbohydrates; 5 grams protein; 1.76 grams fiber.
---
Get our weekly Tasting Notes newsletter for reviews, news and more.
You may occasionally receive promotional content from the Los Angeles Times.