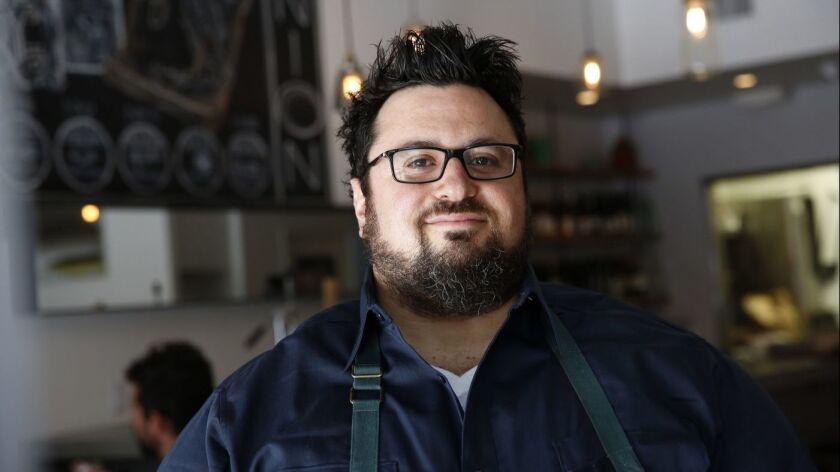 "Top Chef" alums Bruce Kalman and Tyler Anderson are headed to the Westside to open their first joint restaurant, the aptly named West.
The fast-casual concept is scheduled to open next year and will tie together Kalman's Northern Italian cooking with Anderson's style, which leans a little more French. They have yet to specify the neighborhood in which the restaurant will be located.
"Together, we have the same ideas about cooking: keeping it simple and keeping it delicious and making it driven by the best ingredients we can find," said Kalman, previously executive chef of Union in Pasadena. "It's like we almost said at the same time, 'We should do a wood-fire restaurant.'"
Kalman said menu items will likely include a porchetta sandwich (the two made a version at the L.A. Loves Alex's Lemonade charity event this month), a whole roasted fish and pork meatballs. Lunch will be priced at about $20 per person and dinner at about $40.
"The idea is it's approachable and everyone can come," he said.
The two James Beard-nominated chefs appeared on Season 15 of the Bravo cooking show last year and cooked together at Coachella this spring.
Kalman is still co-owner of Knead & Co. Pasta Bar + Market in Grand Central Market; he is also working on BK Brinery, a wholesale pickle business.
Anderson is originally from Southern California but lives on the East Coast. He is the chef-owner of three restaurants in Connecticut: Millwright's Restaurant and Tavern, the Cook & the Bear and Porrón & Piña.
They're looking into opening restaurants together on the East Coast, including possibly a pizza concept.
---