When it's taco time in Mexico City, here's where to go
Reporting from Mexico City —
At around 7 p.m. in Mexico City the day's rhythm slows to a torpor. Cars are stuck in traffic and it's pouring, rain flooding the streets as it does at twilight for most of the year. "There are so many days of rain in Mexico City, a good reason to go," sings Julia Holter, reasonably. The moment calls for something to eat. (This is not dinner; dinner is still a couple of hours away.) It's time for esquites, time for street pancakes, time for a quick fix at 7-Eleven or Oxxo. It's time for tacos: It always is.
The options are as endless as the city. At Don Güero in Cuauhtémoc, influential food writer Pedro Reyes gets his usual: tongue, cheek and bistec tacos. Each one, he says, calls for a specific salsa: cooked green salsa for the lengua, red morita for the cheek, and pico de gallo for the bistec.
Over in San Cosme the venerable Califa de León gets its third wind of the day and it still has one left in the old smoky lung. Here's where gaoneras — filet mignon tacos — were supposedly invented; the beef served on handmade tortillas, sprinkled with sea salt and finished with salsa verde cruda, pounded with the mighty tejolote. Consider the writing on the wall at Califa de León: Out of respect for the others, and yourself, DO NOT blow your nose. Some of the good new wave taquerías are just getting going around this time: Visit Tizne in Del Valle, where the charred eggplant taco is king, or Páramo in Roma, which slings a meatball taco to rule them all.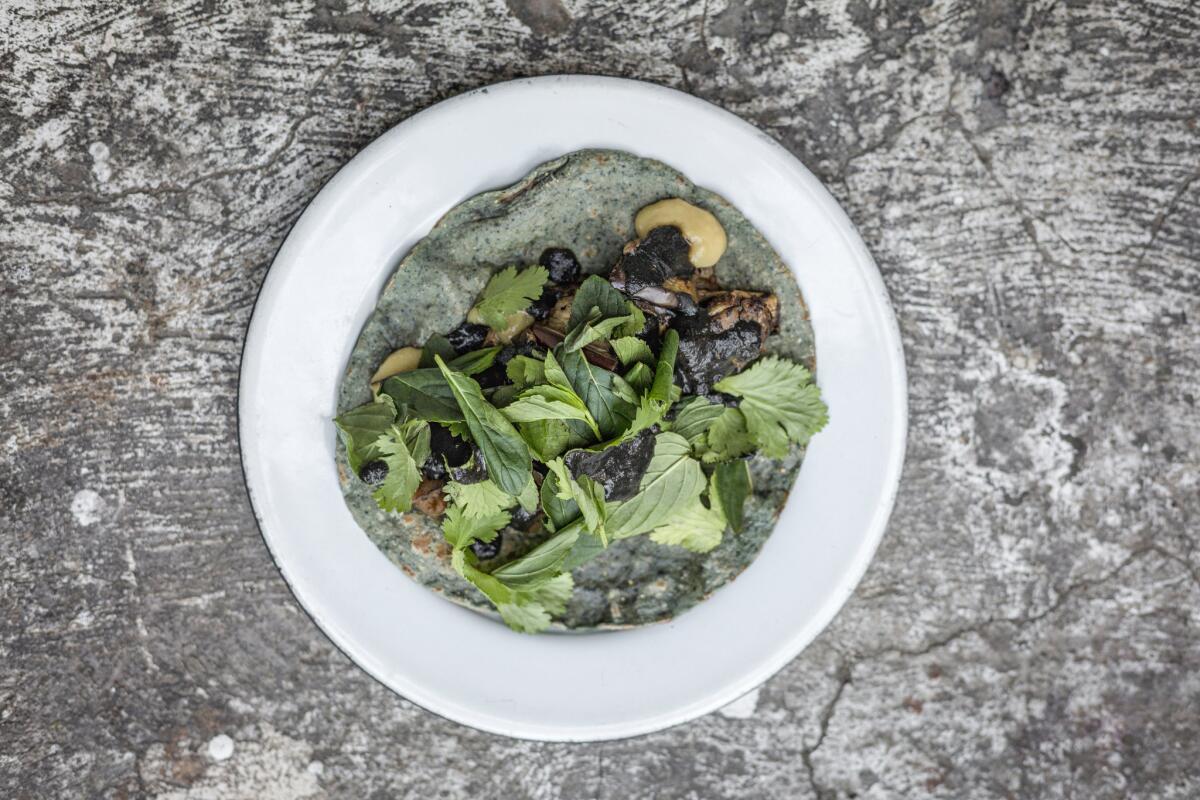 But, importantly, 7 p.m. means tacos al pastor are getting there. Of course al pastor can be found at any time of day, but this taco is truly a creature of the night, a yellow-red moon that shines over chilango cuisine. There are at least four iterations of tacos al pastor in the the city: There's the proto-pastor, purist pastor, red pastor and stewed pastor.
The proto-pastor – called "taco oriental" on most menus – are the taco árabe's most recognizable offspring. (Tacos árabes are, of course, the direct antecedents of the al pastor family of tacos.) In these proto-pastor tacos you see the evolution of shawarma into a more distinctly Mexican food: lamb shifts to pork, pita gives way to corn tortillas, and yogurt-tahini sauce is swapped out for greenish salsas. Still, the taco will welcome you with the piquant spices you'd expect in a shawarma, the veritable great-great-great-aunt of all al pastor. Try one at Hayito Tacos Árabes in Narvarte or at Baltazar in the Centro Histórico.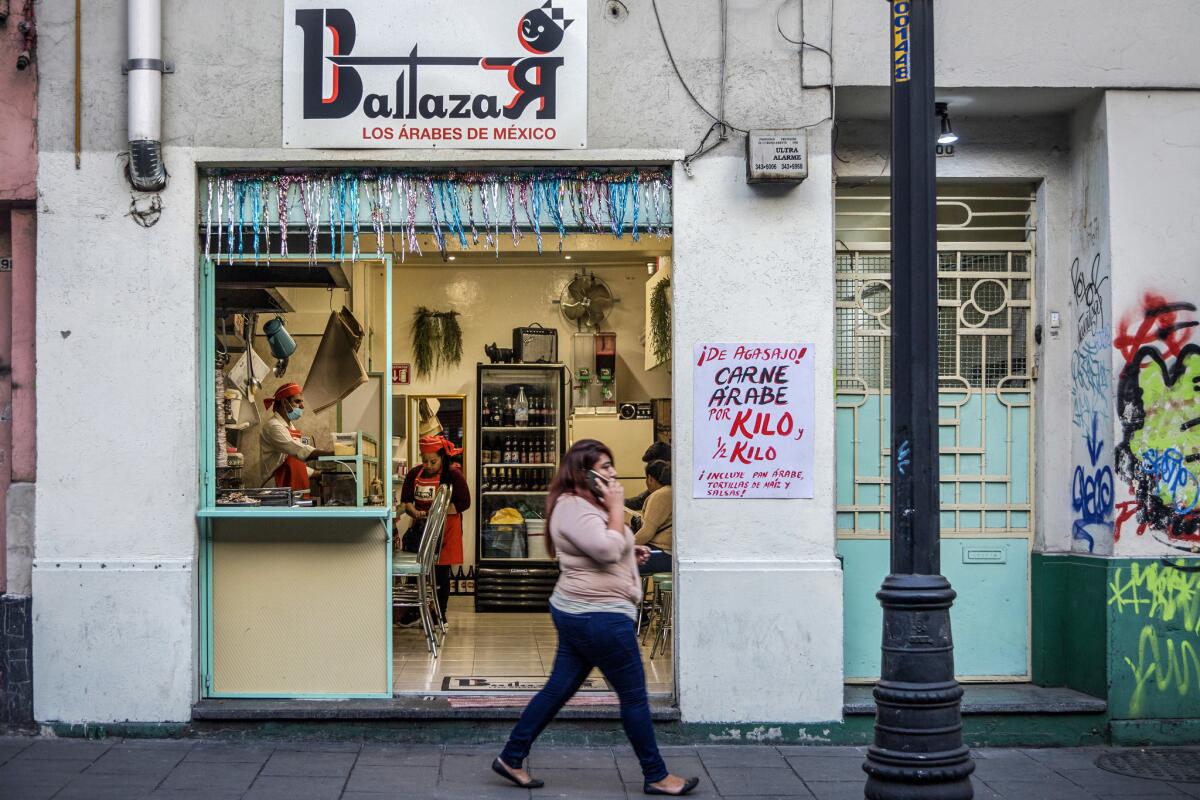 You can taste the next step of al pastor evolution in purist al pastor, as served by the likes of El Huequito and Taquería Arandas in the old city's center. You'd never mistake their seasoning for that of a shawarma; they are gently scented with achiote, chiles and adobo. They are the taco equivalent of a fetus on an ultrasound screen, future undecided as yet, waving to its parents who don't know what to expect. Purist al pastor does not contain pineapple, although most places will have it around — and there is no reason to deny yourself that pleasure if it appeals to you.
Review: At Konbi in Echo Park, Japanese sandwiches with a cult following »
If the meat in a purist pastor is still the color of flesh, charred in parts, the meat in a red pastor is fully tinted by the achiote, the reddest of adobos. It has been said that red pastor tacos were born with the emergence of taquerías al carbón — taquerías with charcoal fires to scorch their trompos, or vertical rotisseries — such as El Farolito, El Kalimán and El Tizoncito sometime in the '60s. This taquería triumvirate is responsible for the popularity of red pastor. El Tizoncito, especially, got to be an extremely famous taquería. Last time I checked, there were 16 of them at all points of the city's compass rose.
Of course al pastor can be found at any time of day, but this taco is truly a creature of the night, a yellow-red moon that shines over chilango cuisine.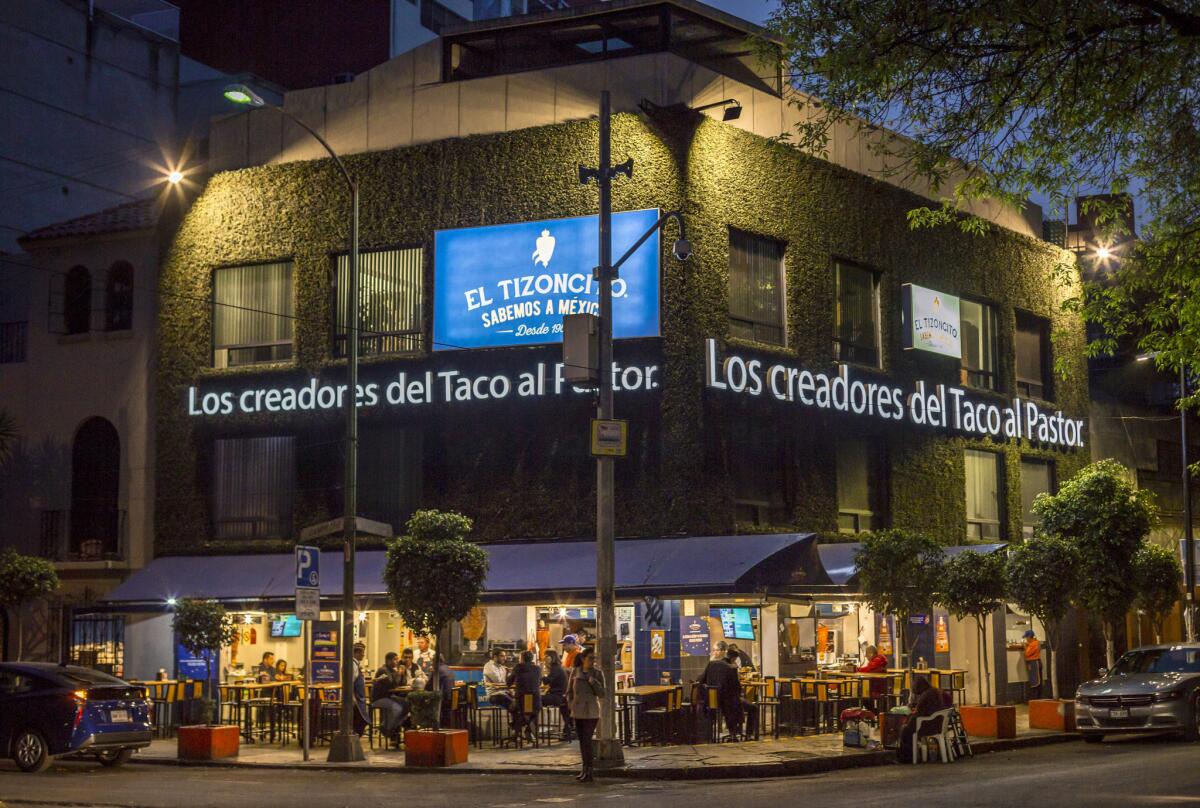 The history of al pastor tacos inspires all manner of conjecture. Some surmise that El Tizoncito — the original Tizoncito, that is, which still stands at the corner of Campeche and Tamaulipas in Condesa — is responsible for the miraculous appearance of the first slice of pineapple on the al pastor taco, one of the great gifts chilango cuisine has bestowed on mankind. No one truly knows where it first happened.
The stewed pastor is probably the least widespread variation, possibly born of necessity at taquerías that are not outfitted with the vertical rotisseries and big chunks of charcoal that have come to define al pastor. Its meat is not roasted, but cooked over medium heat in its own juices and fat. These tacos are heavy on the achiote and obviously light on the char. Pineapple, when available, is optional. El Paisa de Coruña, in Viaducto Piedad, has one of the most famous. El Paisa is always packed, which never guarantees anything but tends to be a good sign. These tacos, fully loaded with onion, will stay with you several days, if not in your memory then at least in your digestive system.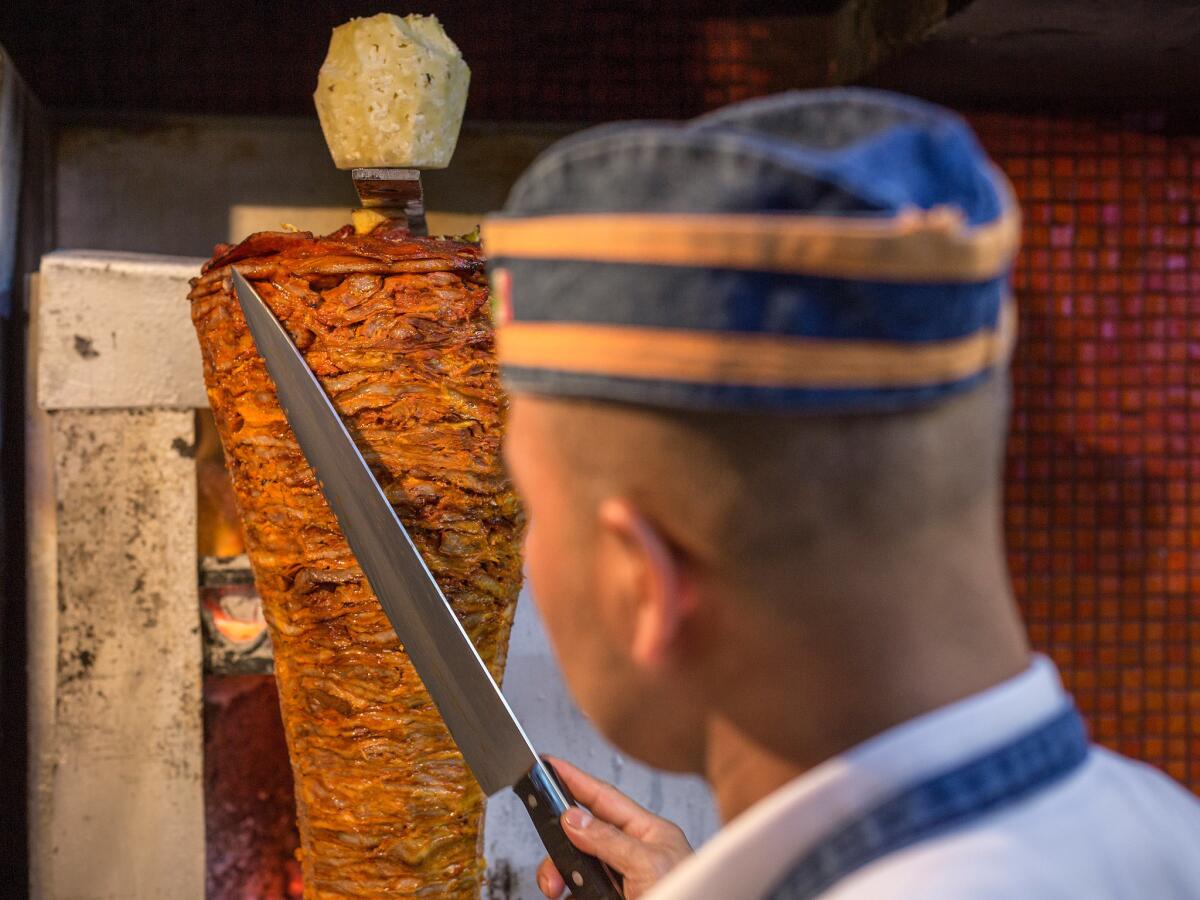 There is always someone saying that we are witnessing the decline of al pastor tacos. Film critic Leonardo García Tsao wrote, back in 1991, that he no longer made "the obligatory post-cinema ritual at El Tizoncito" because "nowadays those tortillas taste like cardboard." Industrial tortillas in particular are met with derision. "All these people don't know what a good tortilla is," ranted Diana Kennedy, a historian and cook in her 90s, in a 2014 interview with writer Daniel Hernández. Joaquín Cardoso, the young chef behind Roma Bistrot, when asked the 693-year-old question, what is your favorite food to eat in Mexico City?, told this to Ambrosia magazine:
Review: Homey Hayat's Kitchen, starring Lebanese meats and sweets, goes Hollywood »
"Tacos. Al pastor is one of my favorites. But then you talk about specific places. It's kind of sad, that in the city in which tacos al pastor were created, you have to think twice about where to have good ones, right? It should not be like that. The tortilla is declining in quality. They don't pay much attention to the meat. They pay more attention to cost or what kind of music they will have at the taquería."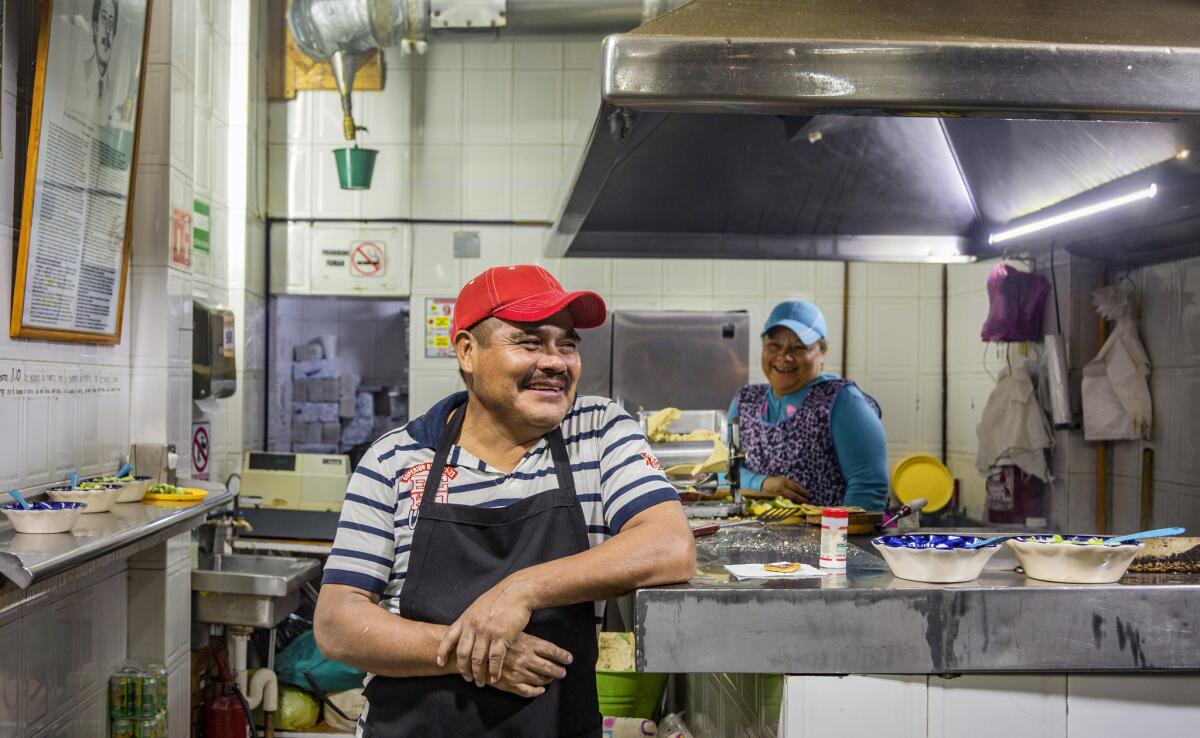 Al pastor tacos were not created in Mexico City. They were created nowhere: They have sprung up in many cultures, many cities, many times. They are universal. Al pastor can be found in paintings of 14th century meat roasters in the Luttrell Psalter; in photographs of 19th century Ottoman dönerci or Lebanese proto-taqueros in the 1950s. Al pastor's legacy is truly never ending. Nothing comes from nothing, and al pastor tacos are part of an unremitting history of translation and remix, copy and plagiarism, of roasted meats wrapped in some kind of bun.
But the lines of people eating tacos at all times all over the city that did not create al pastor pay little attention to such grievances. Of course there are conservative people of all ages, and they will always talk about the good old days, be it 20 or 40 or 60 years ago. There will always be people who think their city is robbing them of something they once had, or thought they had. But in Mexico City, the city of a million tacos, no time is better than another. The city suffers no nostalgia: tacos change, people change. That is all. One can rant against changes, but the city is not listening.
The city wins. The city always wins.
Alonso Ruvalcaba is a a writer, editor and critic based in Mexico City. This is an adaptation, rewrite and update of "24 horas de comida en la ciudad de México" (Editorial Planeta, 2018), Chapter 12.
Addresses
Tacos Don Güero: Río Nilo 66, Cuauhtémoc, 06700 Cuauhtémoc
Califa de León: Av. Ribera de San Cosme 54, San Rafael, 06470 Ciudad de México
Tizne Tacomotora: Diagonal No. 39, Col del Valle Centro, 03100 Ciudad de México
Paramo: Av. Yucatan 84, Roma Nte., 06700 Ciudad de México
Hayito Tacos Árabes: Av. Universidad S/N, Benito Juarez, Narvarte Poniente, 03020 Ciudad de México
Baltazar: Simón Bolívar 100, Centro Histórico, Centro, 06000 Ciudad de México
Tacos El Huequito: Ayuntamiento 21, Centro, 06050 Cuauhtémoc
El Farolito: Altata 19, Hipódromo Condesa, 06100 Ciudad de México
El Kaliman: Calle Ensenada 74, Hipódromo Condesa, Hipódromo, 06100 Cuauhtémoc
El Tizoncito: Av. Tamaulipas 122, Condesa, 06140 Ciudad de México
Taqueria Arandas: Calle de Bolívar 91, Centro, 06080 Cuauhtémoc
El Paisa de Coruña: La Coruña 302, Viaducto Piedad, 08200 Ciudad de México
Get our L.A. Goes Out newsletter, with the week's best events, to help you explore and experience our city.
You may occasionally receive promotional content from the Los Angeles Times.