Review: At Konbi in Echo Park, Japanese sandwiches with a cult following
Restaurant Critic
The eggplant katsu sandwich at Konbi in Echo Park has the demure looks of a high society English tea sandwich: crustless slices of springy white bread, tidily filled with fried eggplant and finely shredded cabbage.
One bite, however, and the illusion of primness fades: The eggplant, marinated overnight in a burnt onion dashi before it is panko-breaded and deep-fried, delivers a dense, savory wallop. Its meaty quality is amplified by a thin scrim of sweet-savory Bull-Dog tonkatsu sauce, a beloved Japanese condiment that lands somewhere between A.1. and Worcestershire. The dish seesaws between flavors, never quite landing on one. It's a complicated and delicious feat, more technically challenging than it appears at first glance.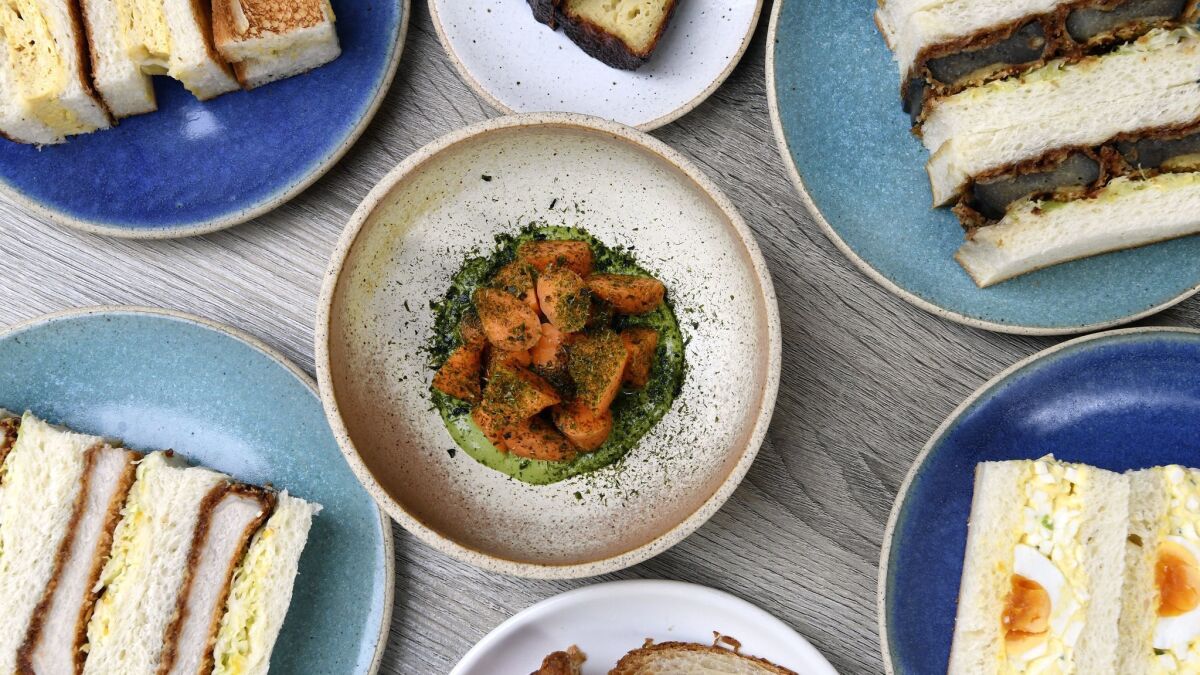 Technically precise cooking, made to look easy, is a hallmark of Konbi, a sleek 10-seat café where chefs and co-owners Akira Akuto and Nick Montgomery, alumni of New York's Momofuku Ssäm Bar and, more recently, L.A.'s now-shuttered Osso, have built a temple to a most unpretentious dish: the Japanese carry-out sandwich, or sando. If you've spent any time scrolling through L.A. food Instagram posts in the last few months, there's a good chance that one of them — cut into neat thirds and stacked, cut-side up, on pretty blue ceramic dishes — has populated your feed.
Konbi's name evokes Japanese conbini, the ubiquitous 24-hour convenience stores whose refrigerators are stocked with the cellophane-wrapped sandwiches that have come to occupy an important corner of the Japanese comfort food pantheon. More than just an object of cultish devotion and late-night snacking, a sando represents the possibilities for fast yet elegant sustenance, and it proffers the sandwich as a meaningful canvas for the nuanced and artful application of traditional Japanese flavors.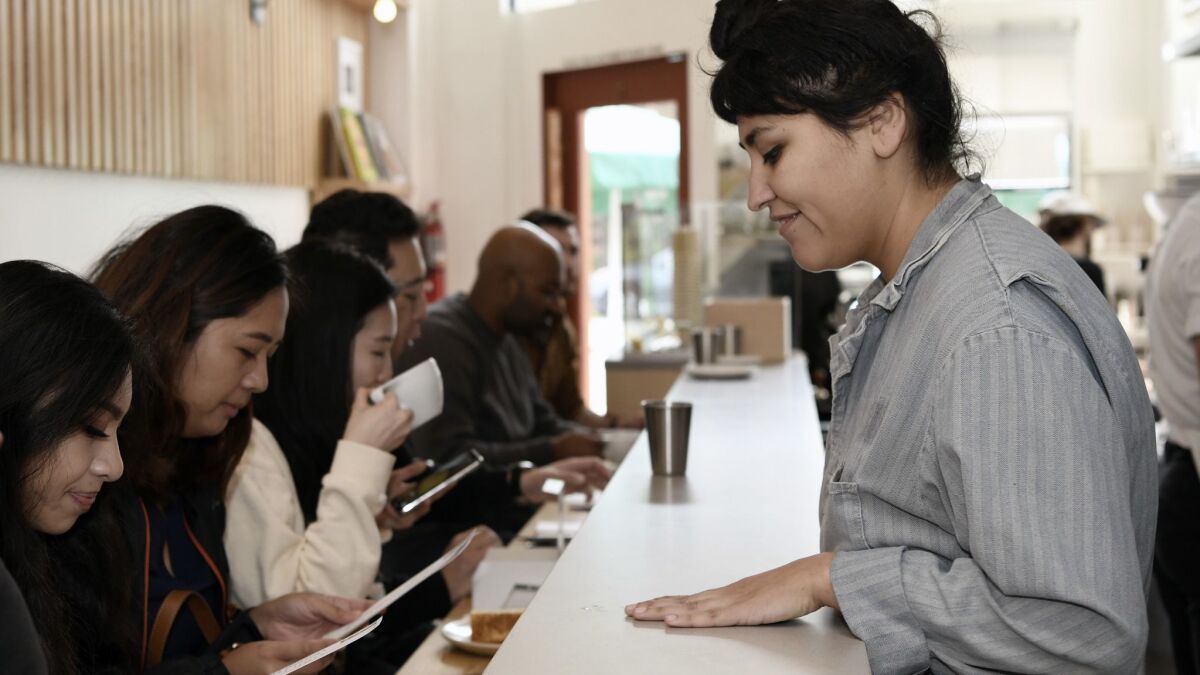 Suffused in Southern California sunlight (Konbi is open only during the day), blond wood and the youthful energy of its clientele, Konbi is far removed from the fluorescent-lighted universe of the neighborhood conbini. The 500-square-foot cafe eschews tables for a long, comfortable counter that overlooks the open kitchen. (There's an all-day take-out window where you can order from the full menu too.) With operations in plain view, Akuto and Montgomery have made the kitchen as much a showpiece as a utilitarian work space. It's supremely well-organized, with so much meticulously labeled kitchen miscellany that you wonder whether Marie Kondo recently paid a visit.
Review: Homey Hayat's Kitchen, starring Lebanese meats and sweets, goes Hollywood »
Each sandwich represents hours of research and development, Akuto told me, and it's not surprising considering the prep work that underpins a dish like the popular layered omelet sandwich. Eggs, mixed with dashi for maximum flavor, are cooked to order in square tamagoyaki pans, where they're carefully rolled into thick scrolls.
The pork katsu sandwich is another feat of construction. The cutlet, sumptuous and juicy, is shrouded in a spiky panko crust that produces a crisp and sublime crunch that is at least half the pleasure of eating it. Egg salad is deliciously smooth; hard-boiled eggs are subsumed in an immeasurably rich dressing of Kewpie mayonnaise, crème fraîche, Dijon mustard and rice wine vinegar. It's altogether more vivid and memorable than the jammy, orange-yellow yolk that's become the dish's Instagram trademark.
There's a strong vegetable component to the compact menu at Konbi, a rotating selection of seasonal greens, pickled veggies and miso-intensive salads. Most recently, there were bright, vinegary bites of salty, kelp-scented pickles and a lovely dish of mild, sweet Japanese turnips enlivened with Meyer lemon and a dusting of toasted sesame and rice. A plate of pickled carrots served with an intensely creamy, nutty shishito-pistachio dip stokes almost as much pleasure as a pork cutlet sandwich.
Konbi also takes on dessert. Every day there's a fresh stock of French pastries — elegantly formed buttery croissants and the crisp, nutty teacakes known as financiers. The most in-demand pastry is the canelé, a thimble-size custard cake whose fluted, caramelized crust is as widely worshiped and photographed as Konbi's egg salad sandwich.
Review: NoMad plants its flag in downtown Los Angeles »
Akuto and Montgomery bake the pastries in-house. Each day after service, they roll out flat sheets of dough in the same kitchen they use to marinate eggplant in dashi, pickle cucumbers in rice vinegar and boil countless eggs.
Konbi's food may evoke something you'd find at a 7-Eleven in Shibuya, but you'd never confuse the complexity of flavors for anything resembling convenience.
Konbi
Akira Akuto and Nick Montgomery pay homage to the Japanese convenience store sandwich in Echo Park.
LOCATION
1463 Sunset Blvd., (213) 278-0007, konbila.com
PRICES
Sandwiches $10-$14; vegetable dishes $3-$13; pastries $3-$6; coffee and tea $3-$6.
DETAILS
Credit and debit cards only. No cash accepted. No alcohol. Street parking.
RECOMMENDED DISHES
Eggplant katsu sandwich; pork katsu sandwich; carrots crudité; canelé.
patricia.escarcega@latimes.com
Twitter: @piescarcega
---
Get our L.A. Goes Out newsletter, with the week's best events, to help you explore and experience our city.
You may occasionally receive promotional content from the Los Angeles Times.