Review: Hayat's Kitchen, starring Lebanese meats and sweets, goes Hollywood
Restaurant Critic
Years of seeking out Lebanese restaurants across America have taught me this: When you find a good one, gather as many people as you can corral and then order as many dishes as the table can fit. The strategy holds up when dining at Hayat's Kitchen in Hollywood Hills, the new second location of a decade-old North Hollywood institution. As the plates and bowls arrive, the scene becomes a whirling mosaic of oblong-cut meats, swirled dips, clattering spoons and reaching hands.
Hot and cold mezze should dominate the spread, beginning with the tahini-forward hummus; it's served plain or covered with sauteed beef and pine nuts. A mellow smokiness winds through smooth baba ghannouj. I want to dip everything — pita, the complimentary pickles, forkfuls of grilled chicken, anything fried — into labneh, the Lebanese style of yogurt drained to a satisfying density and dressed with olive oil, sliced cucumbers and mint. (My Lebanese friends, it should be said, would advise me to rein it in and eat labneh mostly with bread and vegetables.)
Mujadarah, rice and lentils topped with onions that have been deeply caramelized, adds a welcome bedrock to the feast. Loubieh bil zeit, green beans cooked in olive oil with tomato, counterbalances with its levity. For a group, this all might only kick off the meal.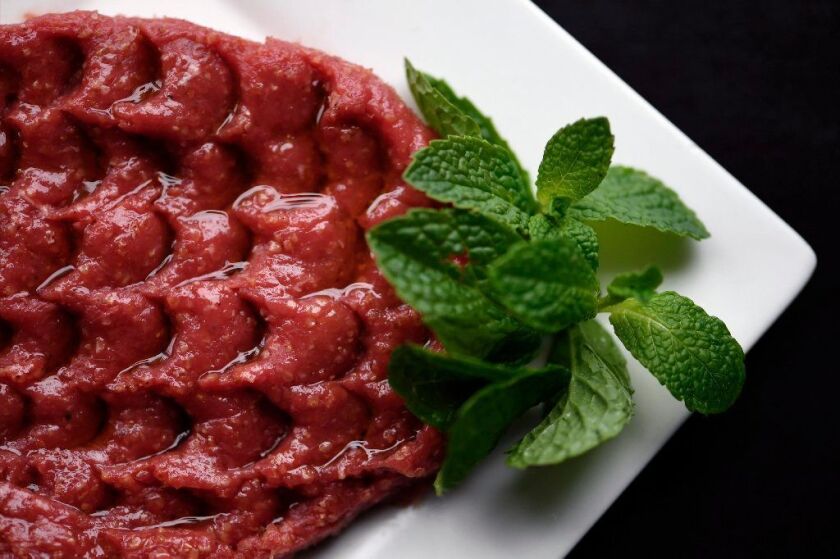 Hassan Shatila has been serving feasts to Angelenos since the 1980s, when he operated Cafe Mediterranean in Toluca Lake for nearly two decades. He closed it in 2000 to focus on catering before jumping back into the melee with the first Hayat's Kitchen (opened with his ex-wife, Hayat Fahed) in 2009. He cooks the foods of his native Beirut with care — and pulls off a couple of specialties especially well.
One of them is kibbeh, a family of dishes that combine ground meat with fine-grade bulgur wheat. In kibbeh nayeh the meat is raw; it's sometimes called "Lebanese steak tartare." Hayat's Kitchen opts for immaculately fresh beef (though lamb is the more typical choice in Lebanon) kneaded to silkiness with bulgur, pureed onion and a restrained dose of sweet spices. The staff forgets to mention a vital instruction: Douse the nayeh with olive oil from the cruet on your table. It adds pepperiness and accentuates the meat's texture. Scoop it up with pita, then layer on slivered onion, mint and a smear of the powerful, emulsified garlic sauce called toum.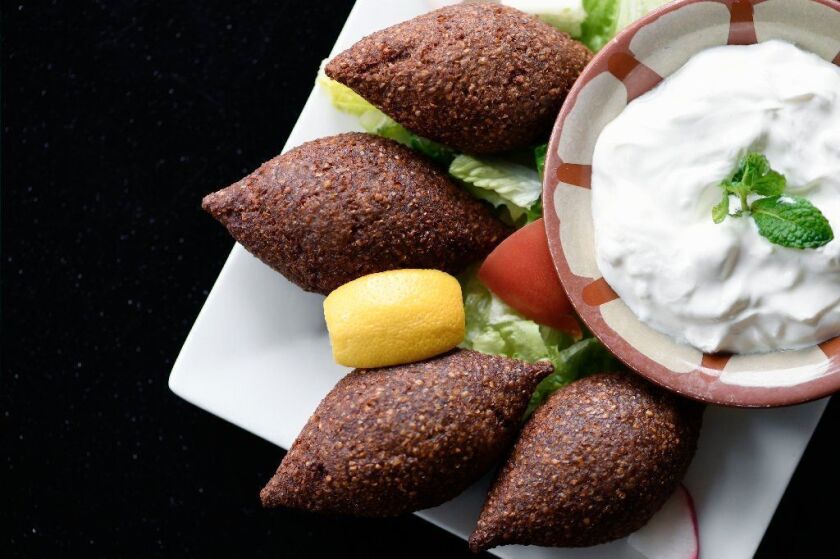 Review: At Konbi in Echo Park, Japanese sandwiches with a cult following »
Fried kibbeh essentially turns the nayeh recipe into tapered croquettes, studded with pine nuts. A buzzing fragrance of allspice hits the olfactory system when you break open Fahed and Shatila's version; dip it in unstrained yogurt for cooling contrast. This is my favorite savory dish at Hayat's Kitchen. If I were dining solo I'd order the fried kibbeh alongside, say, some respectable tabbouleh and be content.
To skip to the finale: The selection of sweets also distinguishes Hayat's Kitchen. It's a family tradition. Hassan Shatila's brother, Riad (who died in 2013), founded Shatila Bakery in Dearborn, Mich., in 1979. The business fueled Dearborn's ascent as one of the epicenters of Lebanese dining in America, with restaurants up and down the city's West Warren Avenue surrounding the bakery's 10,000-square-foot retail space. The pastry case at Hayat's Kitchen displays pans full of baklava layered with cashews or pistachios or walnuts. The laminae of phyllo dough look pale, but they crackle wonderfully against the honey-rich nut fillings.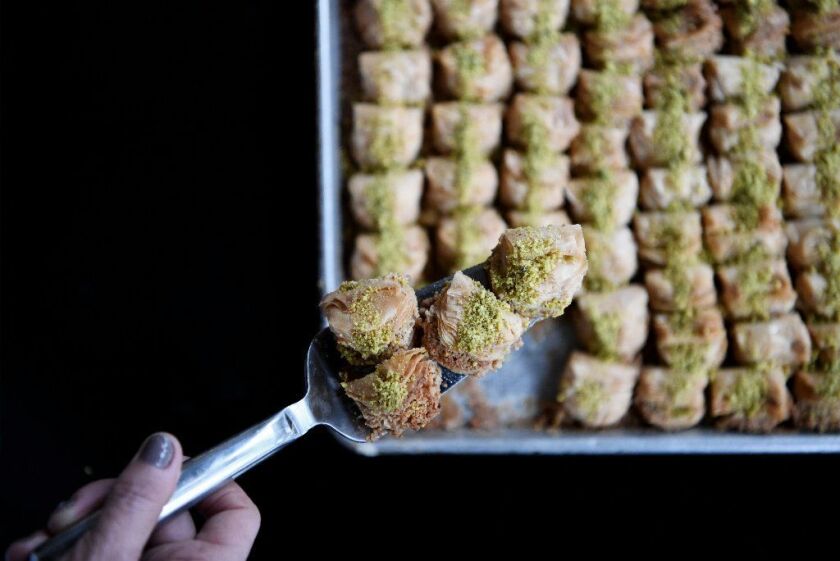 Don't bypass the ma'amoul — soft, patterned cookies stuffed with minced walnuts or, best of all, date paste trilling with orange-blossom water. They pair ideally with a small cup of potent, nearly viscous Lebanese coffee, poured tableside from a long-handled pot by one of the restaurant's earnest servers.
This second outpost of Hayat's Kitchen, easily three times the size of the North Hollywood original, stands alone on a wide, calm stretch of Cahuenga Boulevard. Shatila took over the space in mid-November; corners of the dining room, which include a bar and the pastry counter, aren't fully stocked yet.
At Ma'am Sir, Charles Olalia delves deeper into the foods of his Filipino heritage »
All in all, the place feels like it's still coming together. In a phone interview, Shatila said he plans to rev up the baking program in coming weeks, including making fresh pita (the restaurant currently uses a decent commercial product). He also plans to put forth more savory specials. I tried the one special during a recent dinner — beef kofta, abundantly seasoned ground meat kebabs, baked in tomato sauce with peppers — and its hominess warmed on a wintry, rainy Los Angeles evening.
I keep winding back to meat-centric dishes, including a fine array of kebabs. Vegetable dishes (watery or overdressed salads; overly chewy stuffed grape leaves; fatayers, or star-shaped spinach hand pies, whose filling needs way more oomph) are generally unexceptional.
Honestly, I find this to be the case in most of the area's Lebanese restaurants. Lebanon's eastern perch on the Mediterranean Sea gifts the country with a mild, ample growing climate, not unlike Central California's. A beautiful straightforwardness characterizes Lebanese vegetable cookery. Much of it thrums with olive oil; clouds of spice never overshadow the flavors of the eggplant or greens or fresh beans. At the top of my wish list for Los Angeles, then, is a restaurant that rightly glorifies the leafier aspects of Lebanese cuisine with the righteous California bounty. In the meanwhile, the cooking at Hayat's Kitchen, in particular its meats and sweets, provides pleasures enough.
Hayat's Kitchen
Hassan Shatila's second restaurant, located in the Hollywood Hills, serves Lebanese classics where meats (including kibbeh nayeh, or Lebanese tartare) and sweets like pistachio baklava stand out.
LOCATION
3315 Cahuenga Blvd., Los Angeles, (323) 512-5300, hayatskitchen.com
PRICES
Hot and cold mezze, $5.50-$14.95; sandwiches $5.50-$6.95; entrees (including mixed grills for groups) $14.95-$42.95.
DETAILS
Credit cards accepted. Wine and beer. Street parking.
RECOMMENDED DISHES
Kibbeh nayeh; fried kibbeh; labneh; hummus with beef and pine nuts; baked kofta; loubieh bil zeit; baklava; ma'amoul.
Instagram: @bill_addison
Twitter: @billaddison
---
Get our weekly Tasting Notes newsletter for reviews, news and more.
You may occasionally receive promotional content from the Los Angeles Times.