The Review: Providence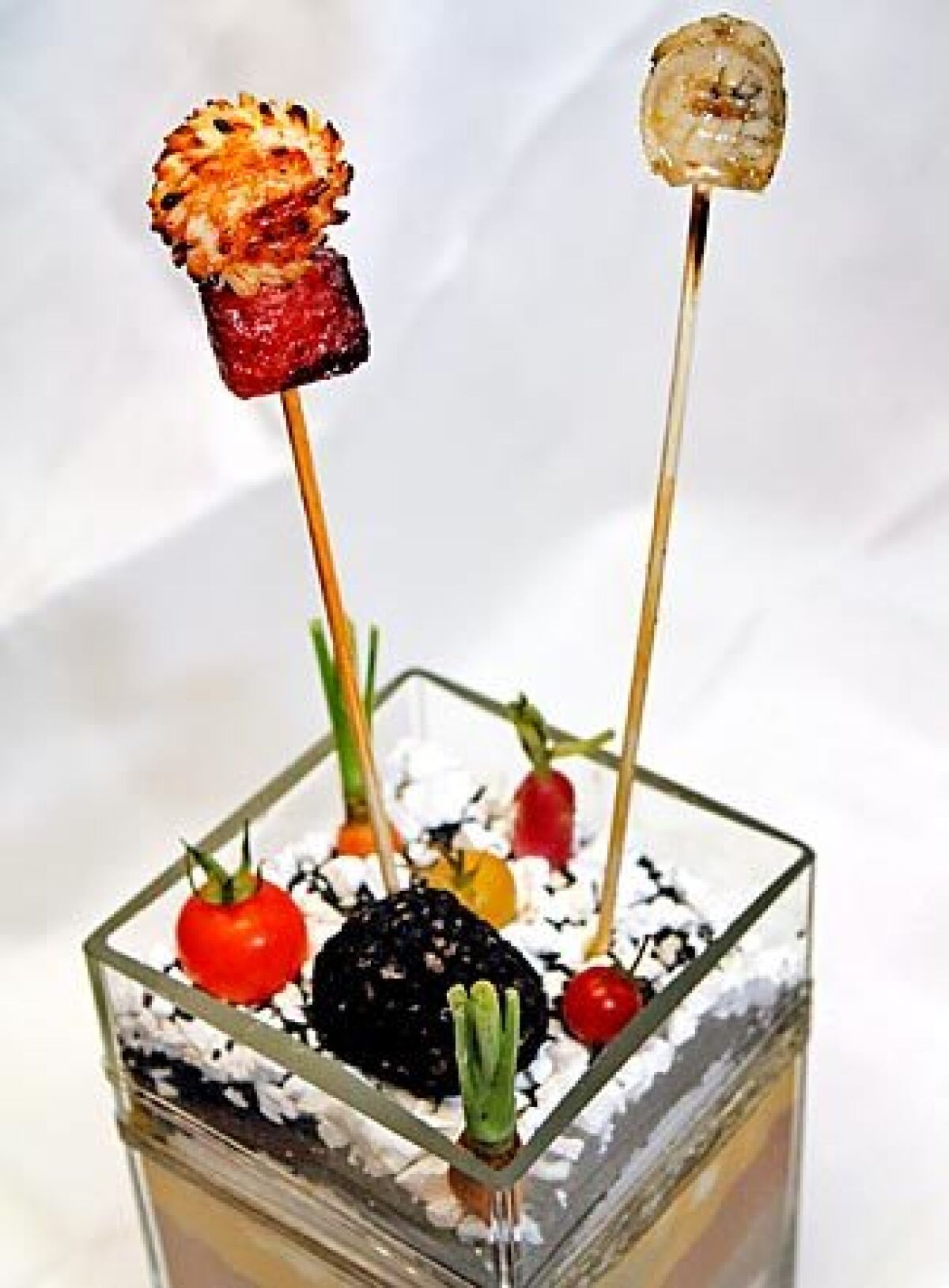 "Take one," the waiter says, proffering a vase sprouting savory lollipops. Each stick holds a round of squid sitting on a cube of dark red chorizo. "Eat them in one bite, so you get both tastes at once," comes the further instruction. I do. The sweet meaty squid and the spicy paprika-streaked chorizo are terrific together.
These savory lollies are the opening flourish in a beautifully paced tasting menu at Providence, the Los Angeles seafood restaurant that celebrates its fifth anniversary this year.
---
FOR THE RECORD:
Providence review: A restaurant review in the Oct. 28 Food section gave an incorrect address and phone number for Providence restaurant. The address is 5955 Melrose Ave., Los Angeles; the phone number is (323) 460-4170. —

---
Can it already be five years since Michael Cimarusti left downtown seafood palace Water Grill to open his own place? He bet on Patina's old digs on a gritty section of Melrose Avenue just west of Cahuenga — not the best of locations. But the restaurant space came with the state-of-the-art kitchen that Joachim Splichal had installed before Patina moved to Walt Disney Concert Hall, big enough to comfortably hold 20 or so cooks and interns. That's what's needed to pull off the kind of intricately orchestrated tasting menu Cimarusti presents at Providence. And like Patina, Providence is one of the last bastions of fine dining left in a restaurant scene obsessed with bistros, trattorias, food trucks and pop-up restaurants.
I've heard chefs say cooking fish is much more interesting than cooking meat. It's true. And Cimarusti revels in the myriad varieties of seafood he culls from his carefully cultivated, longtime suppliers. His ingredient list is flown in from all over the world — scallops from the East Coast, sea trout from Tasmania, wild John Dory from New Zealand, turbot from Brittany, rouget from the Mediterranean. His is more global seafood cooking than strictly Pacific Coast or Californian and he brings a formidable arsenal of techniques to bear on his raw material.
Sea urchin, though, comes from San Diego, and is so large it has to be cut in half. Served raw, with julienned abalone and seaweed from Carlsbad in a splash of abalone juice with dashi and yuzu citrus, it makes a gorgeous dish. Grilled Santa Barbara spot prawn might dazzle in a sauce vierge fragrant with basil and capers, each bite a different texture.
Ah, but here's the dilemma. If you order a la carte, you can get them roasted under salt. The server first brushes off the salt, then separates the head and the tail, slicing each in half and laying them out on the plate like a happy face. They're just barely cooked through, warm and bursting with juices. And that is always the dilemma at Providence: to order the tasting menu — short or long — or a la carte. It depends on what and how you want to eat. For me, it's almost always the shorter tasting menu.
How can I not when a recent menu included a sliver of kampachi wrapped around apple and garnished with purple shiso, tiny nori rice crackers and nori umeboshi cream? The tartness of the umeboshi (pickled plum) brought everything into focus.
On the other hand, if you ordered the salt-roasted prawns followed by turbot for two along with a bottle of premier cru Chablis or a dry Riesling from the lengthy list, you could have a wonderful meal. The Brittany turbot is glorious, served with mushrooms, turned vegetables and the cooking juices. But ordering a la carte can be disappointing if you end up with a dish you don't like. Spaghetti alla chitarra with uni, lobster and pea shoots or rouget with cranberry beans, serrano ham and tarragon, both suffer from too many ingredients, and look clumsy on the plate too, as if no one in the kitchen remembers how to plate a full-sized portion.
If you're going with the tasting menu, don't read it beforehand. That way, it all comes as a surprise, each few bites a revelation that stand out in memory. I can recall that sea urchin with abalone and the black cod with delicate shaved matsutake mushrooms exactly. I also loved the way cubes of big-eye tuna, blood-rare at the center, were paired with a single cube of Kobe beef to play with the idea of earth and sea.
After a succession of small courses, it's always a dilemma whether to give in to the temptation of the extraordinarily well-curated cheese cart or not. Servers can reel off the names and characteristics of every one, which means you end up trying more than you originally intended. Highlights from the current cheese cart include a tall, creamy buffalo milk cheese from Naples and a Gruyère de Comte from the Jura in France.
Whatever the night, the mood is festive at Providence: a family birthday here, a couple on a date there, tourists treating themselves to a good dinner, friends splurging. There's the sense of occasion that's missing in more casual restaurants. The meal is the evening and it unfurls a bright ribbon of tastes.
Here comes the pre-dessert, a chilled melon soup with bright drops of strawberry, lime granita and a dab of vanilla ice cream, to let diners know the dessert course is waiting in the wings. I've always admired pastry chef Adrian Vasquez's dedication to his craft, experimenting and pushing the boundaries of what can be done with sugar and chocolate. Sometimes, though, his desserts can be too fussy and complicated, especially after a meal of so many courses and flavors. They're almost better appreciated on their own by coming in for a dessert tasting in the bar.
Precisely crafted mignardises include vanilla-scented gelees dusted in sugar, buttery caramels flavored with Japanese yuzu kosho (a chile-citrus paste) and lovely handmade chocolates. I can't help thinking, though, that all of them would be better with the sweetness turned down a notch.
Lately, Providence is attracting a crowd that's more likely to be younger than not. Great seafood is, of course, the primary reason. But Providence is also less buttoned up than traditional fine dining restaurants. And that crisp but warm and relaxed service is what Cimarusti's partner Donato Poto, former general manager at Bastide, brings to the table. Sommelier Drew Langley has also put together a broad-ranging wine list that always has something new and interesting, such as the Gramona Gessami from Spain's Penedès region that goes beautifully with a plate of oysters.
At five years, Providence has come into its own, driven by Cimarusti's sensitive and exacting cooking. Almost 15 miles inland, the kitchen at Providence is consistently turning out the best seafood cooking in Los Angeles — and some of the best in the country.
Providence ✭✭✭
LOCATION: 5966 Melrose Ave., Los Angeles; ; https://www.providencela.com.
PRICE: Raw bar and cold starters, $18 to $25; hot starters, $15 to $26; main courses, $35 to $49; desserts, $9 to $12. Five-course market menu, $65; full tasting menu, $110; chef's menu, $160 per person. Wine pairings available. Corkage fee, $30; no corkage fee on Mondays.
DETAILS: 6 to 10 p.m. Monday to Friday; 5:30 to 10 p.m. Saturday; 5:30 to 9 p.m. Sunday. Lunch is served Friday only from noon to 2:30 p.m. Valet parking, $6.
Rating is based on food, service and ambience, with price taken into account in relation to quality. ✭✭✭✭: Outstanding on every level. ✭✭✭: Excellent. ✭✭: Very good. ✭: Good. No star: Poor to satisfactory.
---
Get our L.A. Goes Out newsletter, with the week's best events, to help you explore and experience our city.
You may occasionally receive promotional content from the Los Angeles Times.