A rosé wine primer for beginners, experts and weirdos
What is there to "know" about rosé wines? Grape juice, bled or blended or vinified pink, liberally applied on hot sunny days, made to chill, glug, repeat? Well, yes, that's about it. Except that the market for rosé, once a trickle, is now a flood so massive it's practically biblical. And just like the other wine categories, the offerings fall into subsets of quality, style and accessibility. How do you navigate this new pink torrent?
Let's get a few ground rules out of the way: The first is that rosés should be very, very dry. If not, then they're not doing their job, which is to refresh, quench thirst and stimulate the palate. Beyond this, it's helpful to break them all down into three subsets: rosés for beginners (fail-safe bottles to pick up and guzzle down, generous, delicious, soothing); rosés for experts, (a bit more challenging, elusive and serious); and rosés for weirdos (iconoclastic, experimental, odd, delightful — some traditional, some not).
This spring I asked a group of Los Angeles independent wine retailers to suggest wines in each of these categories. As buyers, it's their daily task not only to navigate the influx of ros but to convey the right wine to the right imbiber. I hit up Lou Amdur (Lou Wine Shop), Jill Bernheimer (Domaine LA), Samantha Dugan (Wine Country), Randy Clement (Everson Royce, Silverlake Wine) and Dan Perrelli (Wine Hotel). Here's what we came up with.
Beginners:
While dry rosé is made all over the world, its ancestral home is the south of France, and this is where beginners ought to begin. This is warm, Mediterranean France, where the sun is hot, the air is dry, the dining is alfresco and the thirst is nonstop. The warmth of these places — Provence, Corbieres, Lirac, Tavel, Nimes, Ventoux — tends to guarantee a generous fruit profile. Best of all, many are affordable; all of these hover around $15.
Dugan recommends a delicious, accessible wine called Côte Mas Aurore, blending mostly Cinsault and Grenache. That's a liter, for about $10.
Perrelli selects a Ventoux from Domaine de Fenouillet that blends direct press and saignée Cinsault and Grenache juice for a crunchy, lip-smacking pink (about $12).
Clement suggests a Costières de Nimes Rosé from Chateau Mourgues du Gres called Fleur d'Eglantine, a blend of Mourvèdre, Grenache, Syrah and Carignane that's dry, affordable and thirst-quenching (about $12).
Bernheimer recommends a wine from Domaine de Sulauze in Aix-en-Provence called Pomponette, an organically grown Grenache blend that's warm, refreshing and mildly floral (about $16).
Amdur recommends the Domaine Fontsainte Corbières Gris de Gris, which differs slightly from these others in that it's made with the Grenache Gris variety, which is sort of grayish pink on the vine, and can be made via direct pressing, as opposed to juice that's been bled off (saignée) of red grapes (about $15).
Experts:
Now it gets interesting. In this category we can find better made, more sophisticated, more serious wines, wines that are drier and more mineral, and oftentimes paler (though not always).
While we won't altogether depart from France, we welcome wines from other parts of the world, from, say, Germany, not known for pink wines (thank you, global warming!), and the U.S., where often the more interesting pinks come from unusual, late ripening varieties and are nearly always direct-press.
In France, a subtler shade comes to us by way of the Loire, where the climate is cooler and the wines can be much more herbal, mineral and soft-spoken, such as the Rosé de Loire that Perrelli recommends from Anjou producer Thibaud Boudignon (about $25). Boudignon makes this herby, zippy rosé of cabernet franc possessing what Perrelli calls "a soulful precision."
Dugan suggests a Mourvèdre-based Bandol, from the serious side of Provence pinks. This one comes from Chateau Val D'Arenc, a wine she calls "powerfully graceful," despite its delicate salmon color, and the first vintage by winemaker Gerald Damidot imported to California (about $24).
Bernheimer recommends a German pink from Schafer Fröhlich, a rosé of Spatburgunder (what the Germans call Pinot Noir) from the up-and-coming winemaker Tim Fröhlich, in the Nahe. Bernheimer describes this blanc des noirs wine as "very pale and delicate," possessing what she calls "polished acids," delivering a mouth-feel that's suave and invigorating (about $23).
Clement recommends Arnot-Roberts' Lake County rosé. This light, orange-scented wine is made from the Portuguese variety Touriga Nacional, grown at a warm site in Lake County and has, Clement says, "a funky and fresh personality" (about $25).
Amdur recommends a Corsican rosé from Domaine de Marquiliani called Le Rosé de Pauline, which he calls "delicate, ephemeral, and nearly paper white," composed of the "secret weapon" sciaccarellu, also known as mammolo, a lesser variety grown in Tuscany (about $26).
Weirdos:
The only thing that links the wines in the "weirdo" category is, roughly, the shade in the glass. Scents, flavors, textures and body all differ, and unlike most of the rest of these selections, you may want to linger with these wines a bit — their complexity and eccentricity may merit a bit of contemplation.
Though having said this, you'd be hard-pressed to linger with a Basque Txakolina (choc-o-LEEN-a) Rosado from Finca Jakue, recommended by Dugan, blended from white and red grape musts, this is the winery's first attempt at rosé, irrepressibly bright, strawberry-fruited, tangy and effervescent (about $17).
Amdur recommends La Clarine Farm's 2014 Alors, a Counoise-heavy rosé blend from the Sierra Foothills with a spicy, herbal flavor and the benefit of a year in the bottle to develop a little composure and headiness (about $25).
Clement nominates Nomine Amoris, a fermented-on-skins Pinot Gris from Escondido-based J. Brix, texturally gripping and subtly spiced (about $26).
And let's leave you with the exotic Provencal pink Clos Cibonne (about $27), made from an obscure variety Tibouren and aged in barrels that expose the wine to a veil of lees (known as fleurette) on the surface of the wine, which wears a hint of nutty oxidative note, "just a hint of umami," says Bernheimer.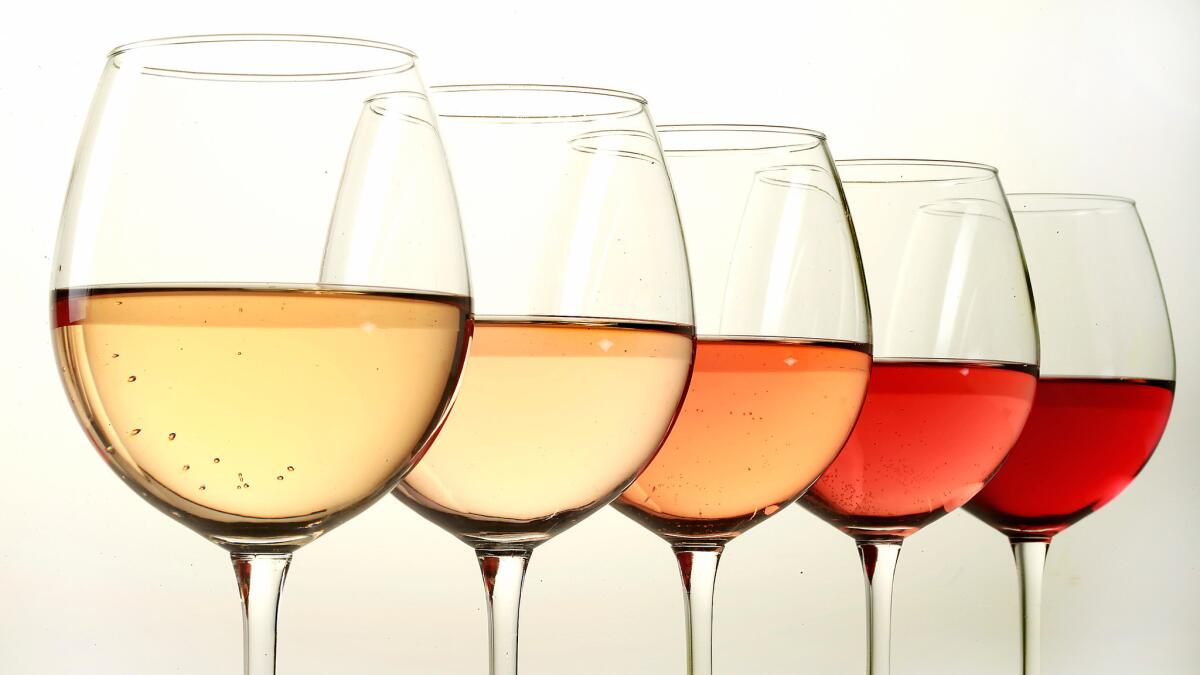 Unless otherwise noted, all wines are from the 2015 vintage.
Beginners:
Côte Mas Aurore Sud de France, at Wine Country, K&L Wine Merchants, about $10.
Domaine de Fenouillet Ventoux, at Wine Hotel, Domaine LA, John & Pete's, about $12.
Chateau Mourgues du Gres Costieres de Nimes Fleur d'Eglantine, at Hi-Time, Woodland Hills Wine Co. and Wine Exchange, about $12.
Domaine de Sulauze Aix-en-Provence Pomponette, at Domaine LA and Lincoln Fine Wines, about $16.
Domaine Fontsainte Corbieres Gris de Gris at Lou Wine Shop, Du Vin, Eno and Hi-Time, about $15.
Experts:
Thibaud Boudignon Anjou Rosé, at the Wine Hotel, about $25.
Chateau Val D'Arenc Bandol, at Wine Country, Wine House and K&L, about $24).
Schafer Fröhlich Blanc des Noirs Trocken at Domaine LA, Woodland Hills Wine Co., K&L and Wine Country, about $23.
Arnot-Roberts Lake County Rosé of Touriga Nacional at Everson Royce, Silverlake Wine and Domaine LA, about $25.
Domaine de Marquiliani Le Rosé de Pauline vin de Corse, at Lou Wine Shop and the Wine House, about $26.
Weirdos:
Finca Jakue Getariako Txakolina Rosado at Wine Country (about $17).
La Clarine Farm 2014 Sierra Foothills Alors, at Lou Wine Shop and Domaine LA, about $22.
J. Brix Santa Maria Valley Nomine Amoris, Pinot Gris, about $26.
Clos Cibonne Tibouren Rosé, at Domaine LA, Wine House, and K&L, (about $25).
Get our L.A. Goes Out newsletter, with the week's best events, to help you explore and experience our city.
You may occasionally receive promotional content from the Los Angeles Times.