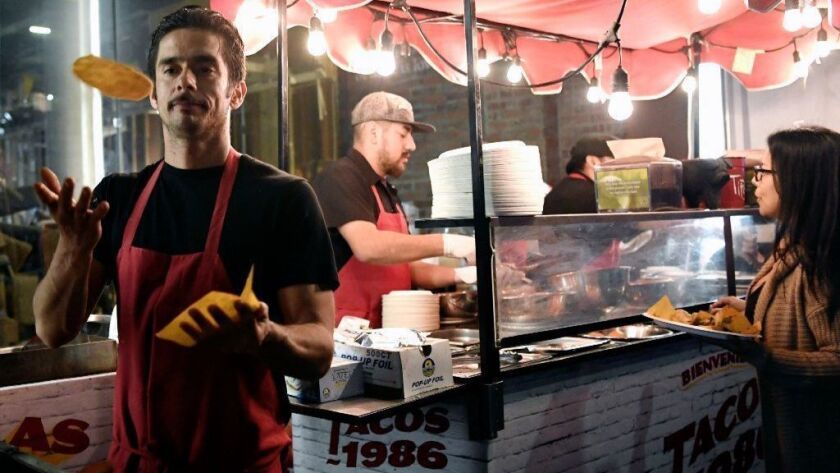 Restaurant Critic
Major transitions are happening for two high-profile businesses I reviewed during my first few months as one of the new restaurant critics for the Los Angeles Times.
Downtown's Simone announced today that the restaurant, which opened last September, will reboot itself in the next month: It will be called Duello, which is the name of the existing bar area that operated within the Simone space. The restaurant aims to re-launch on May 4 with a new, more affordably priced menu and some minor refurbishing.
The restaurant's dining room will serve its last dinner service on Saturday night; the bar area, under the continued supervision of beverage manager Iain McPherson, will reopen Wednesday, April 10 and operate throughout the restaurant's transition.
Following the mid-March departure of opening chef Jessica Largey, chef de cuisine Jason Beberman stepped into the leadership role. As part of a limited bar food menu, Beberman will be workshopping new dish ideas for the restaurant, including fried smelts and chicharrones over pork belly. Beberman plans a menu for the restaurant that will be more casual, and reflect more global influences, than Largey's upscale, California-inspired cooking.
Meanwhile, fans of street-food sensation Tacos 1986 noted a March 13 posting on Instagram letting customers know that they lost their location on the corner of South Western Avenue and 6th Street in Koreatown. Tacos 1986 owner Victor Delgado said that construction on a new bar drove them from their location in front of a defunct Caffe Bene coffee shop.
After some experimentation with short-lived sites on the city's west side, Delgado and taquero-frontman Jorge "Joy" Alvarez-Tostado are currently working out of a commissary kitchen near Koreatown; the Tijuana-style tacos filled with mushrooms, grilled beef, grilled chicken and adobada (marinated pork) carved from a trompo can be ordered via delivery apps such as Postmates and Uber Eats.
Delgado and Alvarez-Tostado will soon set up their stand for two weeks at Coachella, and they remain committed to their pop up on Sundays at Smorgasburg in Row DTLA. The two say they're on the hunt for a brick and mortar storefront so would-be regulars won't have to keep wondering where they might turn up next.
Instagram: @bill_addison
Twitter: @billaddison
---