Review: Simone is a big Arts District production in need of cohesion
Restaurant Critic
Any steak overcooked to ruin feels like a bitter waste. It's particularly vexing when that fate befalls an exquisitely dry-aged, 36-ounce rib-eye from California-raised beef — a steak so marbled it brings to mind aerial views of sinuous river deltas. I've ordered this behemoth twice at Simone in the downtown Arts District, and I've witnessed its beauty annihilated both times.
The rib-eye presentation feeds at least four, costs $180 and comes with a whirl of sides and sauces; they change nightly depending on the kitchen's improvisations. A server mentioned the array was inspired by the banchan accompanying grilled meats in Korean barbecue restaurants. As part of the Simone feast, I've had jerky-like strips of dried rutabaga, brown rice porridge, grilled broccolini with garlic chive kimchi, less-than-crisp roasted potatoes and, least enjoyably, waterlogged cucumber slices coated in cashew pesto. None of them really evoked the punchy flavors of the best banchan, nor did they channel the gilded richness of classic chophouse sides.
With fanfare, the rib-eye itself arrived pre-sliced in a cast-iron skillet preheated to such intensity that it was literally searing. My crew plucked out a few rosy slices, cooked to the medium-rare we requested; I relished the meat's visceral tang and funk. When we returned to the skillet for more, the steak was a toppled stack of faded gray dominoes — cooked to literal hell in the skillet's residual heat. Servers seemed oblivious to our dismay over the situation. Have no other customers ever expressed concern about such an expensive misstep? Had no one in the kitchen ever thought this outcome all the way through?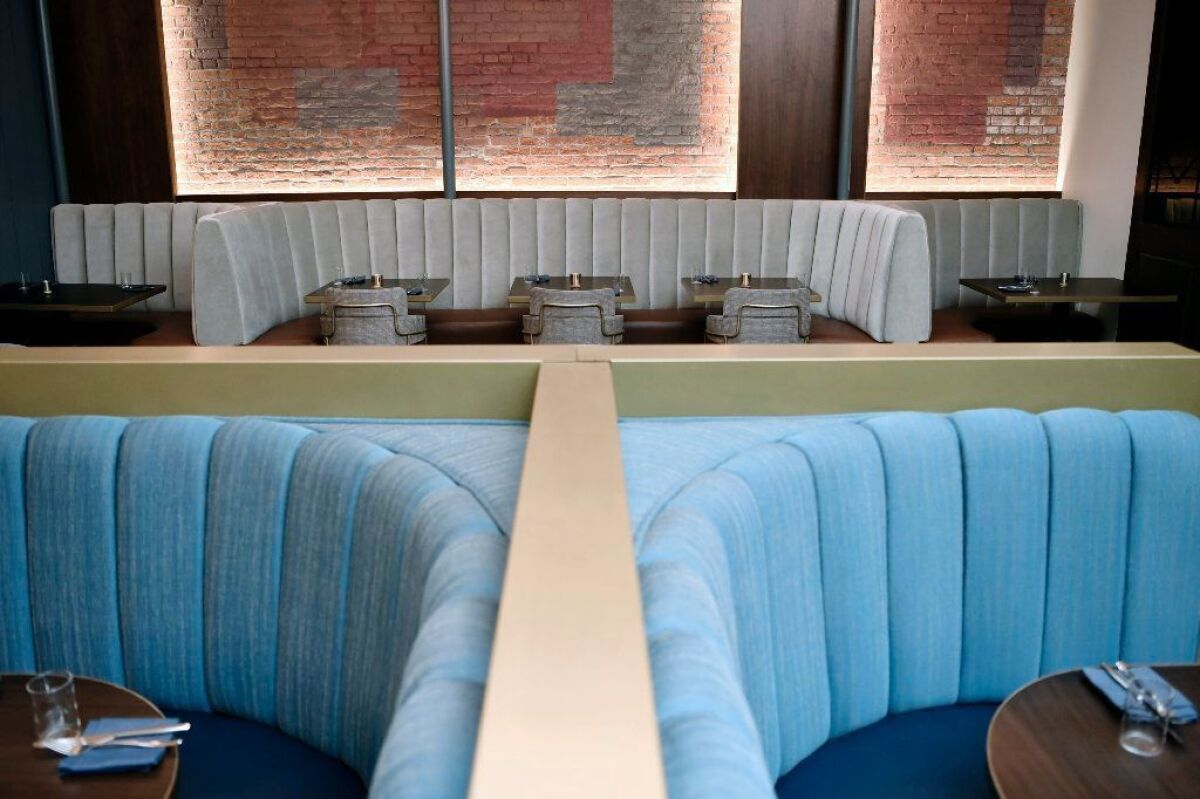 It's the restaurant's most egregious blunder, but it's hardly the only aspect of Jessica Largey's modern Californian restaurant that under-delivers. Dining at Simone feels strangely shapeless. It opened in September. At its five-month mark, its approach to hospitality lacks a reliable sense of cohesion. The menu reads like a spec sheet of trending ingredients, though too few dishes yield out-and-out pleasure or personality, and too many falter in execution.
Given Largey's accomplishments, this is baffling. She earned national acclaim as chef de cuisine at David Kinch's Manresa in Los Gatos, Calif., a tasting menu restaurant that broke down barriers between Bay Area garden worship and cerebral modernist techniques. I fell under Manresa's spell near the end of her tenure there. The placement of every tiny strawberry or bubble of foam looked like it had been mapped using tracing paper, but then the food was so bright and immediate and grounding that by the meal's end I wasn't sure if I'd ever really understood the meaning of freshness before.
Review: Lao-style barbecue seizes the spotlight at Kra Z Kai's in Corona »
Largey won the James Beard award for rising star chef of the year in 2015 and left Manresa shortly afterward to begin work on her solo project. Film director Joe Russo signed on as an investor. Facing delays, Simone took three long years to come to life.
Taking cues from its 1920s origins, Simone's space luxuriates in Art Deco details: Geometries curve and zigzag through every chair, every light fixture, every tile. The glamour's over-the-top excessiveness evokes an '80s take on Deco revival: It's the dining room equivalent of Cybill Shepherd in shoulder pads.
That vibe extends to the front bar, a 25-seat pastiche of burgundy leather, streaky white marble and neutral-toned stained glass bathing in twilight dimness. The bar has its own identity: It's called Duello. The cocktail menu, fashioned by Iain McPherson, details the Arts District's bygone wine and citrus production and the advent of the 1970s "Young Turk" artist collective. Beyond all the verbiage, the drinks show genuine savvy. The gimmick of infusing cocktails with smoke under glass is tired, but a boozy number named New Order won me back. Fueled by mezcal and tequila and clarified milk punch, the potion emerges dramatically from a billow of palo santo smoke with a desert-firewood scent that honestly complements the spirits.
Imbibing this drink was the only fun part of a 45-minute wait for the table I'd reserved one recent Friday night. The restaurant designates no space for people forced to linger inside. Every bar seat was filled; there was no place we could stand where we didn't feel trapped in the center of foot traffic. The staff handled our displacement awkwardly, not sure at first whether to even take a drink order, or to give us glasses of water once they did, or how to put a check and pen in my hand with no place to put my glass while I signed the bill (with no offer to transfer the tab to the dinner check). If I hadn't been on the job, I'd have scrawled my signature and left to eat elsewhere.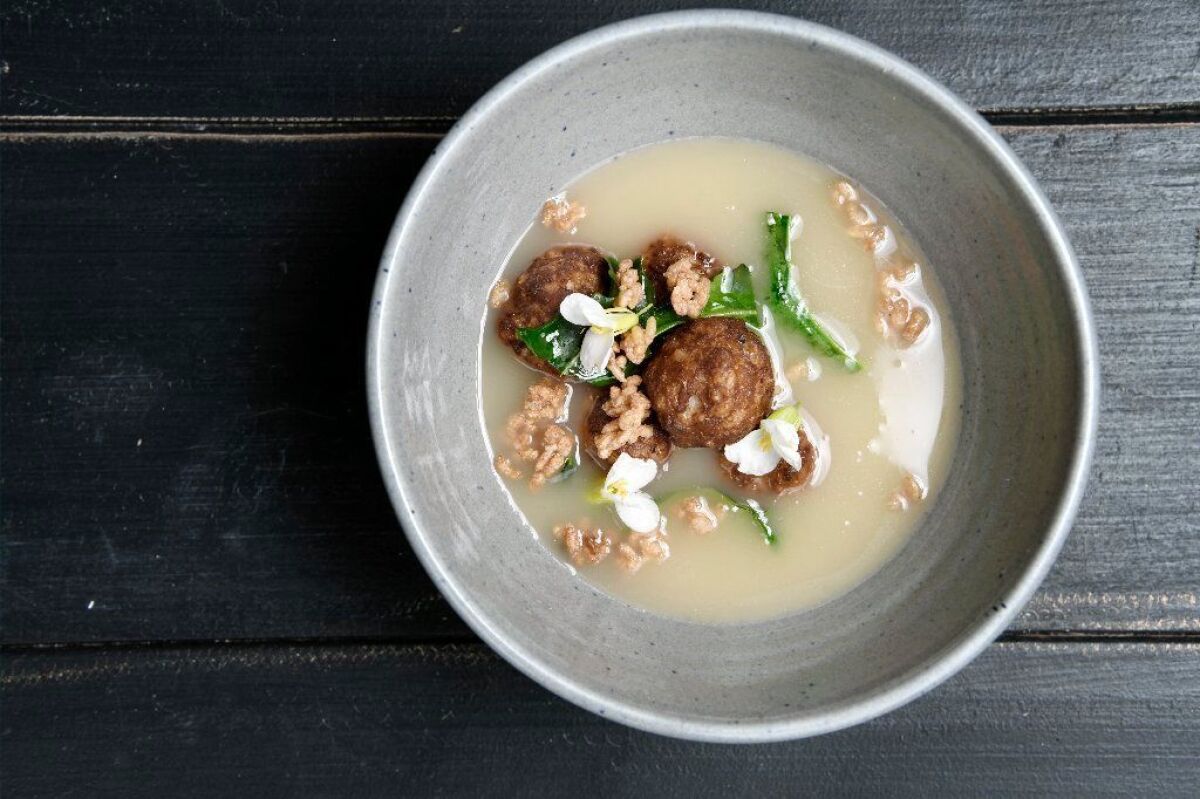 I can play ping-pong ticking off the kitchen's hits and misses: an under-seasoned plate of sweet potatoes with tahini and harissa vinaigrette, a lovely collage of scallops with winter squashes sharpened with passion fruit and rounded with orange browned butter. A starter of pork meatballs never disappointed, its Parmesan broth so rife with uplifting umami that it felt like drinking liquid endorphins. Casarecce (a grooved, tubular pasta) was cooked to gumminess but otherwise wore a coordinated trio of dill-cashew pesto, fried Brussels sprouts and bacon. Basque cheesecake — a dessert du jour across the country, defined by its airy texture and scorched crown — didn't need an earthy-sour parsnip puree for contrast.
Execution issues or quibbles with flavor combinations aside, it's hard to pinpoint a dynamic point of view in the cooking. For a gifted chef and proven leader, Largey's menu overly relies on contemporary tropes: beef tartare (ubiquitous at this point), burrata with fruit (nearly impossible to botch), grilled cabbage (the new kale), pork collar (the hip omnivore's pork chop). She calls her cuisine Californian, but that can mean anything. If Simone is meant to be a renewed proclamation of seasonality and sense of place, the flavors had better perform somersaults on the taste buds — and mostly they trod along pleasantly enough.
I did glimpse her genius with simplicity in another meant-for-a-group entree recently introduced to the menu: roast duck, skin translucent and crackling, dotted with citrus and served with lobes of duck leg confit, loamy chanterelle mushrooms and beautifully browned turnips. Nothing about the dish felt cribbed or forced or affected. It just tasted wonderful.
Maybe the duck's triumph is a harbinger: This month Largey plans to start dipping back into her past. She's adding a $185 per-person tasting menu option a couple of nights a week at the six-seat chef's counter that overlooks the kitchen. Part of me is excited to see her return, entirely on her own terms, to the dining format that earned her initial acclaim. But mostly I'd like to see Simone, with its many disjointed parts, succeed as a coherent sum.
Simone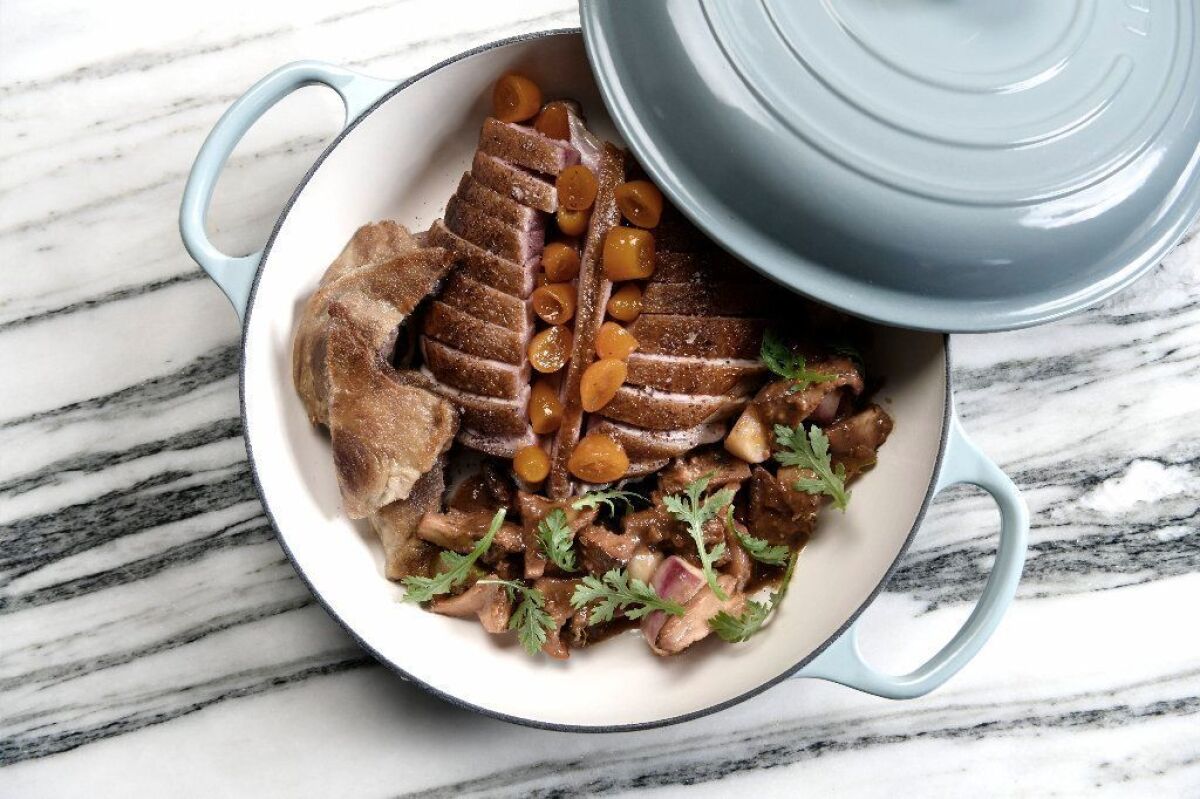 In Art Deco splendor, acclaimed chef Jessica Largey makes her long-in-coming Los Angeles debut — though the modern California menu doesn't always live up to expectations.
LOCATION
449 Hewitt St., Los Angeles, (424) 433-3000, simoneartsdistrict.com.
PRICES
Smaller plates $10-$22; mid-size plates $16-$24; entrees $38-$40; large-format platters $68-$180; desserts $12-$14.
DETAILS
Credit cards accepted. Full bar. Wheelchair accessible. Valet parking.
RECOMMENDED DISHES
Burrata with seasonal fruit; pork meatballs; roast duck; Basque cheesecake.
Instagram: @bill_addison
Twitter: @billaddison
---
Get our L.A. Goes Out newsletter, with the week's best events, to help you explore and experience our city.
You may occasionally receive promotional content from the Los Angeles Times.