Culinary S.O.S.: Big Bad Breakfast's pain perdu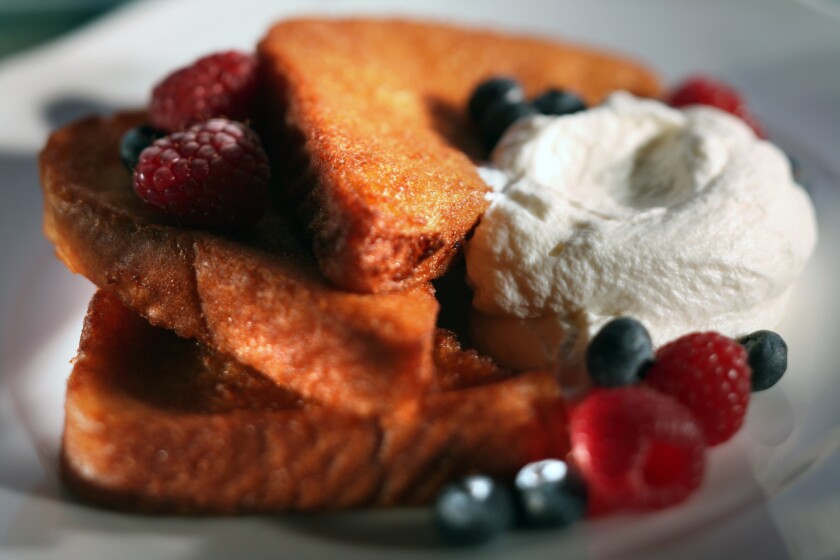 Los Angeles Times
Dear SOS: During a trip to north Mississippi and the Delta, we ate a memorable meal at Big Bad Breakfast in Oxford. The brandy-spiked pain perdu was a stand-out among the dishes we ordered (with stiff competition from the house-cured bacon and biscuits). Since I don't anticipate being back in the area soon, is there any chance you can obtain the recipe? Thanks.
Kay Behrens
Claremont
Dear Kay: How can you go wrong with this breakfast? Take fluffy, thick slices of Texas toast soaked in a lightly sweetened, brandy-spiked batter, then lovingly pan-fry them to crisp, golden perfection. Serve the slices with a dollop of fresh-whipped chantilly cream and garnished with a handful of berries. I can't think of a better way to start the day. Enjoy!
Big Bad Breakfast's pain perdu
Total time: 35 minutes
Servings: 4
Chantilly cream
1 cup whipping cream
2 tablespoons powdered sugar
1/2 teaspoon vanilla extract
In a large bowl, whisk the cream, powdered sugar and vanilla until soft peaks form. Cover and refrigerate until needed; the chantilly cream can be made up to 1 hour in advance.
Pain perdu and assembly
4 eggs
2 tablespoons sugar
1 tablespoon vanilla extract
1/4 teaspoon salt
1/2 cup half-and-half
1/4 cup brandy
Peanut oil for frying
6 slices Texas toast or country white bread cut into 3/4-inch thick slices
Powdered sugar, fresh berries and/or Chantilly cream to garnish
1. In a large bowl, whisk together the eggs, sugar, vanilla, salt, half-and-half and brandy until thoroughly combined to make the batter.
2. Add enough oil to come up the sides of a deep cast iron skillet by about 1 inch. Heat the oil until a thermometer inserted reaches 325 degrees.
3. Halve the bread slices diagonally. Dredge a couple slices in the batter until both sides are thoroughly soaked. Lift the slices out of the batter and allow to drain briefly.
4. Carefully place the bread into the fry oil and fry each side until golden-brown, approximately 1 minute per side.
5. Remove the toast from the oil and drain on paper towels. Repeat with the remaining slices until all are fried.
6. Serve the pain perdu, three pieces to a plate. Garnish as desired. The restaurant serves the dish topped with powdered sugar, berries and chantilly cream.
Each of 4 servings: 675 calories; 13 grams protein; 45 grams carbohydrate; 2 grams fiber; 46 grams fat; 20 grams saturated fat; 305 mg cholesterol; 14 grams sugar; 566 mg sodium.
---
Get our weekly Tasting Notes newsletter for reviews, news and more.
You may occasionally receive promotional content from the Los Angeles Times.