Culinary SOS: Upper West's roasted veggie burger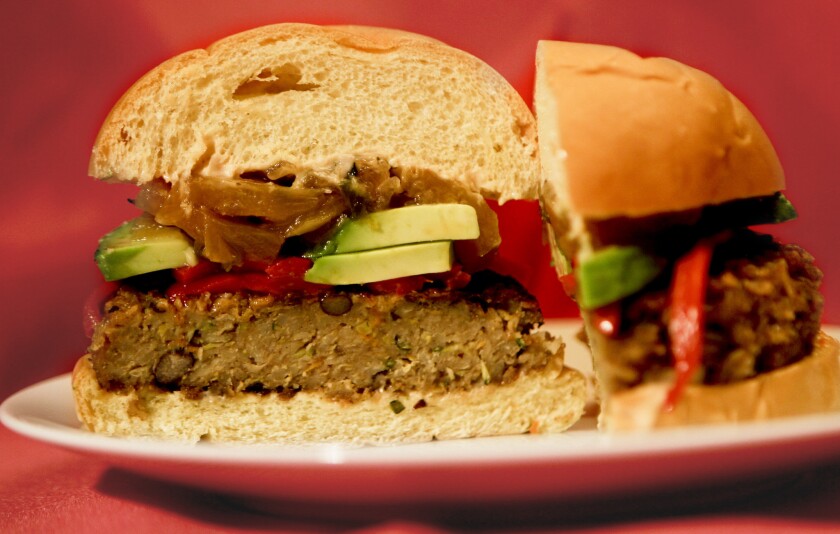 Dear SOS: Have you tried the roasted veggie burger at Upper West in Santa Monica? If you haven't, you must. It is hands down the best veggie burger on the planet. Would love to see if the Los Angeles Times Test Kitchen can come up with the recipe.
Carly Irion
Santa Monica
Dear Carly: Upper West's version of the veggie burger is a wildly flavorful combination of ingredients, packed into a generous patty and grilled to perfection. Served topped with a thick, smoky tomato aioli, roasted piquillo peppers, sliced avocado and a chunky, sweet-tart pineapple relish, this is one burger that might even make a convert out of the most ardent meat lover (at least temporarily).
Upper West's veggie burgers
---
Our recipes, your kitchen: If you try this or any other recipe from the L.A. Times Test Kitchen, we would like to know about it so we can showcase it on our food blog and occasionally in print. Upload pictures of the finished dish here.
---
Total time: About 3 hours, plus cooling times
Servings: 6
Note: Adapted from Upper West in Santa Monica. Shred the vegetables and cheese using the shredder attachment on a food processor; a grater can also be used. Liquid smoke is available at most well-stocked supermarkets. Roasted piquillo peppers, packed in jars or cans, are available in gourmet markets and select well-stocked supermarkets.
Tomato aioli
2 1/2 teaspoons fresh thyme
1 tablespoon plus 1¾ teaspoons dried oregano
1 teaspoon extra-virgin olive oil
2 tomatoes, halved lengthwise
1 1/4 teaspoons liquid smoke
1 1/2 cups mayonnaise
Salt, to taste
In a large bowl, mix together the thyme, oregano and oil. Add the tomatoes and toss to combine. Heat a grill (or grill pan) over medium-high heat until hot. Grill the tomatoes until softened, about 4 to 5 minutes depending on the heat. Remove the tomatoes to a blender and pulse until smooth. Combine the softened tomatoes with the liquid smoke and mayonnaise in a large bowl and mix well to combine. Season to taste with salt. This makes about 2 cups aioli, more than is needed for the recipe; the aioli will keep, covered and refrigerated, for 1 week.
Pineapple relish
Oil for grilling
1 pineapple, peeled, cored and sliced into ¼-inch slices
1/2 red onion, diced
1/2 cup diced jalapenos (from about 6 jalapenos), or to taste
1 1/4 cup white wine vinegar
1 1/2 cups water
1/4 cup plus 2 tablespoons honey
1 tablespoon sugar
1/2 teaspoon salt
Heat a grill or grill pan over medium-high heat until hot. Brush with a thin coat of oil, then add the pineapple slices and grill until nicely charred, 2 to 4 minutes on each side. Cool the pineapple, then dice into one-fourth- to one-half-inch pieces. In a large saucepan, combine the pineapple, onion, jalapeno, vinegar, water, honey, sugar and salt over low heat, and cook until almost all of the liquid is evaporated, about 45 minutes, stirring occasionally. Chill, uncovered, on a rimmed baking sheet in the refrigerator. This makes 4 cups relish, more than is needed for the recipe; the relish will keep, covered and refrigerated, up to 2 weeks.
Veggie burgers and assembly
1 onion, grated
3 cloves garlic, chopped
2 carrots, shredded
1 large (or 1½ medium) yellow squash, shredded
1 large (or 1½ medium) zucchini, shredded
2/3 cup white wine
1 tablespoon ground cumin
1 teaspoon ground yellow curry powder
2 teaspoons kosher salt, more to taste
Scant ¾ teaspoon black pepper
3 1/3 cups rolled oats
1 1/4 cups cooked black beans
1 egg, beaten
2 tablespoons plus 2 teaspoons soy sauce
2/3 cup shredded Cheddar cheese
1 1/3 cup panko (Japanese-style) bread crumbs
Flour for dusting
Oil for pan frying
Tomato aioli
Sliced roasted piquillo pepper
Sliced avocado
Pineapple relish
Hamburger buns, preferably brioche
1. In a large saute pan, combine the onion, garlic, carrot, squash and zucchini with the wine over medium-high heat. Cook the mixture until the vegetables are softened and the liquid is mostly absorbed, 12 to 14 minutes.
2. Stir in the cumin, curry powder, salt, black pepper, oats and black beans. Continue to cook, stirring gently, for an additional 5 minutes to develop the flavors. Remove from heat and set aside to cool.
3. In a large bowl, whisk together the egg and soy sauce, then add the cheese and panko crumbs. Add the cooled vegetable mixture and stir well to combine.
4. Divide the mixture evenly into 6 mounds. Press each mound together, forming a patty. Lightly dust the patties with flour.
5. Heat a griddle or large saute pan over medium-high heat. Grease with a little oil, then add the patties (do not crowd; this may need to be done in batches). Pan-fry until crisp and dark brown on each side and the center is cooked through, about 5 minutes. Timing will vary depending on the heat of the griddle or pan, cover the griddle or pan with a lid so the center cooks along with the outside of the burgers. Keep the burgers warm until all are cooked through.
6. To assemble each burger: Spread the inside of each side of the bun with 2 tablespoons tomato aioli, or to taste. Place a burger on the bottom bun, then top with a sprinkling of piquillo peppers. Layer with sliced avocado, then top with 3 tablespoons pineapple relish, or to taste. Place top bun on each burger. Serve immediately.
Each assembled burger: 877 calories; 22 grams protein; 91 grams carbohydrates; 12 grams fiber; 47 grams fat; 15 grams saturated fat; 157 mg cholesterol; 16 grams sugar; 1,186 mg sodium.
SOS REQUESTS: Send Culinary SOS requests to noelle.carter@latimes.com or Culinary SOS, Food section, Los Angeles Times, 202 W. 1st St., Los Angeles, CA 90012. Please include your name, phone number and city of residence.
---
Get our weekly Tasting Notes newsletter for reviews, news and more.
You may occasionally receive promotional content from the Los Angeles Times.