Culinary SOS: The Oceanaire Seafood Room's Maryland-style crab cakes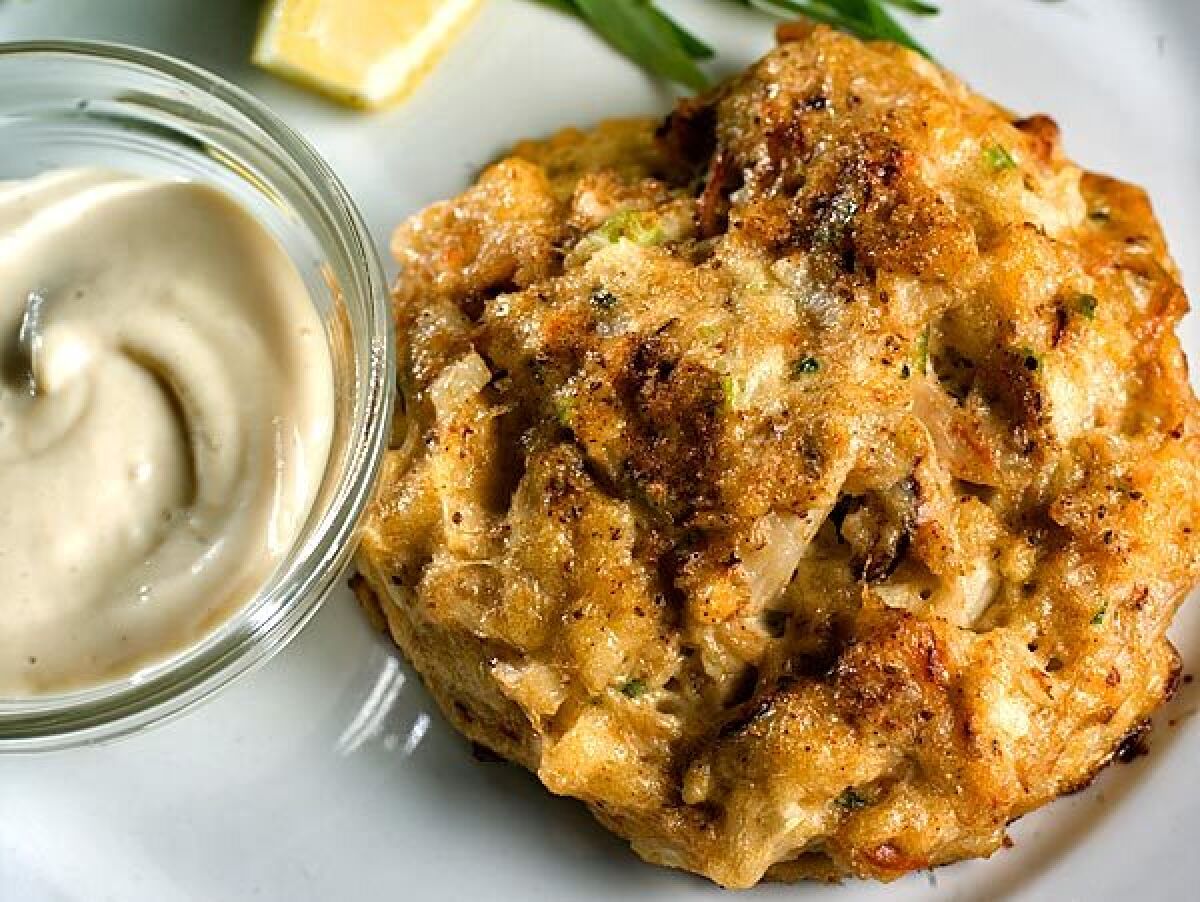 Dear SOS: Last February I ate dinner at the Oceanaire Seafood Room in Washington, D.C. The food was fab. Can you get the recipe for the crab cakes? They are served as an appetizer and as an entrée. There is nothing like them. The cake is more like a scoop of chicken salad than a formed, consolidated cake.
Ellen Eubanks
Monrovia
Dear Ellen: Oceanaire Seafood Room was happy to share its recipe for these tender, soft crab cakes. The cakes are baked, not fried, and can be assembled a few hours ahead of time and refrigerated, then baked before serving. Perfect if you're planning for company!
The Oceanaire Seafood Room's Maryland-style crab cakes
Total time: 40 minutes
Servings: Makes 8 (4-ounce) crab cakes
Note: Adapted from the Oceanaire Seafood Room. The restaurant recommends serving the cakes with mustard mayonnaise (mayonnaise seasoned with a small amount of dry mustard, Dijon mustard, Worcestershire sauce and salt and thinned with a little cream) or tartar sauce.
2 eggs
1 cup mayonnaise
3/4 teaspoon Dijon mustard
1 1/4 teaspoons Old Bay Seasoning, divided
3/4 teaspoon fresh chopped tarragon
1/4 cup finely chopped onion
1 tablespoon finely chopped celery
1/4 pound (scant 2 cups) crustless cubed white bread (about 1/4 loaf), cut into small cubes
1 pound jumbo lump crab meat, drained of any liquid
2 tablespoons butter, at room temperature
1. Heat the oven to 400 degrees.
2. In a medium mixing bowl, whisk together the eggs, mayonnaise, mustard, three-fourths teaspoon Old Bay Seasoning, tarragon, onion and celery to make a dressing.
3. In a large mixing bowl, toss the bread with half of the dressing, mixing until the dressing is absorbed by the bread and the cubes are slightly broken up. Add additional dressing if the cubes are too dry.
4. Gently mix in the crab, being careful not to break up the lump pieces. The mixture should hold its shape when formed into a ball with your hand. If it is too dry, add additional dressing until the mixture comes together. You might not use all of the dressing.
5. Divide the mixture and form into 8 crab cakes. Place the cakes on a greased cookie sheet or sheet pan.
6. In a small bowl, stir the butter together with the remaining one-half teaspoon Old Bay Seasoning. Top each cake with a small dollop of the seasoned butter.
7. Bake the cakes until golden brown, about 10 to 12 minutes. Serve warm.
Each crab cake: 231 calories; 14 grams protein; 8 grams carbohydrates; 0 fiber; 16 grams fat; 3 grams saturated fat; 100 mg. cholesterol; 1 gram sugar; 360 mg. sodium.
Get our L.A. Goes Out newsletter, with the week's best events, to help you explore and experience our city.
You may occasionally receive promotional content from the Los Angeles Times.