The stuffing: It's an invitation to tinker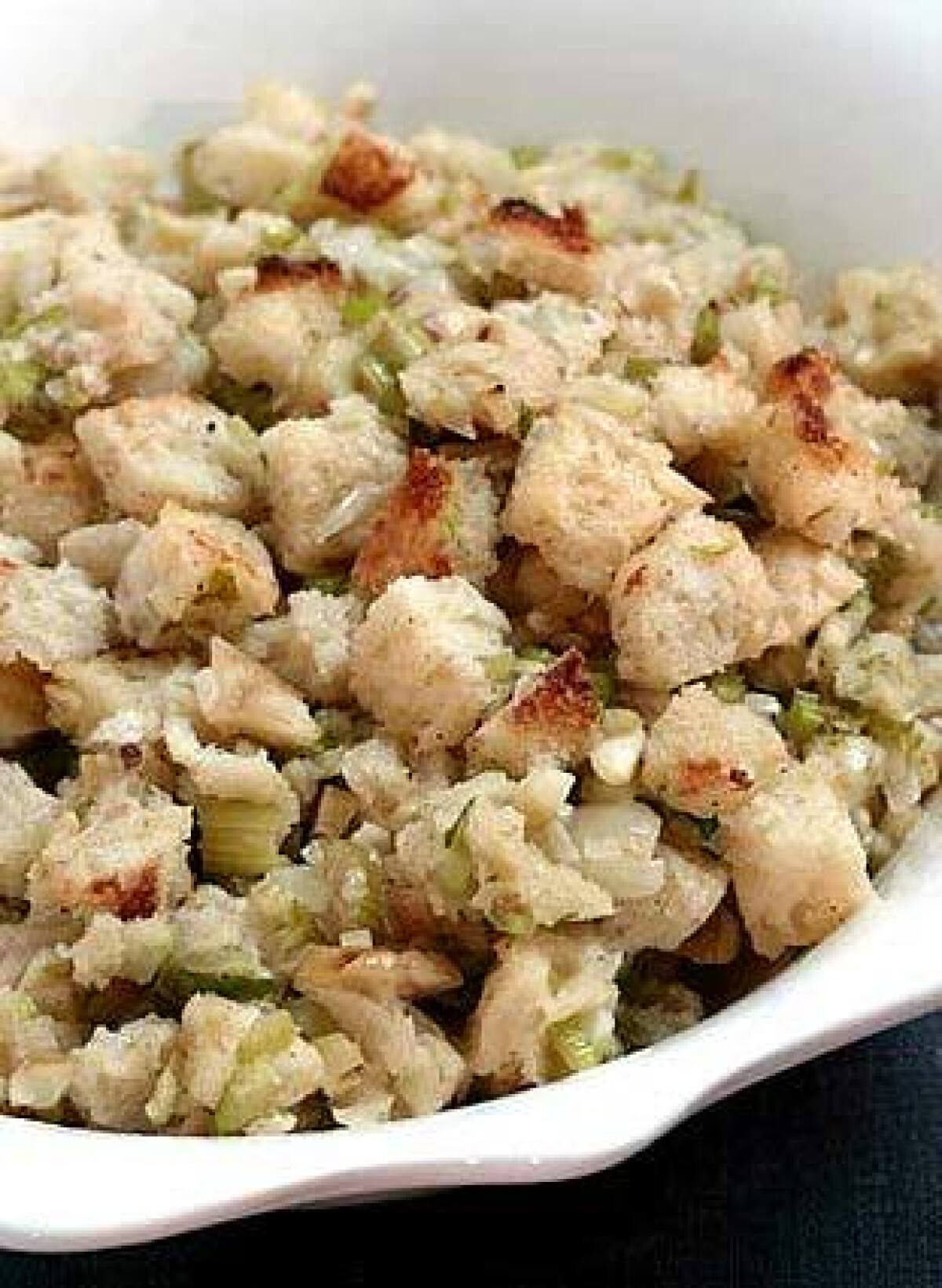 Times Staff Writer
MOST of our Thanksgiving menus are so bound by family ritual they could be carved in stone. That's why cooks are so thankful for stuffing, the one dish we can really play around with.
Sometimes this can get extreme. There are quite delicious stuffings made with Mexican tamales, a Puerto Rican chopped meat picadillo, Chinese glutinous rice and even chopped chicken livers. But for most of us, the absolutely required ingredients are few: bread cubes, a hint of aromatics to provide subtle flavor and a little liquid to keep it moist.
That's a recipe for a blank canvas if ever there was one.
Not that there's anything wrong with that. A simple bread stuffing delicately scented with sage and celery is a perfect foil for all those good drippings a turkey contributes during roasting.
But that is just one of many ways to stuff a turkey. The question is: If you're interested in flexing your creative muscles, where do you start?
One place is with the bread itself. Most stuffings these days call for dry bread cubes, but many older recipes specify bread crumbs. Bread crumb stuffings tend to be a little denser, while those made from bread cubes are a little lighter and have some variation in texture.
It is increasingly hard to find unseasoned bread cubes in grocery stores, but good stuffings require it. Seasoned bread cubes taste too much of stale, dried herbs. Good ones are simple to make: Dry fresh bread cubes in a 250-degree oven for a couple of hours, gently stirring now and then as the cubes on top dry out. This is a calming task on the day before Thanksgiving, when otherwise all heck is breaking loose.
A 1 1/4 -pound loaf of bread will make 1 pound of bread cubes, which is roughly 12 cups' worth. Figure a half-cup to three-fourths cup of bread per pound of turkey, depending on the amount of other ingredients you're adding.
White bread is the default choice — a sturdy country loaf that is not too spongy (or it will turn to mush). You can use a little sourdough, but not entirely; its flavor is too distinctive.
Southern cooks prefer cornbread (it should also be noted that this is Southern cornbread, not Midwestern, and it is slightly dry and not at all sweet beyond the natural flavor of the corn). You can use all cornbread, or substitute up to half white bread cubes for a stuffing that is lighter in texture and flavor.
The traditional seasoning for stuffing is onions and celery sautéed in butter or oil, then perfumed with a little powdered sage ("little" is the operative word here — sage is one of those herbs that quickly becomes overbearing).
One approach is simply to build on this base. A common addition is sausage — usually pork sausage of the kind commonly sold in big plastic-wrapped tubes (how did these packages come to be known as "chubs"?). This sausage is usually already flavored with sage, just like breakfast sausage, so use restraint when adding the herb.
Savor the options
ROASTED, peeled chestnuts — either chopped or ground in a food mill — are another standard option. Combine them with dried fruit or sausage or both, or leave them by themselves.
In New England and the South, oysters are a traditional stuffing ingredient — with white bread in the former, cornbread in the latter. Add a pint of drained, shucked oysters to a basic celery-and-sage stuffing and you've got oyster dressing.
If you vary the base seasoning a little, other combinations are possible. You can add some chopped green bell pepper to the oyster dressing to give it a Louisiana twist. Chopped pecans stirred in just before stuffing complete the picture.
Substituting fresh rosemary for the dried sage, and adding toasted slivered almonds or chopped walnuts and dried cherries or another dried fruit would be more Californian.
Or you can really kick out the jams. My family's favorite stuffing is made by sautéing green bell peppers, onions and celery, then adding chopped, smoked beef sausage (such as kielbasa) and finally mustard greens.
Whatever kind of stuffing you make, be gentle when spooning it into the turkey. Trying to pack too much stuffing into the bird is probably the single biggest mistake most cooks make.
As the bread cubes absorb moisture and bake, they will expand. If the stuffing is over-packed, it won't have any room to grow and it will instead get dense and heavy.
Remember that what doesn't fit inside the bird can be baked alongside in a covered casserole. Really good stuffing will be delicious even without the turkey.
*
Chestnut-sage stuffing
Total time: 30 minutes plus cooking time, which will depend on whether it's cooked in the turkey or separately
Servings: Enough for a 16-pound turkey (7 cups)
2pounds chestnuts
1/2 cup (1 stick) butter
1 cup chopped onion
2 cups chopped celery, leaves and ribs
2 bay leaves, torn in half
12 cups dried bread cubes
3 teaspoons salt
1/2 teaspoon powdered sage
2 cups turkey or chicken stock
3 eggs, lightly beaten
1. Score the chestnuts with an X on the flat side and roast at 550 degrees for 10 minutes. Remove from the oven and cover for a few minutes with a towel soaked in ice water and wrung out. Peel and chop. Set aside.
2. Melt the butter in a large skillet over medium heat. When it is nearly melted, add the onion and cook, stirring, until the onion starts to soften, about 3 minutes. Add the celery and the bay leaves and cook, stirring, until the celery softens, about 5 minutes.
3. Place the bread cubes in the biggest work bowl you can find. Remove the bay leaves from the onion mixture and pour the vegetables and butter over the bread cubes. Sprinkle with the salt and sage. Pour the stock over, stirring to moisten all the bread as evenly as possible (as it starts to get wet, it will shrink and be easier to stir). Taste and adjust seasonings, then stir in the eggs until they are completely incorporated.
4. Spoon the stuffing into the cavity of the turkey, being careful not to pack it too tightly as the bread will expand during cooking. If it is over-packed, the stuffing will be dense and heavy. Roast the turkey as you choose. Stuffing that doesn't fit in the turkey can be placed in a casserole, moistened with a little more stock, covered tightly with aluminum foil and baked alongside the turkey. It's even better if you have a second oven; start it in a cold oven set at 350 degrees and bake until the internal temperature is 155 degrees, about 30 minutes. Leave the stuffing tightly covered until ready to serve.
---
Each half-cup serving: 262 calories; 5 grams protein; 39 grams carbohydrates; 3 grams fiber; 10 grams fat; 5 grams saturated fat; 63 mg. cholesterol; 995 mg. sodium.
Variations
Chestnut-sausage stuffing:
Add one-half pound sautéed ground pork sausage.
Cornbread stuffing: Replace all or half of the bread with cubed stale cornbread. Omit the chestnuts.
Oyster stuffing: Use bread or cornbread cubes. Sauté 1 chopped green bell pepper with the onion and celery. Add 1 pint drained shucked small oysters and 1 cup chopped pecans. Omit the sage and chestnuts.
Sausage stuffing: Brown 1 pound bulk pork sausage with the onions and celery. Omit the chestnuts and, if the sausage includes sage (most bulk sausages do), omit the sage.
Dried cherry and almond stuffing: Add one-half cup dried cherries, one-half cup toasted slivered almonds and 1 teaspoon minced fresh rosemary. Omit the sage and chestnuts.
Smoked sausage and greens stuffing: Saute the onion, celery and 1 diced green bell pepper with 1 pound smoked sausage, sliced and slices quartered. Add three-fourths pound chopped mustard greens; cook until wilted. Omit the sage.
---
Get our L.A. Goes Out newsletter, with the week's best events, to help you explore and experience our city.
You may occasionally receive promotional content from the Los Angeles Times.