Recipe: Kabocha squash kimpura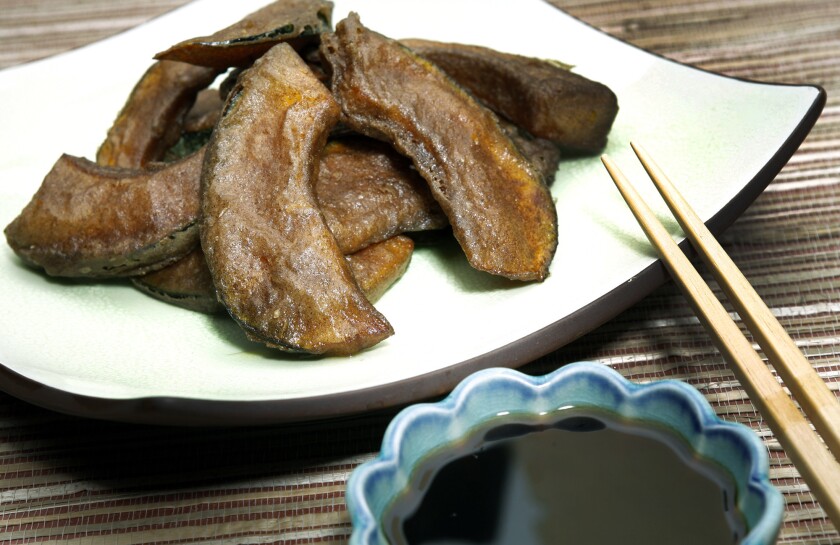 Kabocha squash kimpura
Note: This is a flavorful batter that benefits from the nutty flavor of the buckwheat. The cornstarch adds a little crispiness, but you can make it without it too. This batter works for both vegetables and seafood. Soba-ko or buckwheat soba flour can be found at Granada Market and Nijiya Market in West Los Angeles and other Japanese markets. This recipe requires a 4-quart pot, preferably cast iron, or a tempura frying pan.
1/4 kabocha squash (from a whole squash quartered lengthwise), seeded, rind left on
1 cup ice cold water
2/3 cup buckwheat soba flour, preferably Soba-ko, sifted
1 tablespoon cornstarch (optional)
Canola, peanut or corn oil for frying
Salt, for serving
Dipping sauce, for serving
1. Slice the kabocha into half-inch-thick half-moons. If the pieces are too large, cut them in half. Each piece should be about 2 or 3 bitefuls.
2. To make the batter: In a medium bowl, combine the ice water with the buckwheat flour and cornstarch. Whisk until mixture is combined. The batter will be slightly thin, sort of like syrup.
3. To make the kimpura: Heat the oil in a deep pot such as a Dutch oven or tempura frying pan (the oil should come up the sides of the pot about 2 to 3 inches), until a thermometer inserted reads 325 degrees.
4. Working in batches, dip the squash into the batter, letting the excess batter drain off so you don't have too much coating on the surface of the squash. Then deep-fry the squash, being careful not to crowd. Fry until the batter is crisp on all sides, about 2 minutes. Test a piece with a toothpick. If it comes out easily, it is done.
5. Drain the kimpura on paper towels. (It's best to stand the pieces, so they drain well.)
6. Arrange the kimpura on a plate. Serve immediately with salt or warm dipping sauce.
Each serving, without dipping sauce: 210 calories; 3 grams protein; 19 grams carbohydrates; 3 grams fiber; 15 grams fat; 1 gram saturated fat; 0 cholesterol; 1 gram sugar; 4 mg. sodium.
---
Get our weekly Tasting Notes newsletter for reviews, news and more.
You may occasionally receive promotional content from the Los Angeles Times.