Crispy, golden, flavorful: That's Terrine's pickle-brined fried chicken. Here's the recipe.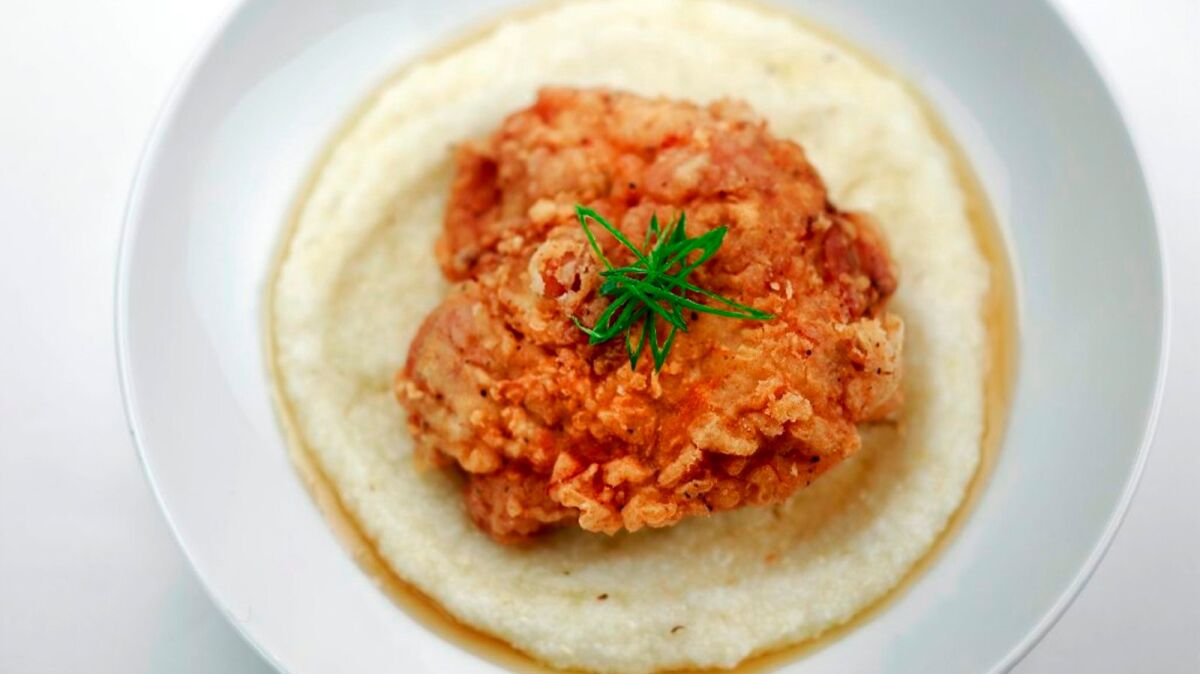 Done right, fried chicken is a beautiful thing. Unpretentious as this classic comfort food might be, there's a definite art to it: a tender piece of meat, delicately seasoned and lightly dredged with a dusting of flour, then baptized in a pool of sizzling fat to crisp, golden perfection. And while fans of fried chicken may disagree on the method, we can all agree that it requires technique, time and dedication — fried chicken is not "fast food."
At Terrine restaurant on Beverly Boulevard in Los Angeles, chef Kris Morningstar offers his take on the classic with a pickle-brined fried chicken. Morningstar doesn't brine the chicken in actual pickle juice; rather, he brines chicken thighs overnight in a mixture of pickling spice, garlic and fresh dill — at the restaurant, he also injects the thighs with brine for added flavor — and then coats them with a cayenne-flavored cornstarch slurry. After dredging them in a spiced flour coating, he rests the thighs on a rack in the refrigerator for an hour; the extra drying time makes for an extra-crisp crust. Morningstar serves the chicken over a bed of warm grits drizzled with maple syrup. The chicken has just the right amount of savory tang, the pickle brine playing nicely against the sweetness of the maple.
TERRINE'S PICKLE-BRINED FRIED CHICKEN
2 hours, 20 minutes, plus brining time. Serves 6 to 8.
BRINE
2 quarts water
1/3 cup plus 2 tablespoons plus 1 teaspoon (125 grams) kosher salt
¼ cup plus 1 heaping teaspoon (62.5 grams) sugar
6 tablespoons pickling spice
1 head garlic, split
1 ounce fresh dill
3 ½ pounds bone-in, skin-on chicken
1. In a heavy pot, combine the water, salt, sugar, spice, garlic and dill and bring to a simmer over high heat. Remove from heat and cool completely.
2. Place the thighs in a non-reactive container. Pour the brine over the thighs, keeping the thighs submerged, cover and refrigerate overnight.
PICKLE-BRINED FRIED CHICKEN
About 1 ½ cups cornstarch
2 teaspoons cayenne powder, or to taste, divided
1 cup water
1 ½ teaspoons paprika
1 ½ teaspoons Old Bay seasoning
1 ½ teaspoons ground black pepper
2 cups Wondra flour
1 ½ cups all-purpose flour
1 1/4 teaspoons kosher salt
Brined chicken thighs
Canola or vegetable oil, for frying
1. In a large bowl, whisk together the cornstarch, 1 teaspoon cayenne powder (or to taste), and the water to form a slurry. Set aside.
2. In a separate large bowl, whisk together the remaining teaspoon cayenne, the paprika, Old Bay seasoning, pepper, flours and salt.
3. Remove the chicken from the brine and pat dry. Dip a piece into the slurry. Shake the excess slurry off the piece and dredge in the flour to coat completely. Place the chicken on a wire rack set over a rimmed baking sheet. Repeat with the remaining pieces. Refrigerate the chicken, uncovered, for 1 hour.
4. When the chicken is almost ready, heat a deep-fryer or heavy pot filled at least 3 inches deep with oil to a temperature of 325 degrees.
5. Fry the chicken, 2 to 3 pieces at a time, until the skin is crisp and golden-brown, the meat is white and firm and a thermometer inserted reads 165 degrees, 8 to 12 minutes. Drain the chicken on a rack, and serve immediately.
Each of 8 servings: Calories 641; Protein 31 grams; Carbohydrates 58 grams; Fiber 1 gram; Fat 31 grams; Saturated fat 6 grams; Cholesterol 152 mg; Sugar 1 gram; Sodium 882 mg
Note: Adapted from a recipe by chef Kris Morningstar of Terrine restaurant in Los Angeles.
---
Get our L.A. Goes Out newsletter, with the week's best events, to help you explore and experience our city.
You may occasionally receive promotional content from the Los Angeles Times.