Recipe: Paradise bars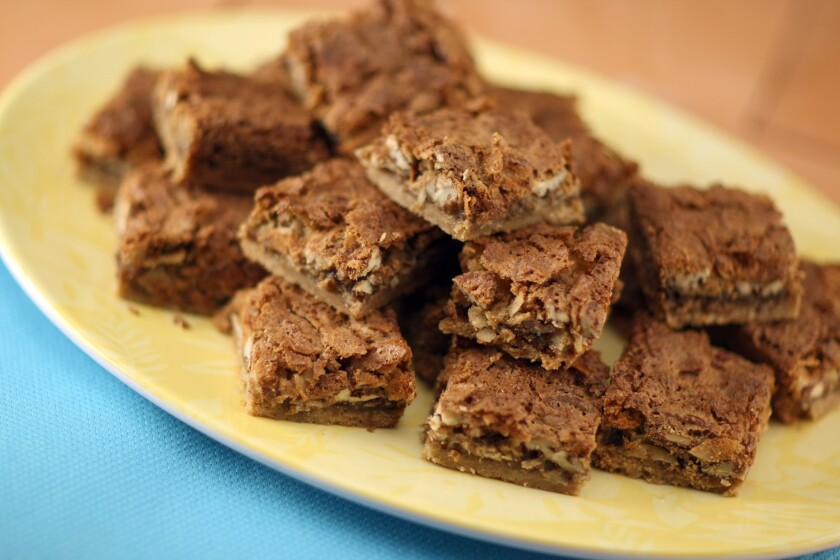 This recipe, adapted from the San Diego bakery Bread & Cie, was one that L.A. Times Test Kitchen manager Noelle Carter had to test over and over. Not because there was anything wrong with it but because everyone in the Food section wanted just one more taste. Take a shortbread crust, top it with pecans and coconut and then cover with a sweet topping. How could that ever taste bad? Please ma'am, may I have another?
Paradise bars
Total time: About 1 1/2 hours
Servings: 12 to 16
Note: Adapted from Bread & Cie
---
Our recipes, your kitchen: If you try any of the L.A. Times Test Kitchen recipes from this week's Food section, please share it with us: Click here to upload pictures of the finished dish.
---
Crust
3/4 cup (11/2 sticks) butter, softened
3/4 cup packed light brown sugar
11/2 cups (6.4 ounces) flour
1. Heat the oven to 350 degrees.
2. In the bowl of a stand mixer, or in a large bowl using an electric mixer, cream together the butter and brown sugar until smooth. Add the flour and mix well.
3. Place the mixture in a parchment-lined 13-by-9-by-2-inch baking pan, pressing the mixture firmly onto the base of the pan to form a packed, even layer.
4. Bake the crust until lightly golden, about 20 to 25 minutes. Set aside until cool.
Filling and assembly
2 cups light brown sugar
21/4 teaspoons vanilla extract
4 eggs
1/3 cup (1.4 ounces) flour
1 teaspoon baking powder
1/2 teaspoon salt
2 cups unsweetened coconut flakes
2 cups pecan pieces
1. Heat the oven to 350 degrees.
2. In a large bowl, mix the brown sugar, vanilla and eggs well. Set aside.
3. In a medium bowl, whisk together the flour, baking powder and salt. Combine the flour mixture with the egg mixture until thoroughly incorporated. Stir in the coconut and pecan pieces.
4. Pour the filling over the cooled crust, spreading evenly with a spatula. Bake until set, about 40 to 50 minutes. Cool before cutting and serving.
Each of 16 servings: 451 calories; 5 grams protein; 52 grams carbohydrates; 3 grams fiber; 26 grams fat; 12 grams saturated fat; 76 mg. cholesterol; 38 grams sugar; 136 mg. sodium.
---
Get our weekly Tasting Notes newsletter for reviews, news and more.
You may occasionally receive promotional content from the Los Angeles Times.