Recipe: Beet and pomegranate salad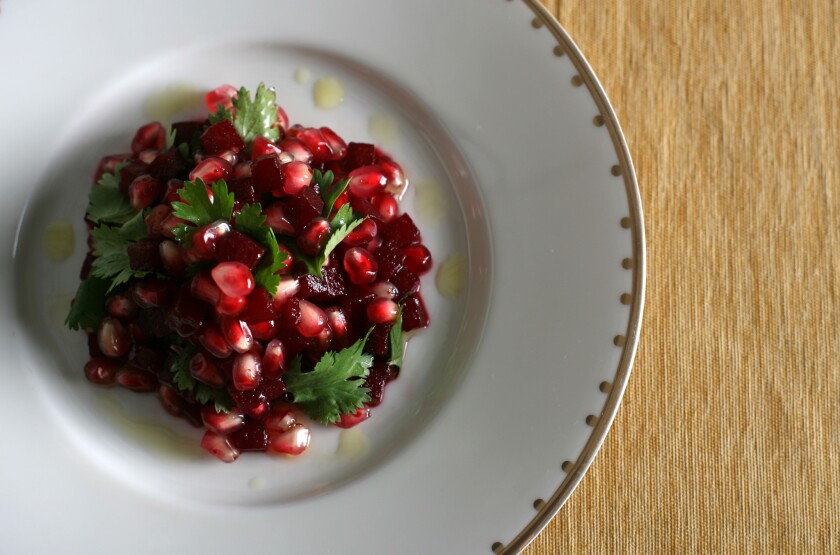 Total time: 1 hour, 20 minutes
Servings: 6
Note: Adapted from "The Book of New Israeli Food" by Janna Gur. Pomegranate concentrate or molasses is available at select Jons markets, cooking supply stores and Middle Eastern markets.
3 to 4 medium beets
2 tablespoons pomegranate concentrate or molasses
2 to 3 tablespoons lemon juice
2 to 3 small, dried red chile peppers, crushed
Coarse sea salt
1/2 cup fresh cilantro leaves
1 cup pomegranate seeds
1/4 cup lightly flavored olive oil
1. Cook the beets in a covered medium saucepan of boiling water until tender, 45 to 50 minutes. Cool, peel and cut into very small dice. Place in a medium bowl.
2. Add the pomegranate concentrate, lemon juice, peppers, one-eighth teaspoon sea salt, or to taste, and combine. Set aside for about 15 minutes.
3. Toss the beets with the cilantro leaves and pomegranate seeds, drizzle with olive oil and serve.
Each serving: 118 calories; 1 gram protein; 9 grams carbohydrates; 1 gram fiber; 9 grams fat; 1 gram saturated fat; 0 cholesterol; 24 mg. sodium.
---
Get our weekly Tasting Notes newsletter for reviews, news and more.
You may occasionally receive promotional content from the Los Angeles Times.