Recipe: Poopsie's creamy corn cakes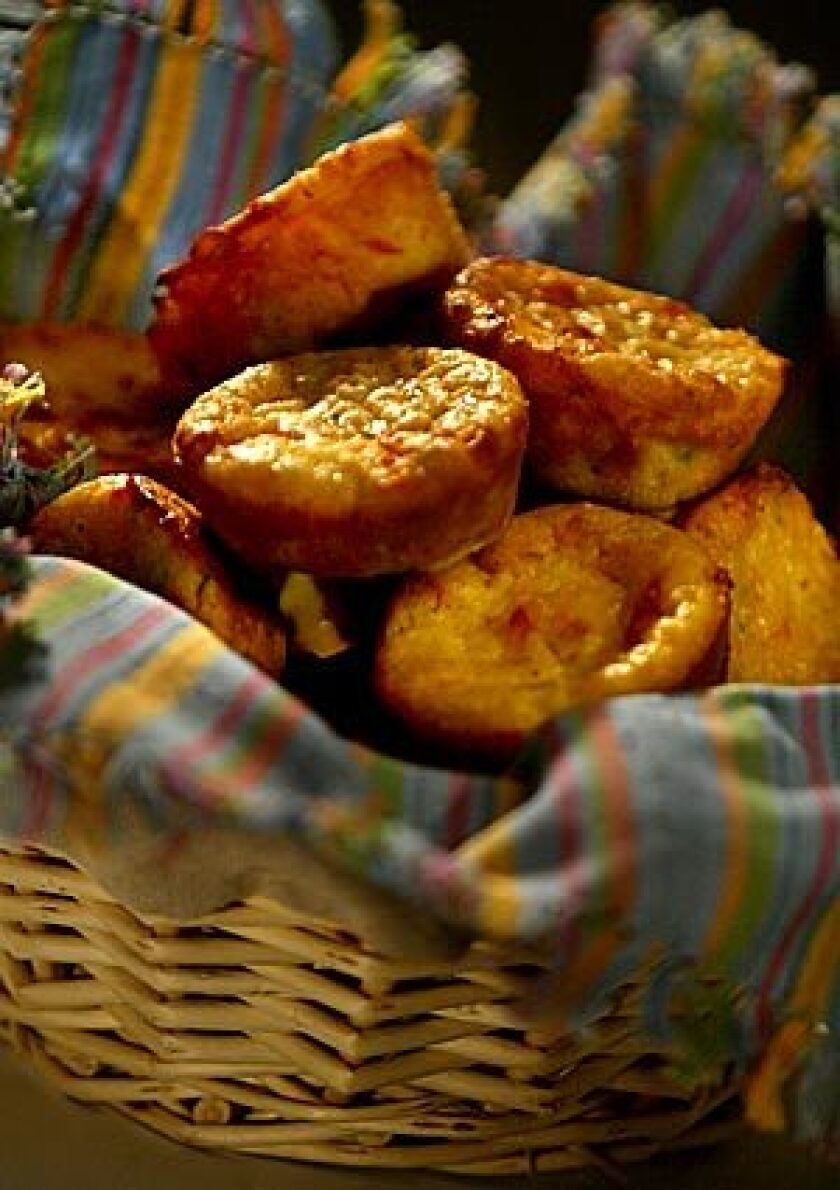 Total time: 1 hour
Servings: Makes 24 corn cakes
Note: These flavorful bites are from a recipe in "The Working Parents Cookbook."
1 tablespoon oil
1 cup cornmeal
1 1/2 cups unbleached all-purpose flour
2/3 cup sugar
1 tablespoon baking powder
1/2 teaspoon salt
2 eggs
1 1/2 cups whole milk
1/2 cup (1 stick) unsalted butter, melted, cooled slightly
1 medium onion, diced
2 jalapeño chiles, seeded and finely chopped
1 clove garlic, minced
1 1/2 cups freshly grated Cheddar cheese
1 can (14 to 15 ounces) creamed corn
1. Heat the oven to 375 degrees. Lightly brush 24 muffin-pan cups with the oil.
2. In a large bowl, stir together the cornmeal, flour, sugar, baking powder and salt. In a medium bowl, stir together the eggs, milk and melted butter. In a third, small bowl, stir together the onion, jalapeños and garlic.
3. Using a wooden spoon, stir the egg mixture into the flour mixture. Then stir in the onion mixture, the cheese and the creamed corn.
4. Ladle the batter into the muffin cups, filling each cup about three-fourths full. Bake until a toothpick inserted into the center of a corn cake comes out dry, about 30 to 35 minutes. Remove from the oven and cool on a rack for 5 minutes. Turn out and serve warm or at room temperature.
Each cake: 167 calories; 4 grams protein; 20 grams carbohydrates; 1 gram fiber; 8 grams fat; 4 grams saturated fat; 38 mg. cholesterol; 208 mg. sodium.
---
Get our new Cooking newsletter.
You may occasionally receive promotional content from the Los Angeles Times.