Recipe: The bacon potato salad at Cole's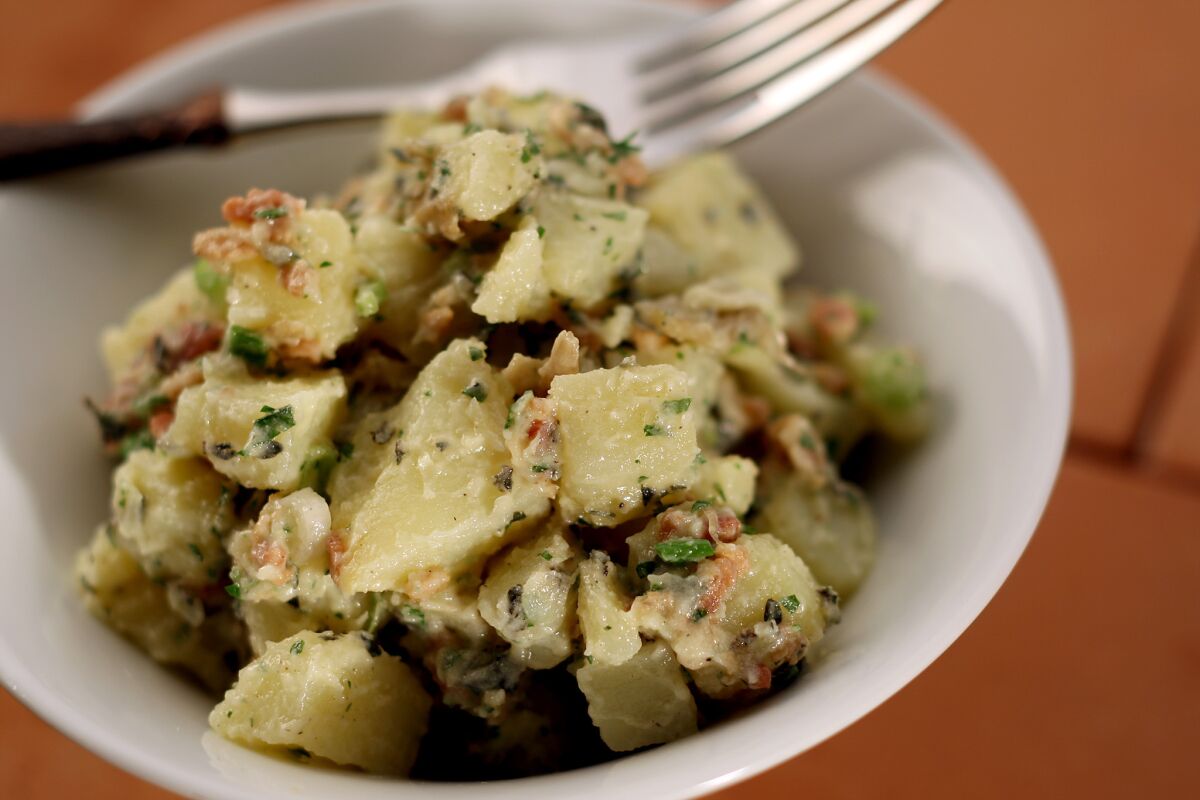 Dear SOS: Cole's at 6th and Main streets in historic downtown makes a fantastic bacon potato salad. Can you get the recipe?
Judy Goodenow
Thousand Oaks
Dear Judy: Cole's potato salad is richly flavored with deep notes of bacon and smoked salt layered with bright herbs and chopped green onion. Tossed with a creamy dressing with a light tang, each bite is a wonderful balance of flavor and texture.
Bacon potato salad Total time: About 40 minutes Servings: 4 to 6 Note: Adapted from Cole's. This recipe calls for smoked salt, available at many well-stocked and specialty markets. An equal amount of kosher salt can be substituted for the smoked salt. 1 pound Yukon gold potatoes 3 strips bacon, coarsely chopped 1/4 cup plus 3 tablespoons mayonnaise, or more to taste 1 heaping tablespoon Dijon mustard, or more to taste 1 heaping tablespoon cider vinegar, or more to taste 1/4 teaspoon smoked salt 1/4 teaspoon kosher salt 1/8 teaspoon freshly ground black pepper 2 green onions, chopped 1 heaping tablespoon chopped fresh thyme 1 heaping tablespoon chopped fresh parsley 1. In a medium saucepan, add the potatoes and enough water to cover the potatoes by 1 inch. Bring the pan to a simmer and cook until the potatoes are tender (a paring knife should easily pierce the potato), about 25 minutes. Remove from the heat, drain the potatoes and set aside until cool enough to handle. 2. While the potatoes are cooking, fry the bacon in a medium skillet over medium heat until crisp, 8 to 10 minutes. Remove from heat and drain the bacon onto a paper towel-lined plate. Save 1 tablespoon bacon grease and set aside in a warm place (discard the rest, or save for another use). 3. In a small bowl, whisk together the mayonnaise, mustard, cider vinegar, smoked salt, kosher salt and pepper. Taste and adjust the dressing as desired. Set aside. 4. Dice the potatoes into half-inch cubes and place in a large bowl. Stir in the warm bacon fat until combined. Fold in the dressing, bacon, green onions, thyme and parsley. Taste the salad and adjust the seasoning if desired. Cover and chill the potato salad before serving. Each of 6 servings: 288 calories; 4 grams protein; 20 grams carbohydrates; 2 grams fiber; 22 grams fat; 4 grams saturated fat; 20 mg. cholesterol; 465 mg. sodium.
---
Get our L.A. Goes Out newsletter, with the week's best events, to help you explore and experience our city.
You may occasionally receive promotional content from the Los Angeles Times.