Recipe: Dolmas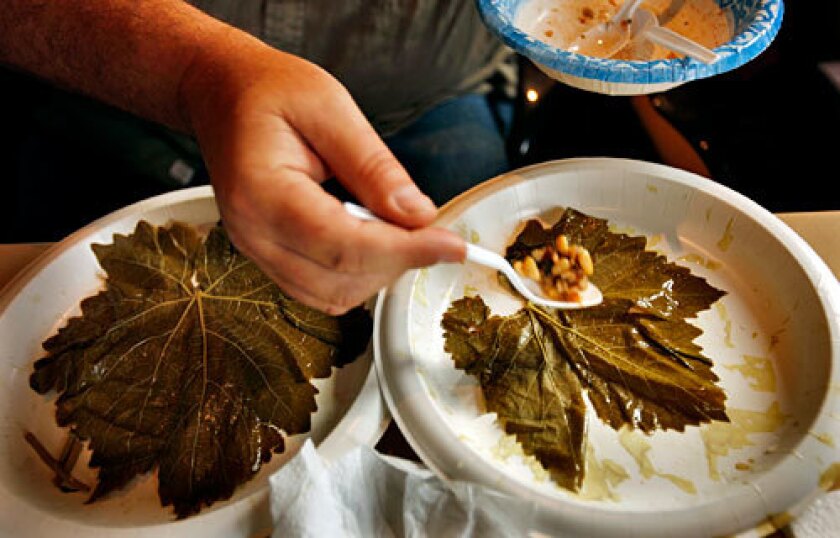 Total time: 1 hour and 45 minutes, plus cooling times
Servings: Makes about 3 dozen dolmas
Note: Adapted by Barbara Petzen from versions by Meltem Tanriverdi and her family, and Claudia Roden and Tyler Florence. Petzen says Tanriverdi's family were her neighbors in Adana, Turkey, more than 20 years ago. She and her mother taught Petzen to cook Turkish food. "Her mother showed me the really hard way, and Meltem showed me all the 'cheats.' " This makes about 3 dozen dolmas using larger (6-inch or so) grape leaves; the final count will vary depending on the size of the grape leaves.
1/2 cup extra virgin olive oil, divided
1 large onion, grated
1 teaspoon grated lemon zest
1/2 cup pine nuts
1/2 cup currants
1 cup short- or medium-grain rice
1/2 cup finely chopped dill leaves
1/2 cup finely chopped flat-leaf parsley
1/4 cup finely chopped mint leaves
Kosher salt and freshly ground black pepper, to taste
1/2 teaspoon ground allspice
1 1/2 teaspoons cinnamon
1/2 teaspoon ground nutmeg
1 to 2 (8-ounce) jars grape leaves, rinsed and drained
2 lemons, juiced and sliced (slice lemons after you juice them)
1. Heat a large saute pan over medium heat and drizzle in one-fourth cup of the olive oil. Add the grated onion and lemon zest and stir until soft, about 10 minutes. Add the pine nuts, currants and rice and saute for two minutes, stirring to coat all the rice grains with oil. Add 1 cup of water and simmer, uncovered, stirring frequently until the liquid is absorbed and the rice is mostly translucent with a solid white al dente core when you bite into a grain. (If the water is absorbed before the rice is finished, add additional water, a little at a time, to par-cook the rice.) This will take about 10 minutes. Remove from heat.
2. In a large bowl, combine the rice with the dill, parsley and mint and season with 1 1/4 teaspoons salt and one-fourth teaspoon pepper, the allspice, cinnamon and nutmeg to form the dolmas filling. Taste and adjust the seasoning if desired, then set the filling aside to cool while you prepare the grape leaves.
3. To prepare the grape leaves, bring a big pot of water to a simmer. Add the grape leaves, spreading them out as flat as possible as you add them. Blanch the leaves until softened, 2 to 10 minutes, up to 15 (timing will vary depending on the brand used and toughness of the leaves). Drain the leaves and set aside on a flat surface to cool.
4. To assemble the dolmas, lay a grape leaf on a work surface, vein side up and shiny side down, with the stem end toward you. Carefully remove the stem without tearing the leaf. Put a heaping tablespoon or so of the rice filling near the stem end of the leaf, less if the leaf is small, shaping it into a rough cylinder. Fold the stem end up over the filling, then fold both sides toward the middle. Now roll the dolma into a cigar shape. You want a fairly tight roll, but don't make it too tight since the rice will expand more during cooking. Repeat and repeat and repeat - this is where you want lots of willing hands to make light work!
5. Lay any torn or extra leaves down in a large saute pan or Dutch oven (this will keep your dolmas from scorching). Lay your rolled dolmas in the pan seam-side down and packed tightly together. If you have more than enough for a single layer, create a second tightly packed layer on top.
6. Pour one cup water, the remaining one-fourth cup of olive oil, and the lemon juice over the dolmas. The liquid should reach halfway up the top layer of rolls; if necessary, add more water until it reaches this level.
7. Tuck the lemon slices in among and on top of the dolmas. Now place a heat-proof plate upside down over the dolmas to secure them, making sure they don't come unrolled during the cooking process.
8. Cover the pan tightly and simmer the dolmas over low heat for 30 to 40 minutes. Taste one to be sure that the grape leaf is tender and the rice is cooked, then remove from heat. The dolmas are best served slightly warm or at room temperature.
Each of 3 dozen dolmas: 67 calories; 1 gram protein; 7 grams carbohydrates; 1 gram fiber; 4 grams fat; 1 gram saturated fat; 0 cholesterol; 262 mg. sodium.
---
Get our weekly Tasting Notes newsletter for reviews, news and more.
You may occasionally receive promotional content from the Los Angeles Times.